How about trying a quick, eye-melting artful half buns and side swept blowout to jumpstart the wedding season? We bring to you some South Indian bridal hairstyles that will no doubt take you through traditional ceremonies.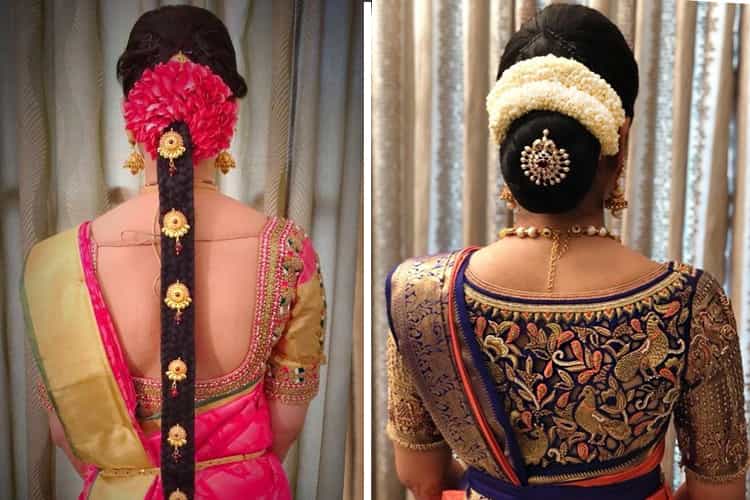 If a wedding is making its grand arrival, there's no better time to get inspired by playful, effortless bridal hairstyles.
Here Is The List Of South Indian Bridal Hairstyles:
Is there any ceremony quite like weddings for inspiring even the die-hard glamour girls to step up their beauty game? And with all the unspoken codes surrounding the festivals, more is more when it comes to South Indian wedding hairstyles code. Here are the best South Indian bridal hairstyles for long hair.
1. High Puff With Bun Hairstyle On Saree:
South Indian women love high puff with bun hairstyles. This hairdo has a trick, yes for of course, which is easy to decode. It is conveniently equipped with hairpins that tuck away hair out of sight. The bouffant adds some volume to the hair. Then couple it with a neat bun running along one side. You can use hair extensions if you don't have the hair long enough to create the look.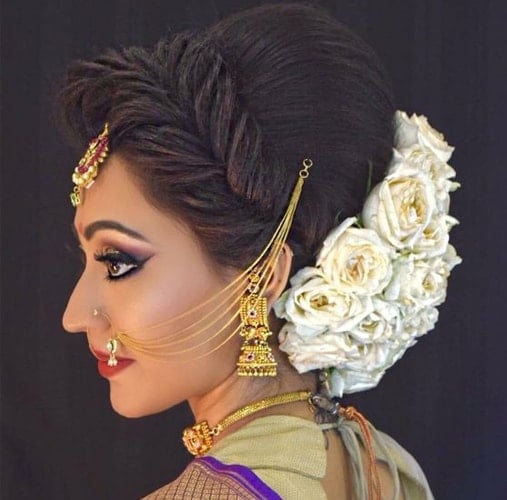 The high puff with bun hairstyle is the perfect answer for looking polished and fabulous without investing time. This hairdo can be donned with a traditional saree.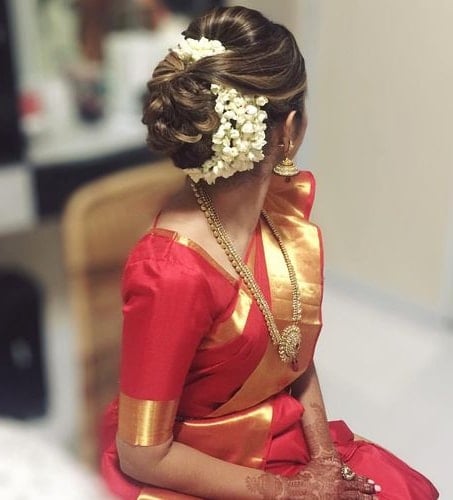 2. Side-Brushed Hair With Curls Hairstyle:
This hairdo will suit a confident bride who can pull it off, no matter what her current hair color is.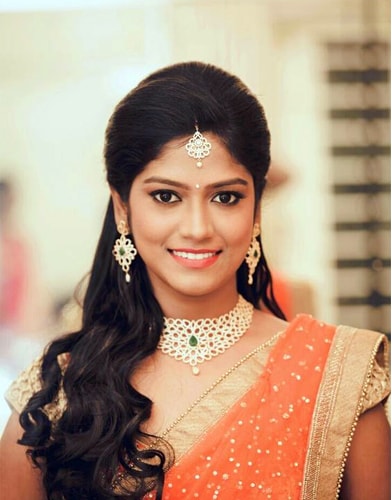 There may be a theme for brides to go for bun hairstyles: but curls are back in a big way for 2018. Not to be confused with spiral curls, the curls suitable for weddings lean closer to looser waves. It makes a statement without screaming it.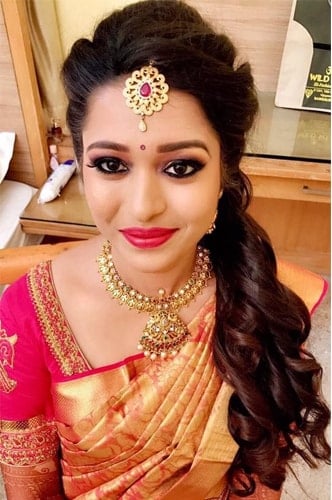 3. Straight Hair With Puff Hairstyle On Saree:
To say the South Indian hairstyles had an influence on our hair is an understatement. It seems everyone was channeling their sleek straight hair with puff hairdo way before. The trend continues massively for weddings with long straight hair, which grazes delicately over the shoulders and suits just about everyone.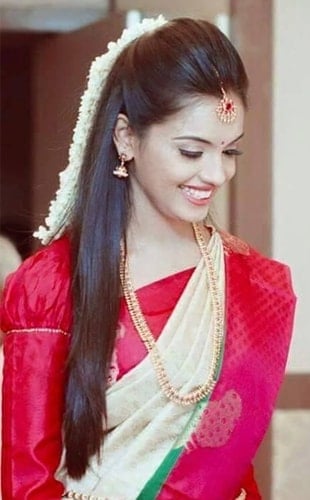 Perhaps it's an extension of the South Indian girl obsession, but the straight hair look is back. And we're not talking that shoulder draping, long hair, we mean the one that's clipped at the front and is often teamed with an equally perky puff.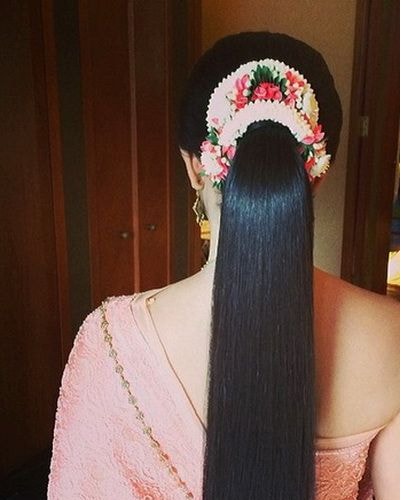 4. Side Parted Hair With a Bun Bridal Hairstyle:
A side parting with a bun hairdo is going to be exactly what it is, in all its natural glory. That means embracing tools that do not damage your strands and selecting styling products that dial up what you've already got.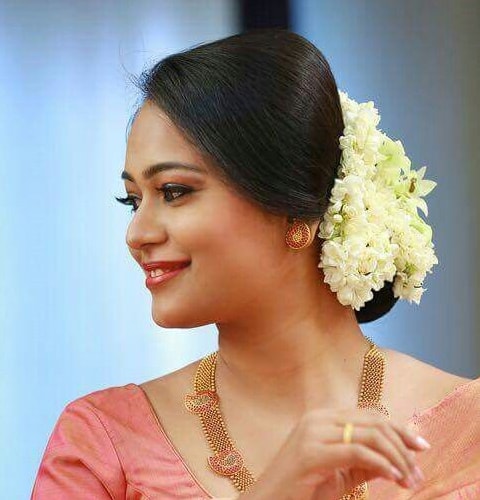 Another simple variation you can try with hair is to have them highlighted with a side parted hair and a loose bun up-do. You can even choose to wear this hairdo with fresh flowers or studded stone accessories.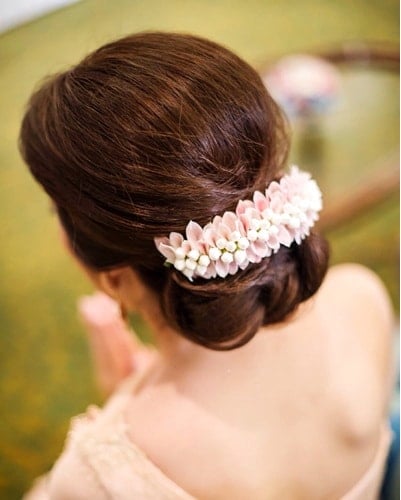 5. Flowered Bun With Jeweled Braid Hairstyle:
You can even convert your simple hairdo to something catchy by going for designer jeweled hair clips matching your saree. This can instantly step up your bridal hairstyle.
Another style you can try for your braided up-do is to have them highlighted with embellished stone studded hair accessories. If you have a more traditional ceremony, then opt for flowers instead of stone studded accessories.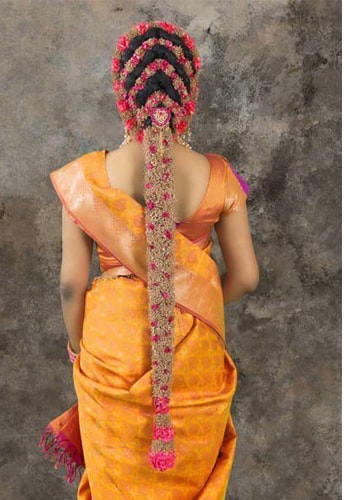 6. Center Parted Hair With a Bun:
A center parted up-do is perfect for an evening affair that involves dancing, as you needn't worry about it falling apart. It's chic and not too fussy, so you don't need to have a lot of hairstyling skills to make it look event-ready either.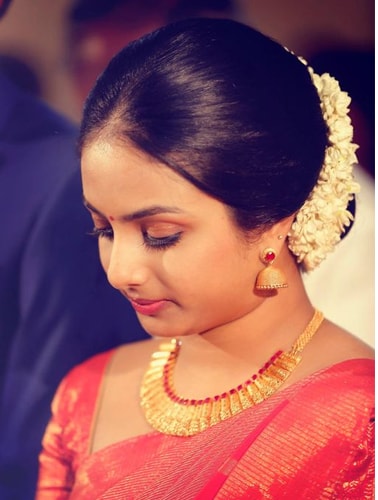 We can all agree that centre parted hair with a bun is a popular favorite everywhere, so it is no surprise that it made this list. If you want something young and preppy, copy this style, which would perfectly pair with any whimsical ensemble.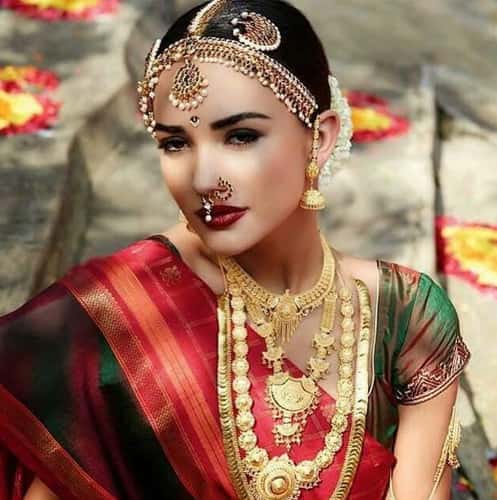 7. Spiral Bun With Flowers Bridal Hairstyle For Wedding:
A favorite for most women, the spiral bun with flowers all over is a fail-safe bridal style for weddings. It gives an instant refined look that blends well with any outfit. There are numerous options when it comes to slicking your hair back. Try middle or side parting for a more formal feel. Or, brush it back completely for sangeet or mehndi ceremony.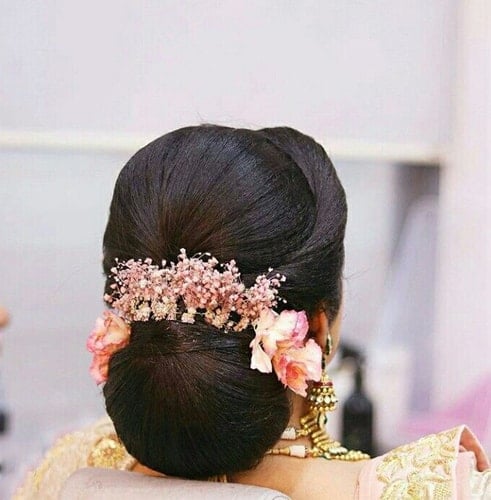 Spiral bun with flowers adds such a traditional vibe to your style and this has slowly transcended to hair embellishments, too. If you plan on wearing flowers on your bun, then go for matching ensemble to compliment the look further. Select your favorites and allow your hairstylist to work the magic.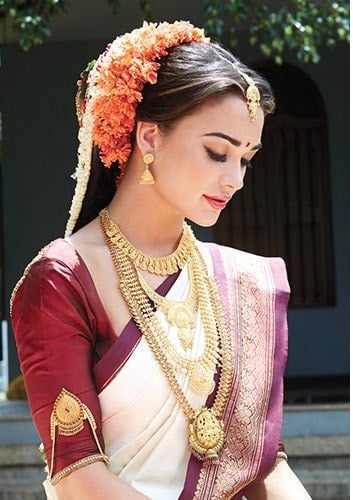 8. Side Brushed Hair With a Bun Hairstyle For Wedding:
The bun worn at the nape of the neck has become a favorite for South Indian Bridal looks. Many have championed the style that is made for wearing with the best of the season's bling. But unless you are a hair expert and have a permanent team on hand, you're going to want a helping hand when it comes to trying a neat up-do.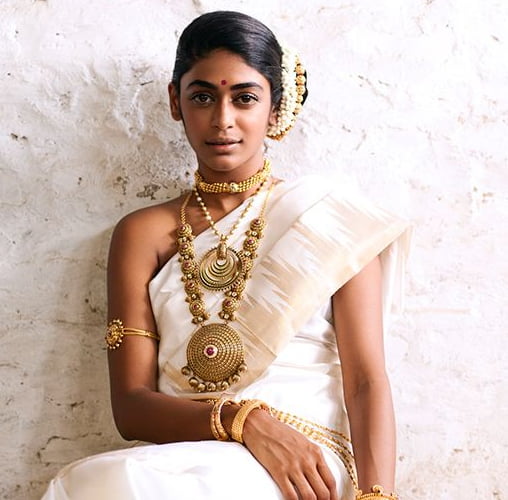 One of the best things about selecting an up-do like this is the lack of commitment involved. Whether you choose a side brushed hair bun or a crystallized chignon during the wedding season, make an effort because the up-do is back and it's time to go full glam.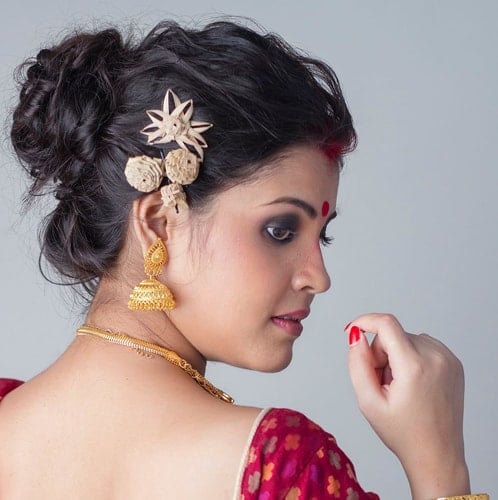 9. High Top Bun With Ear Locks Braid Hairstyle On Lehenga Choli:
Ear-locks braided hairstyles for summer weddings are cool, but we argue they are even better when paired with high top bun. Allow the hair to work its magic and give your peek-a-boo braids a bit of texture.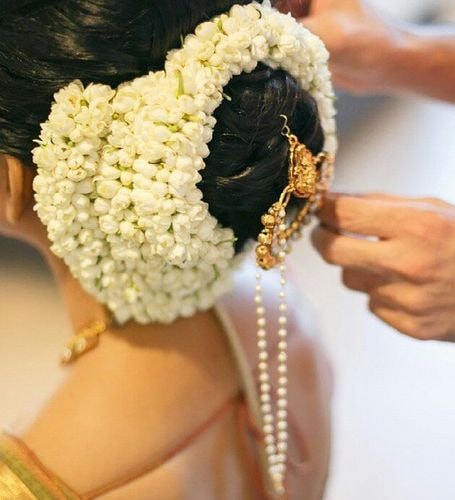 [sc:mediad]
You can always count on the below image for the best high top bun with braids. And this is quite simple to mimic. Whether your hair is waist length or touches your shoulders, comb your hair back and curl all the way down. Wear the look with a lehenga choli.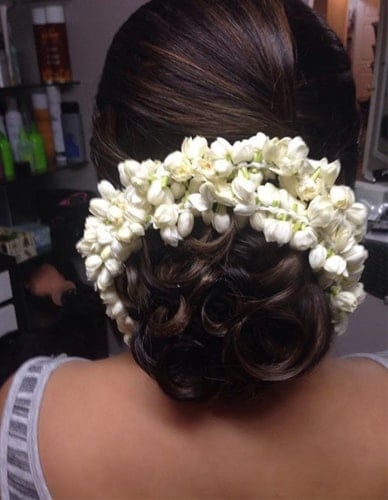 10. Simple Bridal Hairstyle With Puff In The Middle On Saree:
Of course, you can bring a bit of edge to a bridal hairstyle with puff across her head before gathering them into the staple bun up-do. Finish the look with a smudged out smoky eye to bring the whole thing together.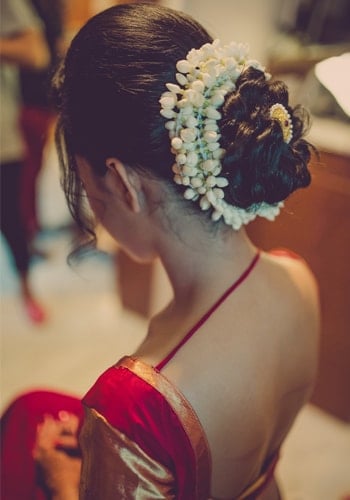 This is also a perfect simple bridal hairstyle with a beautiful inside-out look. Gather your hair into a bridal low bun, a variation made even more complete with a dramatic black cat eye.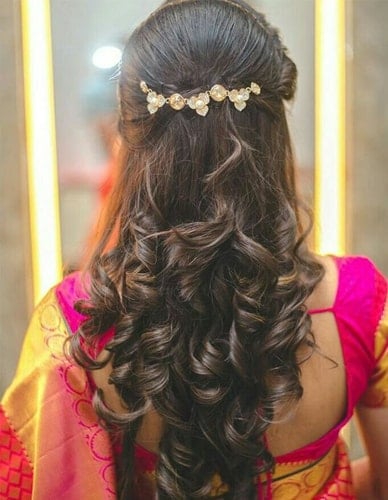 11. Side Swept Wavy Low Curly Hair:
The hairstyle will be an ideal choice for pre-nuptial occasions, like mehndi, sangeet, etc. Side swept wavy low curly hair adorned with flattering hairpins will make your hair look simple and more defined.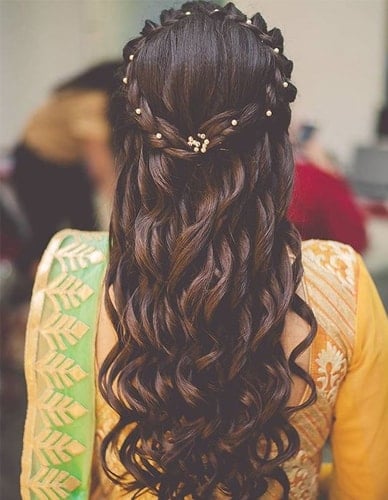 Side swept wavy low curls are what you should be bookmarking for the wedding. Keep things classic with curls for the weddings completed with a bold blackberry lip.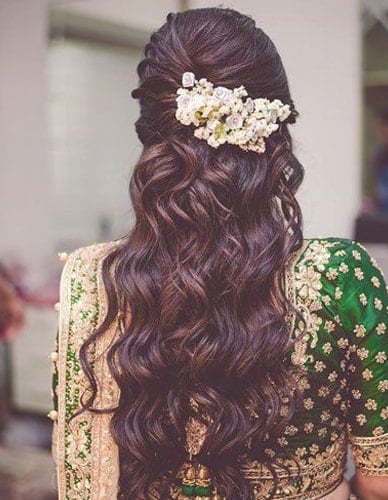 12. Mid Part Long Palate Braid Hairstyle For Wedding:
Consider going for mid parting palate braid hairstyle for the wedding. To add a little something, create braids all the way till the end, stopping at the crown of your head. Secure each end using clear elastic.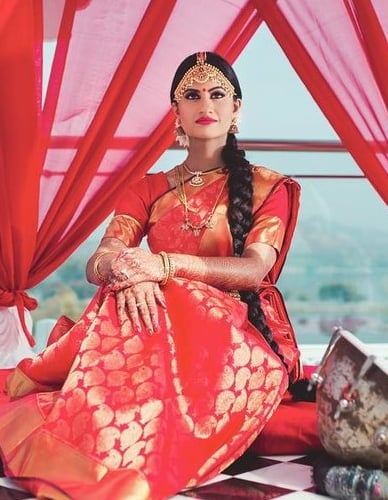 The key to this look is the shiny, textured finish. French braid from the front of your hair and gather the rest of your hair into a knot at the nape of the neck. Give it a feminine feel with glossy lids and berry lips.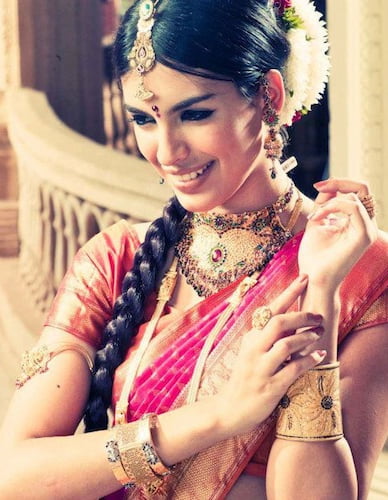 South Indian bridal hairstyles for girls are more about adding beauty and accessories to the hair. So collect all the fancy hair accessories to get the perfect look. After all, it is the hairstyles that complete the look of a bridal ensemble. Do give your thoughts in the comments box.