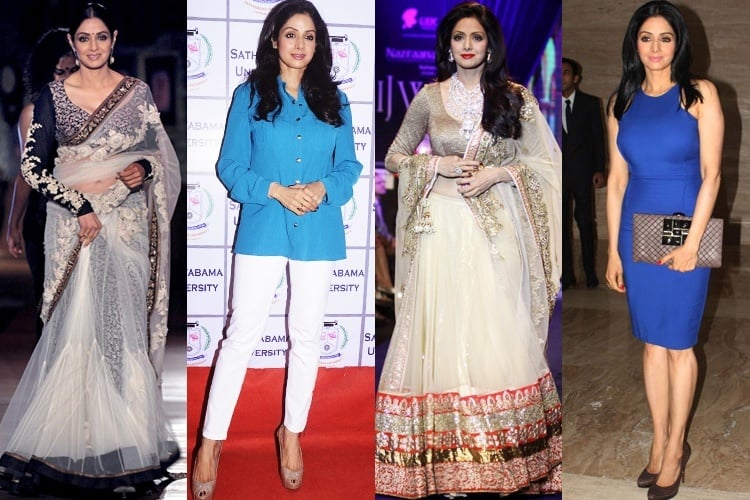 Ever since we were kids, watching the movie "Mr. India", we learnt a lot about Sridevi fashion, her charms, her grace and yes, in this day and age when she proves true the old adage "Age is just a number", we all want to be like her!
[Also Read: Looks Of Bollywood Diva Kajol Dresses]
Sridevi fashion sense in more ways than one, beats all stereotypical norms. Even though the media may have portrayed her as a high-maintenance diva, who cares, because she doesn't. Sridevi may have aged a little, but does it show? Does she even bother to talk about it? She is willing to play mommy roles on the big screen, and with Sridevi fashion, she would be one haute mommy to keep a watch on.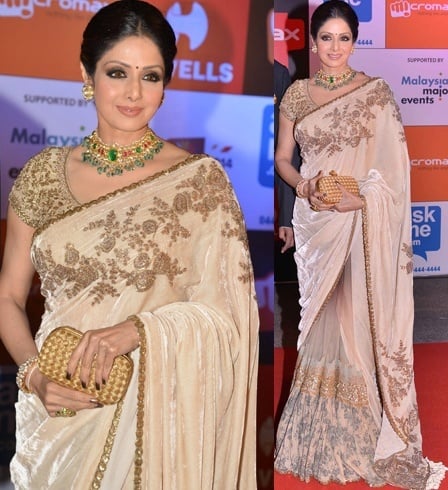 Sridevi In Saree Is Feast To The Eyes
Remember the movie "English Vinglish". Who wouldn't want their mommies to be as chic and cute as Sridevi? Did you see sridevi in saree at the premiere of the movie? She was voted as one of the most stunning ladies in Indian Bollywood fashion- dressed apt and chic for her age that too!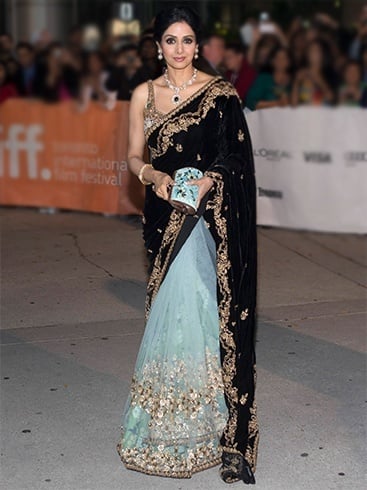 Not Just In Sarees
Sridevi has the versatility and grace to carry off any ensemble in style. Seen here with her daughter Jhanvi at a movie screening, Sridevi looks every bit like the mother next door in denims and a shirt.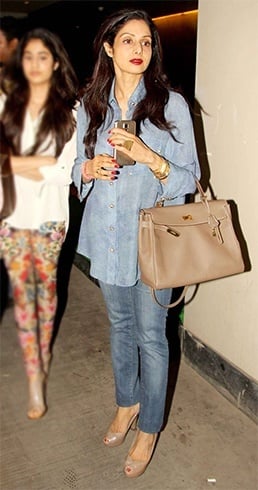 Graphic Prints Are Her Friends
Our Bollywood diva at her age can give any PYT of the new-age Indian cinema a run for their money. Proving this point, take a look at the graphic printed dress and the chic black heels worn!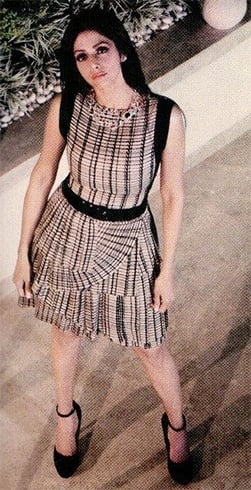 Looking Hot In Formal Wear
For a Vogue photoshoot, Sridevi was dressed in peaches and pinks. She wore a cropped coat with a top and a midi skirt, and needless to say, her charms worked like vmagic, so did the look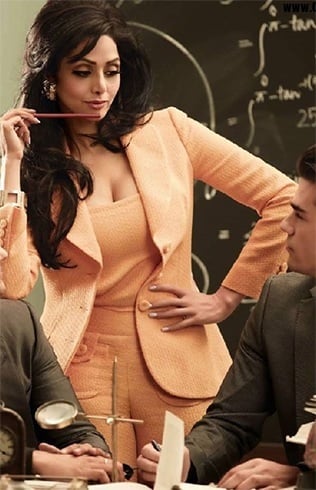 Plays With Nudes
Sridevi doesn't bat an eyelid when it comes to experimenting with fashion, and as seen she loves playing monotone and in nudes that too. Looking lovely as ever in an oversized onesie!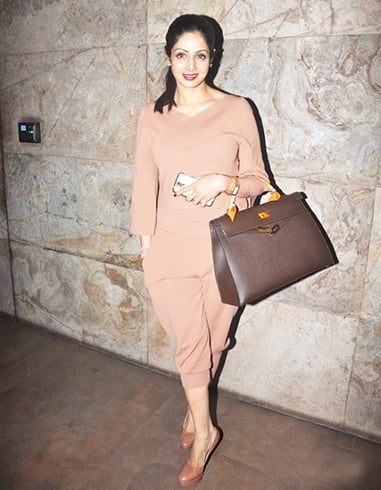 Is She Back To College
A Chanel clutch in hand, paired with a light blue top and denims for the bottoms, Sridevi looks every bit the college goer of the new age who would like to keep it minimal!
[Also Read: Alia Bhatt Fashion Style For College PYTs]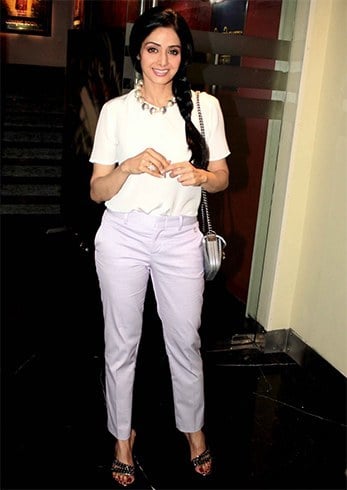 Cape Tops And The Pants
White structured pants and an orange flimsy silk cape top, Sridevi wears her silver pumps and shows what it takes to be a nonchalant diva who can dress to impress!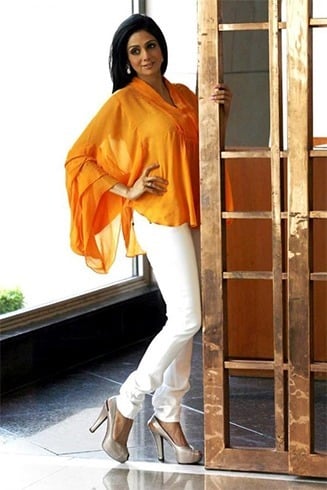 Simple And Yet Sassy In a Knee-Length Skirt
At one of the red carpet events, wearing black heels to add more height to her status, Sridevi looked chic in a grey and black knee-length cocktail skirt.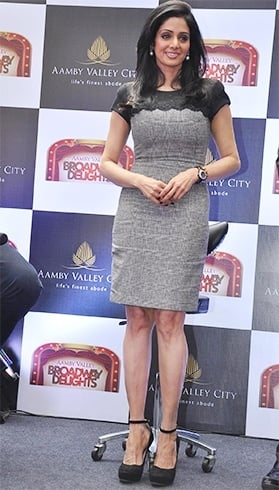 Flower Power
She brought back a touch of the 70s, posing with her daughter at one of the awards shows held sometime back. Blue silk knee-length cocktail dress in floral tones, once again proving that she can dress to kill!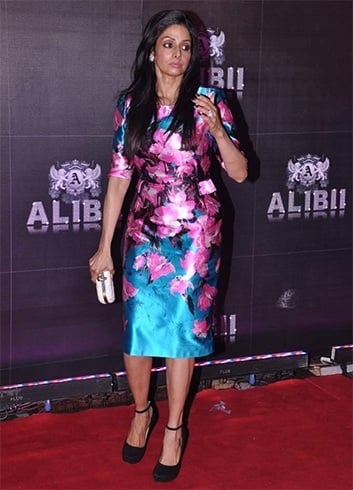 Out With Hubby
Sridevi shows us how to dress to impress our men, and this time in orange pants with a white shirt! A cool fashion statement for the summers ahead!
[Also Read: Smashing Looks Of Rekha]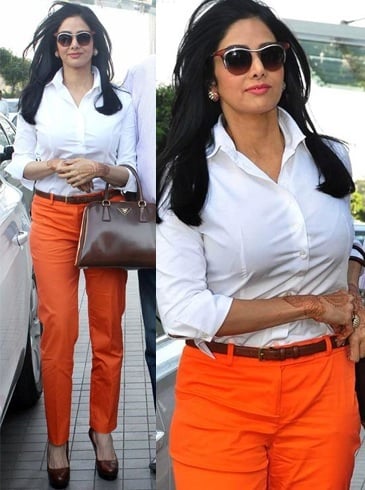 Yummy Mummy In a Mermaid Gown
Seems like Sridevi loves silks and in pinks that too. At a recent event by a television channel of repute, Sridevi was spotted in a silk pink mermaid gown, semi low necked and with mini-drapes on the sleeves!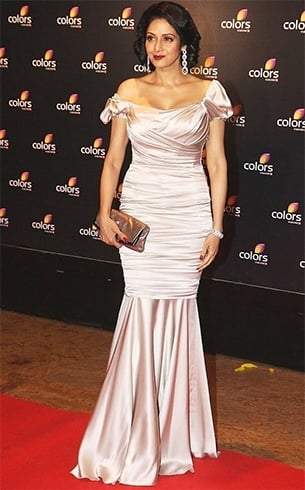 Dressed In An Olive Green Cocktail Dress
Once again for the Vogue fashion shoot, Sridevi stunned us all in a lovely olive green cocktail dress. The low V-Neck was a daring decision to make, but knowing the diva, she has no inhibitions!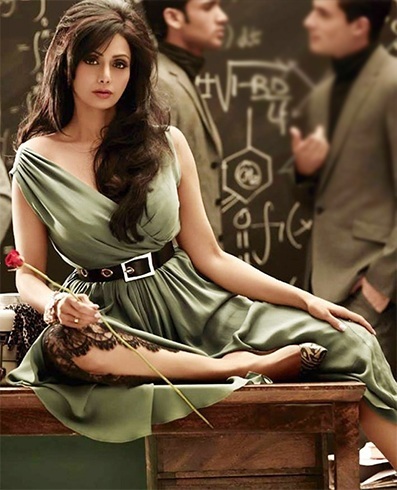 Dressed For The Evening Out
Wearing a tribal printed vibrant top and a blue midi skirt, Sridevi was spotted at Juhu with hubby Boney Kapoor and daughter Jahnvi!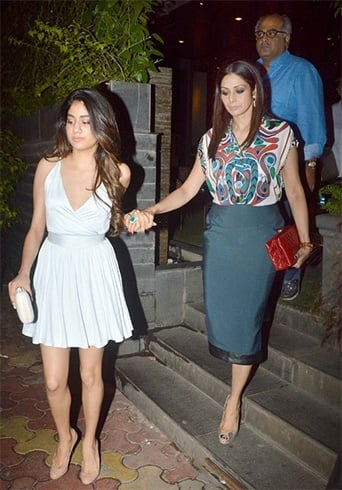 [sc:mediad]
Daring Low V Necks
Our Bollywood sridevi in designer sarees isn't the only way you would see her flaunt her sense of fashion. Take a look at the peplum top onesie in white, with a daring low V Neck worn at an event; Sridevi has no qualms whatsoever when it comes to proving her individual sense of style.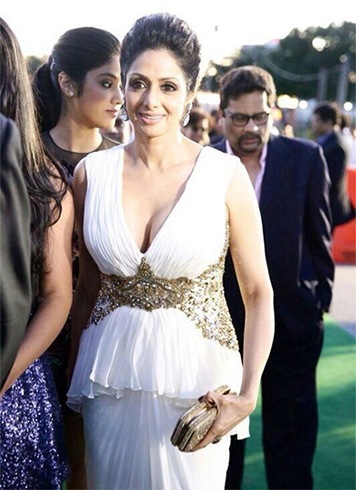 She Looks Gorgeous In Gowns
From Indian to western wear and even at this age too, Sridevi shows us how beautiful a chunky evening western gown can look on her!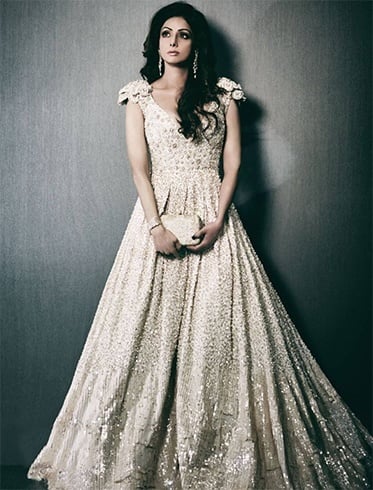 In a Grecian Western Gown
Call her Greek goddess now, and much more when you see her in a Grecian western gown worn at one of the red carpet occasions!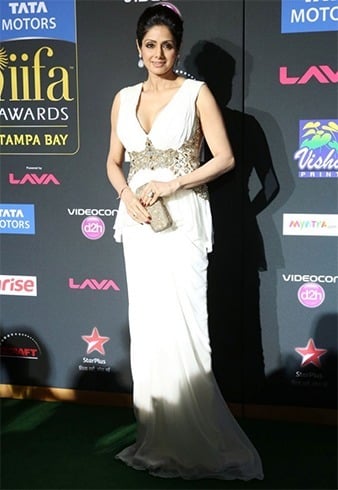 Here were fifteen ways on how to look like Sridevi, and how the actress has shown us that age indeed is just a number. Beg to disagree? We don't reckon so.
Image source: pinterest.com