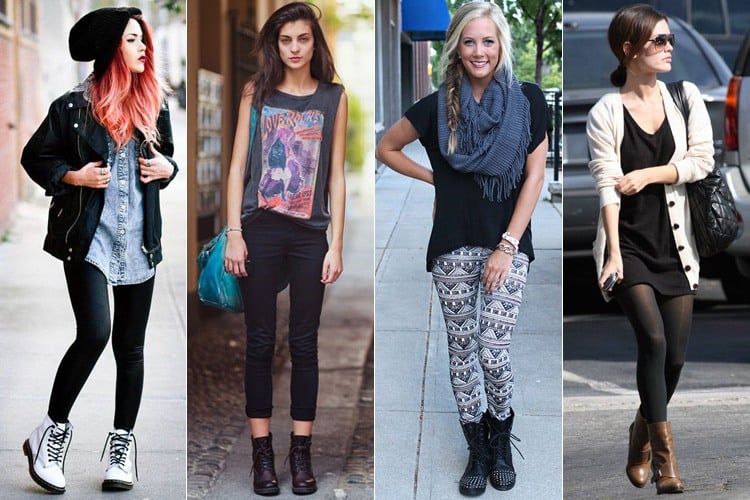 Nothing like a pair of combat boots that talks about power fashion. A sense of style so refined yet haute and bootaliciously daring, we girls can rock anything in those combat babies when we know how to wear them right. Let's take a look at 15 style tips on how to wear combat boots, shall we! Here they are!
15 style tips on how to wear combat boots
1. Match neutral tones with neutral toned boots
One of the easiest no nonsense and no fuss ways to flaunt your combat boots would be to go tone on tone, and in this case, it would be neutrals on neutrals mostly. Take a look at the neutral toned clothing worn here, and the neutral-toned faded combat boots that go along with it. An achromatic affair for sure, they stand out like forever!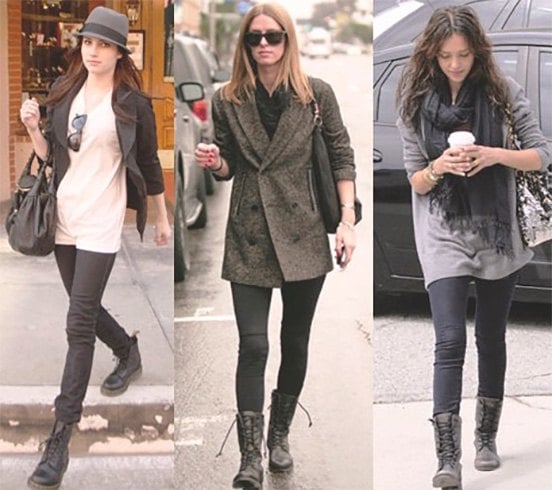 2. Pair it up with a leather jacket
While the winter days are still on and in full swing, should the climes around where you live be nippy, combat boots can keep you warm and toasty. Pair it up with a crisp tee or a neutral-toned top, chinos or cargos for the legs and a leather jacket in black, with a banana cap or a hoodie. A badass diva is what the world needs to be ready to have around on the streets.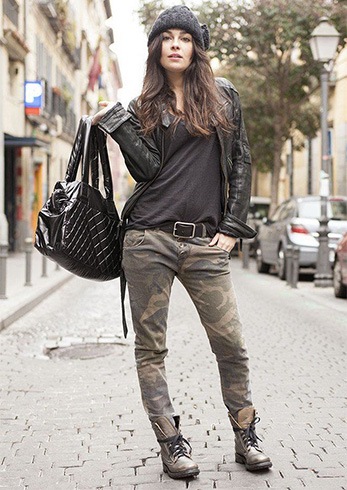 3. With shorts and hot pants
Get summer ready when you want to go out with your besties this time, wearing hot pants, shorts or skorts for that matter, pairing them up with tops and shirts in prints and patterns galore. Combat boots only would raise the hotness factor when you pair these puppies with what you wear.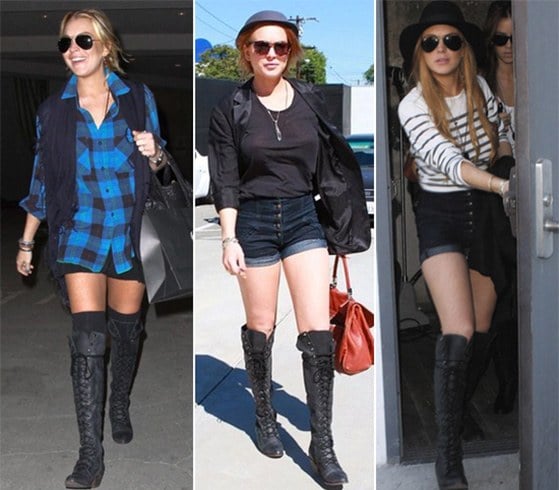 4. Grab your cropped coats
Cropped coats are cute, sexy and fun to wear and they are so feminine to flaunt too. You could have them in any color, size, cut, shape and design and even from any fabric, and yet they would pair up well with the bad boys on your feet. Here is one of the many 15 style tips on how to wear combat boots.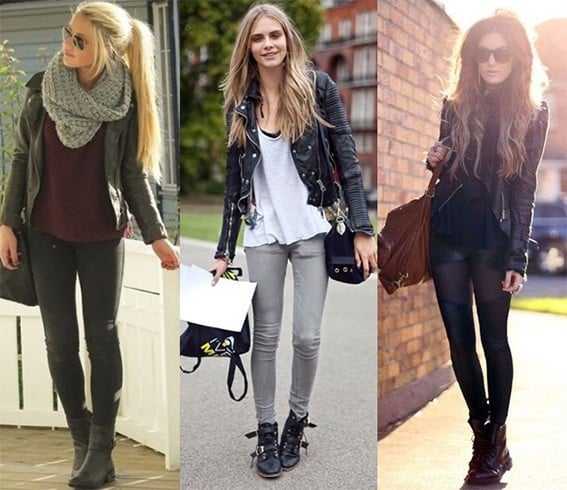 5. Onesies or flair skirts
We love the way Hollywood controversial child Lindsay Lohan flaunts her fashion sense in combat boots, paired with flair skirts and a onesie too. Quite boho chic with the onesie and quite feminine and college girl like with the flair skirt, isn't it?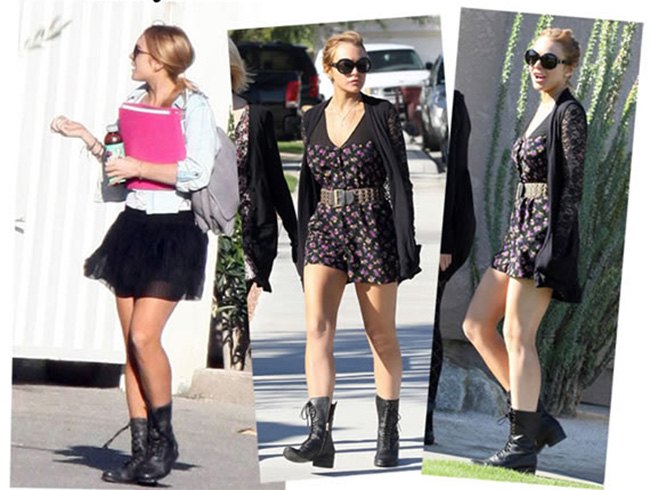 6. Accessorize it with bags
Satchel to sling bags when you match up your bags with the boots you wear, a magical fashion transformation happens. It helps amp up the fashion scene on you, and this could be a perfect way to hit the travel fashion scene too.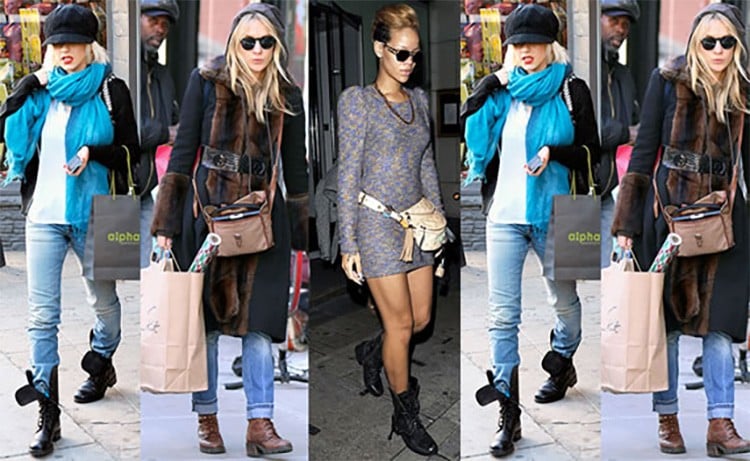 7. Play with prints
Says who you cannot have fun with prints when pairing up what you wear with combat boots? Here what we see is a range of prints on a dress and on a faded washed out pair of jeans, combined with the combat boots worn by the divas. And they look super haute and chic.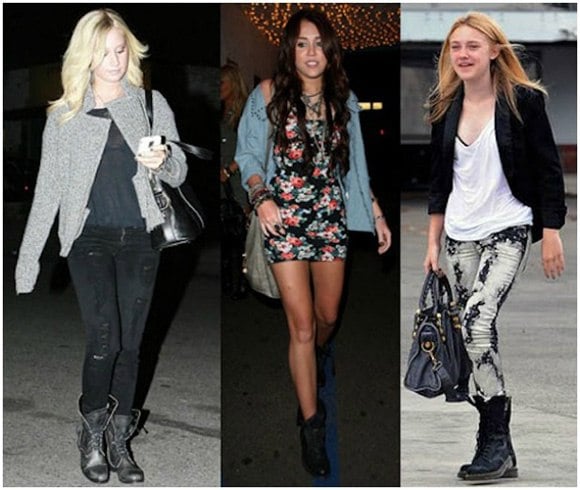 8. Lace dresses and combat boots
Make it a sexy affair this spring when you head out to evening parties wearing an haute lacy dress, combined with a cropped jacket or a coat for warmth and combat boots on the feet. Don't miss out on the fedora hat though!
9. Out for a movie
Dress calm, simple and minimalistic and yet have a sense of fashionable touch on your feet, wearing combat boots. Pair it up with olive green lycra pants or leggings, and a strappy top for a sexy flaunt to give, and you are ready to watch a blockbuster- or just be one at the movie hall.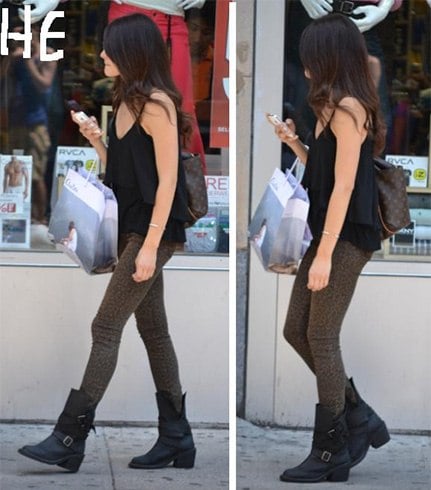 10. For the friendly bash
Heading over for a friendly game or two or to watch the Indian cricket team at the stadium belt their shots and wickets? You need to be dressed for the scene, and this time with combat boots, leggings for warmth, hot pants over leggings and a top with a cropped coat for fun. Howzzaat!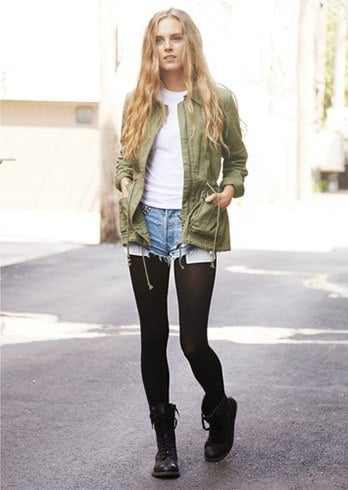 11. For college today
Off to college and its too warm today? Combat boots with a printed flare skirt and a strappy top would be an ideal yet comfy fashionable touch you can flaunt. Do wear your shades and sunscreen to keep the sun away!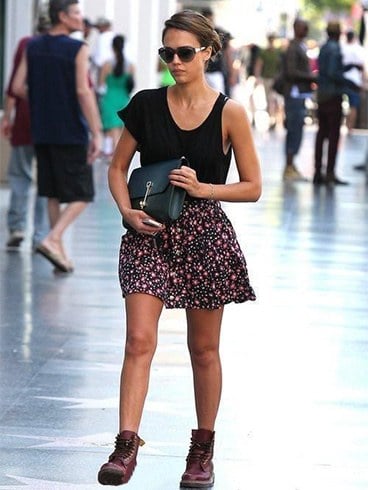 12. For Friday work dressing
Fashion on Fridays at work can be a wholesome affair when you know how to style upright and make eyes get hooked onto you. A simple white top as seen is paired with denim and the badboys – combat boots for the feet. The printed scarf steals the show here, but in equal measures to what the combat boots do!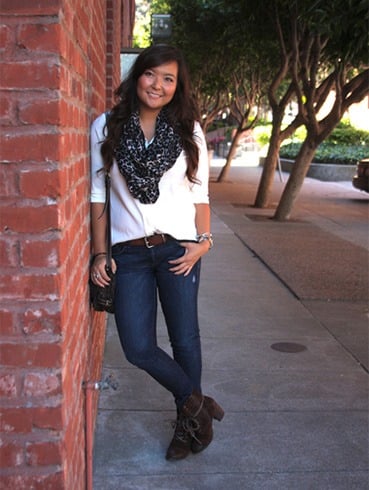 13. Ripped or plain opaque
We are talking about the bottoms you plan to wear. Ripped denim with a top and a cropped coat and combat boots look cool, don't they? What also looks cool for a semi-formal meet, when you wish to wear combat boots would be a over long top in a solid color with black opaque leggings.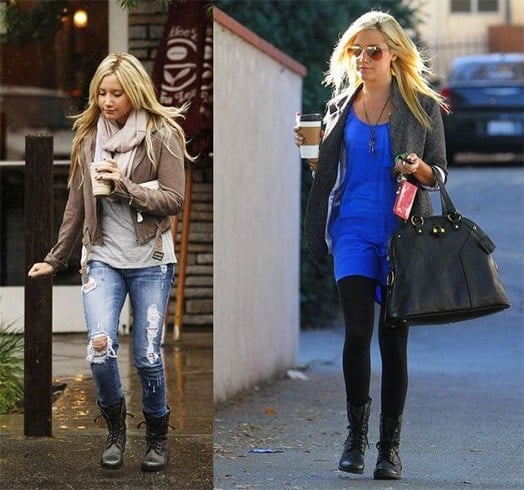 14. Stripes or prints
You get to choose what you want to wear here, stripes or prints. However, do stick to just one of them so as not to be overdone on the fashion circuit this noon. Pair them up with combat boots which are in faded black and don't forget the sunshades to add more zing to the whole phenomena.
[sc:mediad]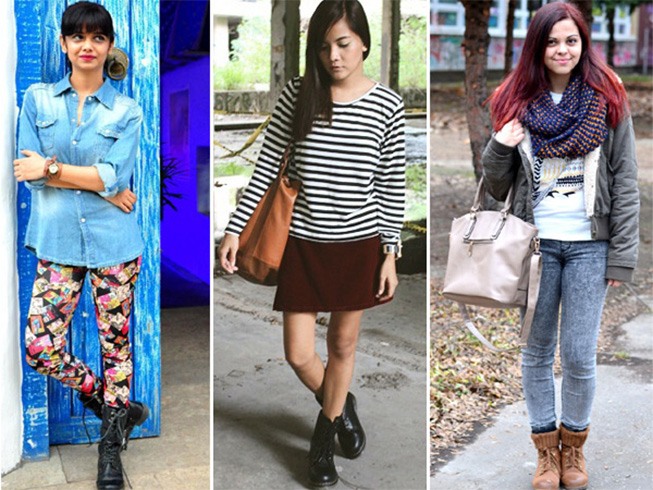 15. Fashion on a Monday
Heading off to a clients meet? Here is a way to impress them on a Monday, when you dress all formal and are waiting to strike a deal with the client. A pair of combat boots for the determined you, with your office wear is an haute statement that you can make.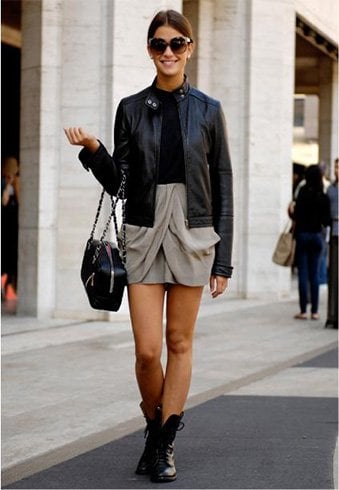 Tips while wearing combat boots
1. Keep it very elegant and simple, and wear fashion hosieries only when you need to. This will help you stand out from the crowd when flaunting combat boots outfits.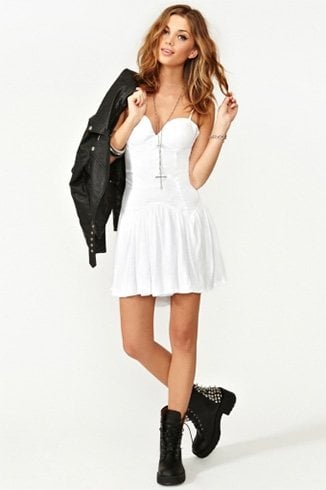 2. If you want the dresses to be feminine, but with an artsy touch, think runway. Do not fall for the prom look no matter how feminish it looks, and your start for the evening will be good. The aim is to make you look modelesque and sleek, and to bring more volume with textured embellishments below, and not just from the dress.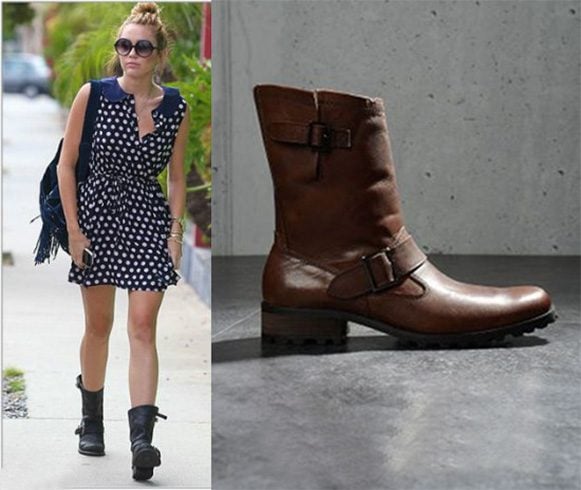 3. While learning , how to wear combat boots with jeans,skirts, short dresses and long, skorts and more, YOUR CONFIDENCE LEVELS should be at the highest. And you have to be positive by nature to get all the good magical attention you want and need.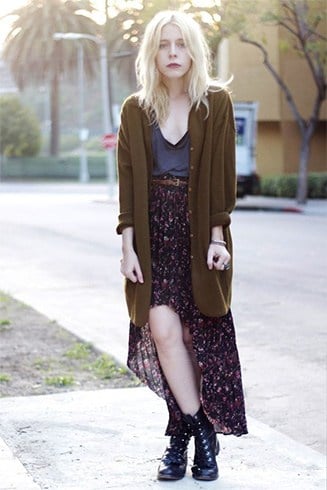 It is all about the boots
While NANCY SINATRA did sing and say ' these boots are made for walking', we say that these boots are pretty versatile and they can fashion up your personality like ever. Apart from fancy prom dresses and sweat pants to say the least, these combat boots for girls can be worn with just about anything. Combat boots and combat boots outfits, make a strong statement, and they are pretty good to wear as well. So let's take a look at a range of combat boots outfits that you can pick to wear and pair up with those haute boots!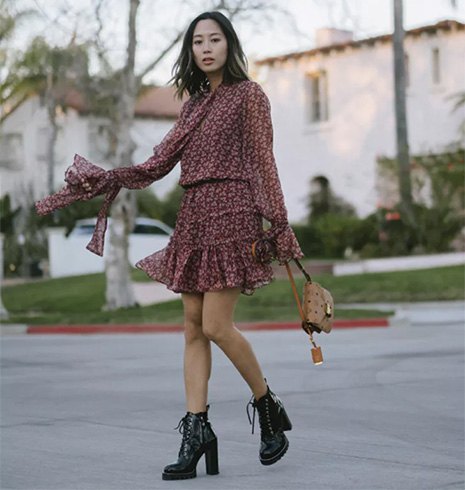 A list of combat boots outfits that you should own
If you are out for a movie with someone special, a beanie cap and a cropped coat with a flair skirt worn with your combat boots for girls would be a cute affair to flaunt.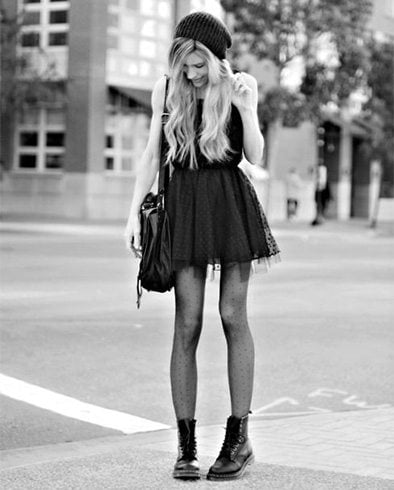 Short skirts with opaque leggings and a pair of tanned combat boots would make heads turn for sure, and would be the best fashion statement to make on an evening out with friends too.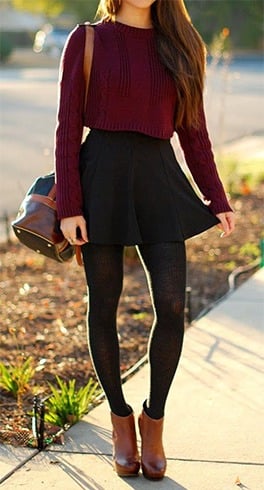 Denim shorts with combat boots and an oversized cardigan for the spring time chills to bask in, and the textured beanie on the head would be an amazing fashion statement under the spring crispy sun.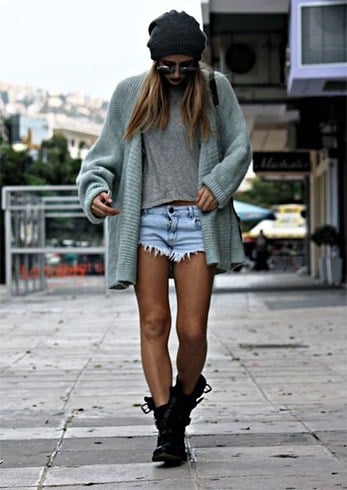 A printed top, ripped jeans and an oversized jacket with an oversized woollen stole for company, why not?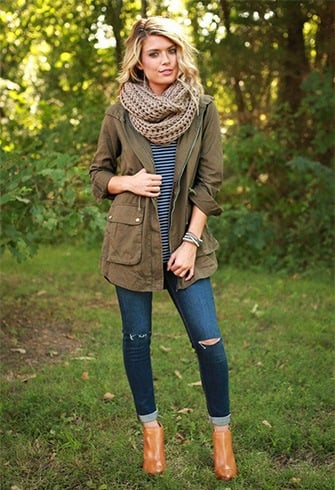 Skater skirts to floral dresses, you can combine the look and complete it with combat boots for the spring summer wardrobe evolution.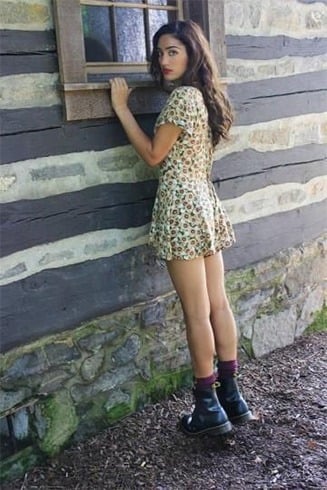 A short black dress with a neutral combination of a woollen coat and mesh leggings, would be a nice way to welcome the spring summer sun.
Printed leggings and chunky combat boots for the evening out with friends steals the show, but what would make it look super haute would be a stole or a scarf on the top of a top for company.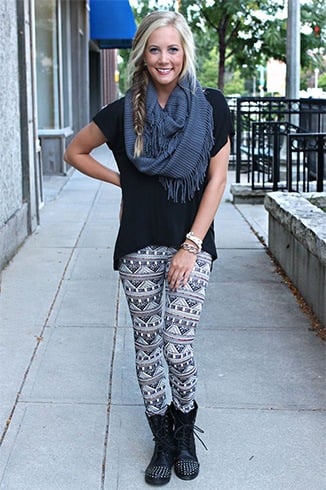 He 90s grunge look can be back with a bang when you wear tartan shirts and a cute winter jacket, paired with seamed pants and a pair of dark combat boots.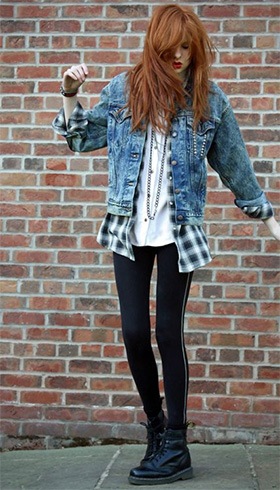 Turn your simple black skater skirt into a professional number with a tied up shirt in neutral tones and combat boots for the feet.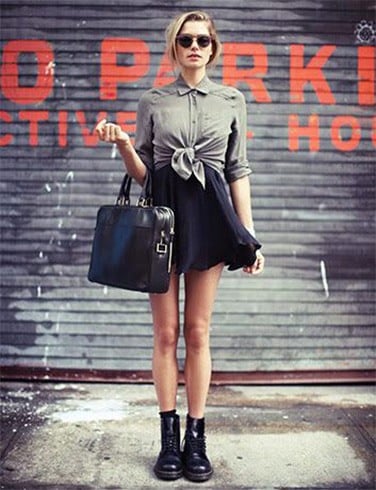 Pair up a mini skirt with denims jackets and a cute pair of combat boots for girls for the evening out on dinner with friends.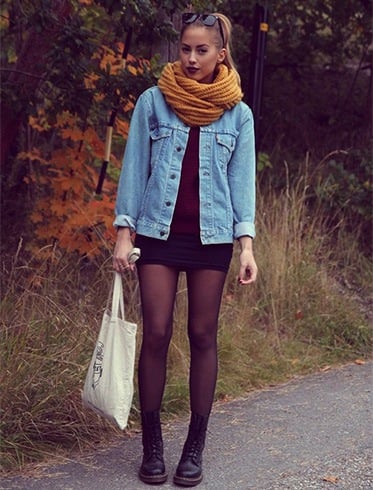 Denim shirts and a summer coat with a beanie on the head, and combat boots in white for the feet would make for an adventurous look, isnt it?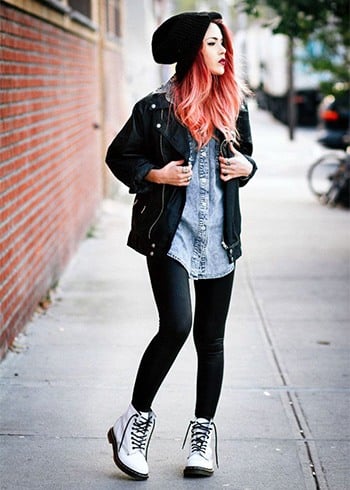 Skinny denims for college and a loose top with combat boots makes a minimal yet chic fashion statement.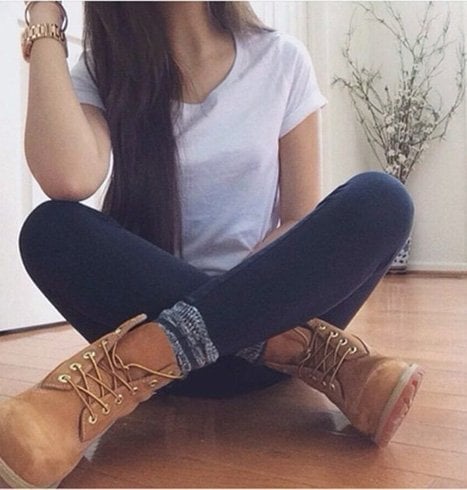 Cherry red combat boots for girls with an overall and a black top is a cute affair that you surely would like to flaunt.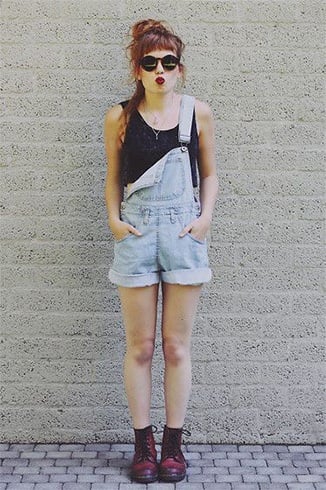 An oversized tunic for the pool parties or the beach parties with combat boots could be a scintillating affair to flaunt.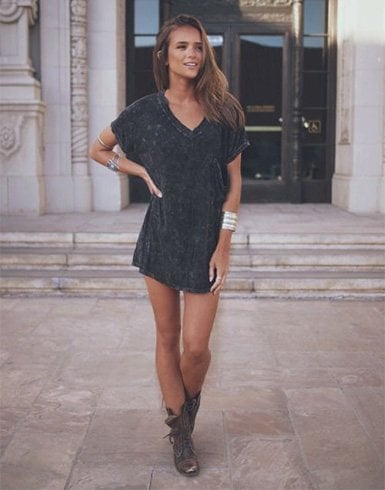 Wear your long knit socks and combat boots, paired up with lycra leggings and an oversized shirt or cardigan for the end of winters.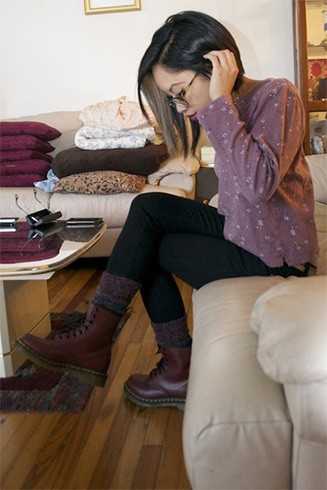 Ripped denims, a cropped cardigan and a printed white top with a beanie on the head would be an ultimate street style fashion to flaunt.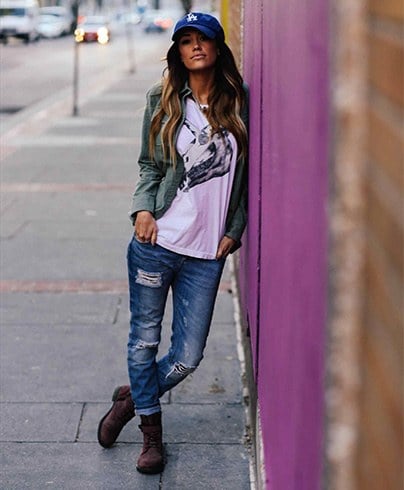 Bring in the season of fall with pumpkin colored tops and a neutral toned stole, pairing it with sexy combat boots in the same family hue.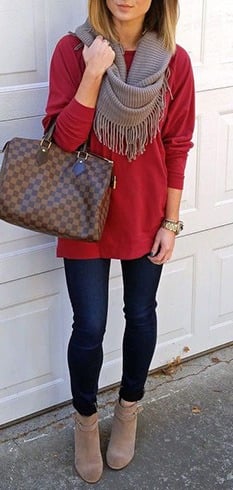 Lacy dresses with leggings and a beanie on the head, should be combined with combat boots for girls, for a very feminine touch to come through.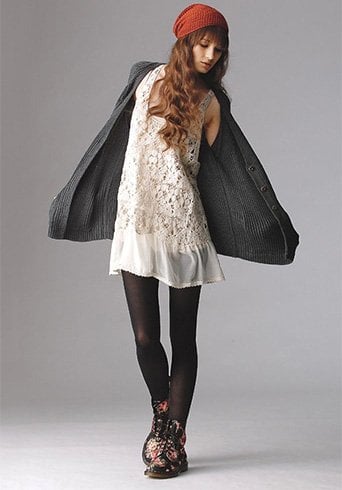 You can go all black and monotonish in the look with combat boots, leather pants and a sleevless top with a cardigan for company.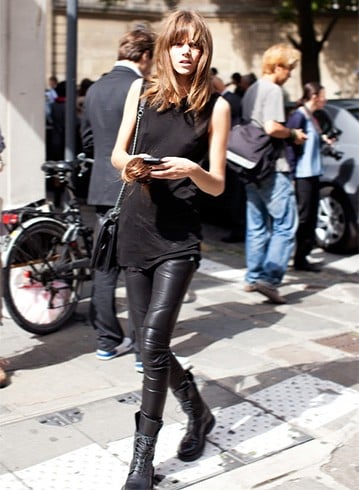 Olive green jackets with grey stoles and a top, on top of lycra fitted pants or skinny jeans, with combat boots would be an ideal way to spend Friday at work all dressed.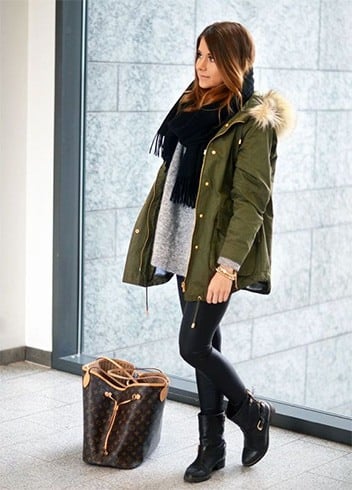 Out for the day, you can wear moms jeans or high waisted pants with combat boots and make heads turn wherever you go.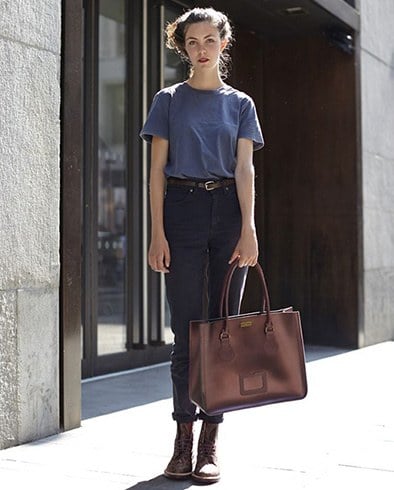 Go a little more desi swagalacious with ethnic printed pants and combat boots, paired with a sleeveless top this spring.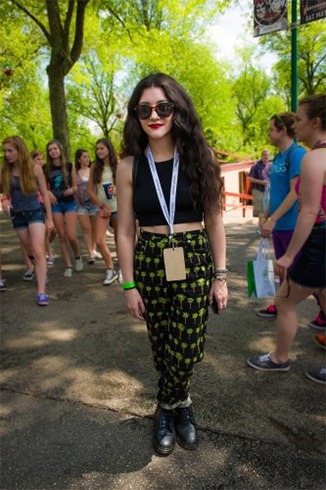 Faux fur jackets can be worn on top of one length dresses and combat boots for a fun factor to throw in.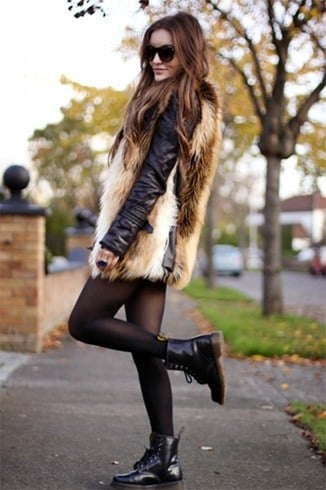 Sweat shirts paired with dark lycra leggings and tan or rose tainted shoes, quite a casual affair to flaunt we say.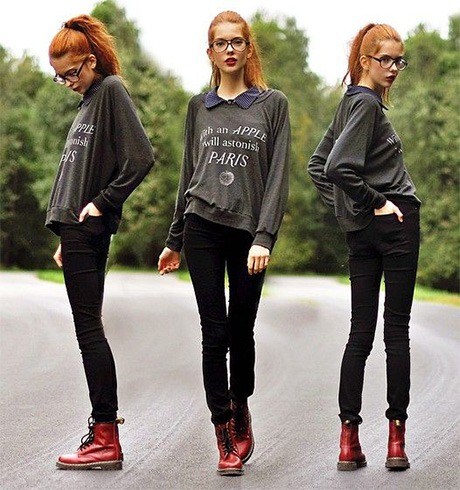 If not an LBD for more adventurous fashion thoughts, a simple black dress is what you can wear anytime with your combat boots for girls.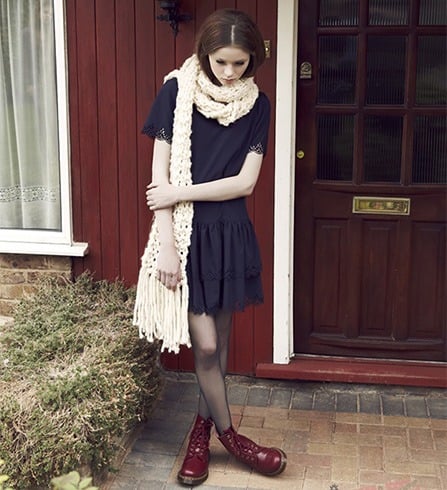 Floral skirts and a blazer with combat boots are so chic, we cannot even talk enough about it.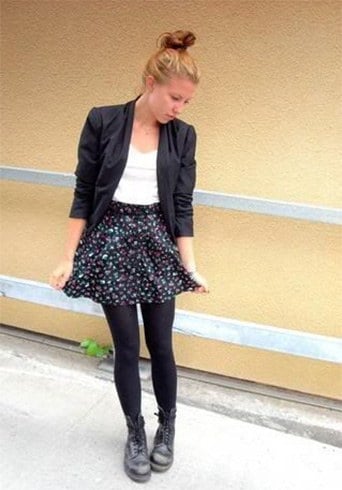 Cuff your jeans and wear the combat boots like a lady on a mission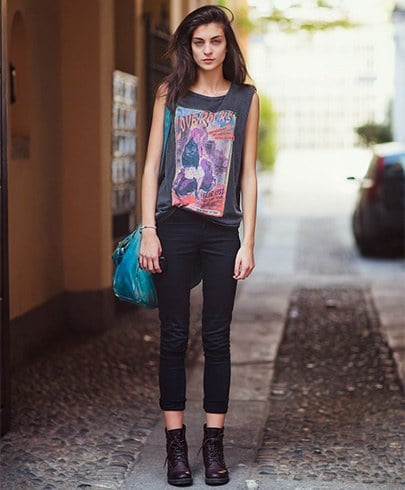 We hope this mini guide on how to wear combat boots for girls comes in handy. If you own a pair of combat boots, we would like to see how you wear and style them up, and with what. Do write in and send in your stories, comments, queries and suggestions. We love hearing from you all as always!