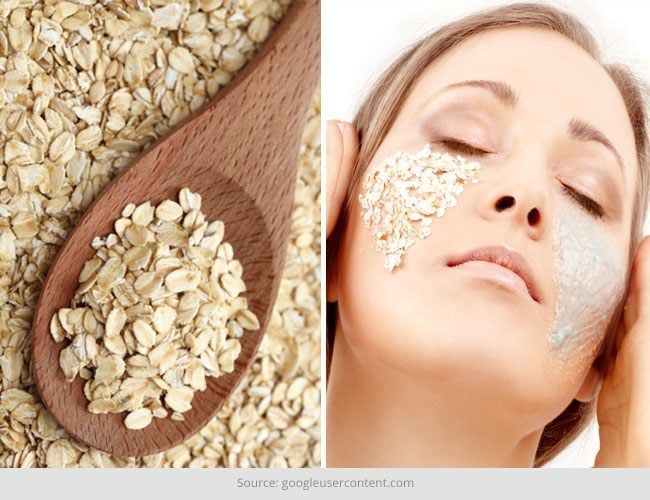 If there is one thing that can make our breakfast healthy and nutritious (without the fattening cheese and the toppings that is) then it is undoubtedly Oats. Packed with minerals, vitamins and nutrients, it is a wholesome fibre that is making its way into power breakfasts and diet regimen.
However, what is the connection between Beauty and Oats that is making it the talking point in health clubs and social evenings? Well ask Mrs. Anna, the lady in the early 40s or the college going babe Akira who have treated their skin to the wonderful benefits of Oats.
Go back to history and you will find some interesting things about this amazing bonding between Oats and Beauty. The Arabs and the Egyptians were the first to use Oats as early as 2000 BC in order to polish their skins to perfection and heal the nagging skin ailments. Biologically referred to as Avena sativa, wild oats have proven to be excellent when it comes to skin exfoliation, cleansing and moisturising, giving you the much-needed skin confidence. So get ready to possess a shiny skin that looks porcelain, thanks to Oats.
Oats as Homemade Beauty Tonic
Ever heard of oatmeal porridge rubbed on our cheeks when we were diaper babies? That was the good old beauty remedy used by our mothers and grandmothers to give us smooth and shiny cheeks. Oats has a major role to play in skin care. Take a look.
Beauty Benefit 1: Since oatmeal has anti-inflammatory properties, it is perfect for sensitive skin types that succumb easily to infections.
Beauty Benefit 2: Oatmeal is known to have a cleansing agent called saponins which is why it makes as an excellent mild soap.
Beauty Benefit 3: Owing to its moisturising properties, oatmeal leaves a soft creamy texture on the skin by removing dead skin cells.
Beauty Benefit 4: Skin ailments such as rashes, acne, and eczema can be treated well through oatmeal application.
Beauty Benefit 5: A scoop of oats can help fight out ageing skin and dryness. Since Oats have polysaccharides that swell up like gelatine in water, they can be used to fight flaky dryness.
Beauty Benefit 6: Oats serves well as a skin lightening agent. That is why it is used in a variety of skin care products such as body scrubs, soaps, exfoliating creams and lotions that help improve the radiance of the skin.
Beauty Benefit 7: Often chemical treatments and unhealthy lifestyle lead to a harsh scalp. Since oats are loaded with minerals such as iron, potassium, magnesium and zinc, they play a major role in promoting natural hair.
Beauty Benefit 8: Since oats have high fibre levels, they help in lowering oestrogen levels, thereby preventing cancer.
DIY Methods for Oat Application
Without a doubt, some of the best beauty remedies come from home. That is why, we suggest you to adopt some of these methods that are easy to prepare and apply as you lounge around on your beanbag at home.
Buy raw oats from the shop, blend them in a food processor or use the old method of mortar and pestle. Grind it into a fine powder and get ready to apply it on your skin and scalp.
1. Oat Face Cleanser: To a mashed banana, add a cup of oatmeal in lukewarm milk. Stir it well and apply it on your face for good 10 minutes. Now splash cold water to keep your face smooth and hydrated for long.
2. Oatmeal Face Wash: No matter the skin type you have, mix 1 tbsp of oat flour with 2 tablespoon of hot water. Apply to face and then rinse off. You can also put 2 tsp honey or glycerine to give your face that super soft look.
3. Oat Milk: Oats make a great substitute for dairy milk. Use it as a face cleaner and face toner to bring that healthy, smooth and refreshing look to your face.
4. Oatmeal Scrub: Mix 1 part olive oil into 1 part oatmeal flour, and apply over your face. Wash off with tepid water followed by oat milk toner. The same procedure can be applied as a body scrub followed by moisturization.
5. Oats Shampoo: Ground oats makes an amazing dry shampoo, especially for women with blonde hair. Apply some over your scalp, and brush off excessive oats with a boar bristle brush.
Oats Beauty Tonics available Online
1. Face Cleansers: Treat your face to this ultra-hydrating sweet-lemon honey and oat facial cleanser. The oat extract penetrates deeply into pores eliminating impurities. While honey makes the skin smooth, the aloe vera juice base refreshes your skin beautifully.
2. Face Wash: With anti inflammatory and anti oxidant properties, oatmeal face washes are proven to be beneficial in curing skin disorders such as eczema, sunburns and poison ivy.
3. Face Scrub: Experience gentle face cleansing through oatmeal scrub and mask that gently softens skins and smoothens away dryness.
4. Bath Soaps: Invigorate your senses through this natural, wholesome, hand-crafted Oatmeal soap that also has Rice Bran Oil, Olive Oil, Coconut Oil and Glycerine.
5. Anti-eczema Cream: Rejoice your skin with natural colloidal Oatmeal that moisturises eczema-prone skin. Use it regularly to prevent dryness and irritation.
6. Oat Shampoo: This deliciously fragrant honey and oat shampoo has sea kelp that cleanses and strengthens hair, further adding gloss and lustre.
7. Oat Milk Lotion: Thick and smooth lotion comprising of oat proteins that softens the skin through deep moisturizing.
8. Anti-Ageing Eye Cream: Natural oat peptides boost natural collagen through this eye cream instantly erasing fine lines and wrinkles and reducing the appearance of dark circles.
As you can see, looking stunning takes a different twist as you dab these breakfast marvel Oats on to your face and hair. Welcome to a glowing complexion and bouncy hair the natural way.
Hope this article on oats for great skin and hair helps. Add oats to your daily routine and see the natural glow on your hair and skin.