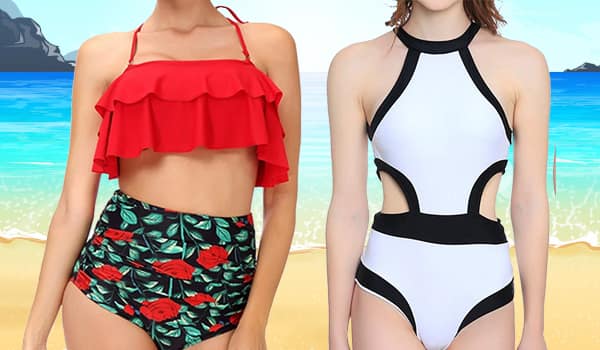 Check out these gorgeous beachwear options that will help you flaunt your body as well as keep all your insecurities at bay. In the most exotic designs, these swim sets are a treat to be dwelled in. Their amazing prices give us all the more reason to buy them right away!
Swimsuits That Will Transform You Into A Beach Goddess:
These swimsuits are designed for your convenience and to suit your body type in the most flattering manner. Check out which one you need for your next beach holiday.
1. Sporty Printed Swimsuit:
This sporty printed swimsuit is chic and comfortable while you enjoy your day at the beach. It is perfect for a swimming class in a pool to a surfing session in the ocean. The dress-like mini swimsuit requires cycling shorts to be worn underneath for better comfort.
2. Polka Printed Swimsuit:
How gorgeous is this swimsuit? If you are conscious about your waist and hips, this is the ideal beachwear outfit to opt for. The sexy halter version of the swimsuit helps to flaunt your chiseled collar bones while the waist area is covered. The colors spell fun and gather attention.
3. Two-Piece Swimsuit:
Who doesn't love something that can flaunt your hourglass figure? This two-piece swimsuit is what dreams are made of and that too at such an affordable price. No chance you're getting a better swimsuit for a better price anywhere. Maybe you've got 99 problems, but let your beach wardrobe not be one.
4. The Modest Swimsuit:
This tights-shirt combo swimsuit is a winning combination for the one who is shy to flaunt her curves. Although this outfit is just as appealing as the rest with its indigo palette. The tights flaunt your toned legs while the airy top gives you an easy-breezy look.
5. Sexy Back Swimsuit:
One look at this swimsuit and you're already going gaga over the colors it has. Well, that's not it, the sexy peek-a-boo back just adds to the oomph here. Flatter your curves while you're the center of attention with this oh-so-gorgeous swimwear.
Shop this collection from amazon.in
Which swimsuit here is your favorite pick? Let us know in the comments box below. Stay tuned for more fashion updates only on FashionLady!