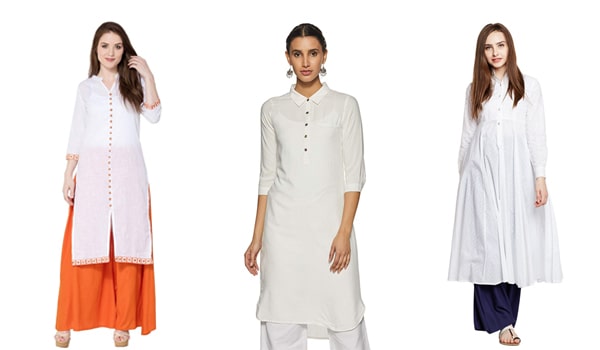 Women it's time to chin up and bask in nation love.
There is no love as country love. Patriotism is a feeling that unites millions and binds them into a single bond that stays with them as long as they last.
A nation gives us our identity and we are forever indebted for all the values that are passed down through generations.
With us standing on the threshold of the 70th Republic Day, the spirit of patriotism is raging high and we have all the reasons to show our pride and respect to our motherland.
From a fashionista perspective we know the exact means to channel our inner allegiance toward our country. Don a pristine white kurta and adorn it with tri color accessories.
With white signifying peace, a white kurta projects your wish to always have your country be looked upon as a serene and peaceful place to live.
To have you dressed up just right for the 70th Republic Day, here are our last minute white lurta picks all from Amazon.in.
White Kurta With Orange Buttons:
A white kurta with saffron accents spells India love. This 100% white cotton kurta accentuated with orange fabric buttons and elegant orange embroidery at the sleeve end is a go-to for days like Independence Day and Republic Day. Pair it up with a pair of orange palazzos for most effective Republic Day dress up.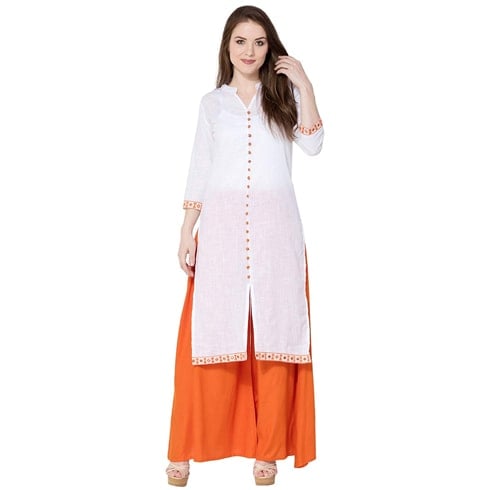 White Fitted Kurta:
Reflecting the spirit of a powerful and dynamic young country, this white kurta will power dress you for a day dedicated to the nation. A variation of the mandarin collar, this high neck fitted A-line cotton kurta is sharp and edgy. Buttons lined on both the sides and a high front and side slit add on to it's overall look. Paired with a pair of black fitted leggings and heels and a triclor pinned onto the kurta will get you ready.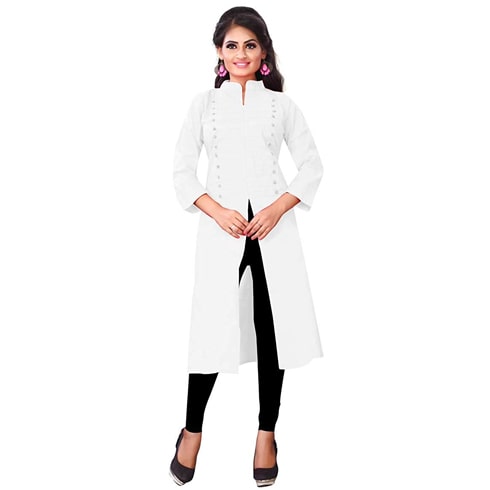 White Kurta With Colourful Fabric Fringed Buttons:
Indian clothing is known for it's kaleidoscope of colours. Brights define the Indian spirit and our movies from Bollywood justify them. Bringing in the cheerful and jovial spirit of the country, this white kurta completed with colourful and fancy fringed buttons could be a perfect pick for this Republic Day. While the princess cut tailoring will accentuate your curves, the cotton fabric will keep you comfortable.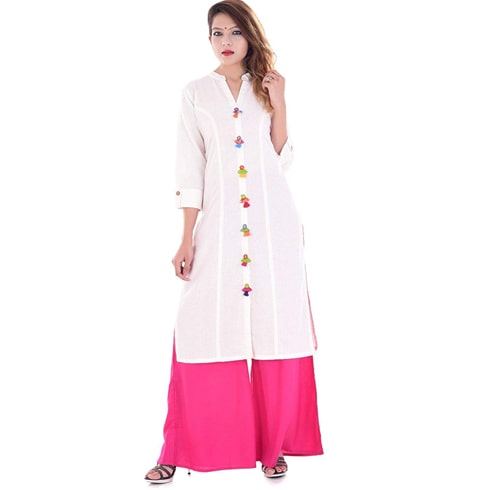 White Shirt Style Kurta:
Shirt style kurtas are a forever in every closet. This white banded collar kurta with an asymmetric hemline looks cool and casual. The rounded edge short from the front and longer at the back when paired with patialas will redefine your casual style and get you Republic Day ready. Complete your look with a jhola and juttis for maximum impact this 26th January.

White Chicken Kurta:
A white chicken kurta is a must in every closet for all that class and royalty it exudes. Wearing one this republic day is sure to add more stars to your patriotism. Deviating from the regular fitted pakistani style chicken kurtas, opt to wear this shirt style chicken kurta boasting of dressy kalis joined to the yolk.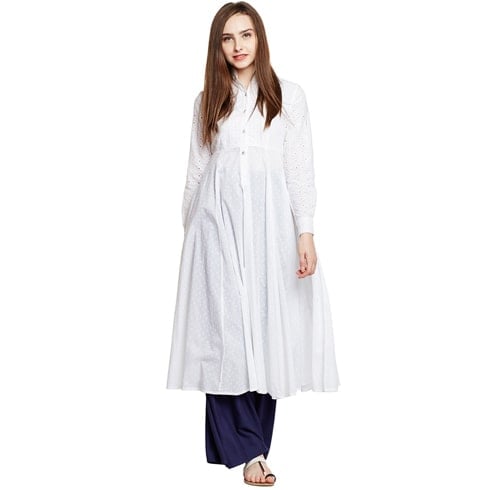 White Sleeveless Khadi Overlap Kurta:
Khadi is representative of India and hence wearing a khadi kurta on the 26th of January and 15th of August is like wearing your culture. This overlap neckline sleeveless kurta is our pick. Wear it with ankle length cigarette fit pants fusing modern aesthetics with the deeply rooted fabric.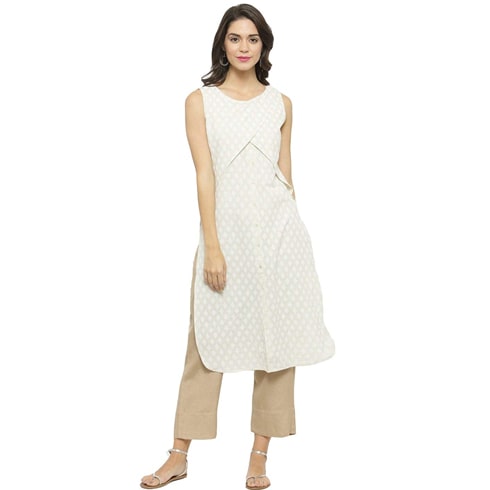 These are our top picks for the 70th Republic Day of India.
Author: Sonam Maheshwari