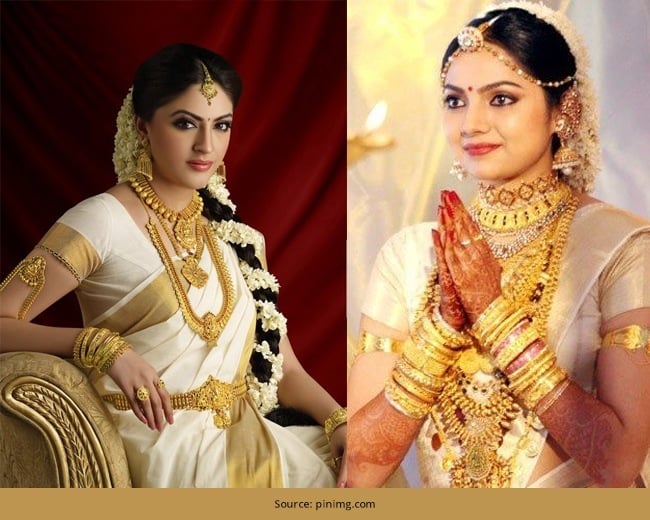 India is a land of so many different cultures and customs. Each state has its own unique set of customs and it is always interesting to see how each state conduct their wedding ceremonies. Apart from the ceremony itself, another aspect that highlights how different we are from each other is how we dress up our brides. For instance, a Bengali bride looks completely different from a Tamil Bride. They showcase their culture through their clothes and jewellery, making it a very fascinating topic to discuss. In this article we're going to take a look at the beautiful Kerala bride and what makes her different and unique when compared with brides from other states.
Kerala, termed God's own country, is a land of lush greenery and well connected backwaters. It is a popular tourist spot as people throng the state to get a glimpse of the Keralite way of living, their tradition and customs. And the brides of Kerala manage to portray these aspects beautifully with their attire and jewellery.
Kerala Wedding Attire: Kasavu
The most unique aspect of a Kerala bride is her wedding attire. While it is the norm for brides to wear red or yellow on their wedding day in most parts of the country, the Kerala bride wears white. A white silk saree with a golden border is the most preferred attire. Of course this is because Kerala has a high population of Christians and they prefer to wear white on their wedding day. Hindu and Muslim brides may still wear bright coloured sarees. A Christian bride may wear a white saree and pair it with a veil or she may opt for a white gown. And a muslim bride may either wear a saree or a lehenga, and pair it with a heavily worked dupatta pinned to her head.
[sc:mediad]
Kerala Wedding Jewellery
As far as the bridal jewellery is concerned, the Kerala bride is adorned in gold. Whichever religion the bride belongs to, this is one aspect that is the same. Gold is favoured over diamonds or other precious stones. The bride typically wears a lot of gold: as how much gold the bride wears is considered to be a reflection of the bride's family's prosperity. The bride typically wears necklaces of varying lengths, with the shortest being a chocker necklace around her neck and the longest reaching till her waist. In her ears, she wears a chunky jhumka or an earring with some contemporary design. A lot of bangles adorn her hands and a gold waist chain is used to cinch the waist.
Kerala Wedding Hairstyle
The preferred bridal hairstyle is a braid for a hindu or muslim bride and a bun for a Christian bride. A tikka on the forehead and a lot of flowers complete the look. A Christian bride wears a tiara and a veil as hair adornments.
Kerala Wedding Makeup
As far as the bridal makeup is concerned, the Kerala bride wears minimal makeup. Heavy makeups with vibrant colours are not her thing. What the Kerala bride strives to achieve is a subtle glow on her wedding day that is not too in-your-face. So the preferred colours are shades of pink and gold to achieve a dewy, glowing look. Even the eye makeup is not overly dramatic. The focus is on letting the bride's natural beauty show through, with minimal makeup to just enhance her features.
With her minimalist makeup and her grand jewellery, the Kerala bride is an interesting paradox. She is a vision in white, quite different from brides of other states, making her mark with her signature style and look.
The Kerala bride, with her refreshing look, seems to epitomise the backwaters and greenery of Kerala. With her heavy jewellery paired with minimalist makeup and a simple hairdo, she manages to create a look that is simple yet magnificent, much like Kerala itself.