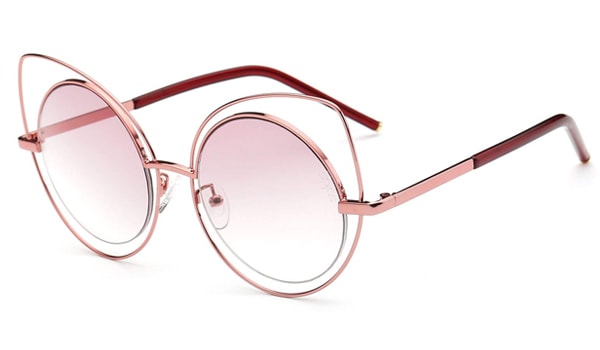 Sunglasses are a sure shot accessory to up your oomph quotient, whether it is sunny or not. It's a different case that during summers sunglasses protect our eyes from the heat and dust. It is so fancy to see sunglasses in different colors, and of course, we'd like to own them all. Get ready to fall in love with these cool shades.
Sunglasses To Up Your Glam Quotient:
These trendy sunglasses will help you turn heads. Choose your pick!
1. Rectangular Aviator Glasses:
These silver shaded rectangular glasses are the newbies in town. We can't complain as to why everyone's hoarding on them. The chic shape complemented with a unique color opens up a new dimension of style every day. Team them with a brunch outfit and head out looking nothing less than a fashionista.
2. Matte Finish Wayfarers:
If there's one pair of shades that need to be classified as an essential, it's got to be these black matte wayfarers. For a simple, classy and neat look, this black wayfarer is a must-have. Hurry up and get your hands on it before it runs out of stock!
3. Over-sized Animal Print Glasses:
Who doesn't love sunglasses that are over-sized? Well, no one. Over-sized sunglasses are a perfect celebrity-inspired trend to wear! With plenty of shapes and designs to choose from, here's the best of them all!
4. Cat Eye Sunglasses:
Haven't you seen the streets of New York filled with fashionistas wearing cat eye sunglasses including our very own Priyanka Chopra? Is it the hottest trend kick-started by none other than Gigi Hadid? Well, yes. These sunglasses have a unique shape that adds a subtle sexiness to your look. These transparent white ones are a class apart and require your attention at the earliest.
5. Round Mirrored Sunglasses:
The round sunglasses come with different options of colors and rims. Being much in vogue currently, find a pair of flattering ones that go with every outfit. These sunglasses have a universal appeal as they suit anything from a round face to a square one.
6. Cutout Cat Eye Sunglasses:
Keep up with the Kardashians! The lens is cut out in a cat shape and gives a familiar retro vibe. Inspired by the classics, this twist has given us so much to look forward to on a day out. Let your closet gleam with fashion with this ultimate eyewear choice!
Are you ready to upgrade your cool avatar? Order these sunglasses right away and grab the fashion headlines effortlessly!
Let us know in the comments below which pair of sunglasses was your favorite. Stay tuned for more deals related to the hottest trends!
Shop this collection from Amazon.in