Camphor also known as Cinnamomum camphora is an organic compound that is mostly present in ointments, creams, and lotions. The oil is extracted from camphor tree and filtered through steam distillation. It can be applied topically to relieve from irritation, pain, and itching. They are also beneficial for health problems like chest congestion and inflammatory problems.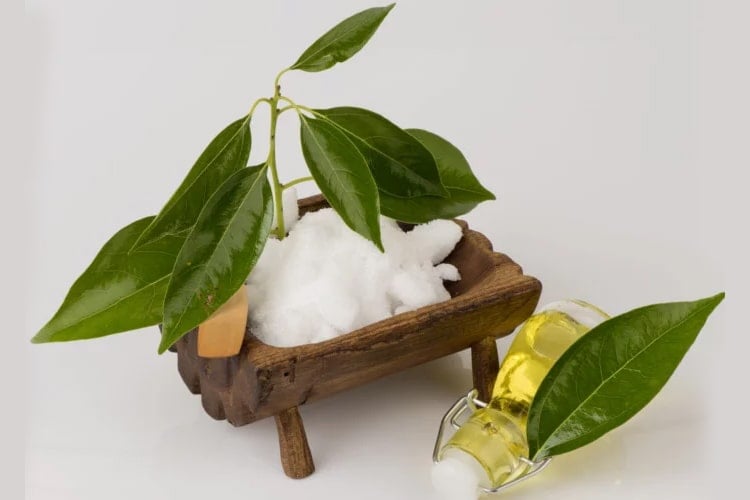 Camphor has a strong smell and taste. Normally, it is used to safe to use camphor but it has potential side effects. For instance, taking camphor internally or when applied to broken skin can cause irritation. Now let us now learn more about medicinal uses of camphor and its benefits.
Uses of Camphor:
Camphor has anti-inflammatory, antibacterial, and antifungal agents for several topical uses. It can be used for the treatment of skin conditions, relieve pain, and improve respiratory function.
Camphor can be used in a number of ways such as:
Topical application of camphor can provide great relief from cold and congestion. You may also get camphor crystals from medical stores. Add it to a pot of hot water. Inhale the steam to open congestion.
The camphor ice uses topically can impart a cool sensation to joint pain and reducing numbness.
Because of its inflammatory agents, camphor is also a great ingredient to treat acne, boils, gum infection, and rheumatism.
Let us learn more about the benefits of camphor for health and skin.
Benefits of Camphor:
Here are several benefits of camphor that you must know of: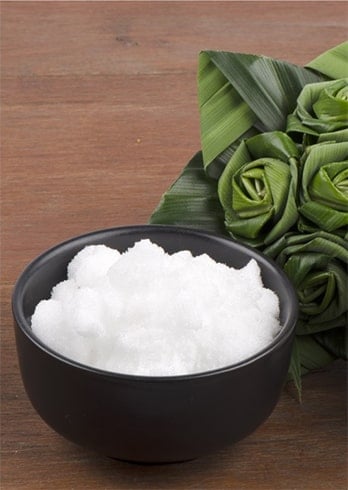 1. Improve skin condition:
Skin products containing camphor can be used for skin irritation relief and itchiness. It can also improve the skin appearance. Because of its antibacterial and antifungal agents camphor is essential for treating skin infections.
2. Treat Itchy Skin:
If you suffer from itchy skin, then you should try camphor essential oil. It has properties that can provide relief from itchiness and irritated skin. Camphor can also provide your skin with a cooling sensation. Those people suffering from skin conditions like eczema should try refined camphor remedy mixed with coconut oil. Applying this mixture onto itchy areas once or twice a day can bring a great sense of relief to problematic skin.
3. Treats Burns and Wounds:
Camphor is known for relieving skin from minor burns. It is said to stimulate nerves and produce a cooling sensation. It can also relieve pain and irritation. Daily application of the ingredient can lighten scars. Mix two camphor cubes into a cup of coconut oil. Apply the solution onto affected area. Continue to apply until you notice a difference. Another option is mix camphor with water. Rub the mixture onto skin once daily.
4. Hair Nourishment:
Apart from improving skin health, camphor is also to nourish hair. The ingredient can treat dandruff strengthen hair, and hair loss. Massaging your scalp using a paste of coconut oil and camphor can greatly help with hair loss and even boost growth. According to some studies, camphor is also known for killing lice, soothing itchy scalp, and treating dandruff.
You can also a remedy to boost hair growth. For this, you will need powdered camphor, olive oil or coconut oil. Mix these ingredients together and massage onto scalp. Allow it to sit for 20 minutes. Rinse off using a mild shampoo.
5. Acts as Painkiller:
If you have joint and muscle pain, then camphor may be a good option for you. A study revealed that camphor oil can provide a cooling sensation and relieve pain, especially of joints. This is also why camphor is used for pain relief for osteoarthritis pain. But it is important to note that camphor is also suitable as a painkiller and not as a remedy.
For bringing out the best effects of camphor, try mixing it with sesame oil. Heat the oil mixture and massage onto painful areas of the body or joints. This will bring great relief from pain.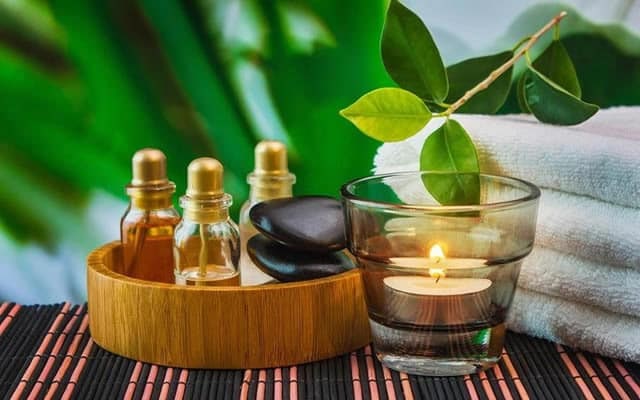 6. Cure Toenail Fungus:
Do you know that applying camphor oil onto toenail fungus can help treat it? Since camphor has antifungal and antibiotic agents, it can treat the fungus. This camphor oil uses has no side effects.
7. Improves Blood Circulation:
The application of camphor onto skin can not only increase blood circulation but also treat disorders caused by improper blood flow. One study showed that application of petroleum jelly can greatly improve circulation as it contains about 20% of camphor. But it is not advisable to use camphor oil or camphor directly onto skin. You may mix it with olive or coconut oil for best relief.
[sc:mediad]
8. Acts as Mosquito Repellant:
Are mosquitoes causing major irritation? Then burn a camphor tablet and leave it sometime inside a closed room. It can work as an effective mosquito repellant. The ingredient can also be used for treating other problems like moths and other insects. Many people make use of camphor crystals in cupboards to repeal insects.
9. Camphor uses cold, Cough and Congestion:
Camphor oil works as a cough suppressant and decongestant. According to a study, rubbing camphor oil onto chest and body can greatly relieve from coughing, sleeplessness, congestion, and other respiratory infections.
The best way to use camphor oil is to mix two tsp of vicks vaporub into a vessel of hot water. Lower your head over the bowel and cover your head with a cloth or towel. Slowly inhale the vapor. The steam inhalation can open your congestion.
Alternatively, you can also apply the balm onto chest or feet.
10. Treats Arthritis:
Camphor may greatly relief from inflammation, pain, and swelling caused by arthritis. Because of its anti-inflammatory agents, it is a great remedy for treating arthritis. You may also try menthol camphor ointment to affected areas twice daily.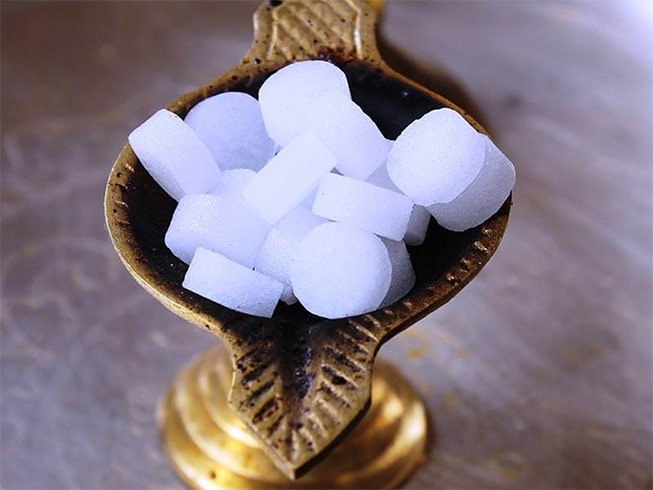 Side Effects of Camphor:
The side effects of camphor are as follows:
Camphor oil is very strong for directly skin application. It may lead to skin irritation. So always mix camphor oil with other carrier oil.
Children should not make use of camphor oil topically or orally as it can be highly toxic.
A 3-11% of camphor concentration is the ideal dosage according to FDA. Anything beyond the recommended dosage can prove to be toxic for skin. Always mix the solution with other carrier oil.
The ideal dosage of camphor is 125-375 mg daily. But always consult a health practitioner before using it.
These are the top benefits of camphor that you should know of. Did you find this post helpful? For any queries related to health and others, drop a message in the comment box below.