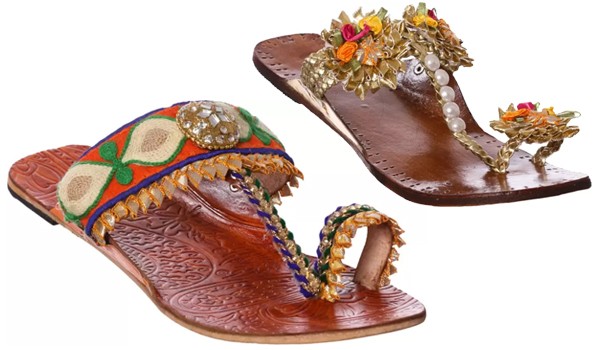 Footwear fashion has evolved in ways we cannot imagine, especially the traditional Kolhapuris that have managed to steal a place in every woman's heart. Decked with tassels, frills, pom poms etc, the Kolhapuris are a rage amongst the younger generation.
A simple outfit teamed with Kolhapuris is no match to the usual boring flats. Durable and easy to wear, they banish the pain of wearing heels to look stylish. These Kolhapuris are one of a kind and deserve that tiny place in your wardrobe, not just your heart.
The Trendiest Kolhapuris In Town!
Don't you love to put on a pair of hassle-free and comfortable Kolhapuris? Well, here are a few types of Kolhapuri chappals that will complete your wardrobe.
1. Flirt With A Bright & Colorful Pair:
It is no surprise that we are drawn to things that are bright and beautiful. This is a perfect example of just that. These blue and pink Kolhapuris will win your heart in an instant. It works as the ideal pairing with plain ethnic outfits and adds a dash of glamour to them.
2. Play Safe With The Classic One:
The subtle gold tones with white pearl-like stones make this footwear a classy affair. A timeless choice that can be teamed with any outfit irrespective of color and style. Grab this beauty before it goes off the shelves!
3. Say Hello To Sunshine:
These yellow Kolhapuris radiate so much oomph that we are already weak in our knees! The most happening party or the perfect brunch, this footwear will have you covered without a doubt. Full of tassels and colors, this is definitely not for the sober ones.
4. Catch The Pom-Pom Fever:
Haven't you noticed that pom poms are suddenly all over fashion websites? Be it clothes, bags, footwear etc; the trend is definitely catching up. These cute red pom pom Kolhapuris are here to bridge the gap between the trend and comfort. Are you a fan already?
5. Make A Subtle Style Statement:
Not every footwear needs to be party-like, is it? This version of a simple Kolhapuri footwear can be worn within the comforts of your home too without you looking OTT. With simple embroidery and a brown base, put them on with ethnic or western clothes and ace your fashion game.
Now that you have had a glimpse of the Kolhapuri footwear that everyone needs to own, what's your pick? Wear them, flaunt them and love them.
Stay tuned for more stylish picks coming your way!
Shop this collection from flipkart.comp;
Author: Bhavya Rebala