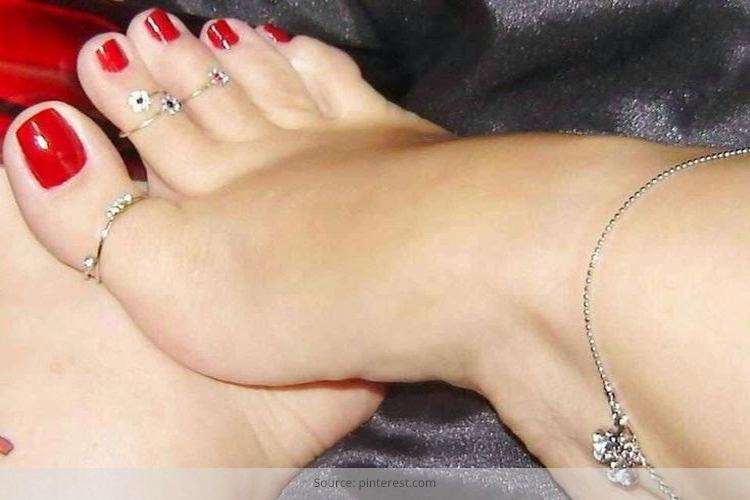 The tag 'foot fetish' needn't be sexual always, for it can be a form of worship a man can offer his woman. Give him yet another reason to be bonkers over your beauty, and this time literally from top to TOE! Here are sexy fifteen best toe rings for your perky toes to flaunt, toe rings for sure that would steal his breath away!
[Also Read: NATH Jewellery: Nose Rings You Will Love]
Tips On How To Sport Cute Toe Rings
If this is your first time wearing toe rings, here is a mini-guide to show you how to flaunt the chic and small accessory with utmost grace. Stop wondering why he keeps looking at your feet, the answer is on your toes already – those cute toe rings that you are wearing, and you should take advantage of the same *wink*
Wearing toe rings next to the big toe only, is so passé, and in this day and age, where styles are so individualistic, you could wear chunky to plain bands, fitted to adjustable toe rings on any toe you like, or all of them. However, toe rings are flaunted best when you have the right pedicure and nail art for the feet done.
Hold your toe ring in your hand and look at your ties, it is the fatter padded zone of the toe that the ring has to comfortably pass through. It is exactly that region which would touch the surface you walk on or rest your feet upon. But having said that, you then would have to choose a toe ring that wouldn't get scratched and torn at the bottom.
Choose a toe ring that would get past the fatter part of the toe with ease, and would snug into the toe well and not slip off too. Hence, wear the toe ring right at the fatter zone of the toe, not before and not after- else you'd either lose the toe ring or would have it worn and torn in no time. Let it sit pretty at the knuckle joint! The one seen in the picture is also one of the common Indian wedding toe rings spotted on most married women.
[Also Read:The Full Finger Fashion Rings]
When Wearing a Fitted Toe Ring
Should you opt for a fitted toe ring, it would help to use a little lube on the toe, so that the ring gets through faster through the fatter zone of the toe. The same holds true when removing the toe ring is talked about, no pain and easy removal assured!
Toe rings are part of your feet, your personality overall and your look too- there are toe rings meaning for every design created as well. Trying to bend the metal for a perfect circle to form, shouldn't be done. Try on a couple of them and never forcefully bend the ring, or else the durability goes for a toss.
The Adjustable Toe Rings
Should you opt for adjustable toe rings, you would always end up repositioning the toe ring on every occasion you would want to wear it to. But ensure not to bend it too much, or the finish of the ring would wear out, and the metal would weaken!
Swirl Them On Your Toes
Should you not like toe rings, plain and simple, adding a swirl touch to the elegant toe accessory could be your thing. The Bronze Adjustable Toe Ring with CZ diamonds Sculpture is a chic toe ring to wear then!
Sterling Silver Toe Rings
For daytime office wear to parties at night, look haute flaunting your best foot forward in a white Sterling Silver Toe Ring
[Also Read: How to Clean and Maintain Silver Jewellery]
An Emerald Touch To The Feet
Emeralds are forever, and when they are on your toes, you cannot blame him for his eyes not meeting yours. The Wire Toe Ring with tiny blue emeralds sure do the talking!
Sterling Silver Adjustable Butterfly
Butterflies running amok, and that too on your toes. The Sterling Silver Adjustable Butterfly makes a pretty embellishment to wear for formal occasions. Brings about a chic touch for sure and with its versatile nature, the toe ring fits right with every ensemble too!
Flowers For The Toes
Every girl needs to have a pair of these for both feet. Who wouldn't like the dance of flowers bestowing the beauty of freshly pedicure toes?
From Plain To Intricate
One per toe and you would be the toe-nail-ringed diva! Need we say more!
Big Toe Ring Silver Daisies
The Big Toe Ring Silver Daisies in pretty turquoise silver and embellished with beads, courtesy The Fancy Feet Boutique brings to us the cutest adjusted toe ring to wear and flaunt for any occasion! The big toe now can be dolled up too!
We hope you loved our mini-guide and the plethora of choices on toe ring designs, significance and trends shown. Wear them all and flaunt them with grace!