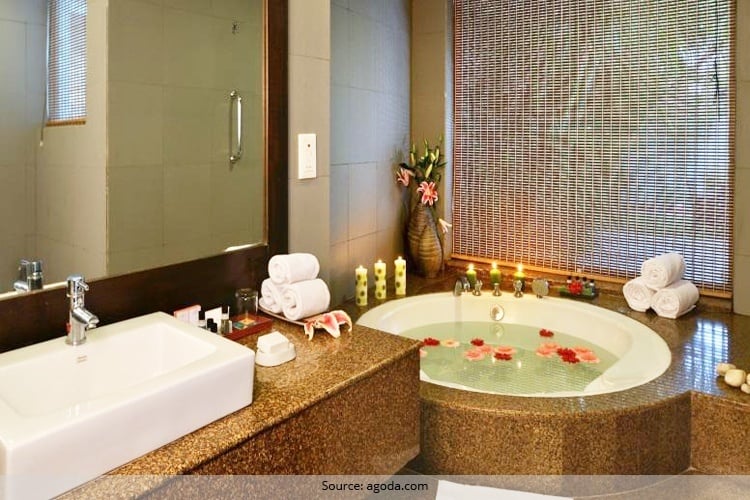 Who doesn't enjoy an invigorating massage and soothing hair spa? A good spa treatment drains away all the tension, relaxes the muscles and makes you feel relaxed and at ease. Do you enjoy a spa session and where do you like to go for a rejuvenating spa session? We asked several Hyderabadi girls and ladies which was their favorite and best spa salon and came up with a list!
FashionLady presents to you these quality best salon spas in Hyderabad:
1. Jawed Habib Spa Yoga
Address
2nd Floor, Fantasy Square,
Old Mumbai Highway, Gachibowli,
Hyderabad, Telangana
Phone: 800-893-4477, 040-3252-1111
Who does not know Jawed Habib and his awesome, and flawless hair and beauty services!
With more than 545 outlets, Jawed Habib has taken it a notch higher by providing spa services. Water is a healer, and we all know that. Their Hydrotherapy has therapeutic benefits, that can nurse stress, anxiety, skin related issues, muscle spasm, blood circulation, etc.. Apart from this, the other services include massages, wraps, scrubs, exfoliation, rejuvenation treatments, facials, etc. One thing that quiet suprised us, were the sessions on yoga and meditation. Just so that the clients benefit from it, small batches of not more than 6-12 clients are attended to at a time, by each instructor. Yearly memberships are also available and these work best for those who love to regularly pamper themselves.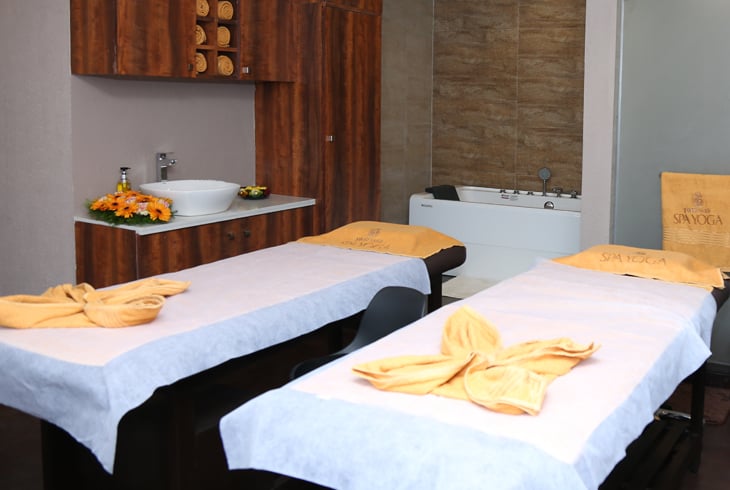 2. Jiva Spa
Address
Engine Bowli, Aliabad
Hyderabad
If you are looking forward to be treated royally and like nobility, then Taj Faluknumma, Hyderabad invites you to Jiva Spa. A legacy of the Nizams, the palace has been converted into a hotel by Taj Group which has retained the palace's splendor and majestic beauty. Their therapies and treatments are based on the ancient approach to health and well-being. Some of their signature therapies are Nawab-e-Khaas, Jivaniya and Shudhikara. They also offer Indian therapies, Indian aromatherapy, body rituals and beauty treatments. They offer yoga and meditation and a well-equipped gym.
[Also Read: Best Spa Therapies]
This sure is one of the best spa in Hyderabad and a must-visit place when you travel to Hyderabad.
3. O2 Spa, Hyderabad
Address
Hotel Novotel, Near Hitech City,
Kondapur, Hyderabad
This spa is situated at the Hyderabad Airport, GVK Mall and Novotel, Hyderabad. Being one of the premium spas in Hyderabad, they offer Swedish Massage, Thai Massage, aromatherapy, facials body scrubs, body wraps, pedicure, manicure and so much more. With its stylish, elegant and soothing ambiance, this spa in Hyderabad will help you unwind and become stress-free.
It offers great value for money and is highly service oriented. Its highlight services are foot massage, full body massage, Swedish massage, facials, and haircut.
4. Aura Spa
Address
Somajiguda,
Hyderabad
Located at The Park Hyderabad, this luxury spa has won the award for "Best new spa in India" and "Best Spa Interiors". Its design is based on diamonds from the Golconda region and each therapy room is named after precious stones found in the mines of Hyderabad. It features the special suite "Darya-i-noor" which features chromo therapy whirlpools and massage beds. It has a unisex gym which has a technogym and unisex salon which take cares of your beauty needs and helps in overall care. The treatments rendered here are based on the concept of five elements "Pancha Maha Bhuta" for overall healing and good health.
[sc:mediad]
5. Opium Spa
Address
Shop No. 1, Lower Ground Floor,
City Center Mall, Road No. 1,
Banjara Hills, Hyderabad
Known for offering personalized and focused services, they combine modern methods with traditional techniques for massages. They offer a variety of massages which include; Swedish massage, Deep tissue massage, Trigger Point massage, Balinese massage and Thai aroma massage. They also offer body scrubs which are enriching and rejuvenating. Some of the body scrubs are: walnut body scrub, enriching rose and soya milk body scrub, sea salt and lavender body massage.
6. Thai Sabai Wellness Spa
Address
Road No.36,
Jubilee Hills, Hyderabad
Relax your body with the Thai massage Sabai which has been practiced for about 4500 years now. They are popular for their healing thai style treatments which are a combination of aromatherapy and stress-relieving massages. With a well trained and polite staff, the experience of getting a massage here is authentic and unparalleled. They offer a wide range of therapies which include head, neck and shoulder massages, aroma body therapy, body massage with crystals, body massage with herbal candling and foot reflex, manicure and pedicure. They even offer regular salon treatments like hair styling, hair coloring, hand and feet rejuvenating sessions, bleach, waxing and facials.
7. Aalinkrita Resorts & Spa
Address
Karimnagar Main Road,
R. R. District, Hyderabad
Located on the outskirts of the city, it is like going on a holiday itself. Get rejuvenated at this spa resort in Hyderabad. Spread over two floors, this Spa Resort also has Fish Spa over. One of the best spa resorts, should be on your bucket list, for sure.
8. Golkonda Resort & Spa
Address
Near Osman Sagar Lake,
Gandipet, Hyderabad
Located at Gandipet, this is a get-away Spa that should be on your must-visit list at least once in your lifetime. This is one of the best Spa on our list.