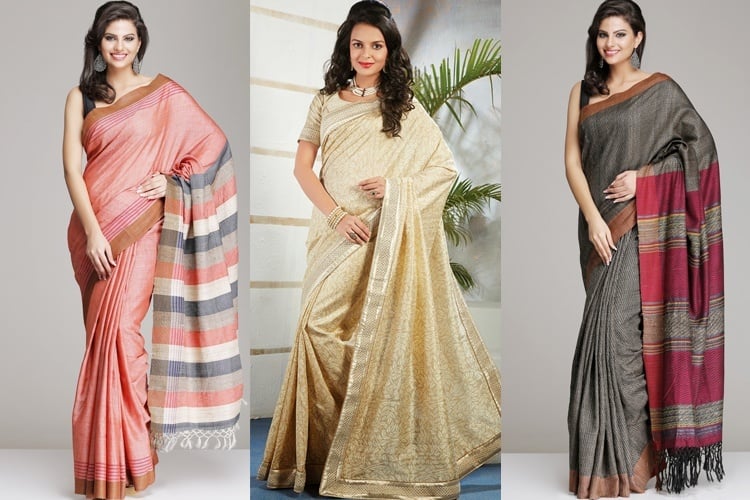 How tough it is to choose between the time-tested and proven to something that's par excellence. This is the case of Tussar Silk Sarees – not just a piece of de resistance but a legacy in silk.
Also called Kosa/Tussah/Tasar silk, a Tussar is at the same level of appreciation as a mulberry silk. When it comes to the texture, even an uninitiated and unaware can easily make out the natural golden sheen fiber and rich texture of Tussar Silk Sarees.
The Specialty Called Tussar Silk
It is heartening to know that India stands second in the tussar silk production. This heritage saree is woven with such ornate designs and motifs that you can only look elegant and sophisticated in it, nothing less. It's one reason why your mom, grandmom and aunts choose to be wrapped in Kosa whenever it is gathering or celebration time.
[Also Read: The Shimmering Effect Of Mysore Silk Sarees]
A tussar silk is by no means heavy and hefty-looking. It is by all means light and soft to touch. And you thought such kind of a creation can only hail from the South?
Well, it is the tribal belt of Jharkhand, Bhagalpur and Chattisgarh that boasts of the finest weaving centers of tussar silk. It is here that you can find the artisans and craftsmen deliver nothing but sheer magic in designer silk sarees. In fact, Bhagalpur alone has an estimated 30,000 handloom weavers and about 25,000 handlooms.
The hand woven tussar silk is embellished with zardozi, kundan and, mirror work, thread embroidery among others. What steals the show in tussar silk saree designs is tribal art hand painting with characters etched out from the Indian epics, nature, flowers and slice of life. All are gorgeously detailed and drawn.
Tussar is textured silk that comes in a wide range of natural colours, not loud ones. There is cream, beige, honey to give the saree that uneven golden sheen you read above. A tussar is dyed to give you a wider choice of vibrant colours. Such is its flexibility that it can be easily blended with other fabrics such as cotton, linen, wool, and other silks.
Garments made out of tussar silk are known for their thermal properties. Which is why, they keep you warm in winter and cool in summer. With the winter season nearing, you have plenty of reasons to shop, indulge or gift this beautiful and awesomely wild creation.
[sc:mediad]
Tussar Making – From Yarn To Weave
The tussar silk is made from silk filaments produced by a moth that feeds on arjun, asan and sal trees. These trees are found in the forests of Jharkhand and Chattisgarh. The variety of silk that is produced varies in the type of silkworms producing the silk yarn. Interestingly, the Tussar silk is not fed mulberry leaves.
The silk-generating cocoons are boiled in hot water, then dried up in the sun. After which, the fiber threads are reeled in paving way for the Tussar Silk Sarees.
What makes tussar silk saree designs stand out are two things – the good weave and the excellent choice of colours. The organic colours that are used look so beautiful that the fabric looks tremendously ethnic. In fact, chemical dyes are used today to improve the colours and mixes.
But most of all, it is the yarn quality that gives strength and durability to the weave.
[Also Read: Sexy And Sultry Blouse Designs For Silk Sarees]
Usage Of Tussar
Though Tussar is widely used in sari, tussar silk is even used in handicrafts, furnishing fabrics and stitched garments.
Looking at the range of chemical dyes, the colours used in designer tussar silk sarees have increased manifold. There are a lot of fashion designers who prefer to use tussar silk in their couture. In fact, the designer garments made from it are exported to many nations such as Europe, United States and the Persian Gulf.
Maintenance Of Tussar
Like all good things in life are precious, Tussar needs to be looked after well so that it looks evergreen with passing time. Here's how to maintain your silk sarees.
Dry clean and iron designer silk sarees, rather than hand wash.
The dry cleaned Tussar needs to breathe. So avoid wrapping it in plastic.
In case you decide to hand-wash a tussar, use cold water and liquid detergent. Even a shampoo would do.
Now go ahead and buy this rich Indian treasure called tussar silk and let your fashion sense give you the fascinating edge.