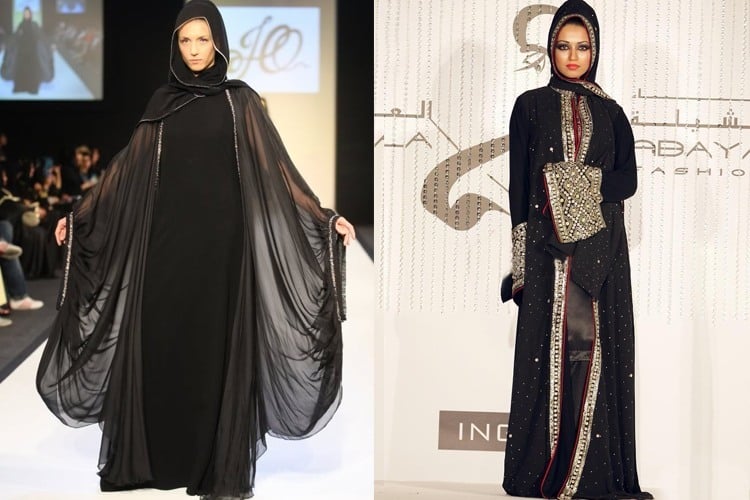 Once upon a time, the mandatory traditional long robe for Muslim women, called Abaya or Burqa meant simple black attire. However, like everything else, this enveloping garment has also undergone a silent revolution and elevated itself to a high-fashion status. Reincarnating itself as the perfect canvas for style statement, latest burqa designs are splashed across various fashion magazines and fashion ramps. Today top designers launch exclusive range of designer burqas in an array of materials, colors, styles and designs.
Latest Burqa Designs
Let's browse through some of the fashionable and latest burqa designs which any age group can opt for:
The Moroccan Style Burqa Design
This kaftan inspired burqa design is a popular style among Muslim women, majorly because it flatters all body types. The design is all about the clever art of styling the burqa with layers and silhouettes. It can easily be molded with almost all types of fabrics from every day wear to soft faux raw silk. Often accompanied with small Mandarin collar and wide bell sleeves, the silhouette can range from simple daily wears to light to heavy decorated ones with laces or beautiful embroideries of gold and silver along the trims and the neck line. Appropriately used various colored threads embroidery also looks stylish.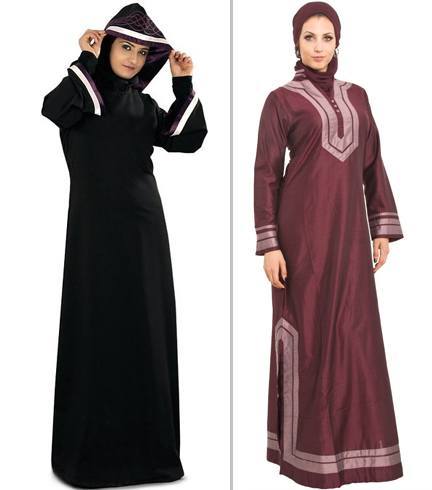 The Kaftan Style Burqa Design
Being more elaborate and fancy, this design is best suited for parties, weddings and other occasions requiring dressier outfits. This popular design is long and loose and has a robe like sleeves. They are often designed on lines of a belted tunic and can be easily distinguished by their elaborately designed necklines and the soft, light and luxuriant fabrics. It was earlier available only in black but today various designs of it is available in a vibrant range of colors and can be gracefully flaunted with or without a veil.
The Floral Style Burqa Design
Floral burqa designs retain the traditional look of the Abayas but enhance the style and the oomph factor to an altogether different plane. The traditional burqa is either brightened with vibrant floral prints or stone and other embroidered motifs. Alternately, elegant and simple burqa designs are made from embossed floral fabrics. These can not only be made from a variety of materials but can also be stylishly cut and stitched in a variety of ways to suit any age-group and any occasions.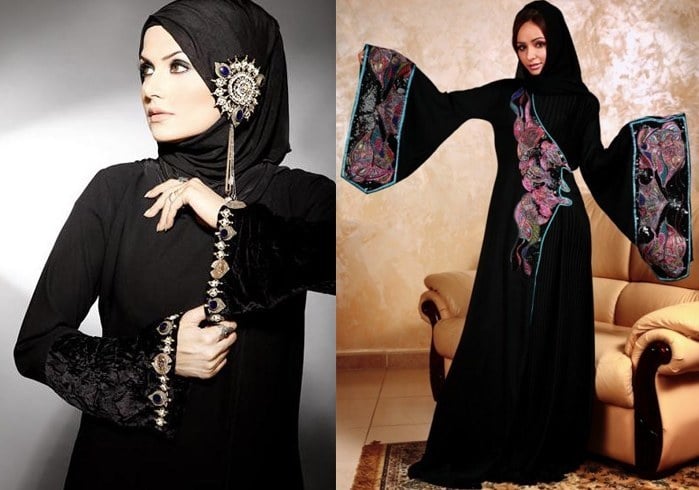 The Open Style Burqa Design
Inspired by western culture, this latest burqa design looks quite similar to an overcoat. This style is often characterized by a thin belt around the waist and an open front. Sometimes the belt secure can be at little below the neckline as well. The style works best for parties and formal occasions since they provide coverage as per traditional norms, yet allow a lady to flaunt her underneath designer dress. These burqas provide ample scope for styling and designing and can often work as an extension of the designer dress adorned by any lady.
[Also Read: Hijab Makeup Ideas – Pretty and Awesome]
The Standard A-Line Abaya Design
The A-line burqa design looks best for plump or heavy figure women as it lends them a slim and tall look. Unlike the otherwise loose burqas, they are almost close-fit till the waist and then falling loose and free flowing beneath. This design can very stylishly copy the western gown style and remains very popular design adorned by women of all age groups. Latest fashion design collections inculcate it with a built in inner dress to provide a complete look.
[Also Read: Burqa Designs In Saudi]
[sc:mediad]
The Butterfly Design Burqa
These burqas are so named because its wide sleeves look like the wings of a butterfly which are attached normally to the abaya body. Because of their free flow style, they look best with thin or free flow materials like chiffon, silk or even jersey knit fabrics. The body of the burqa sometimes carries layers as well for additional effect. Most of these have contrasting color edges to up the style quotient. Layering and heavy embroideries and beaded work makes this burqa, an awesome and stylish party wear.
[Also Read:  How To Wear Hijab With Denims]
Even though Abayas and burqas are traditional Muslim attire, their reincarnation is fast turning them into a fashion style statement. Many western countries are adorning this attire as a fashionable dress to become the center of attraction. Even men had adapted it in their fashion trends. Have you ever tried adorning this covering yet sensual attire? Is there any particular style or design that has caught your fancy? Do share your views and thoughts with us and our readers. We would be glad to get the feedback.