All Veeres out there. Get ready to be spoilt! Fun is the word and inspiring too. Not just in the performances of the leading ladies – Kareena Kapoor Khan, Sonam Kapoor Ahuja, Swara Bhaskar and Shikha Talsania. But for the fabulous clothing and quirky outfits (graceful at the same time) which will tear apart all your fashion hang-ups. Time to know fashion inspiration from Veere Di Wedding movie.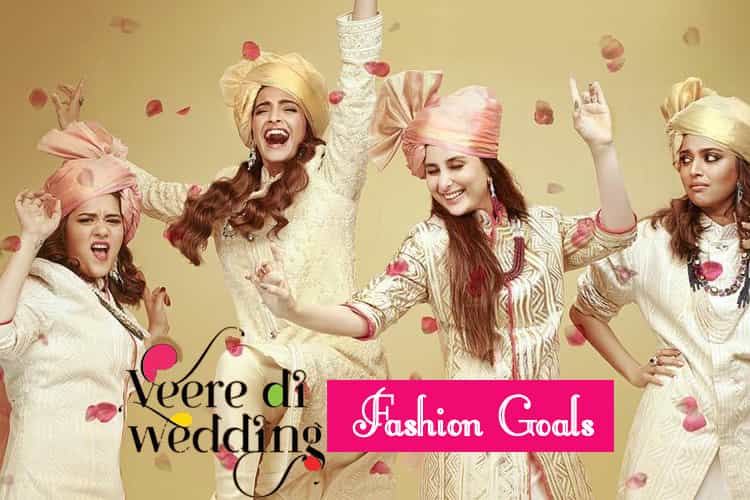 For starters, the leading ladies Bebo and Sonam don't disappoint – they leave you speechless with their flawless costume changes. They look purr-fect in every shot and frame.
Decoding VDW Fashion:
Let's go point-by-point as we decode the varied fashion statements from the film:
1. Tareefan Music Video:
Oh, my! For a long time, we bholis and flirty babes have not seen sensuality at its raw best as much as in VDW. Incredible outfits of Kareena and Sonam – seductive divas in almost club-ready avatars any 21-year-old something would be hungry to take a cue from.
What makes the lovely ladies look more seductive is the song 'Tareefan' sung by rapper Badshah. The video is fiery hot, almost redefining entertainment, entertainment, entertainment!
Coming back to bombastic Kareena and sultry Sonam – their look is flirty, playful, and glamorous. Sonam's dangling earrings complement her red bejeweled bra top.
Kareena's glossy hair and shimmering skin perfectly complement her rama green gown. This is creativity–n–quirkiness at its terrific best. And let your 'shyness' go out of the window. You are not watching a Disney princess here, but terrific Bebo and Sonam in action who inspire us to celebrate our bodies the way they do.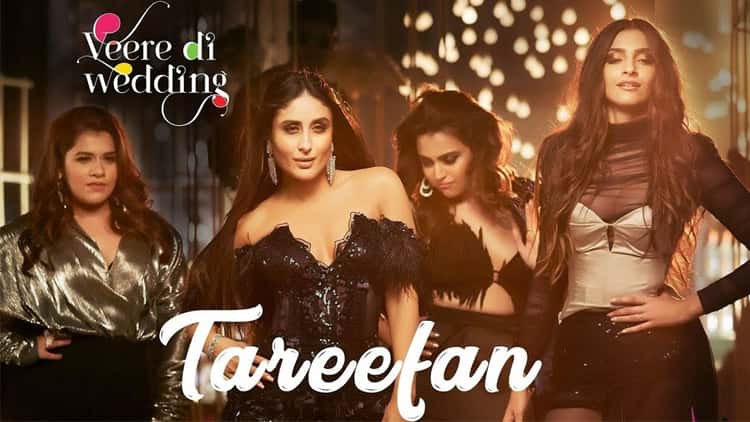 The two-piece story….
What's that?
Well, that's Kareena looking her sensual and stylish best in a really bold lace trim bodysuit (the price is just INR 35,074) from Romania-based Murmur paired with a custom Purple Paisley latex miniskirt, thigh-high boots, and Farah Khan Ali earrings.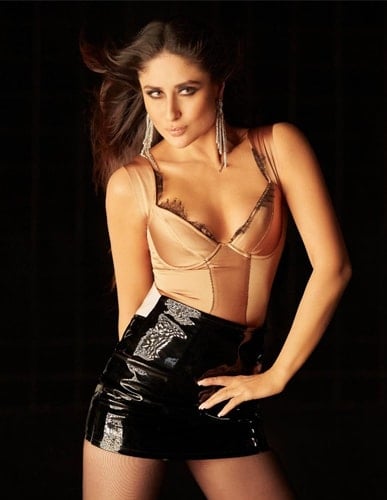 This jaw-dropping sparkly dress of Bebo is designed by New York-based label Nedo by Nedret Taciroglu. Glitter in voluminous proportions can't look more glam!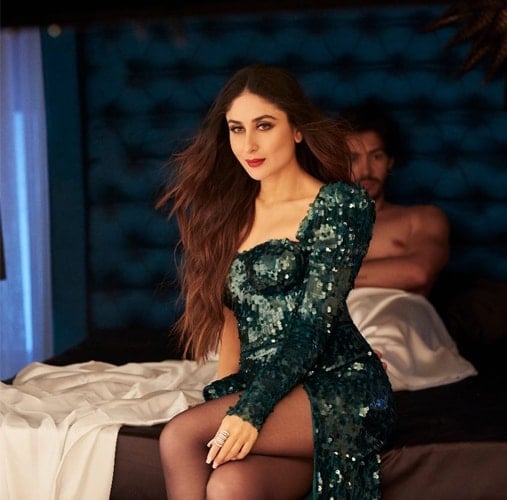 Check out the song to know more about its oomphy outfit details.
2. The Free-Spirited Kalindi:
Bebo, the bride-to-be in VDW is anything but boring. In fact, she is quite an opposite of the conventional bride you would bump into in a big fat Punjabi wedding.
Kalindi's clothes reflect her state of mind in the film – easy going, no fuss, live and let live. And it shows in her fuss-free relaxed jeans, basic tees, off-shoulder shirts, and boho beachwear.
Such a bindaas girl she is on-screen and off-screen that Bebo wore wedding outfits, which are truly off-beat. The boots she is wearing in almost every scene tells us about the uniqueness of her dressing style.
Kareena's must-watch fashion edge:
Her baggy boyfriend shirt in pale blue exuded some uber cool and chic vibes. A sleek bun added to her oomph factor in the film.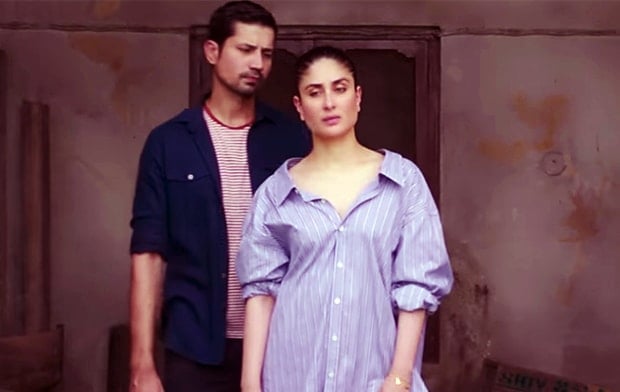 3. The Bossy-Girl Avni:
Sonam Kapoor Ahuja might be on a high after her recent marriage to the love of her life, Anand Ahuja, but her role as a lawyer in VDW shows us how she can play any role with conviction and style. So what if she handles divorce cases but her sharp wardrobe is apt for her job.
Avni looked crisp-n-wonderful in her spotless white shirts, and power blazers (except black). However, when it came to partying, there was no stopping Avni from sporting risqué lehengas with 'Om' pendant. Call it a religious ode to her cosmopolitan wardrobe.
Sonam's must-watch fashion edge:
A pair of white trousers perfectly tailored which she wore with a forest green blouse and matching duster jacket.
Hey, I can't forget to mention the chic retro look that she pulled off in a leopard-print attire with big 'jaali' hoops from Niiaashi.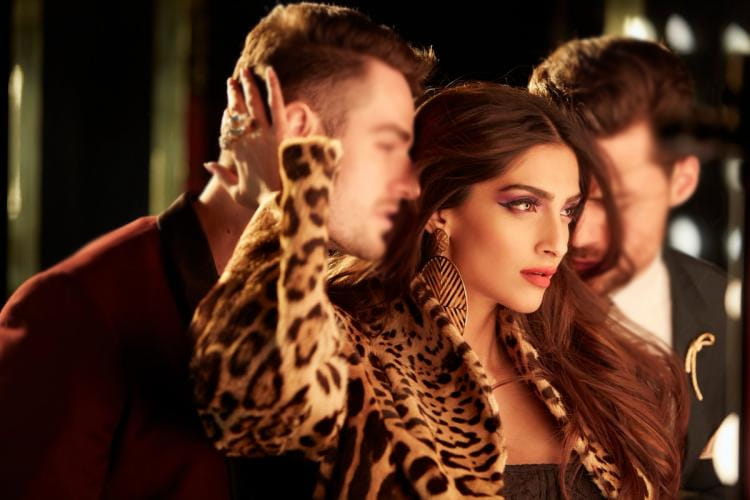 One more fashion pitch from Sonam:
A black and gold bustier top with metallic sticks along the hemline and cups and a plunging neckline in the shape of a deep sweetheart. Long eyelashes amped up her hotness.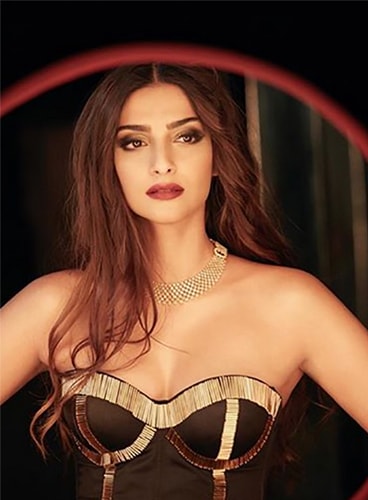 Sonam Kapoor shared her favorite look from VDW :
She said:
'Avni is a very conservative dresser but she likes to be a little sexy but internally…From the inside, she is a little wild. My favorite look is the look that I wore for Kalindi's sangeet which is a pink Abu Jani Sandeep Khosla lehenga.'
4. The Comfort Junkie Meera:
To be a mom is far from doing a comfy job. But Meera played by Shikha Talsania drops avid cues on her one-upmanship.
Roomy dresses are understandable but printed kaftans and fun jackets that Meera wore just goes to show how comfort can be fun.
Shikha Tulsania's must-watch fashion edge:
Her party dress (molten metal) which she wore during a crazy night at Phuket. Other than that, it is her bold prints in a floral dress and metallic numbers, which help her ace the fashion game.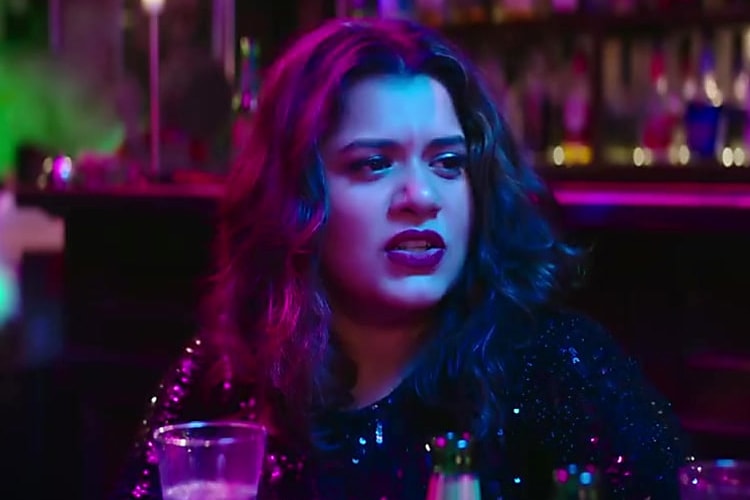 5. The Wild Child Sakshi:
She is the boldest, loudest, and funniest of the Veeres, and full of surprises. Sakshi's wardrobe in VDW will make you sit back and love her even more.
Boy o boy, bold colors define her profile in the film. Embellishments? Yes, yes, who is afraid of sporting a 'Hangover' eye mask?
Swara Bhaskar's must-watch fashion edge:
The over-sequinned lehenga, which Swara wore at Avni's first wedding function. So many ruffles on one blouse – would you dare to wear it? Swara carried it with aplomb. Yahoo!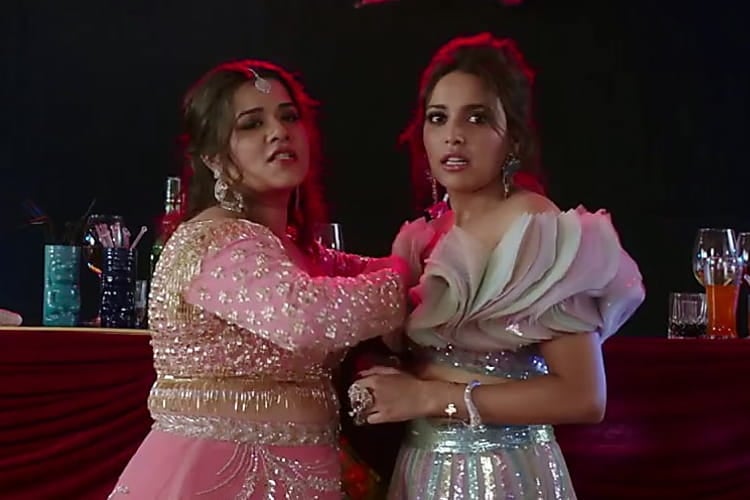 So much fashion inspiration from one film. Who were the masterminds? The designer duo Abu Jani-Sandeep Khosla. Read next.
6. Wedding Fashion Goals Set By Abu Jani-Sandeep Khosla:
Recap Kareena Kapoor's wedding dress in VDW and you might fall off your chair. An off-shoulder, yellow colored embellished lehenga that she wore looked truly unique.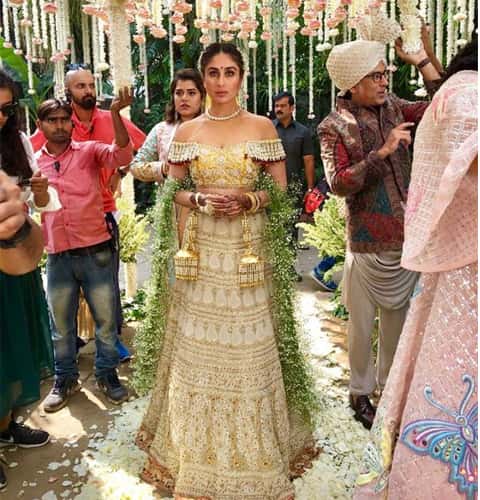 Revealed Sandeep Khosla on social media that the trendy-cum-vintage garment was made 25 years ago. Whoa!
Here is what Sandeep Khosla has to say:
'Veere's wedding garment is actually a vintage garment of Abu Sandeep. It's something that we made 25 years ago. It was lying in our coffers…Rhea came to the factory and we started digging out a whole trunk and taking out old pieces. So then, we just reinvented it. The skirt remains the same. The blouse remains pretty much the same. Of course, it was altered to Kareena's size. Then we created a dupatta and just modernized it slightly. At the wedding time (in the movie), everybody is in AJSK vintage, which is great fun."
Can a denim jacket be paired with a lehenga? Well, the dazzling dress code worn by the 'Veeres' in the film is ample proof of the magical sartorial skills of Abu-Sandeep.
If you are somebody, who enjoys fashion at its raw best, without caring a hoot of who thinks what, then fashion inspiration from Veere Di Wedding movie is the perfect style recipe fresh out-of-the-oven for you to definitely try. Not just the lehengas, the large-sized dresses will make you love them (a few cuss words here and there are not meant to hurt any soul).
Hope you will pick a hint or two from Veere Di Wedding to up your fashion meter.
Humor was never presented in such a fashionable way, thanks to the four Veeres for having done such a brilliant job!
Now, that I have entertained you with words, don't hesitate to share your take on the fashion goals Veere Di Wedding gives us in the comments box below. Like and share this post as well!
Images Source: instagram.com/vdwthefilm/