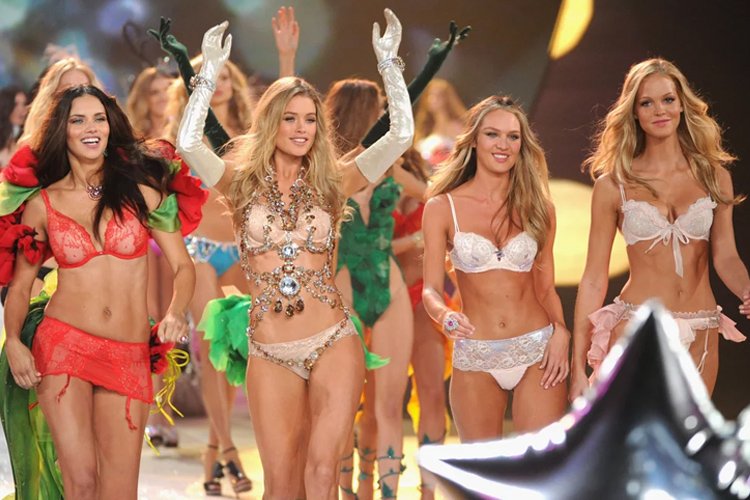 As we'd discussed in our previous post how other brands are getting inspired by Victoria's Secret and launching world's most expensive bras, in this edition let's focus on the brand which had actually started this trend.
Since past decade, every year Victoria's Secret have been launching their expensive lingerie creation. Let's have a look at all the lavish pieces they've so far launched.
victoria secret million dollar bra
1996 Million Dollar Miracle Bra
Price: $1 million
It all started in 1996 when Victoria Secret decided to launch million dollar lingerie for first time ever in the world of lingerie business. Claudia Schiffer was lucky enough to be chosen to model for this historical bra.
1997 Diamond Dream Bra
Price: $3 million
The brand decided to continue their legacy of Fantasy Bra by launching their second million dollar bra which was costlier than the first one. This was the simplest in terms of design but was smartly encrusted with diamond lining at the edges along-with the centerpiece huge white diamond pear shaped of almost 100 carats followed by 99 smaller diamonds. The gems were collected from famous jewelry house -"Harry Winston".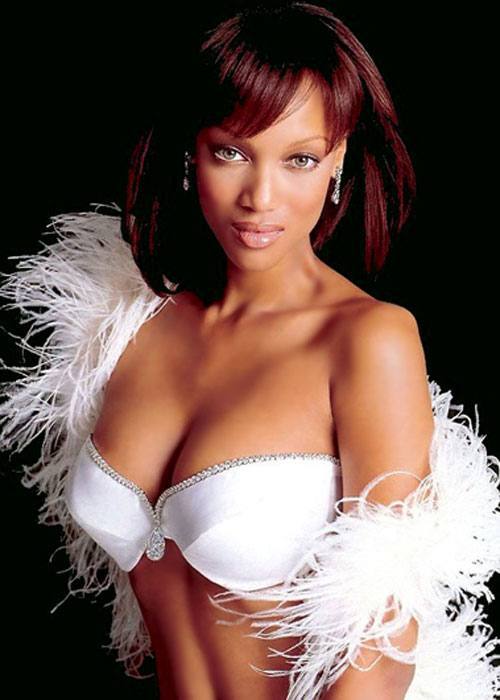 1998 "Dream Angel Fantasy Bra"
Price: $5 million
The third fantasy brassier was modeled by Daniela Pestova, flaunting sconces gems on a fine satin and lace studded with white diamonds and rubies and red and white stems of flowers were centered as well as on the straps.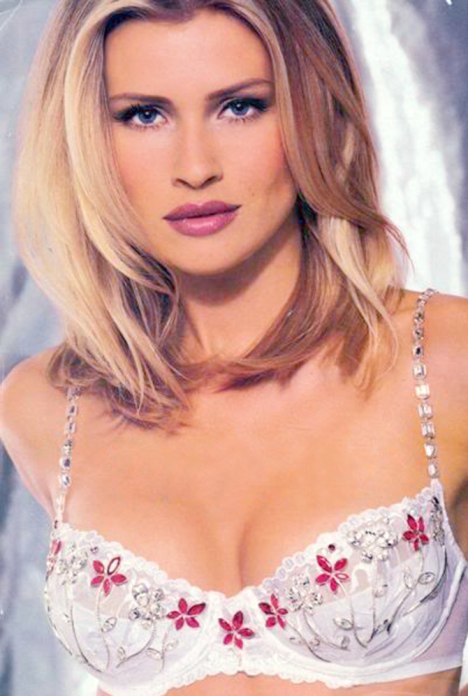 [Also Read: Victoria Secrets]
1999 Millenium Bra
Price: 10 million
Victoria Secret made headlines when they revealed their most expensive 10 million dollar Millennium Bra till then, for which Heidi Klum was chosen to model for it for the first time. The bra features a framework of platinum inlaid flaunting 2000 diamonds and sapphires, recreating a kind of starry sky with blue background and sapphires resembling numerous stars. The bra also comprised of platinum and diamond-studded straps.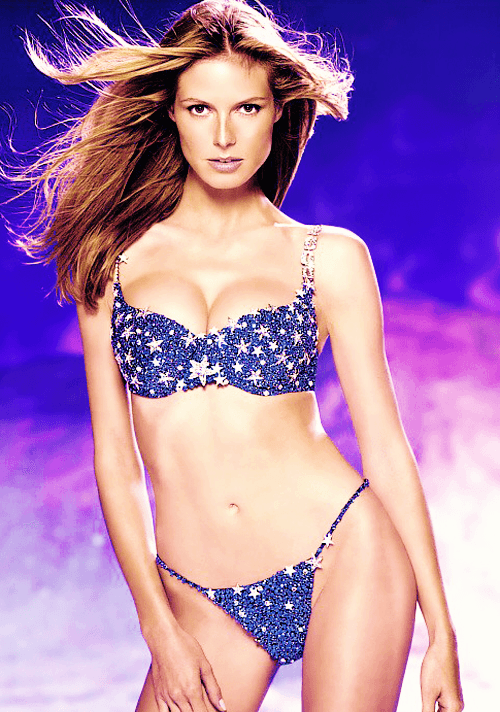 2000 Red Hot Fantasy Bra
Price:  $15 million
In 2000 the brand launched their bejeweled expensive lingerie, which was modeled by none other than the Brazilian super model Gisele Bündchen. This Red Hot Fantasy Bra costs around  $15 million. It was crafted of 1,300 precious stones including 300-carats of Thai rubies.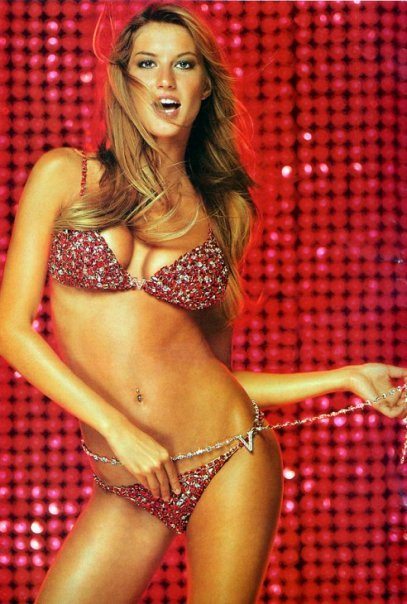 2001 Heavenly Star Bra
Price: $12.5 million
Guinness World Records had awarded this $12.5 million Heavenly Star Bra created by Victoria's Secret in 2001 as the world's most expensive bra. The bra is encrusted with 1,200 Sri Lankan pink sapphires and flaunts a 90-carat emerald cut diamond worth of $10.6 million as its centerpiece. Heidi Klum had modeled for this.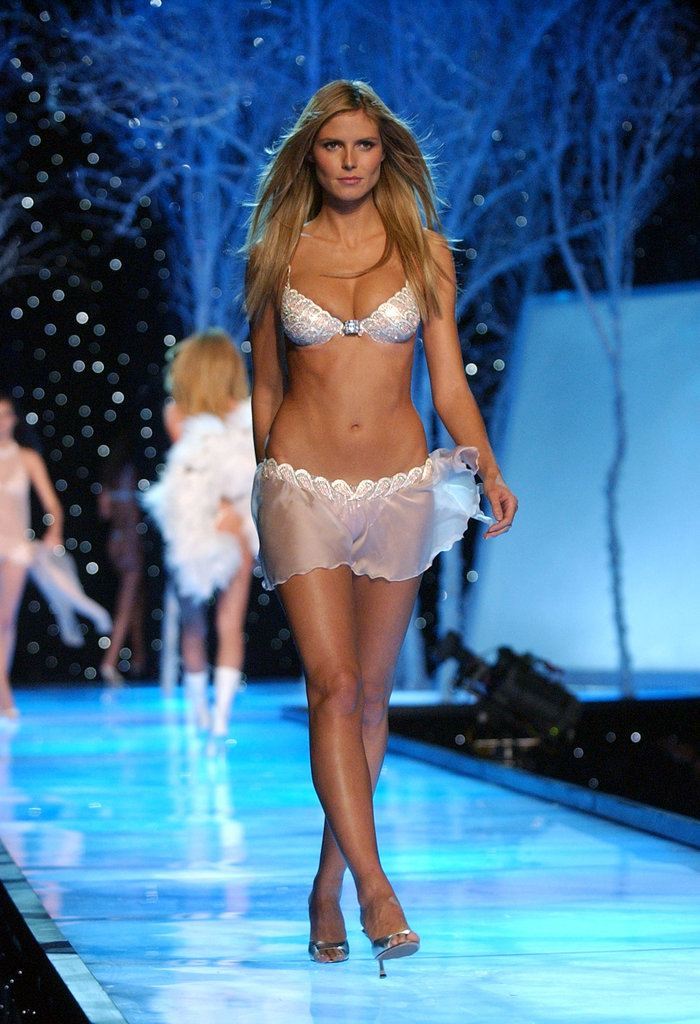 2002 Star of Victoria Fantasy Bra
Price: 10 million
Karolina Kurkova was lucky enough to earn her first Fantasy Bra when she was only 18 years old! This bra was also valued at $10,000,000 and it appeared in VSFS 2002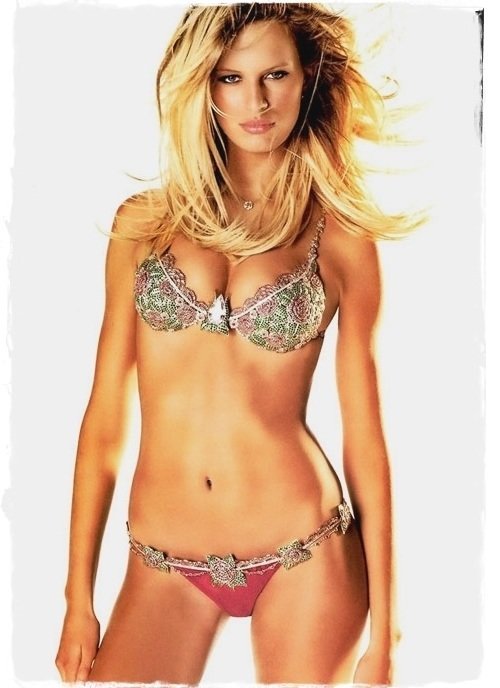 2003 Very Sexy Fantasy Bra
Price: $11 million
In 2003 Heidi Klum was again seen walking the runway in a jaw-dropping $11 million bra embellished with 2,900 pave-set diamonds along with 22 ruby gemstones. These stones are encrusted with 18 karat white gold. The major highlight of this lingerie is  101-carat flawless pear-shaped stone.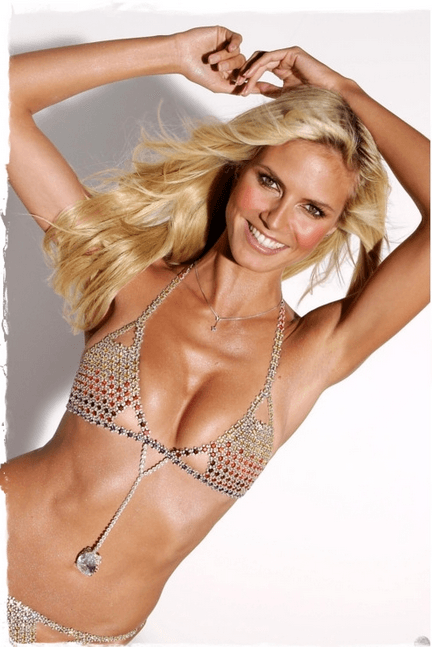 2004 Heavenly Fantasy Bra
Price: $10 million
In 2004 Tyra Banks had modeled for this lavish bra designed by Mouawad. The bejeweled bra is embellished with 3,000 diamonds and is set in 18-karat white gold. The bra also has a 70-carat pear-shaped diamond as its centerpiece.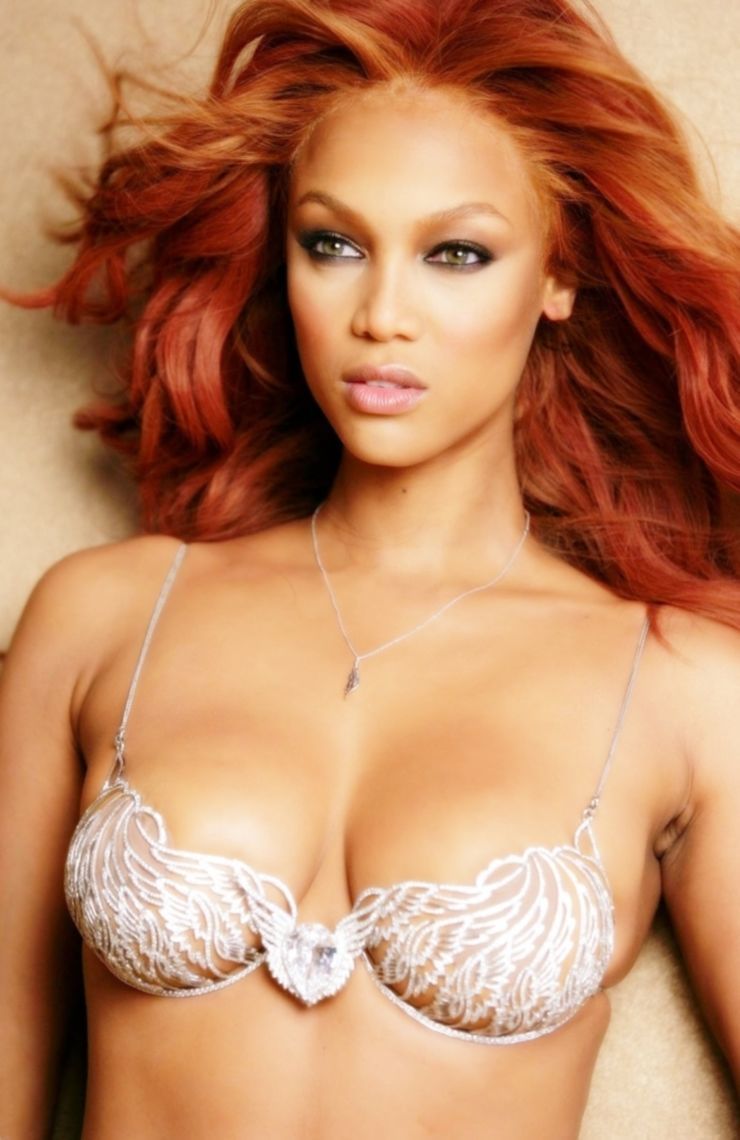 2005 Fantasy Bra
 
Price: $12.5 million
After 4 years in 2005 Gisele Bundchen was again hired to model Fantasy Bra which is made up of 18K white gold with over 2900 pave set diamonds, 22 ruby gemstones and a massive 101 karat diamond.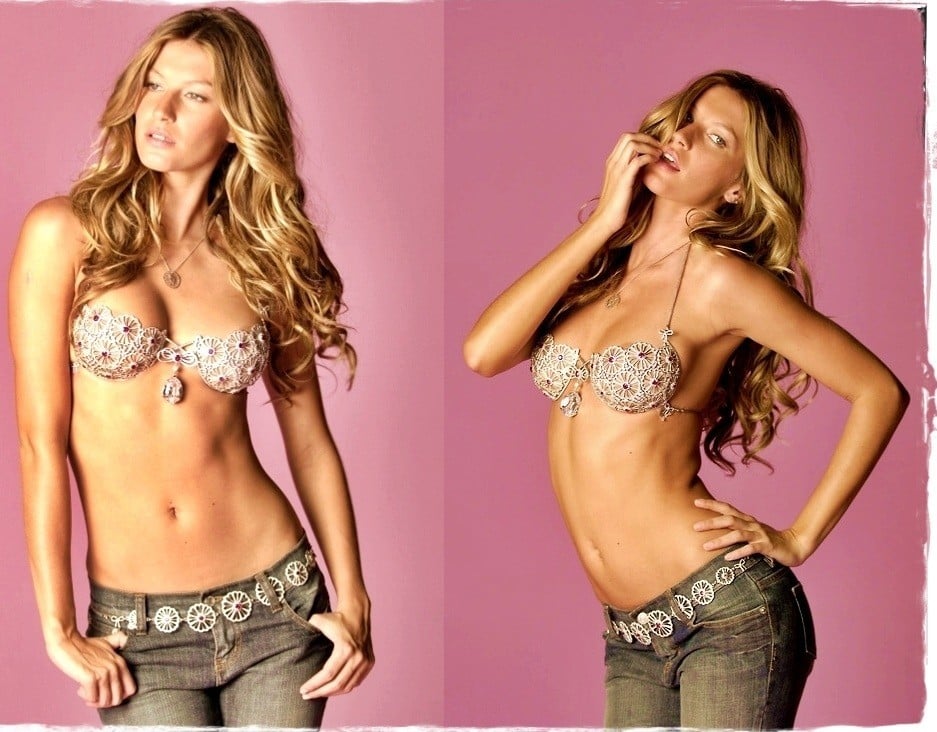 2006 Fantasy Bra
Price: $6.5 million
This 2006 ornate bra was modeled by Karolina Kurvoka. This diamond-studded bra is encrusted with more than 2,000 Hearts on Fire diamonds with a 10-carat diamond brooch centerpiece.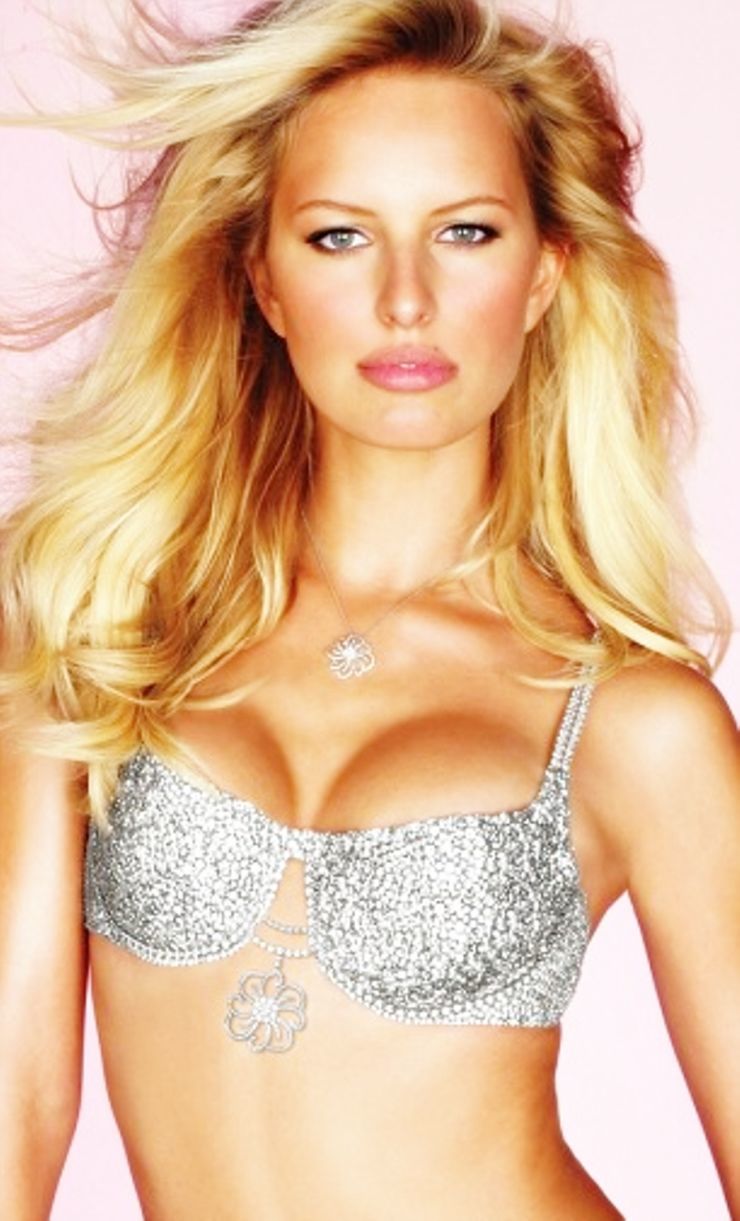 2007 Fantasy Bra
Price: $4.5 million
This bejeweled push-up bra was designed by Mouawad and modeled by Selita Ebanks. The piece comes along-with a bejeweled thong, garter, cuff bracelet and matching barrette with a holly and poinsettia theme.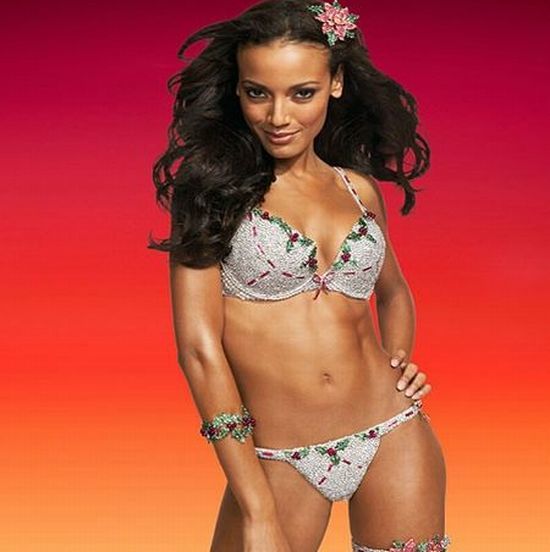 The entire creation features diamonds, rubies, emeralds and yellow sapphires worth $4.5 million.
2008 Black Diamond Fantasy Miracle Bra
Price: $5 million
In 2008, Brazilian model Adriana Lima walked pompously down the runway in an awe-inspiring $5 million worth bra studded with 3,575 black diamonds, 117 certified one-carat white round diamonds and 34 rubies.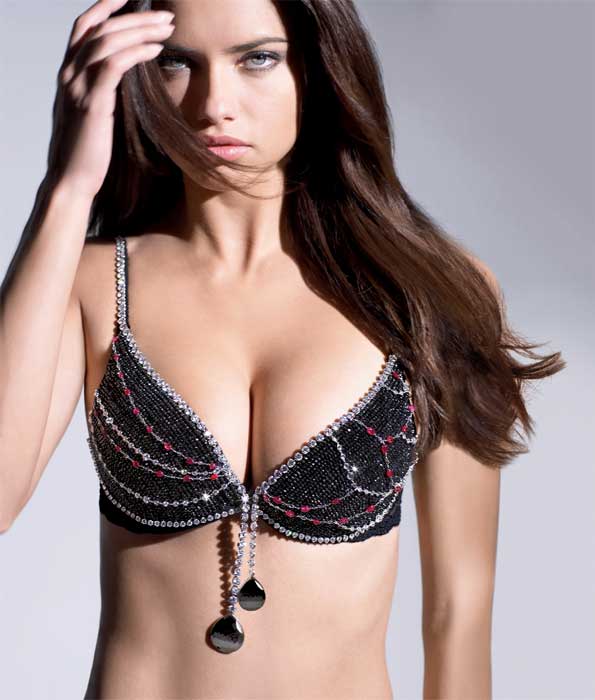 The bra has been carefully designed to maximize the wearer's cleavage, an effect furthered by two 50-carat black diamonds, hanging from the center.
2009 Diamond Bra by Victoria's Secret and Damiani
Price: $3 million
In 2009 Victoria Secret came up with another lavish piece of one-off bra in partnership with Italian jewelry house Damiani costing $3 million. This one shoulder bra is encrusted with 18-karat gold harlequin-patterned net and 2,350 brilliant-cut white, champagne and cognac-colored diamonds weighing nearly 150 carats.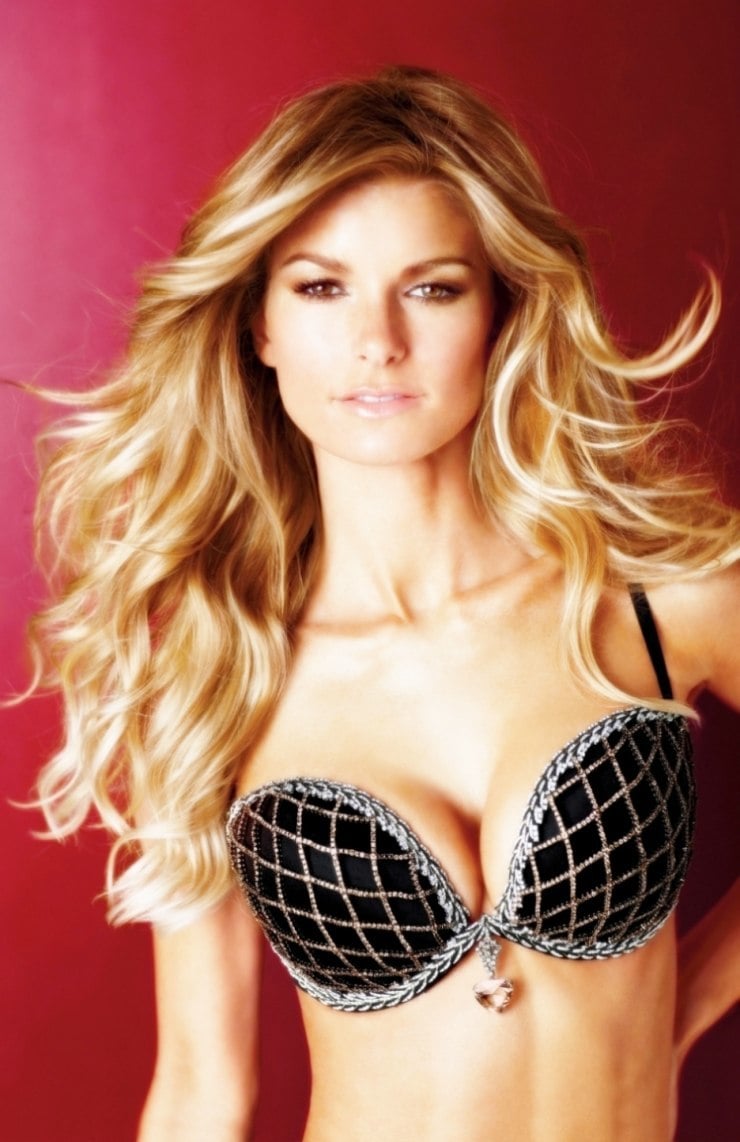 The bra flaunts the iconic angel wings of Victoria's Secret through a diamond motif and 16-carat heart-shaped champagne diamond pendant hanging from the center. Supermodel and Angel Marisa Miller had modeled for this bra.
2010 Fantasy Bra
Price: $2 million
Under the same collaboration with Italian jewelry house Damiani, Victoria Secret launched white diamond-encrusted bra also festooned with topaz, sapphires with bedazzled straps. This push-up bra features 142 carats of diamonds including 60 carats of white diamonds and 82 carats of topazes and sapphires.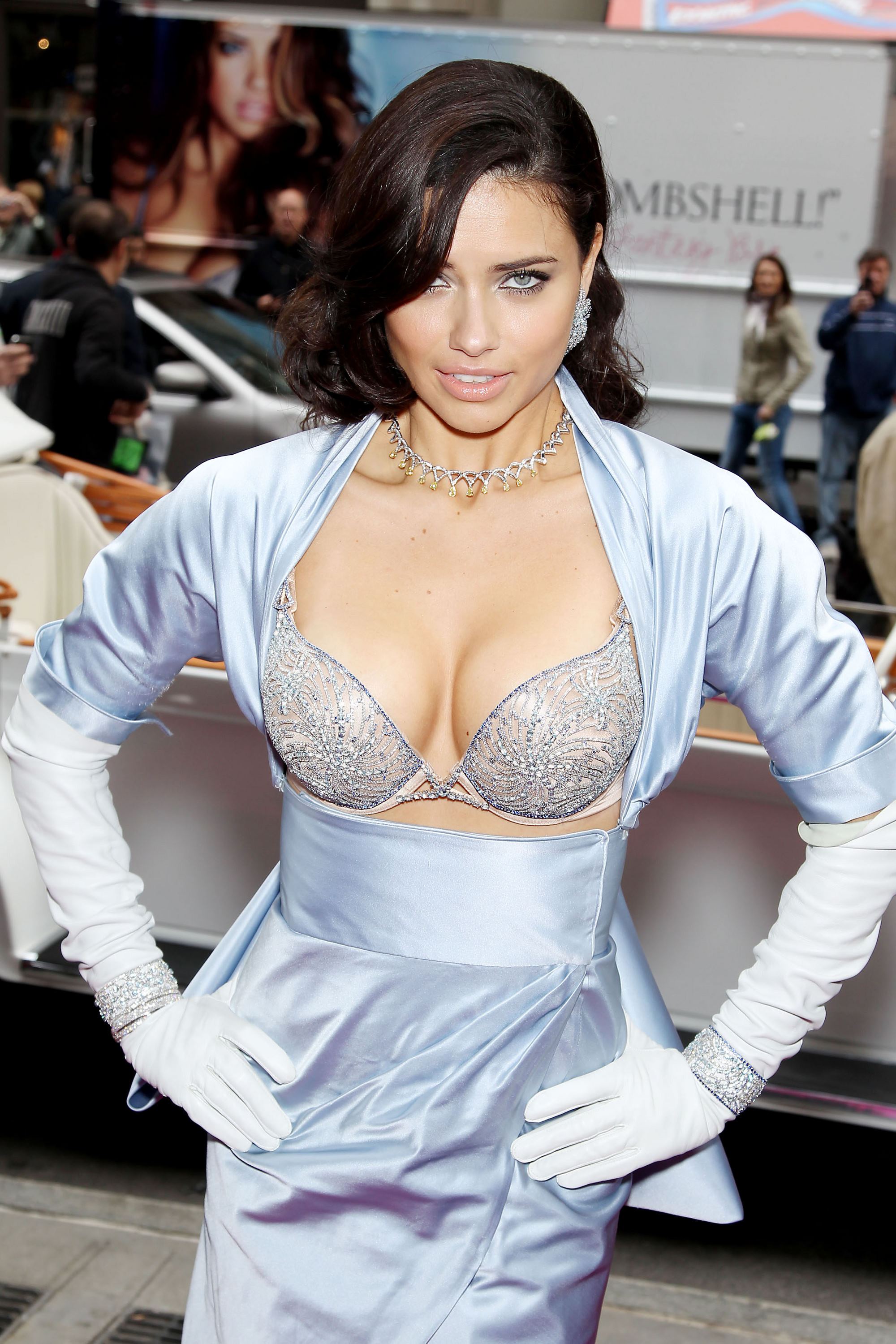 2011 Secret Fantasy Treasure Bra
Price: 2.5 million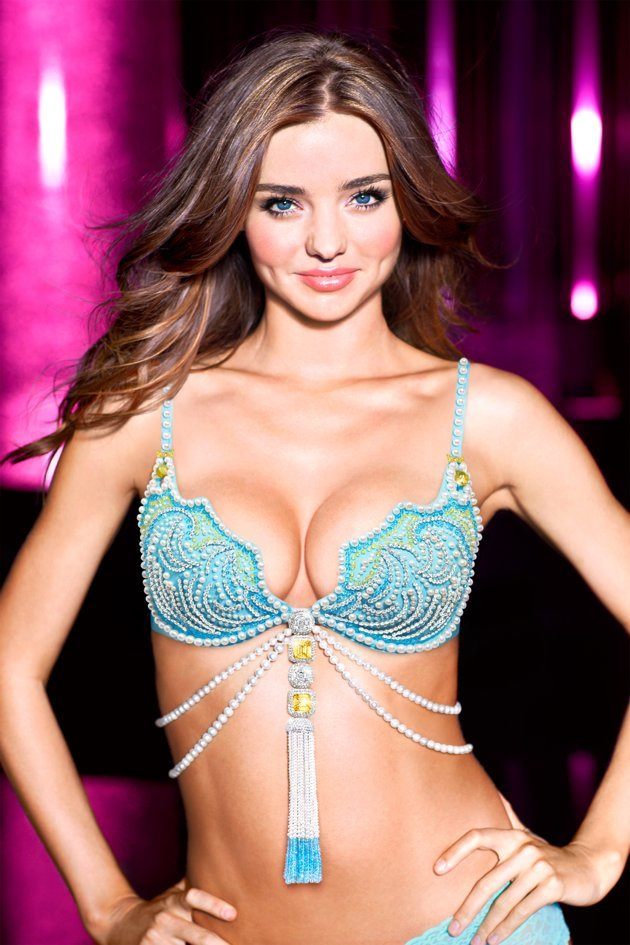 In 2011, Miranda Kerr who is also the Victoria Secret Angel, had modeled this bra flaunting 2,400 gems including diamonds, pearls, citrines and aquamarines embedded into it.
2012 Floral Fantasy Bra
Price:  $2.5 million
The Brazil lain bombshell Alessandra Ambrosio was chosen to model this floral designed bra encrusted with 5,000 precious jewels, including sapphires, rubies and a 20-carat diamond centerpiece.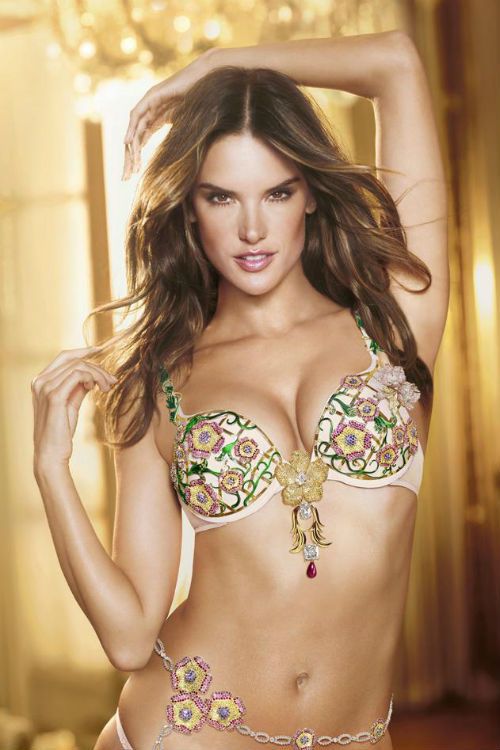 This supermodel, who is also a mother, was chosen by the brand just three weeks after giving birth to her baby. She had undergone for serious workouts to lose her post-pregnancy weight; and if these photos are anything to be believed to be true then we'd say she's been pretty successful.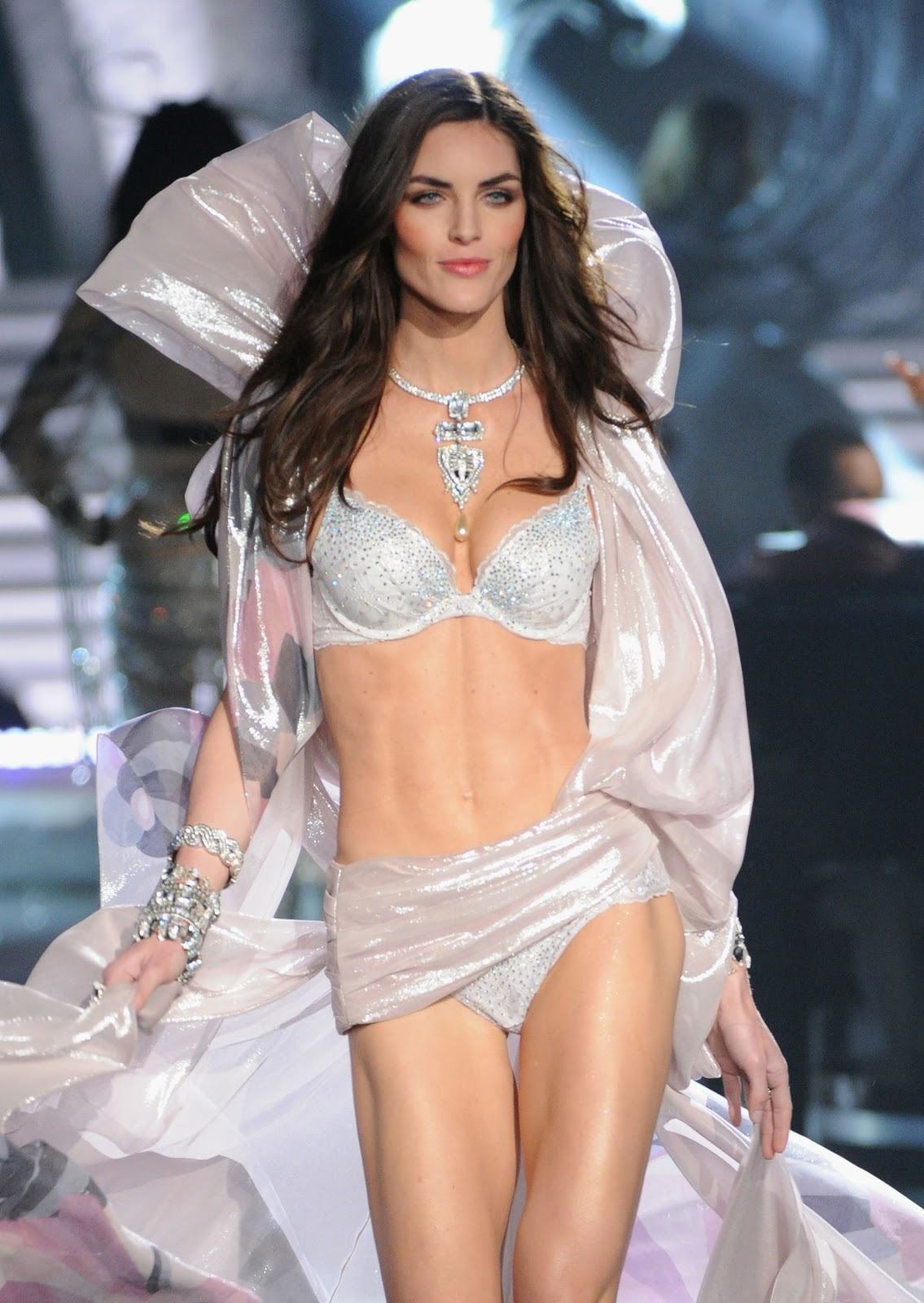 Every year this lingerie emporium host their annual runway show which has now been a trend for over a decade. And one of their 'Angels' gets lucky to walk down the catwalk in a multi-million dollar bra to boast off the brand's extravaganza.
2013 Royal Fantasy Bra
Price: $10 million
This year, the lucky angel was Candice Swanepoel, who had the privilege to wear the $10 million Fantasy Bra. This Royal Fantasy Bra along with a matching belt was designed by Mouawad. It features over 4,200 precious gems, including rubies, diamonds and yellow sapphires set in 18 carat gold with a 52-carat ruby at the center.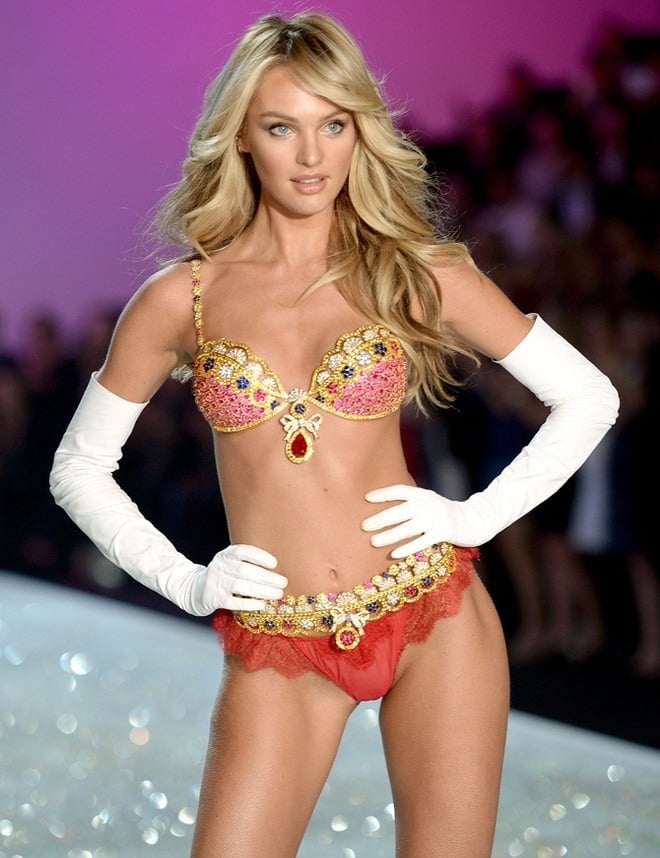 Let's wait and see what they have to reveal this year and also for years to come…
Images Source: pinterest, blogspot