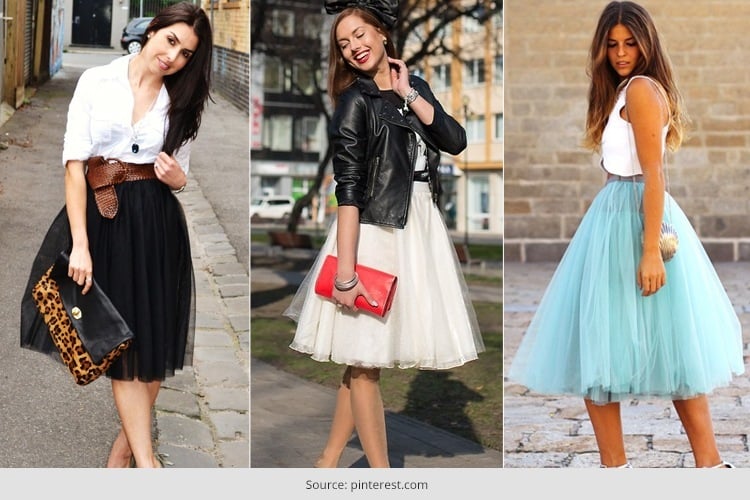 Love to push boundaries and make fashion statement with whatever you wear? Are you quirky and whimsical with your styling sense, but balanced in your fashion quotient? Try the fluffy tulle skirts. Trends don't die, they are mostly recycled in a new archetype. The tutu is back with a bang in the mainstream fashion arena, you should just know what to wear under a tutu to look chic yet fascinating.
[Also Read: What You Can Wear at Your BFF's Bachelorette Party]
Most of us have worn a tutu in our childhood years, but to wear it the right way now would need some rethinking. Firstly to clarify some age old questions about the tutu, there to no age limit to wear a tutu, and there is definitely no one perfect way to wear a tutu. It all depends on how well you can wear a tutu and carry it off. In this article, we want to get you acquainted with the ways of wearing a tutu, what to pair a tutu with and how to wear a tutu. Read on to find out more.
How To Wear a Tutu?
Tutus as we know them are a girly way to make a statement, to stand out of the crowd. What to wear under a tutu such that you don't look like competing for a fancy dress show is challenging but possible with few simple styling hacks. What to wear with a tutu dress to enhance your style quotient yet complement your wardrobe? Let's check out:
1. Go Casual
Pair your tutu up with a causal slip tee or tank top. If you a have pastel shade tutu, pairing it with a cream or off white tank top looks great. A nice delicate belt and a chunky neck piece should enhance the overall look. Keeping the rest of your outfit toned down will let your tutu skirt have all the attention for once.
2. The Customary
If you want to have a go at the traditional ballerina look, wear your tutu with a cute leotard. If it's too much exposure for you, throw on a pair of tights or nylons, add some leg warmers, a pair of ballerina flats and you're good to go. You don't always have to be a ballerina to look like one.
3. Go The Crop Way
A birthday party or get together on the list? You can wear your solid dark colored tutu with a crop top or a flirty blouse. Preferably keep your blouse patterned or stripped.
[sc:mediad]
4. Neutral Shades
For an elegant look, you can take the monochrome route. Pair your tutu with a same colored blouse and add some statement jewelry. Just make sure, you choose a neutral shade otherwise, this look can easily become a disaster.
[Also Read: 15 Cute Flower Girl Dresses To Choose From]
5. The Rockstar
Every girl has two sides to her, this look is for her other side. Pair your tutu with a funky leather jacket or a biker jacket (preferably black), put on a pair of sunglasses, and add some boots and you're good to go. You can also call this the rocker chic look.
6. The Country Girl
Guess what! You can sport the country girl look with a tutu skirt. Just pair your tutu skirt with a nice shirt and a brown buckled belt. Denim shirts in specific, look great with tutu skirts.
7. Winter Pep
If you're really feeling up to it, you could also throw on a peppy look with the tutu during the winter season too. Just grab a nice warm turtle neck sweater, a pair of warm leggings and club it with your tutu. To finish the look add high boots. Most importantly for this one, don't forget to accessorize!
Now that you know what to wear under a tutu dress, here are simple swaps. If you are no skin show types or like to have a nothing more than a minimalistic show, no problem, we have some tips for you. You could still wear the tutu with a few add ons. You could club your tutu skirt with a nice solid or patterned pair of nylons or tights, leg warmers or leggings. Just make to maintain a contrast between these and your tutu since the tutu is the hero of the outfit here. If you're more of the adventurous type you could also pair your tutu with a nice pair of skinnies, lace tights and fishnets.
There are a few minders when you consider the tutu dress, since most tutu dresses are see through, you need to wear something with it. The tutu dress can be worn with lace rompers or half-slips. You could also get it sewn in permanents with liners. Follow these tips and you never have problems with a tutu again.