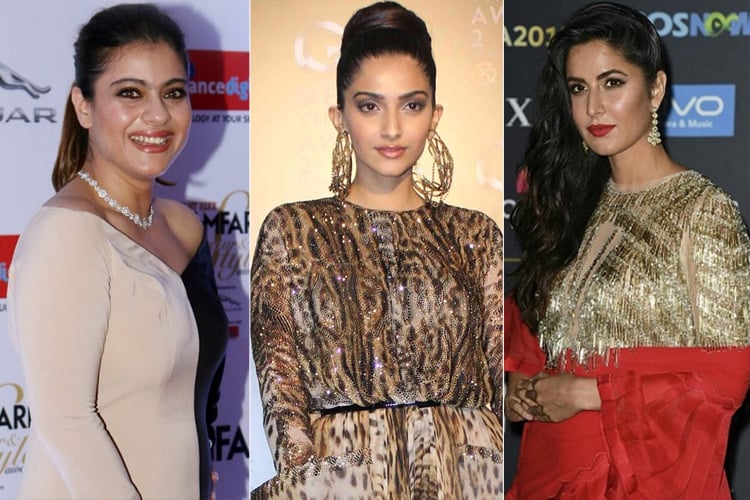 Now we love our Bollywood divas so much that we often forget that they too are human beings and are likely to make mistake also. We look up to them for fashion inspiration and more than often follow their style blindly, but then there are occasions when they are the one who makes wardrobe decisions that leave us desiring blindless.
2017 saw many fashion disasters from some of our icons, but few of them were downright sins. Here are 10 Fashion sins that Deepika, Katrina, and others made at various red carpets.
Sonakshi Sinha
What Shotgun junior wore to the red carpet of IIFA held in New York City this year was can be termed national embarrassment on foreign soil. A disaster in the name of fashion, the fabric draped around the actress alone is enough to put the never-ending era of the saree to permanent rest. The blouse has a western cut, not sure why would she wear a super traditional kundan neckpiece with it. Sorry, but the hair color doesn't help either. I'd fire her stylist right away.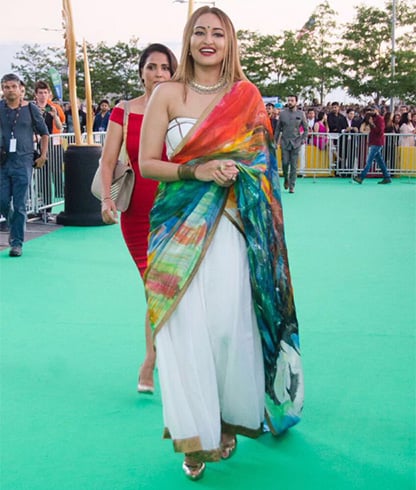 Deepika Padukone
While Priyanka Chopra goes on slaying one red carpet after another, Deepika topped every 'worst dressed' list with this olive green dress at the Cannes. She has sharp features and the make-up saves the day. The outfit however, is too harsh on the eyes and blinds you before you could even look at the gorgeous face.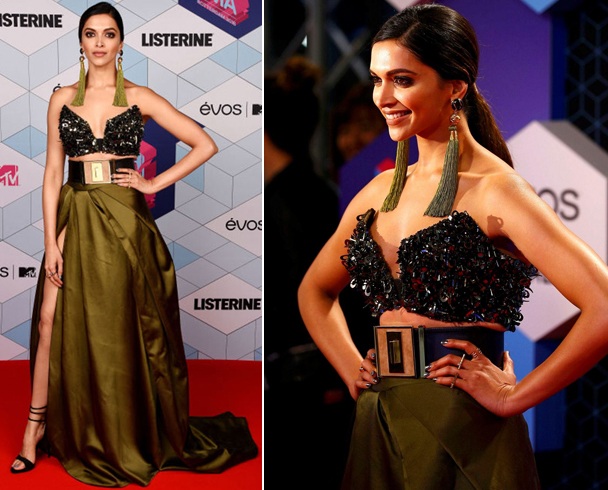 Neha Dhupia
We are not mean people; just that this Elizabethian-style madness Neha Dhupia threw on for the Filmfare Awards 2017 makes it very difficult for us to string together a few words of kindness. The huge bow dangles like a bip, while the high-low top worn over what looks like a Victorian petticoat only makes things worse. The cuff didn't blend in the look at all.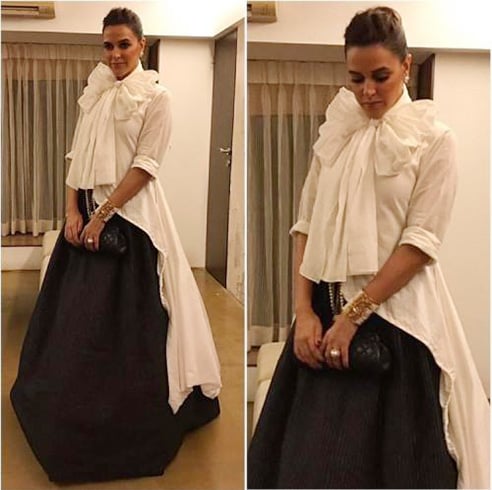 Kajol
Kajol was always celebrated for her unparalleled acting skills, fashion sense – not so much. But we can always expect an iconic actress worth millions of dollars to hire a stylist or sorts – can't we? The monochromatic trail dress the Dilwale actress sported at the red carpet of The Filmfare Glamour & Style Awards lacked grace, was ill-fitted and added oodles of mass to her silhouette.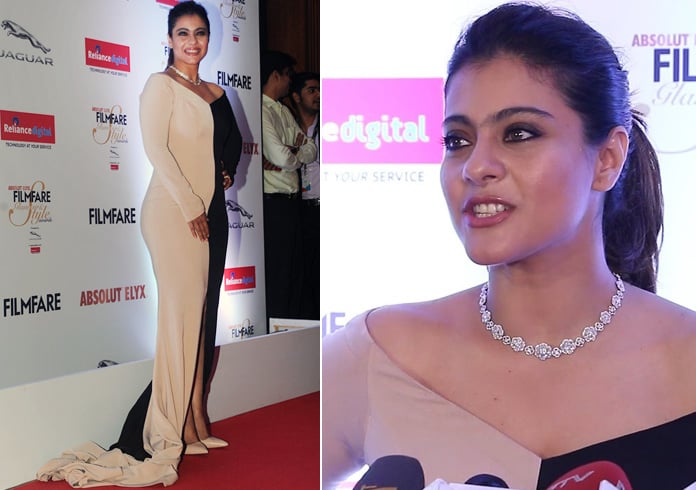 Swara Bhaskar
She must have thought she looked like a mermaid with that fish tail outfit, and I hope no one at the Star Screen Awards burst her bubble, it would have been a rude awakening otherwise. Truth be told, the actress looks like a fish curry gone bad in that assimilation of symmetrically stitched patterns she mistook for a dress.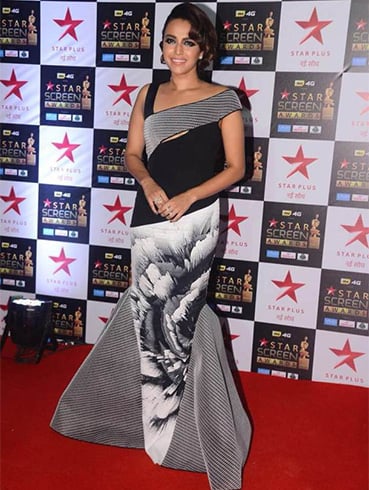 Sonam Kapoor
She tried a little too hard, and still failed. Nope! This dress the fashionista of Bollywood picked for the GQ Men of the Year Awards didn't do anything to add feathers to her crown. The earring were matched with the outfit, but why? We really hope that is fabric, else the leopards' souls would be crying in pain seeing this monstrosity they had to sacrifice their skin for.
[sc:mediad]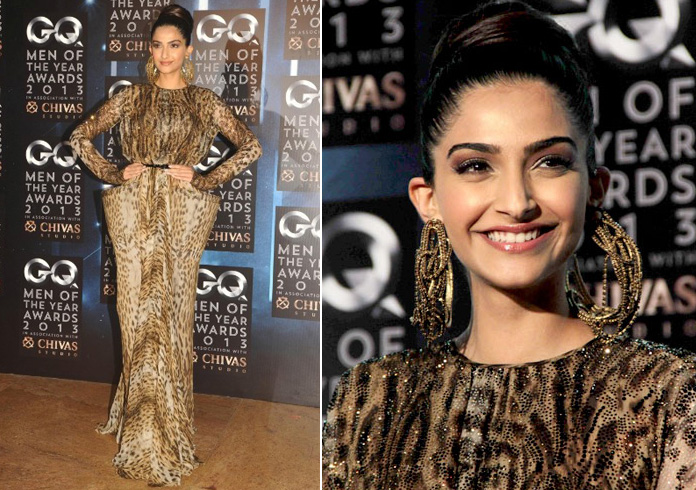 Deepika Padukone
We love to see Deepika, but not on the list of worst dressed celebs – that too twice in a single year. This black number the actress slipped in for the Star screen awards night, with that humongous flower stemming out of her neck, and frills that resembles Victorian curtains makes a joke out of the celebs personality. We get it – she is experimenting, but this experiment didn't yield the desired outcome.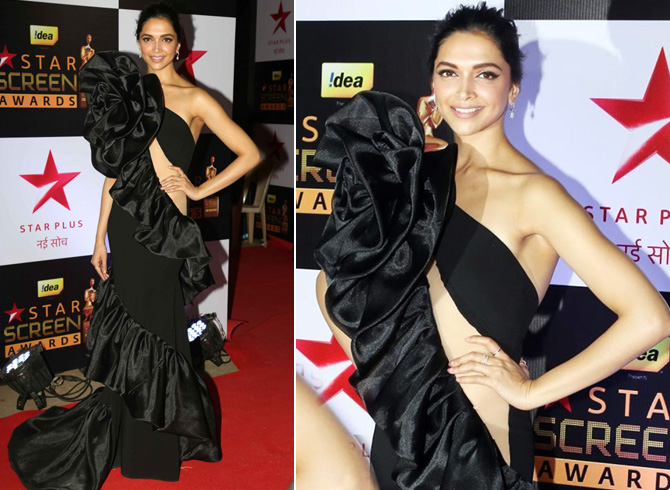 Neha Dhupia
The voluminous tulle gown Neha picked for the IIFA evening was a total disaster and the additional sash simply only added to the volume of the unpleasantly piling tulle mess. Not only did her choice of garb failed to flatter, her elaborate updo, choker and subtle make up also left a lot to be desired. Once a Miss India, Neha seems to have lost her touch. This is her second appearance on our list, but she did make a couple of more fashion crimes this year which we have chosen not to highlight.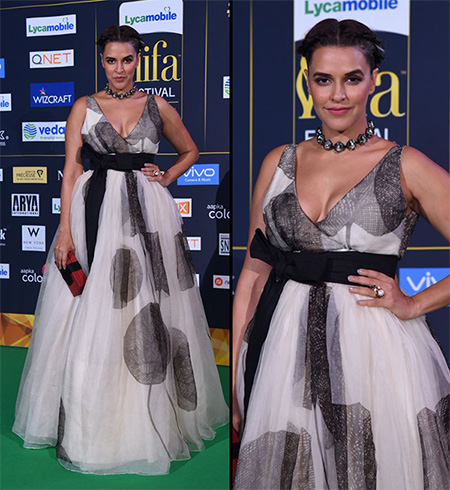 Kalki Koechlin
Known mostly for her feminist Kalki was seen sporting some feminine glam at the IIFA. But the ruffled Gucci gown was ill-fitted and did nothing to enhance her beauty. The color sure looked soft against her pale skin her, but the cut was a little too busy. Not to mention that the sleek hair added decades to her face, and a bold red lip with a baby outfit is one of the greatest mismatches.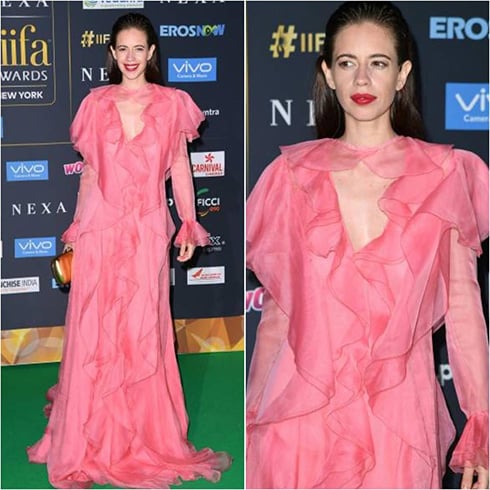 Katrina Kaif
Not sure why no one takes IIFA seriously, especially when it comes to finalizing the red carpet outfits. Katrina's red sari doesn't impress us more than Sonakshi's mess earlier this evening. The frills by the hem of the fabric were out of place. The blouse was a striking piece, but the drab saree made for a companion. We are not cheering for the style of draping either, Shamita Shetty had tried this similar draping in a different event and showed the world how you do it.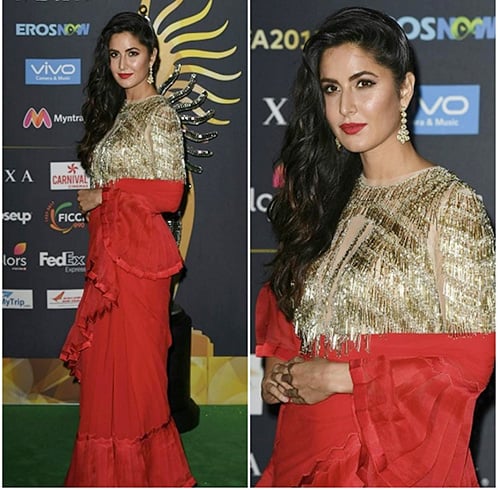 Next time you look at any of these divas for an outfit inspiration, make sure to consult the look with an army of fashion forward well-wishers, lest you end up on someone else's worst dressed list.
Images Source: instagram