About The Brand:
Zenith Nutrition, a division of Medizen Labs, is a leading manufacturer of wellness products in India. Zenith Nutrition's products are a complete line of scientifically advanced and well researched supplements that cater to the nutritional value and performance of the consumer. Striking the perfect point of stability between traditional medicines and modern science, the formulation of ingredients deliver outstanding potential in their field.
Zenith Nutrition Grape Seed Extract:
The Grape Seed extract boosts immunity levels in the body and protects tissues from free radicals and oxidative stress. These capsules help in strengthening the blood vessels, and support the function of the eyes along with immunity. An all-in-one capsule that caters to heart problems, poor eye functioning and overall body development.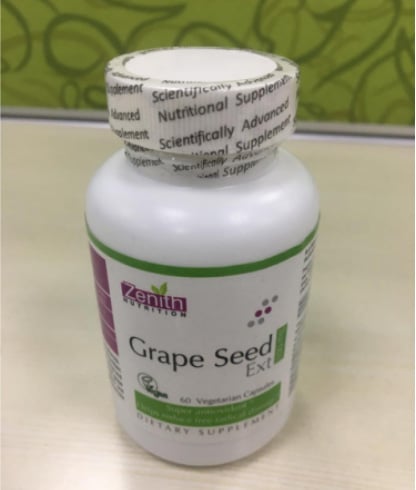 Ingredients & Supplement Facts:
Microcrystalline cellulose
For a serving size of 1 capsule,
These supplements have 50mg of Grape Seed OPC Complex per serving and 10mg of Bilberry. The ingredients itself are a rich source of antioxidants, and it is widely known that grape seed extract is used for cancer prevention and wound healing.
Price & Availability:
Zenith Nutrition Grape Seed Extract retails at 830/- for 60 capsules. It is available on Amazon, Flipkart and Zenith Nutrition website.
Packaging:
The Zenith Nutrition Grape Seed Extract comes in a plastic bottle. The bottle is medium sized and contains 60 capsules. It was packaged with a plastic seal over the bottle when it arrived. The bottle is of good quality and an ideal one to preserve the contents of it.
[sc:mediad]
Directions To Use:
It is recommended to consult your physician. Although, on a normal basis, 1 capsule per day should do.
How To Use Zenith Nutrition Grape Seed Extract For Better Health ?
There are some supplements that regulate your overall wellbeing over time, and this is one such supplement. An effective capsule to boost the antioxidant activity in the body, and improve the immunity of the system. Coming from a brand of high reputation, this one is surely one to look into.
My Experience
I ordered the Zenith Nutrition Grape Seed Extract capsules and have been using these supplements for a long time now. What I personally notice is that I haven't ever been affected with any virus disease such as fever, cold etc ever since. Many of my bodily functions seem to have much more immunity than before, as I used to fall sick very often during winters before. Since I used to be affected by melasma, this has proved to be show improvements. Also, my uncle was on this for quite some time and noticed a drastic improvement on multiple sclerosis decease. This improvement happened after a few months of Grape Seed Extract intake, which has worked its wonders. Supplements like these are necessary to take throughout life. It has working in contributing to every part of my body in some way or the other.
An overall health development requires supplements like this one to monitor and gradually improve performance.