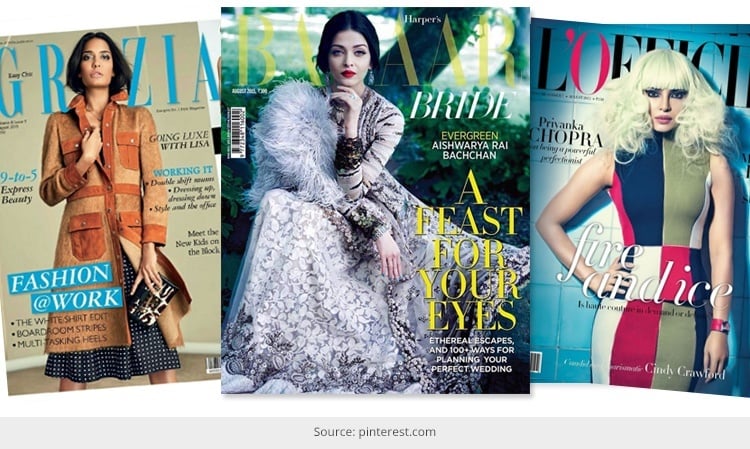 We have already given out the first instalment of magazine covers to y'all on the beginning of this month. We were stumped over by the likes of Kajol and Rani Mukherjee, all looking very beautiful on the glossy papers. And now, we have few more ladies who killed us with their looks.
And now, we have three more ladies who killed us with their looks.
The only thing we want to say to them is uff teri adaa!!
Like literally, they pulled a I'm sexy I know it on us and killed us with their sexy and oomph factor.
Let's take a look at these beauties.
Aishwarya Rai
Aishwarya Rai appeared on the cover of Bazaar Bride, wearing a gorgeous, gorgeous and GORGEOUS outfit by Sabyasachi Mukherjee and you know what? She wore an outfit from his latest collection!! I mean, how is that even possible??
She was styled by the man himself and the bright red lips left us tongue tied. What do you guys think?
Aishwarya Rai – 2
Aishwarya Rai made another appearance on another magazine cover and this cover blew our mind! Hello magazine was celebrating their 100th Issue edition. And so they decided to celebrate 100 beautiful woman. On top of their list (and on top of their magazine cover) was Aishwarya Rai looking stunning in an Abu Jaani and Sandeep Khosla gown. Something about this look of hers reminds us of old days. It her eyes probably, yeah?
Priyanka Chopra
Gaga, uh lala, want your bad romance!! That is the only song that comes to our mind when we look at Priyanka Chopra on the cover of L'Officiel. Before we say anything further, just look at her!
[sc:mediad]
Doesn't she look amazingly Gaga-ish? Wearing a Salvatore Ferragamo dress, she looked brilliant! Like literally. The hair, the makeup, those eyes, the pout. What is NOT nice about this cover? It is so out of the box and so bloody brilliant.
Athiya Shetty
Blowing our hearts, minds and soul was Athiya Shetty on the cover of Harper Bazaar India. There wasn't much going on, on the cover. It was just Athiya, wearing a to-die-for Salvatore Ferragamo dress and sitting on the floor. Her eyes (or rather her expressive eyes) looked at us as if she was looking right into our soul! This kid, is going to go places!
Lisa Haydon
Lisa Haydon appeared on the cover of Grazia and she's not wearing black! Can you believe that? This sexy seductress wore a brown Louis Vuittion outfit on the cover and looked magnificent! Metallic smoky eyes, nude lips and a killer pout completed her look! Her hair were giving us an illusion of a messy bob, but we for sure know that she did not chop her hair!
Dipika Pallikal
We were a bit upset this month as we didn't find Deepika Padukone on any of the magazine covers. But when we got Verve in mail, we were beyond happy! On the cover was squash master Dipika Pallikal wearing an amazing Payal Singhal dress. She teamed it up with jewellery from Jaipur Gems and added heels from Christian Louboutin to up her glam quotient. Like her or love her?
We hope we get to see you more often Ms. Pallikal!
Who do you like the best? We think Priyanka Gaga, oops, we mean Priyanka Chopra won the title for best mag cover!