First of all: Major Wow for all the Bollywood Magazine Cover for August 2019. Featuring all the most talked about actresses, with undeniable influence, this month's cover stories is ACE. We love all the chilled-out but chic photos. This may just be the dreamiest looks yet. Check them out.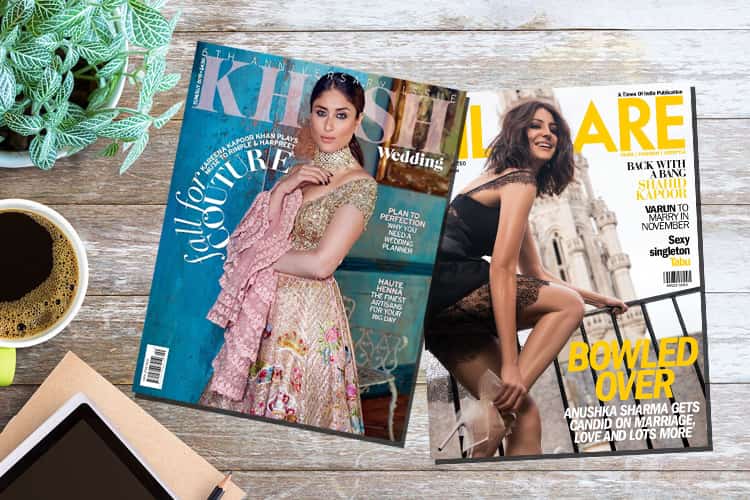 Kareena Kapoor Khan on Khush Wedding:
Almost twenty years after making her movie debut, Kareena Kapoor Khan is still showing us how it's done- Actor, wife, mother, woman-all 100% tabloid-free A true fashion diva on and off screen, Kareena graced the cover of Khush Wedding August, 2019 and is giving us major wedding feels. Here in her cover photo shoot, see the boundary-breaking actress taking a few more roles in bridal looks by Rimple and Harpreet set with Anayah Jewellery.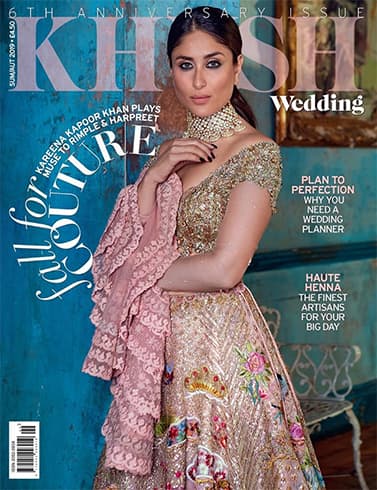 Let's face it: Kareena Kapoor was born to wear bridal couturier designs. Seriously, there isn't any fault about that bridal wear by Rimple and Harpreet. All we have to say is can someone please ask how she tops every single shoot like it's no big deal? Wow!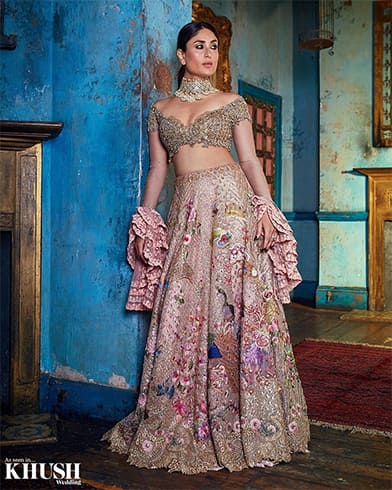 If we can copy this entire look for a wedding, we'd be eternally blessed. Because this bridal couture looks as it's come direct from the royal wardrobe archives, which is a good thing. Plus points in courtesy for hair & makeup artists- Divya Surima and Reshma!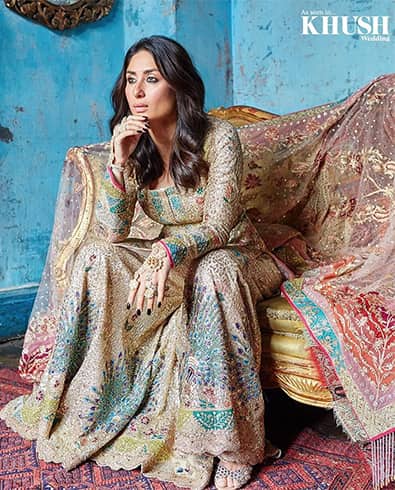 Turning to Rimple and Harpreet couture once again, Kareena looks sensational in this handcrafted crystal, embellished saree. No major dedication required for the actress as she keeps her photo shoot presence lighthearted.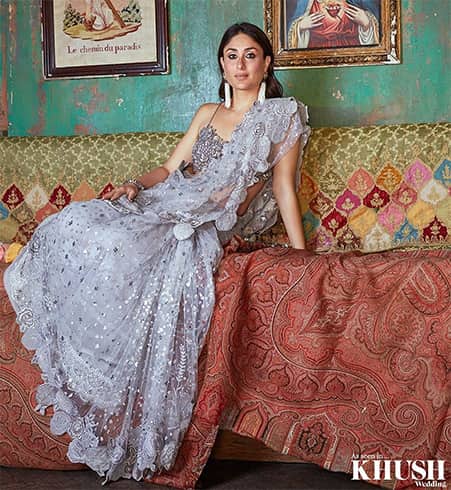 Sonam Kapoor on Bridal Asia:
Fronting the highly coveted August cover for Bridal Asia is Sonam Kapoor. And it's really a pleasure seeing the actress looking so élégante. Shot by Arjun Mark, she received the full bridal treatment and it looks brilliant. Oh, and let's not forget she aces the rest of the photo shoots teasing us with bridal couture from the likes of Anamika Khanna, Tarun Tahiliani, Amit Aggarwal, and others. For the cover shoot, she is wearing a sensational outfit by Anamika Khanna paired with jewellery from Hazoorilal by Sandeep Narang. Credits for her hair and makeup go to Namrata Soni.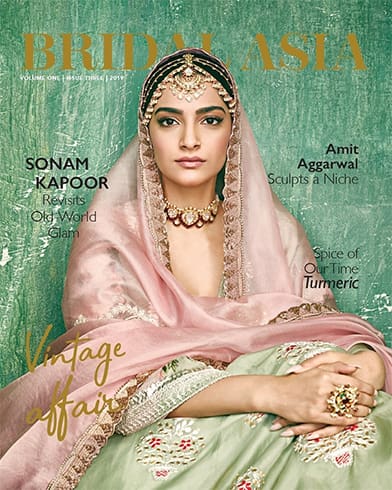 From what we seeing, the Amit Aggarwal ensemble looks straight out of a fairytale. What a beauty, ain't it? Her neutral hued outfit matched with the blazer combined the best of two world-chic and workable. The accessories didn't go all the way out, instead the Rare Heritage Jewellery made enough of a statement without making a distraction.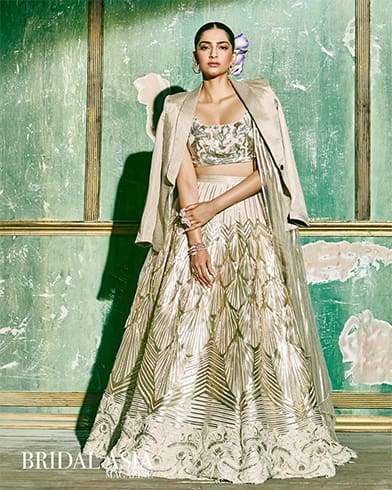 It's all about wearing one hue from head to toe and making it undeniably flawless. And this Tarun Tahiliani is a stunner and doesn't need a snooze at all! Flawless, Sonam Kapoor looks absolutely sophisticated without trying hard with matching jewellery by Shri Ram Hari Ram and shoes by 5 Elements by Radhika Gupta.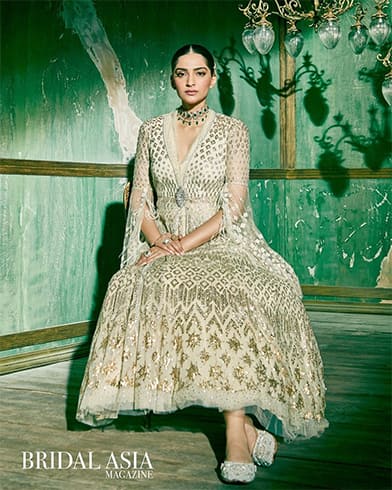 Sonam looks put together but not too prissy in her ensemble by Papa Don't Preach by Shubhika, Jewels of Jaipur jewellery, and shoes by 5 Elements by Radhika Gupta. This unique bridal look hits a homerun with the red jhuttis on her feet.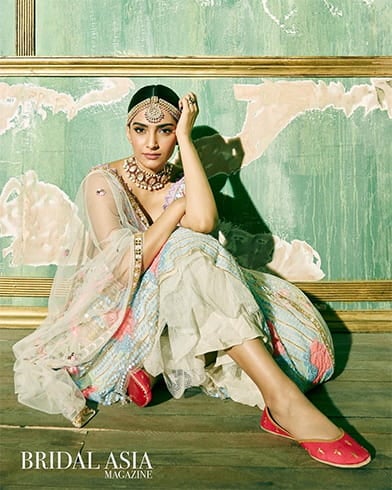 Bhumi Phednekar on Femina Wedding Times:
For the cover shoot for Femina Wedding Times, Bhumi Phednekar graced the pages with so much ease. Challenging bridal wear in red, blue, and pink ensembles, she stands amongst the colorful décor, giving off a breath of fresh air. The brilliant shots by photographer Taras Taraporvala gave a total fashion facelift to the Ritukumar ensemble while Elton Fernanadez took the makeup & hair to the next level. The expert stylist for the photo-shoot was the brilliant Lynn Ann Lobo.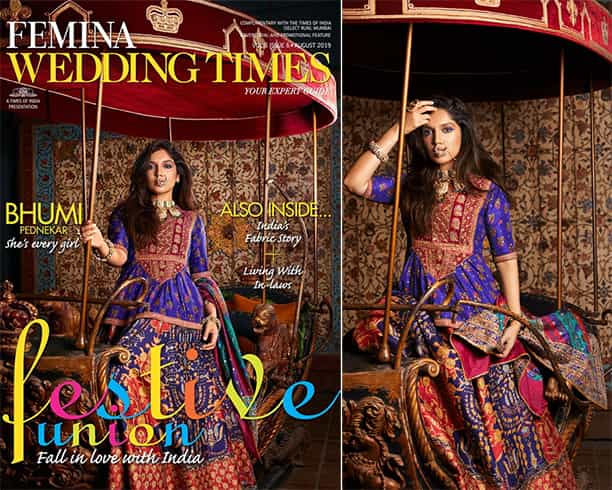 A blazing hued ensemble can sometimes serve as the missing link in making an ensemble go from drab to standout. Matched with light jewellery, this low-key look on Bhumi can be an inspiration for similar thinking laidback brides.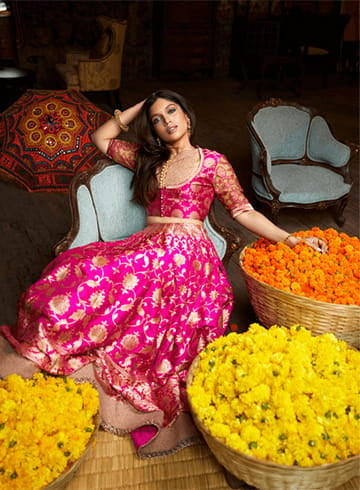 The heavy embroidered bridal wear and jewellery as seen on Bhumi is a match made in heaven. The barely there bronze makeup look don't hurt either.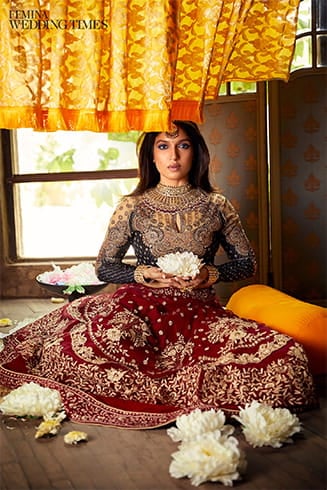 Anushka Sharma on Filmfare:
Anushka's official cover for the coveted August issue of Filmfare was earlier released and created quite a buzz. The cover photos have to be her most authentic shots yet. Captured by Tibi Clenci, the actress wears a lacy black number while the hair was done by Earl Simms and makeup by Liz Pugh. Inside the magazine, the stunner embraces exclusivity.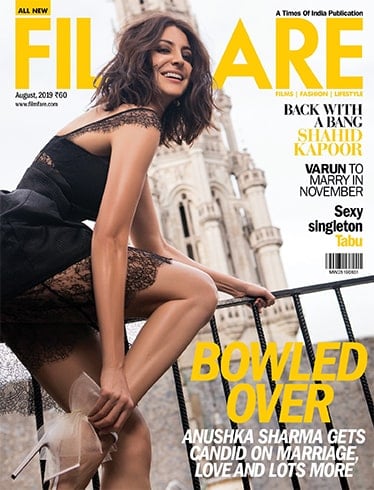 Achingly cool in this green textured backless dress and certainly shining through.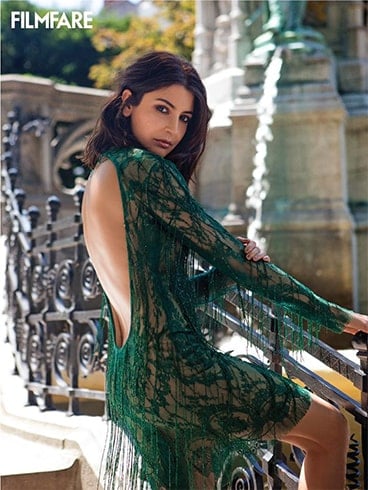 Commanding attention as she glares at the camera in this smoking hot black number!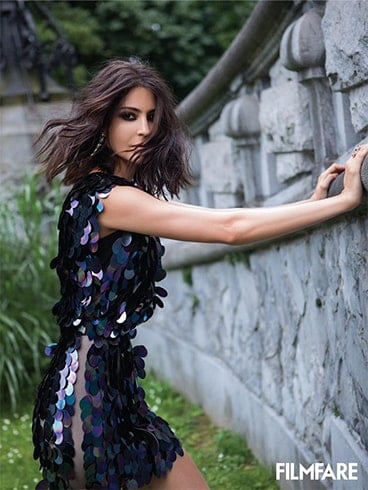 Turns out she is just as obsessed as chilling in a thigh high boots with midi-length dress. 'Atta girl!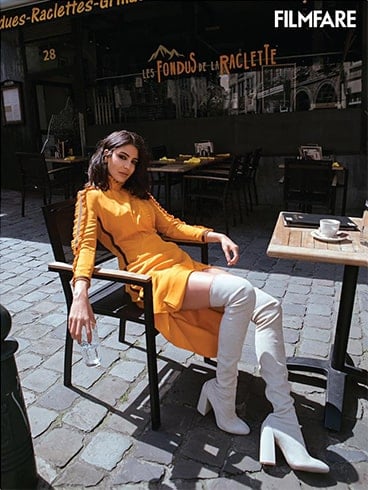 Back at it again with the thigh high boots, but only this time with an oversized trench coat slung over her shoulders.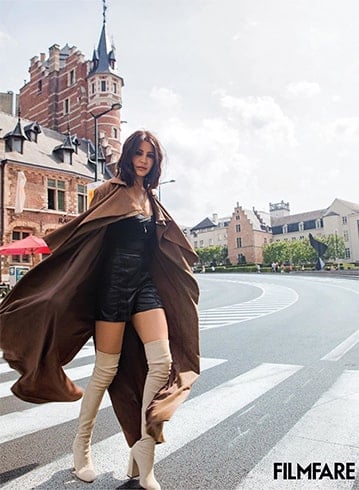 Malaika Arora on Travel + Leisure:
For Travel + Leisure August issue, Malaika Arora's cover shoot theme was pitch-perfect. On location at a private resort in Maldives, the actress posed seductively whilst hitting the beach. For the other photo shoots, the petite stunner zipped herself in gorgeous beach wear from design labels like Wendall Rodricks and Anamika Khanna.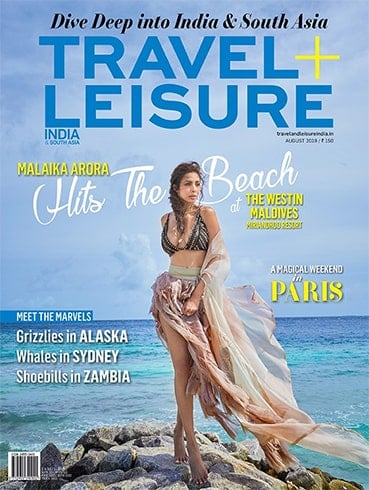 For this shoot, stylist Tanya Ghavri selected a beige ensemble by Shivan and Narresh and color blocked all the way down to her accessories by Sakshi Jhunjhunwala, FiFi Jewels, and Tanzire. Nailing it.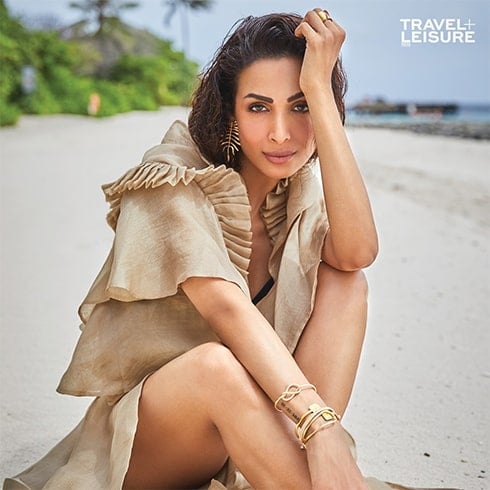 So beachy, so dreamy! We are in love with the white ensemble situation by Wendall Rodricks.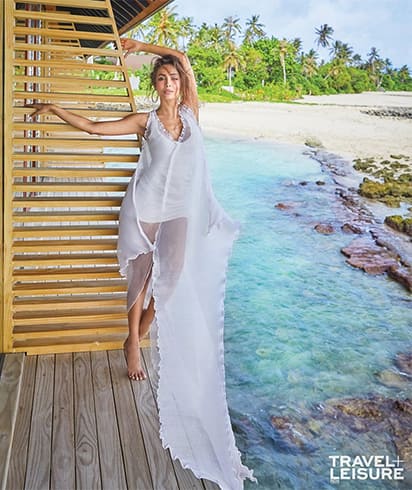 We are kind of digging this picture shot by Rohan Shrestha and pretty pleased with the black piece by Anamika Khanna. Is it an attempt to envy us? We need answers Malaika!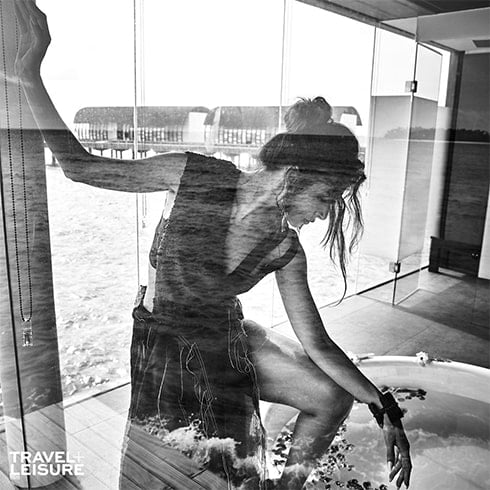 Jacqueline Fernandez on Harper's Bazaar India:
The actress is featured on the cover of July/August 2019 edition of Harper's Bazaar magazine looking very chic which features her in a white crisp shirt, earrings, and rings by Louis Vuitton, signature natural-dewy makeup by Shaan Muttathil. Inside the issue, Jacqueline sexily poses with ease.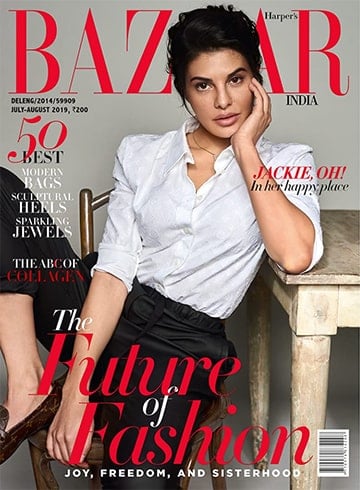 Check out more photos from her cover-shoot below:
In case you haven't quite noticed, a big, happy smile matches the most chilled out ensembles. Here, Jacqueline's styling teaches us a lesson or two on that with her too cool and comfy basic duos.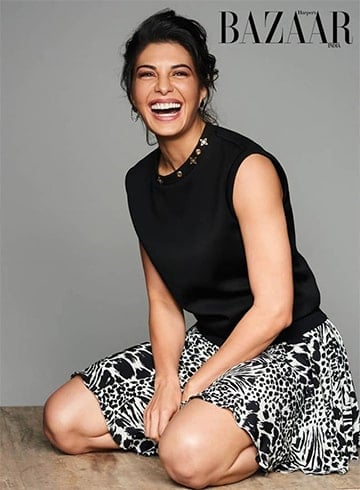 Adding tons of the actor's personality in the most polished way, this simple summer dressing by Louis Vuitton shows it really doesn't have to be a bore.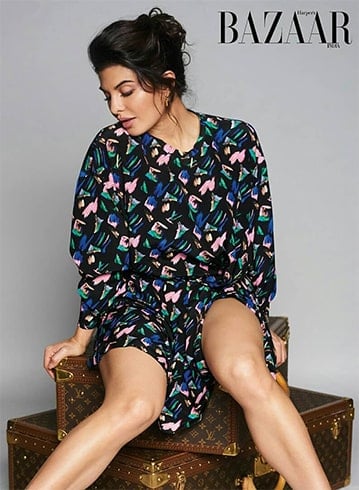 Priyanka Chopra on Elle:
Priyanka Chopra isn't a stranger to pushing boundaries with the kind of roles she plays. A true global star-in that sense, she is exceptional. This August she has landed on the cover of Elle UK. Lensed by Marcin Kempski, the dusky beauty gets her close up in Saint Laurent couture on the cover. Inside the fashion glossy, the actress poses in theatrical accented ensembles styled by Jenny Kennedy.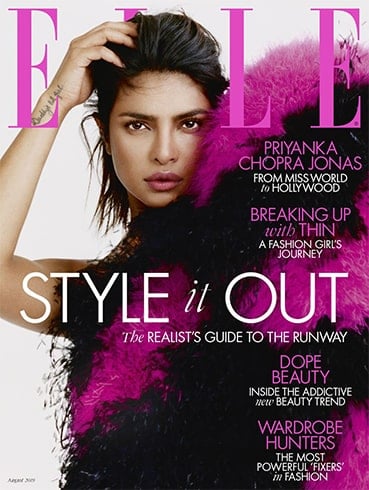 Here are more photos from the cover shoot: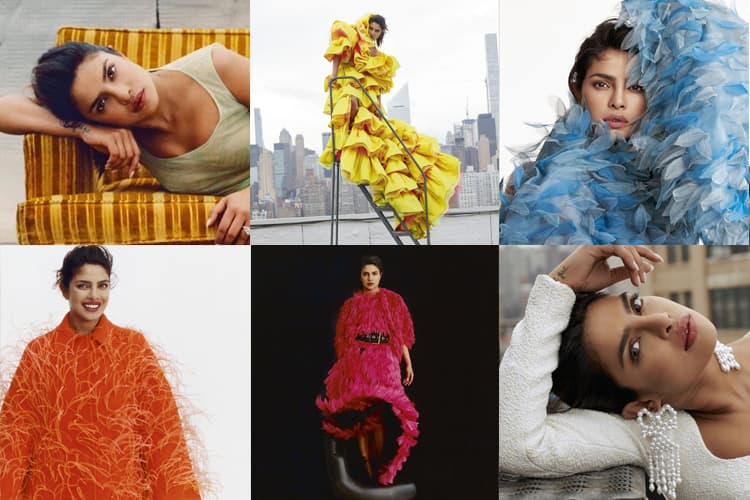 Kriti Sanon on Femina:
Kriti Sanon has landed on the front of Femina August 2019 edition. Now, this is another addition to her winning streak. The photo cover and the inside shots are just gorgeous and have got everyone buzzing. Take a look below: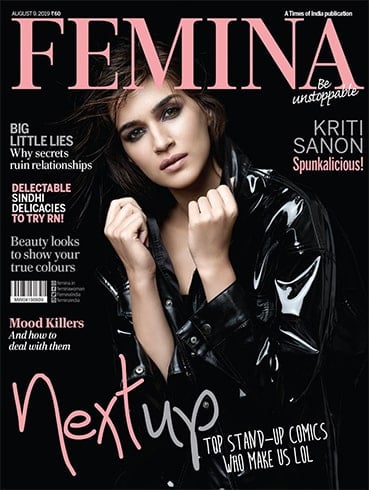 As Kriti expertly displayed, the wet hair look trend of the moment, smoky eyes, looks best with a dress that displays her perfectly toned legs.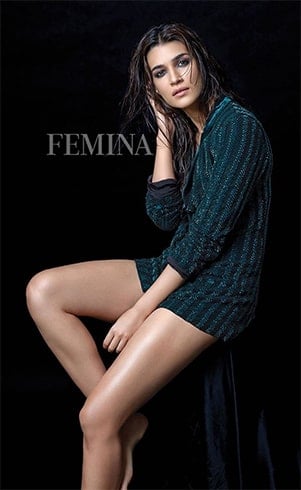 Punching up a dramatic ruffled black dress and still maintaining that wet look. Quite a standout, we feel.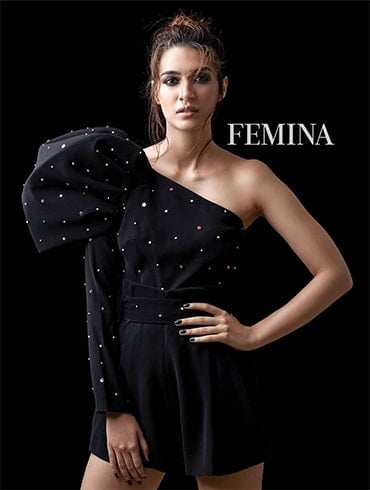 All the magazine cover shoots for August 2019 looked 'incred and we love all the styles. So much more chic!
August 06th, 2019
Author: Lima Aier
---
Magnificent Bollywood Magazine Covers From August 2018!
Isn't it a warm feeling to consider every day as a new chapter in life, a new beginning? Likewise, we open our minds the start of every month to the fashion world to splurge their latest collections. This August 2018, besides the stories that the Bollywood divas shared, like always it was a fashion bonanza with brightening colors.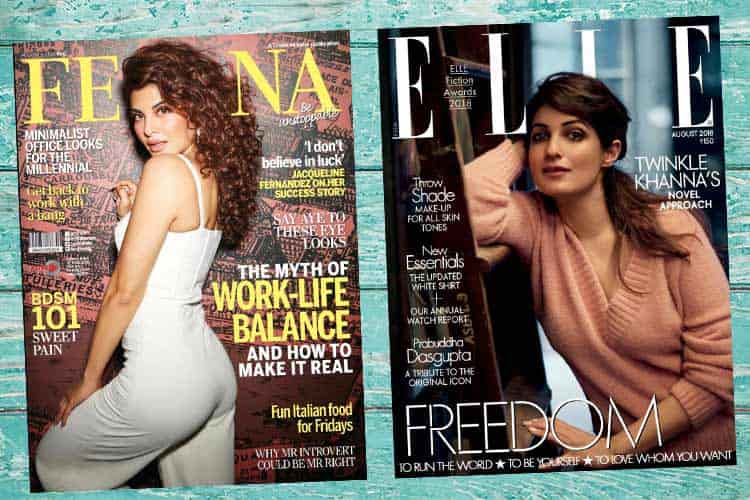 Covers That Were Head-turners:
Here is the August 2018 magazine covers assortment that brings forth the vivid creation of the team – the fashion editors, the stylist, the makeup artist and the hairstylist, captured grandly by the photographer.
1. Aishwarya Rai for Brides Today:
For some, she is an epitome of elegance and royalty, while for some, she is an absolutely divine creation, and for us, Aishwarya Rai is an unreachable benchmark of beauty, personality, and grace.
This August 2018, the lovely lady cast her magical spell on the cover of Brides Today magazine. Splashing bright neon hues over the cover with her Ralph & Russo outfit, she looked trendy and peppy. Adorning sparkling and glittering baubles in tones of white from Amaris- jewels by Prerna Rajpal, she added a classy vibe to the upbeat style in play. With the sunlight bouncing off her red highlighted hair, she rounded her pose for the cover.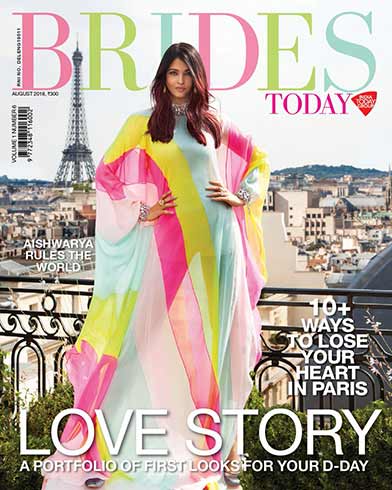 Read along for more cover shoot styles of Aishwarya Rai
In a white body-con lace outfit from Ashi Studio, Aishwarya portrayed a drop-dead gorgeous style. Love the fluffy wing styled cape! The emeralds from Amaris-jewels by Prerna Rajpal stood out gorgeously on the white outfit, don't you agree?
Mystical and breathtakingly beautiful was Aishwarya Rai in a fairytale pink strapless gown from Giorgio Armani. Looks like Amaris- jewels by Prerna Rajpal were the chosen label for the cover shoot.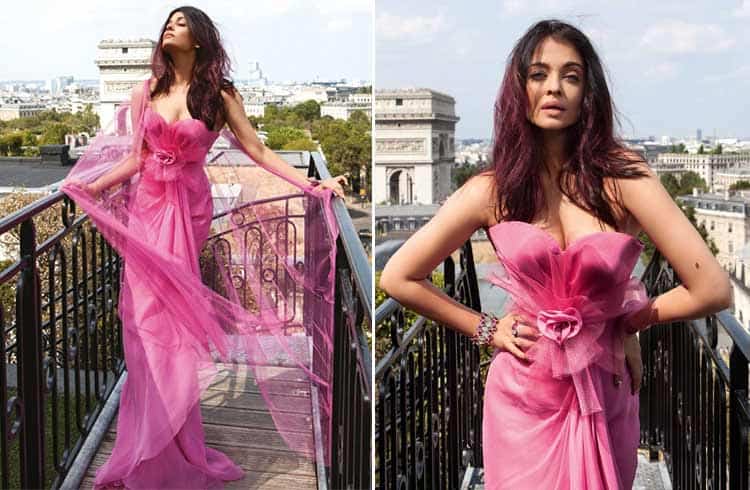 In a one-shouldered flouncy plum colored outfit by Elie Saab Couture, Aishwarya Rai cast another killer pose. The metallic Louboutin pumps were the striking feature of the style, don't you agree?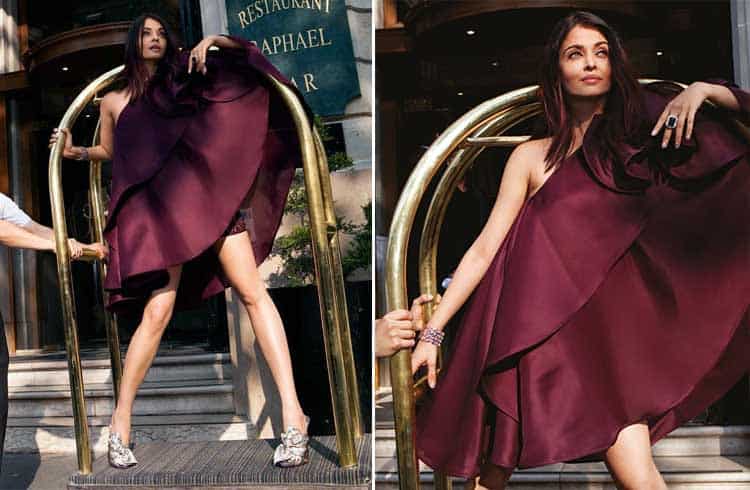 Lastly, she was captured gliding gracefully in a black Zuhair Murad outfit highlighting the embroidery rich cape. The HMU credits go to Stephane Lancien and Charlotte Willer. Styling credits go to Shaurya Athley. Tibi Clenci takes the credit for capturing the glamorous lady on his lens for Brides Today.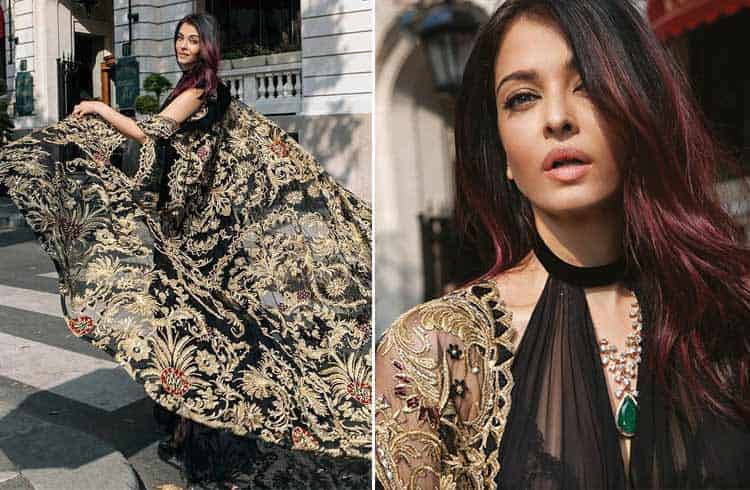 2. Esha Gupta for Aza Fashions:
Aza Fashions chose to launch their first magazine cover and look who their muse is! It is Esha Gupta in a bright sequined outfit by Arpita Mehta. With dazzling jewel pieces from Narayan jewels, Renu Oberoi Luxury Jewellery and Anjali Bhimrajka, she cast a drop-dead gorgeous spell on the on-lookers.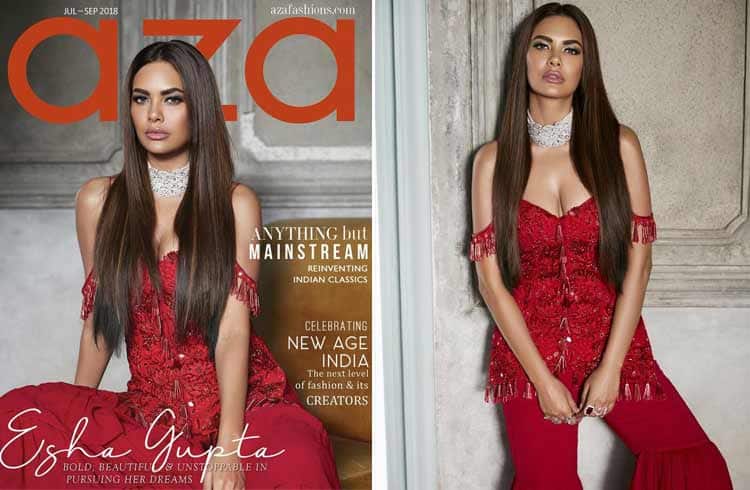 Giving us major boho-chic vibes was the diva in an ivory colored sari by Arpita Mehta along with Nyela Accessories and statement jewel pieces. With dazzling jewelry pieces, fromAnjali Bhimrajka, Esha Gupta was rounded her trendy chic style.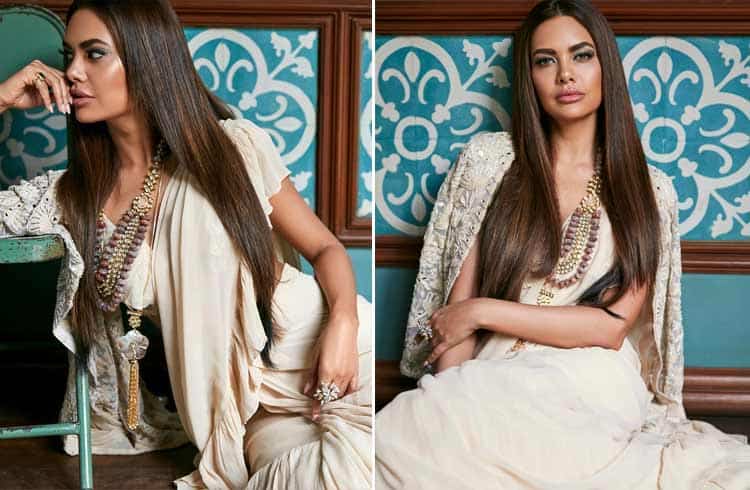 Here are a few more of her styles in Arpita Mehta label. Enjoy!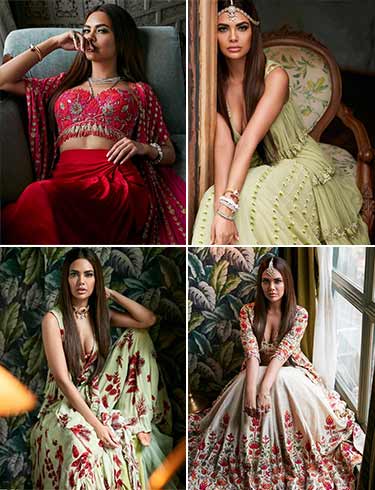 3. Jacqueline Fernandez for Bridal Asia:
With the wedding season right around the corner, any interesting style showcased on magazine covers is an instant hit. One such magazine covers that caught our undivided attention was Bridal Asia featured by Jacqueline Fernandez. Bridal Asia chose to celebrate their 20th anniversary with the launch of their magazine cover graced glamorously by Jacqueline.
[sc:mediad]
In a peacock blue heavily embellished crop top and slit skirt by Abu Jani Sandeep Khosla, Jacqueline aced the cover style. Kundan ring and bracelet from Jewels of Jaipur were her sole companions for her style in play.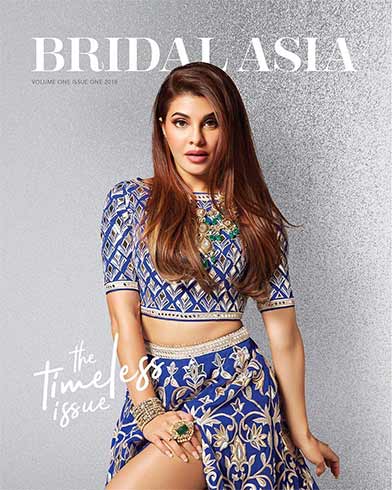 4. Jacqueline Fernandez for Femina:
Unlike her traditional avatar on Bridal Asia, Jacqueline chose to add some spice and flavor to her Femina magazine cover. She flaunted the slender mien, sensational curves, and the magical mischievous curls wonderfully.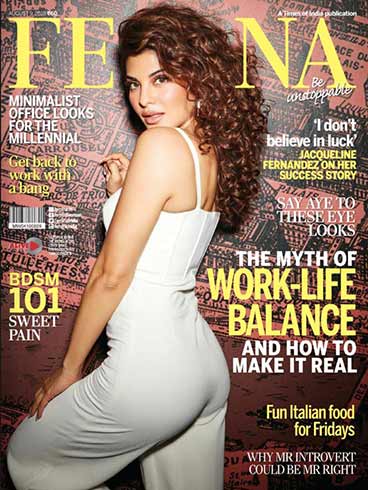 5. Radhika Apte for Grazia:
Grazia, this August 2018 chose to feature Radhika Apte, who bagged the applause for another winning performance in the latest TV series, Sacred Games showing on Netflix, on their cover. She posed in a printed orange-ish brown separates by Temperley London along with Michael Kors accessories. HMU credits roll over to Tenzin. Styled by Pasham Alvani and captured by Aneev Rao, the cover seems quite catchy.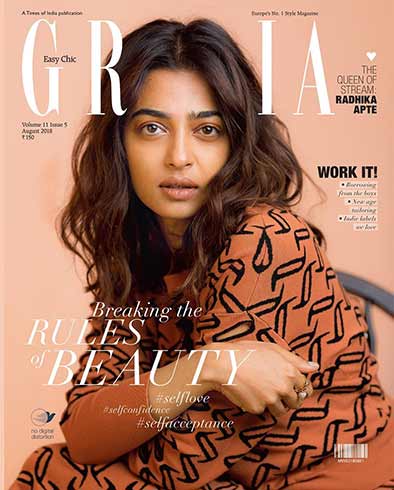 6. Twinkle Khanna for Elle:
Elle has decided to feature our bestselling author, Twinkle Khanna on the cover of their August 2018 edition and we can't wait to grab a copy.
After two successful novels, 'Mrs. Funnybones' and 'The Legend of Lakshmi Prasad', Twinkle is back again with her new venture, 'Pyjamas are forgiving'. Oh, what a sweet title! While we were expecting the diva to go comfortable on the cover in pyjama style, we were simply amazed by her boss-like work styles all along the photo shoot.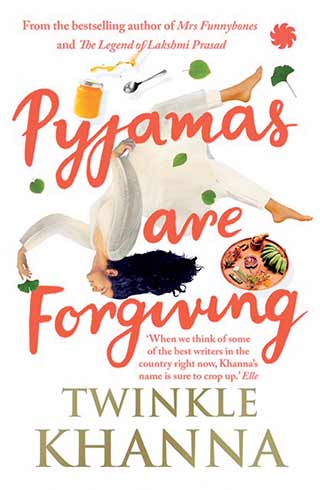 For the cover, Twinkle picked a wool pullover and wool-cashmere blend pants by Tibi and Pringle of Scotland. Leaning onto a ladder in a library background, she looked at peace with herself. Painted in nude tones with subtle blush tone highlights, she looked charismatic.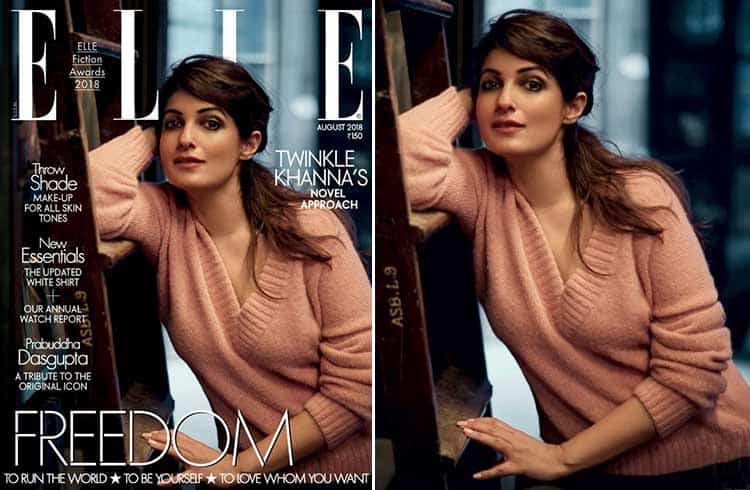 In a white silk pantsuit by Emporio Armani and Tibi, she was dressed to kill. With chiseled features, piercing gaze, side-swept ruffled hair, she looked splendid.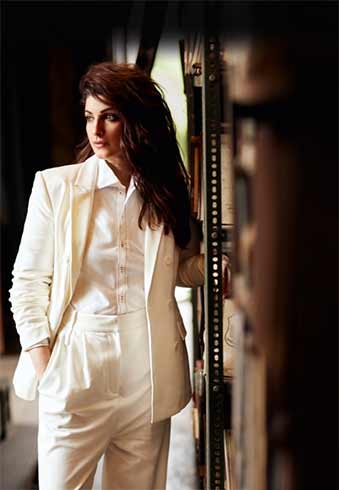 Elegant as well as trendy was the diva in a silk shirt from Rishta by Arjun Saluja, Patine cotton-twill blazer, and in silk pants by Tibi. Adding sparkling rose gold and diamond earrings by Zoya, she looked fabulous.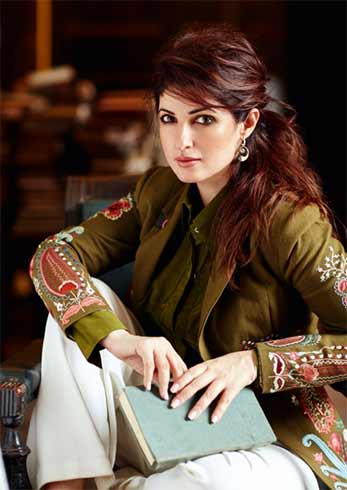 She was captured walking down the stairs looking bold and beautiful in a Viscose dress by Tibi and in Paula Cademartori heels.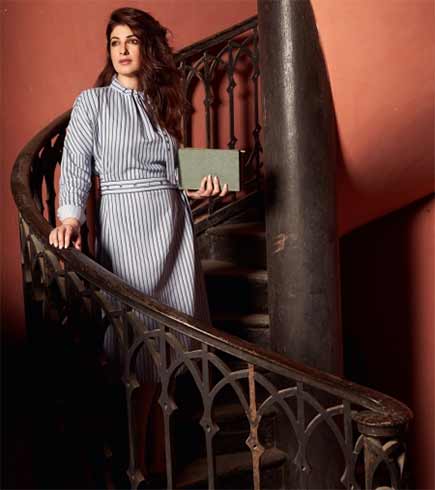 Lastly, blending right into the book collection, she looked stunning in a multicolored knit dress and blazer from Missoni. Alexandre Birman leather heels and diamond earrings from Om Jewellers were her companions for the style.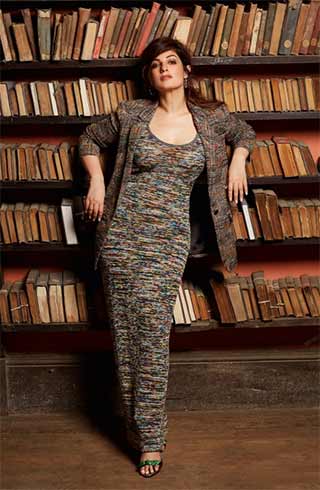 Love the side swept hairdos given by Yianni Tsapatori. George Kritikos, the makeup artist did a splendid job in using the nude palette in combination with smokey eyes and subtle bronze to blush highlights. Styling credits go to Rahul Vijay and his team.
Stay tuned for many more updates!
August 09th, 2019
Author: Sai Bhargavi Chintaluri
Images Source: Official Instagram profiles of the celebs/designers/magazines mentioned with in the article.