Punjabi mehndi designs are quite unique and it glorifies the culture and heritage of Punjab. These designs are intricate and need a lot of practice to perfect them without any flaws. Unlike Arabic designs that are bold and big, Punjabi mehndi designs are all about intricate designs that are designed to tell a story.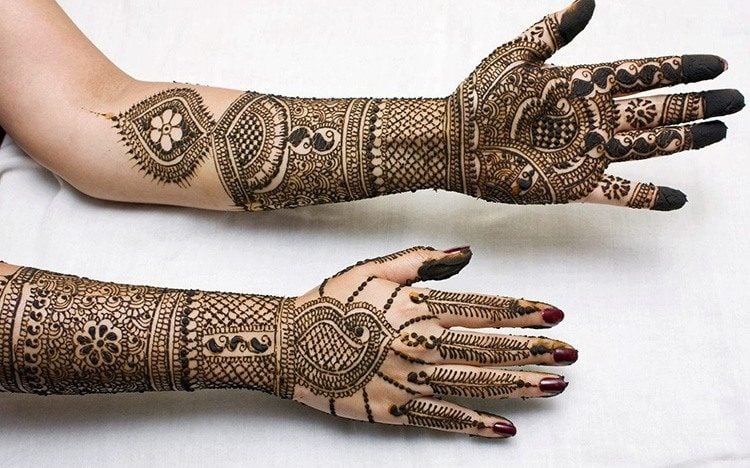 Punjabi women love applying Mehendi on all possible occasions. From weddings to Karva Chauth to Baisakhi, a Punjabi woman will have her hands and feet decorated with Mehandi to look their traditional best. While the wedding and Karva Chauth Mehendi are more delicately designed, the ones done on other festivals like Baisakhi are a little less elaborate.
Mehndi designs also called mehandi designs, मेहंदी डिजाइन, मेहंदी डिजाइन फोटो, Mehendi design.
List of 10 Mesmerizing Punjabi Mehendi Designs To Adorn
While there are multiple occasions for one to flaunt a mehndi, finding a perfect design can be a humongous task. For the design to look appropriate for the occasion, it is very important that one does their research and finds the right design. So to help out all our lovely ladies, we have listed some baffling designs to choose from. Have a look and pick the one that suits you the best!
1. Circular Motif
Circular motifs make great henna designs, as they are aesthetically very appealing. There is something about a neat circle that makes an impression, thus allowing the design to last in our minds even after the actual henna has faded away.
Many simple mehndi design images download links are available or you could use the screenshots on your phone to capture these latest henna art ideas for weddings and other occasions for reference.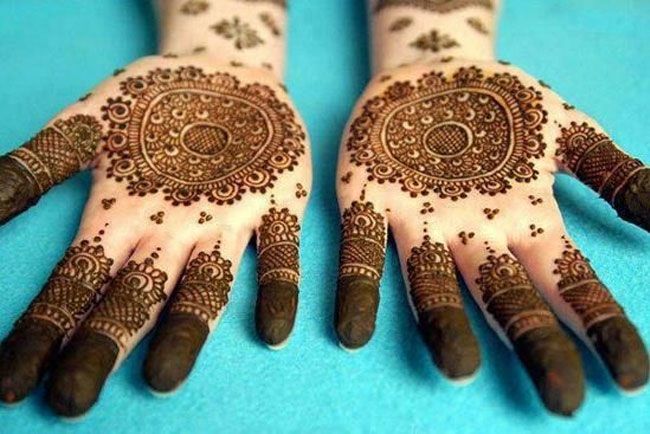 [Also Read: Mehandi Designs for Kids]
2. Floral Design
Flowers are universally regarded as the epitome of femininity. So it is not surprising that Mehandi floral mehndi designs are among the most popular Punjabi Mehendi designs. When the mehndi stains the skin with its deep orange-red colour, the flower seems to almost come alive in all its glory.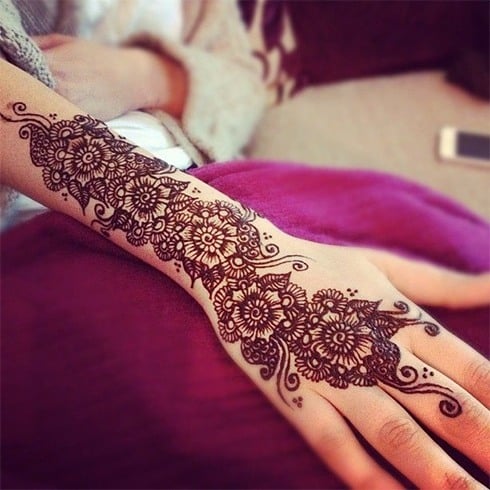 3. Lines And Patterns
You don't need birds and flowers to create alluring designs; you can do that with the help of lines and patterns as well. When combined, lines and patterns come together to form an interesting design. Although there is no story or one particular motif that acts as the central part of the design, even then it is a very impressive and sought-after way of covering your hand and feet with Mehendi.
This mehndi art is created by all lines, flowers, motifs, peacocks, and so on. Putting them all together is what makes it a unique Mehendi design for women.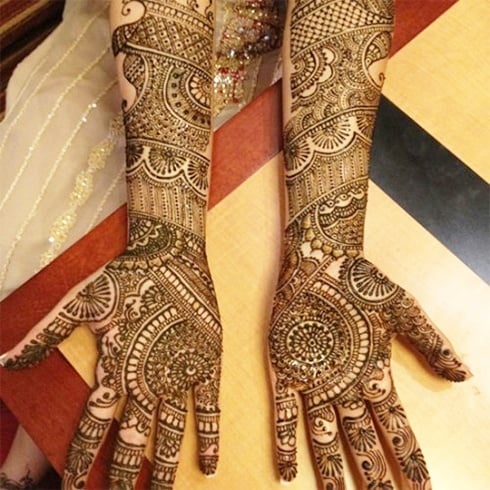 4. Bride and Groom Mehndi Design
This is a popular choice among Punjabi brides. These designs tell a story depicting the bride and the groom. It symbolizes love and a happily-ever-after story, thus depicting the joining of two souls in holy matrimony. This is exceptional Indian art, that needs a very professional artist to create it perfectly.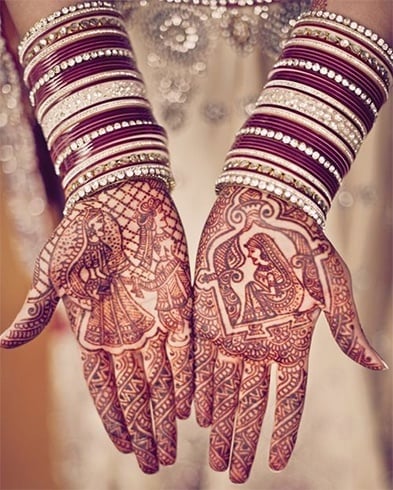 5. Border mehndi Design For Feet
The border design is the perfect choice for your feet. The design forms an outline along the sides of your feet, making a thick border. Pick a delicate pattern for a simple yet captivating effect.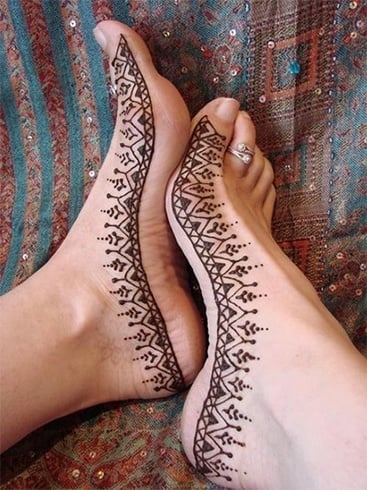 6. Colored Mehndi Design
The colored mehndi design concept is comparatively new and has seen a sudden rise in the world of mehndi designing. Deviating from the routine black and red colours of Mehendi, this one has shades of every colour woven into it with immense beauty. Looks like nothing can go wrong with this design.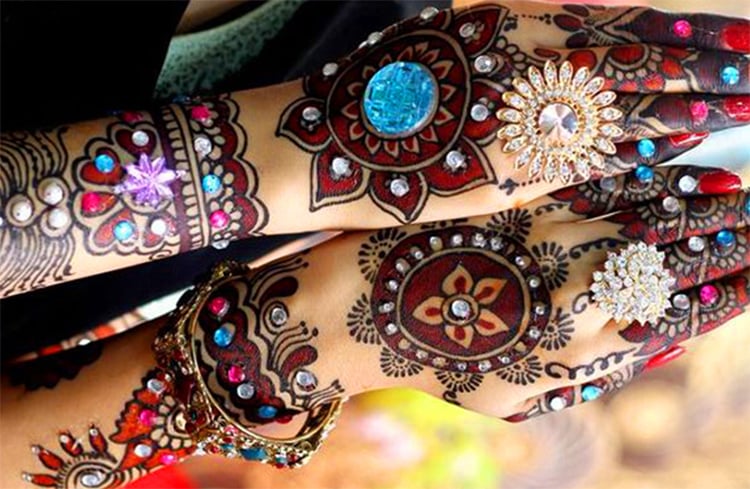 7. Heart Mehndi Designs
The heart's design never seems to go out of fashion. The innovative ways in which hearts are being etched to the hand are fabulous. There is so much love and blind trust in a marriage that the symbol of the heart is supposed to magnify it to innumerable amounts.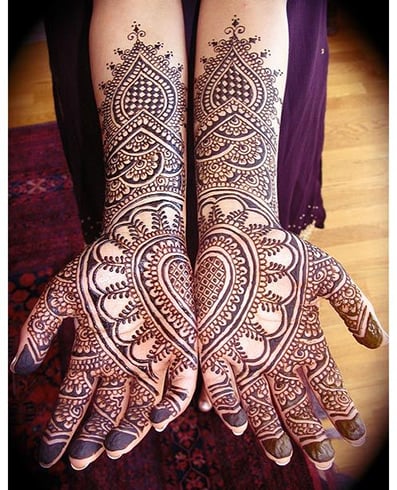 8. Loops and Spirals
Loops and Spirals have always been among the favorites. The spiral pattern has a minimalistic touch to it but renders a beautiful final outlook. The sheer perfection of the loop and spiral, both being circular has the perfect festive look.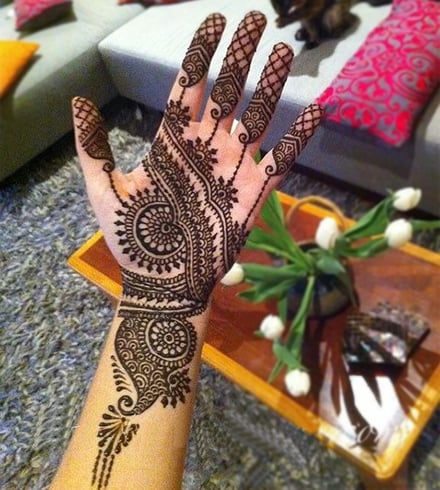 9. Dots and Chains Mehndi
This design looks so intricately delicate that we can't help but love it! Perfect for every occasion, from a casual party to a lavish marriage, this design is always the go-to one. One of the hardest designs to do, as, without the accuracy of the perfect lines, there's no charm to this design. Definitely worth a try!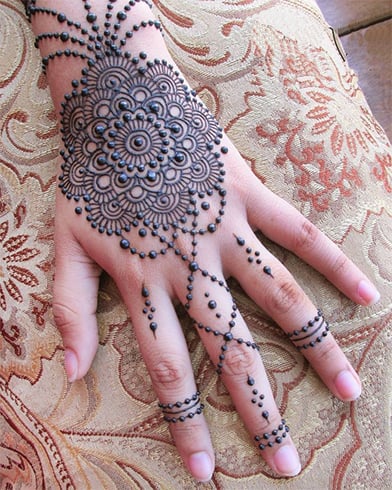 10. Bold Brackets
This bracketed design has an appealing look due to the dots on the fingers. One of the easiest and least time taking designs, the bold bracket is perfect for an engagement party or an ethnic day at work. A perfect wrap to your Mehendi diaries.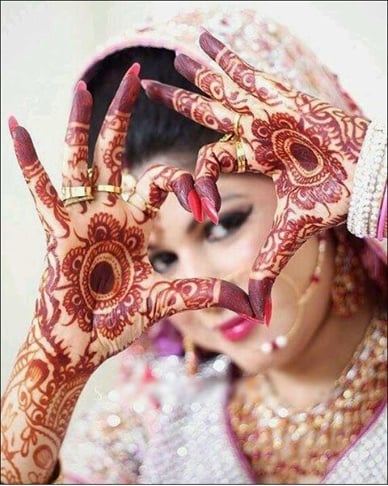 While Punjabi designs are unique, at least not anymore. Regional mehndi designs for girls in India have all merged, evolved, and have become a fusion of different cultures and customs. So a Gujarati bride might sport a Rajasthani design and a South Indian bride might be seen having an Arabic mehndi design. This fusion of art has had an interesting effect on the designs and has helped them evolve into our present contemporary Indian designs.
Images Source: Pinterest
Recommend Articles