Not only a receding hairline would bring out a big forehead, but sometimes we are born with large foreheads. But does that mean women with big forehead can never look pretty and chic; NO! We are going to talk about how to hide your big forehead, and there is nothing to be ashamed of.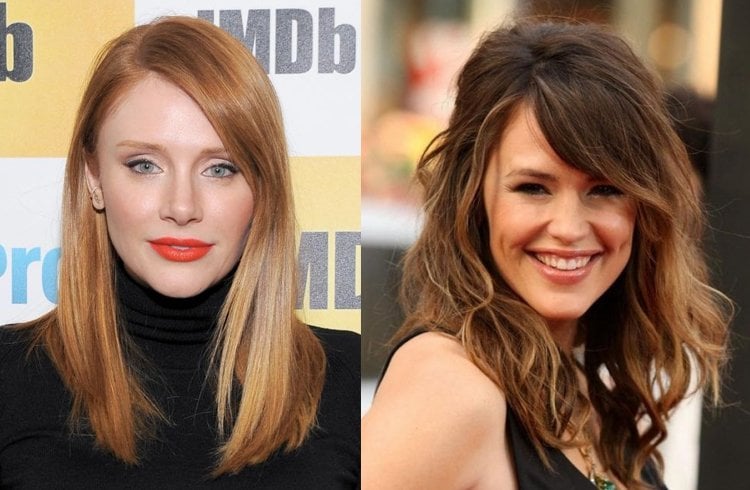 We are here to help you achieve the beauty you need, and will give you all the information possible on how to hide a big forehead.
How To Hide A Big Forehead?
Having a big forehead is not something people appreciate but it shouldn't be something to be ashamed of. Big foreheads are beautiful but if you think you really want to hide it then there are several ways to do so.
Foundation Trick: Avoid applying foundation to your hairline because it will create an illusion of your forehead ending at much lower than it does.
Bold your eyebrows: Bolding your eyebrows is the best way to make your forehead appear smaller. Since eyebrows play an important role in framing of your facial structure and drawing a high arch with thicker eyebrows will do the trick.
Wear bright color lipstick: Firstly, bright lips will take away all the attention. Secondly, it will balance your features by adding more volume to your lower face.
Accessorize: Wearing bold earrings, necklace can also distract and take away the attention from your forehead.
So these are some tried and tested tricks one can rely on.
Let's begin with how to style up and hide a big forehead. Please read on and be well-informed.
List Of Hairstyles To Hide A Big Forehead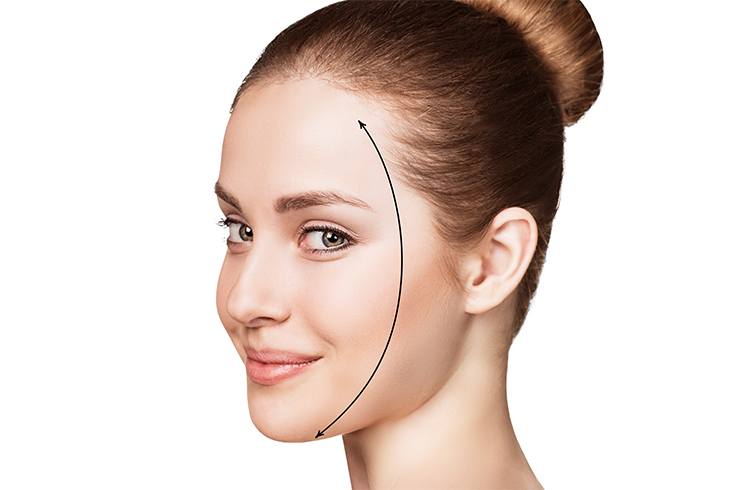 For women who do not find big, high, or wide foreheads aesthetically pleasing, there are a couple of ways you can hide it. From choosing hairstyles cleverly, to following a few simple beauty tips and also picking the right hair accessories – it is possible to get the desired result. If our celebs can make it all the way to the path of success despite having a big forehead, so can you. Remember, it is your confidence that speaks volumes, not your forehead.
1. Updo
You could try the gorgeous Hollywood updo for the big forehead to hide in. When you focus on the hair in front, please ensure that a few strands are left falling over the face, either in curls or straight. And always make a loose bun with that. Canadian actress Rachel McAdams shows us how she covers her large forehead with elegance and grace.
What you need:
Hair Brush
Smoothening Serum
Hair Pins
Hair Spray (optional)
How to style:
Brush out knots and tangles from your hair.
Gather your hair ends loosely into a bun at the back and secure with pins. Use hairspray if hair does not stay in place.
Part your bangs one side and pull out the longer hair strands towards the sides to frame your face better.
Glide over smoothening serum to manage your flyaways. But refrain from using serum on your bangs.
Tip:
Trim your bangs when it is dry or else it will end up way shorter than expected.
2. Blunt With A Fringe
Try cutting your hair chin length which will cover the large space on the forehead. The fringe will distract the face and the chin length hair will contour the jawline and shapes the frame of your face too. Sarah Jessica Parker of SEX AND THE CITY anyone?
What you need:
Texturing spray
Towel
Hair dryer (optional)
How to Style:
Spritz texturizing spray over freshly washed hair.
For the next step, you can either make use of a towel or hair dryer. Flip your hair towards your front.
Slowly scrunch your hair for few seconds using the towel or dryer.
Repeat until the hair is completely dry.
To add more volume to the hair, flip your hair in and out.
Next make a hair parting on one side, making sure that the bangs are highlighted over your forehead.
Do not brush your hair. Instead scrunch your hair to add shape.
Tip:
If you end up with too much curls, you can soften its effects by brushing out your hair using paddle brush or blow drying on low setting for one or two minutes.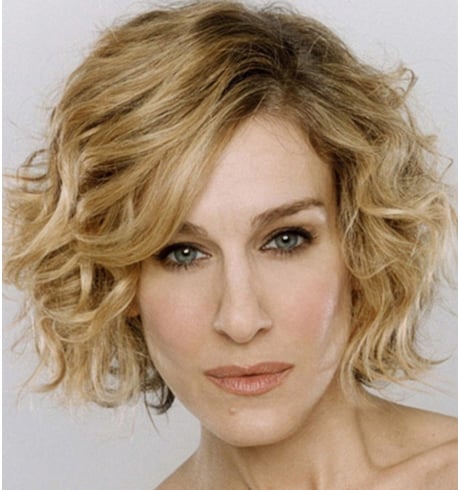 3. Wavy
Try using wavy locks which will help to hide your big forehead. For this, you would need to blow dry your fringes pretty well, which will then gather the much needed volume it needs to cover the large forehead. This would add dimension to your face and you could leave the rest of the hair loose behind.
What you need:
Heat Protectant
5 inch curling iron
Teasing brush
Wide toothed comb
Smoothening serum
Bobby pins
How to Style:
Apply heat protectant on freshly washed hair.
Part the back of your hair into two sections and curl.
Smooth back your swept side swept bangs at the front.
Smoothen out your hair using a serum and wide toothed comb.
Part your bangs on one side to finish.
Tip:
Use your fingers to massage your scalp and boost volume at roots.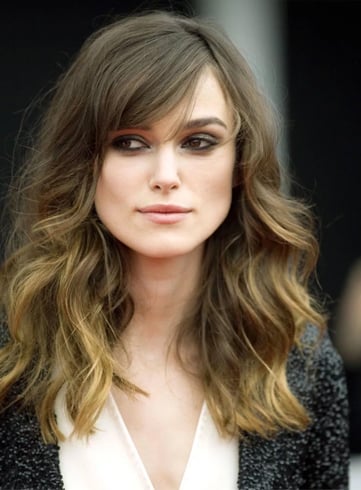 4. Side Fringe For Long Hair
A side fringe can elegantly cover the forehead, while the remaining hair at the back can be brushed backward and teased to do an updo or curled and made into a bun or left loose. The strands of hair in front would fall quite neat and pretty onto the forehead, covering it up. This hairstyle would be apt for formal events. Amy Jackson shows how to hide that big forehead.
What you need:
Light Volumizing Mousse
Light Hold Hairspray
Round Brush
How to Style:
Prep damp hair with a light volumizing mousse.
Blow dry hair with a round brush if you need volume.
Allow your fringes to fall in the front and parted equally.
Brush back the rest of the hair and tie it in a neat ponytail like Amy Jackson above in the picture.
Tip:
You do not have to coax your bangs when you getting into a ponytail style. Add a texturizing spray to give a gritty look to your bangs.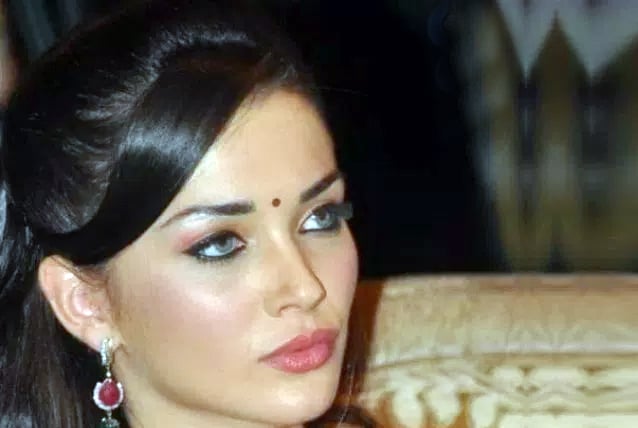 5. Side Fringe For Medium Length Hair
If you love side fringes, you can do that to cover the large forehead too. Allow a lot of hair to fall around the parietal zone, the jawline, the earlobes and the temple area. Something like what Bollywood diva Chitragandha Singh does usually. Your fringes should be side parted along with your hair, and the fringes should be volumised to make them look bouncy and thick. Allow them to occasionally fall over your eyes.
What You Need:
Wide toothed comb
Smoothening serum
How to Style:
Have your hair nicely washed.
Prep your damp hair with smoothening serum.
Have the hair parted from one side. The heavier section should fall on the fringes smoothly.
Smoothen out the surface layers and sweep your fringe over allowing it to gently graze over one eye.
Tip:
Isn't it awesome when something looks effortless? For creating similar natural waves, twist big sections using curling iron allowing the hair to slide out.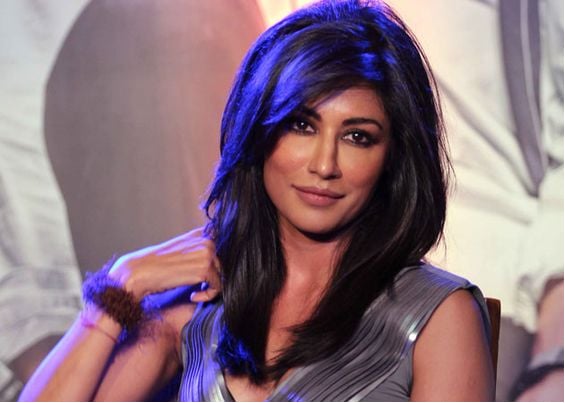 6. Straight Fringe For Mid Length To Long Hair
Bangs in any shape and size will help camouflage the big forehead too, so get thick bangs cut straight on the forehead and just above the eyes. You can also experiment and wear them below the eyebrows too. This is for mid length to long and very long hair to play with. Comb the rest of the hair backward to add more oomph and volume distraction.
What You Need:
Styling cream
Medium sized round brush
Pomade
Blow dryer
How to Style:
Apply styling cream to freshly washed hair and comb through.
Blow dry hair using medium sized round brush.
Blow dry bangs, and then give shape using the round brush.
Finish with pomade to the fringe and run your fingers to the ends for definition.
Tip:
There is nothing cool about a style that looks too done. Wrap your hair in different sections for a little irregularity.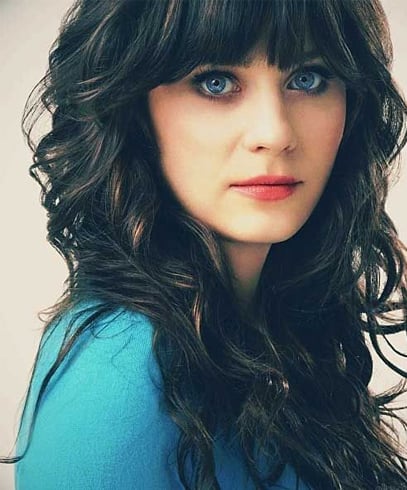 7. Straight Fringe For Wavy Hair
For women with short hair and a large forehead, we would look at ombre fringes and messy styles to camouflage the same. Can be worn to semi-formal events and even at wedding functions too.
What You Need:
Styling foam
Large round brush
Flat iron
Cream wax
How to Style:
Apply styling foam over damp hair and comb the hair.
Blow the hair using a large round brush.
Smoothen out your bangs using a flat iron.
Finish off by applying cream wax over your waves.
Tip:
To prevent a too curly lob from going triangular or mushroomy, try lightweight styling cream for taming the curls.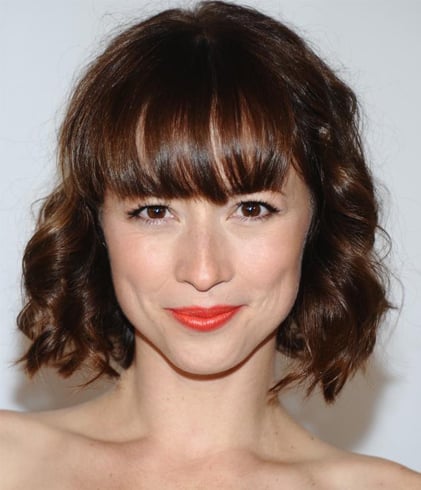 8. Side Swept Fringes
Cute side swept fringes can be the best way to cover ninety percent of the large forehead, and it works like magic if you have short hair and bob cuts. Ensure that the hair at the back is teased well with a teaser comb and hair spray to add more volume to distract the eyes.
What You Need:
Volumizer
Large round brush
Flat iron
Finishing spray
How to Style:
Apply a volumizer to damp hair and comb your hair.
Blow dry hair using large round brush.
Flock the ends out on the fringe using a flat iron.
Set the style off with a finishing spray.
Tip:
Try a fast drying spray for great hold and touchable texture.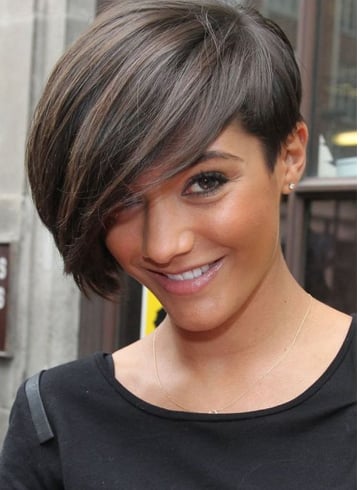 9. Pixie With Long Bangs
Follow Rihanna and you would see how she went pixie with long bangs in front. So chic and pretty, this is a hairstyle that is perfect for the college PYT or the corporate woman. The hair at the back should be messy (do it with your with fingers and hair mousse to add volume), while the bangs in front should be matte toned and sleek combed with hairspray.
What You Need:
Texturizer
Styling brush
Finishing spray
How to Style: 
Apply a texturizer to damp hair.
Blow dry hair using styling brush.
Softly deconstruct hair shape by running finger through the ends.
Set the style using a finishing spray.
Tip:
Scrunch your hair and lightly back comb for long lasting hold.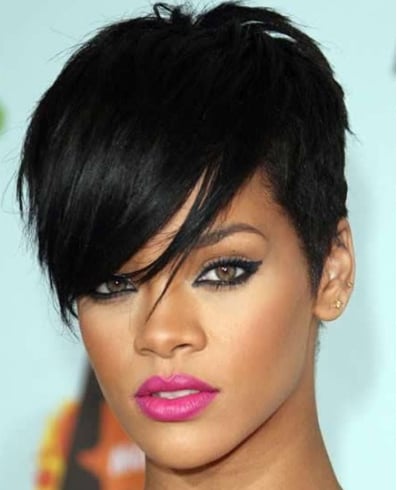 10. Bob With Side Fringe
Try the tousled bob hair do, with an off-centre parting in the middle and the fringes to cover the forehead. Large sections of the hair from the crown should be taken and teased before tying into a bun or a barrel curl that is pinned to the scalp. Ensure to use a tong or a curler to curl the hair at the back and then make a bun so that more distraction happens there.
What You Need:
Smoothing Lotion
Styling brush
Flat iron
Hair spray
How to Style:
Apply smoothening balm over damp hair.
Blow dry hair using styling brush.
Make use of a straightening iron to smoothen out hair.
Set the hair using a hair spray.
Tip:
Try a leave-in-crème to smoothen out and protect hair for extra shine.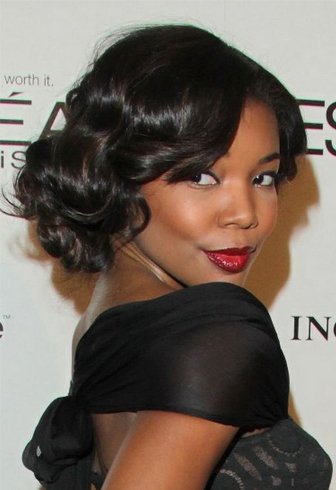 11. Side Fringe For Sleek Hair
What about flicking the hair for a large forehead? Seems like a perfect option to hide the forehead. Wispy strands in front can distract the onlooker's vision and creates a small canvas illusion of your forehead too. This is what Hollywood diva Angelina Jolie did. You could use a large brush to out curl the hair at the back while sleeking the hair with a straight iron in front, using hair wax.
What You Need:
Heat protectant
Curling iron
Teasing brush
Wide toothed brush
Smoothening balm
Bobby pins
How to Style:
Apply heat protectant to damp hair.
Part your hair into two sections and curl all the way down starting from the crown of your head.
Smoothen on a hair balm over your wide toothed brush.
Brush through hair running your fingertips as you go along.
Pin up your hair in a ponytail and secure with bobby pins.
Use a curling iron and a round brush to give a neat finish to your bangs.
Make a side parting like how Jolie did in the picture.
Tip:
Accent this hairdo with a delicate silk scarf.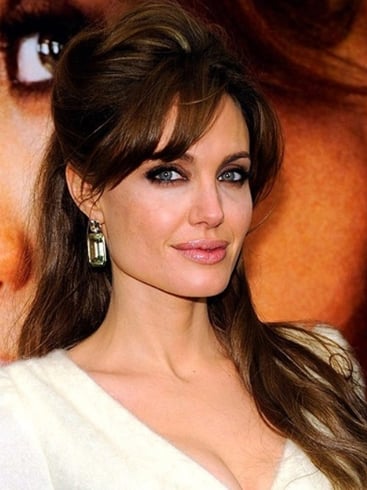 12. Messy Fringe
Curls and bouncy ones are most loved. If you have short hair till the nape of the neck, keep the fringes messy in the front to cover the forehead, and the hair at the back should be blow dried sleek and nice to perfect out curls that can make the hair bounce and creates more distractions.
What You Need:
Large barrel curling iron
Round brush
Light volumizing mousse
How to Style:
Apply light volumizing mousse to damp hair.
Blow dry hair using a round brush.
Allow the hair to rest in place.
Create a middle parting and sweep the fringe over to both sides.
Back comb the crown area lightly.
Take one inch of hair in the crown and back area. Do a simple braiding on each side.
Wrap one side of the braids across the top of your head and pin it behind your one ear.
Allow to set in place using a light hold hairspray.
Tip:
Accent the elaborate braids with studded pearls.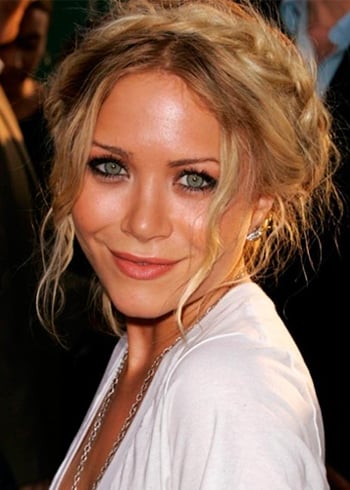 13. Straight Fringe With Beach Waves
Softest waves for the thin face and the large forehead can help create an illusion of small forehead too. Begin with side-sweeping your hair, allowing long locks to fall on the side and in front, which shows a small section of the forehead only.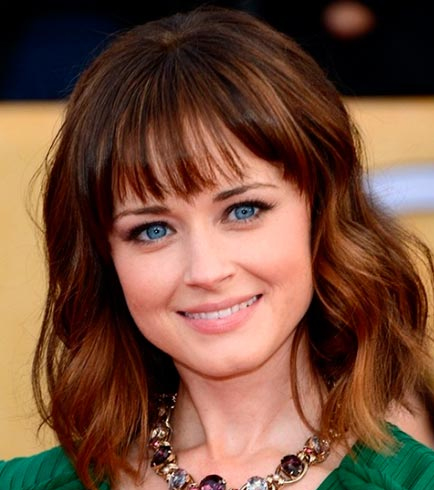 14. Side Fringe For Shoulder Length Hair
Side sexy fringes if you have long hair can be an awesome way to hide that large forehead too. It would be an extension of the hair you have, and you don't have to chop it much too. Just ensure that the hair at the back is tossed on both sides of your shoulders, and it should shine, so use mousse and a hairspray to set the deal.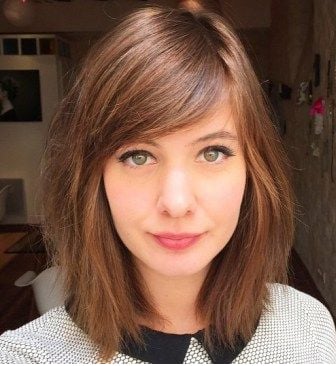 15. Lazy Bangs:
To make the illusion come through nice and pretty, we would look at lazy bangs for the large forehead to hide in. Once again, we would use wispy strands, coiled and turned and set well with mousse and curlers to create a cute hairstyle, fringes and to cover the large forehead too.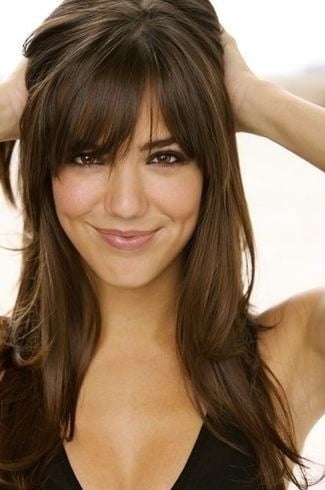 16. Side Swept Bangs With A Half Updo
Side swept bangs with a cute half updo or a bouffant can help hide the forehead pretty well and distracts the onlooker's vision too. It also makes you look nice and tall as well.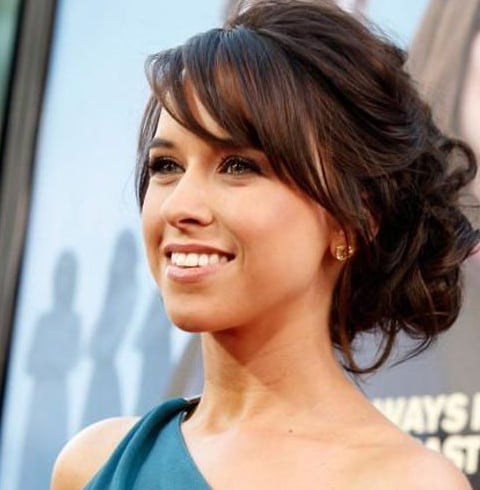 17. Bob With Long Fringe:
For women with bobs, it would be best to cover the large forehead with long fringes and side fringes to the ears. This would be a very sexy haircut and a hairstyle to flaunt. The hair at the back should be combed middle sectioned and to the front from both ears. Don't forget to add crispiness to the bangs in front and on the sides by straightening it every morning.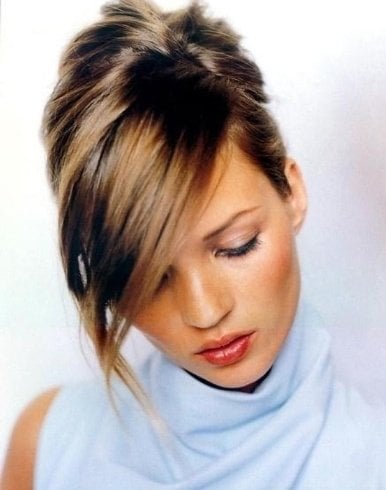 18. Short Layers With Crimped Side Fringe
Try the 60s broad forehead hairstyle, which is super gorgeous and diva like. Marilyn Monroe wore it well and covered the large width of her forehead elegantly even though she had short hair. The short layers on the forehead should be crimped lightly and then curled to create that effect. Set the same with hair spray.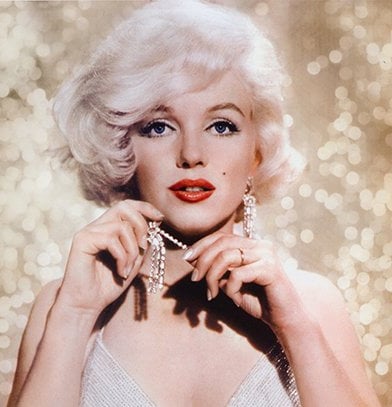 19. Layered Hair
Try out Priyanka Chopra's style to cover the large forehead you have. Her front layers are short and cut straight to add more dimension to her face and to cover the large forehead, while the hair at the back is kept neat and tidy.
20. Teased Side-Swept Bangs:
You could also take inspiration from Hollywood diva Cameron Diaz. She has always been the queen of large foreheads ever. Keep the hair messy at the back if the hair is fine and thin, and also tease the bangs in front to create volume and side sweep them!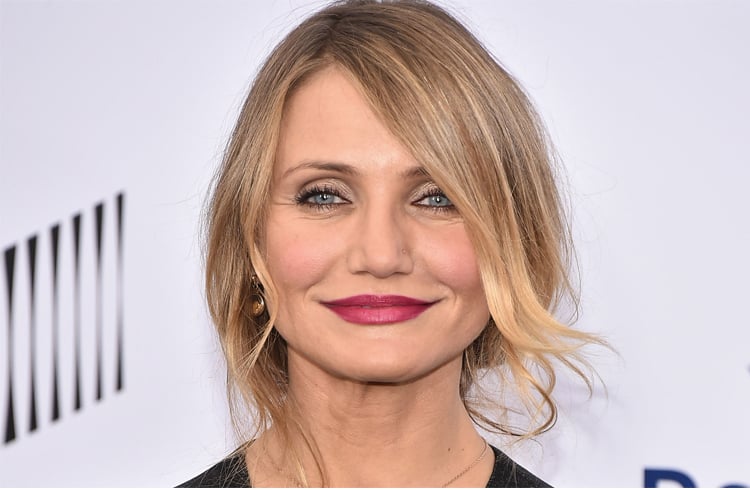 21. Side Knot Bun
Are you not fond of fringes? Then worry not. Your huge forehead has another fix, which is the side knot bun. Take the larger portion of your hair into a side parting and style it into a bun.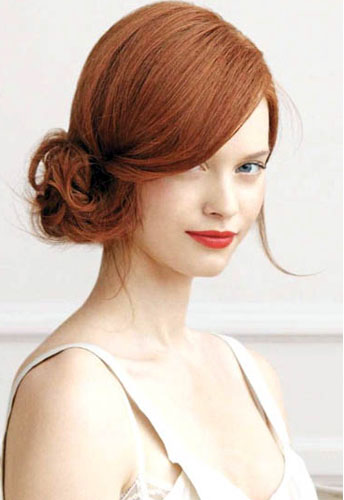 22. Bold Layers
The bold layers and middle parting partially conceals the forehead, not letting the forehead look as huge as it is.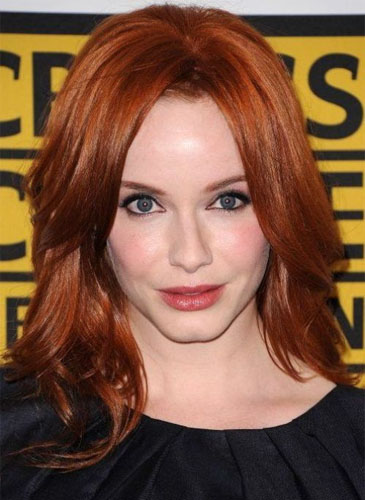 23. Pin-Up Curly Bangs
This hairstyle is a retro style, dating to years back. Looking picture perfect in this hairstyle is what keeps its popularity rating high even today.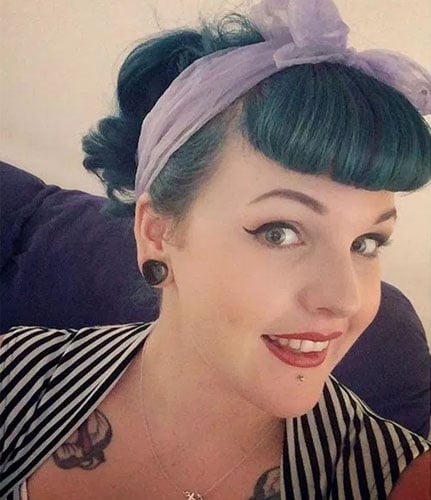 24. Fake Your Bangs
You want bangs just for today but don't want to cut your hair so for a long time? Try the fake bang method. Tie your hair into a high pony. Take some amount of hair from the pony and bend it frontwards to create the bangs effect, be sure to pin it intact.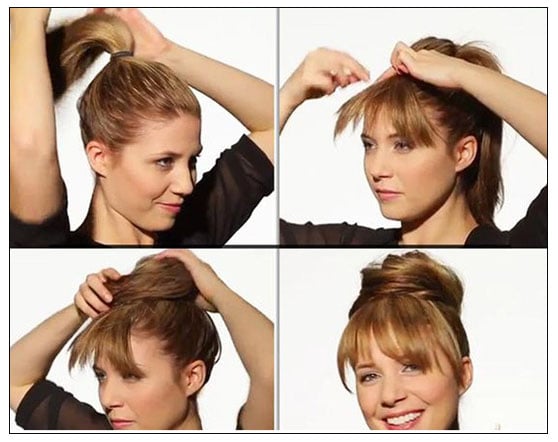 25. Asymmetrical Bob
An asymmetrical bob never goes wrong and works for all occasions and most importantly, to cover the huge forehead you got there.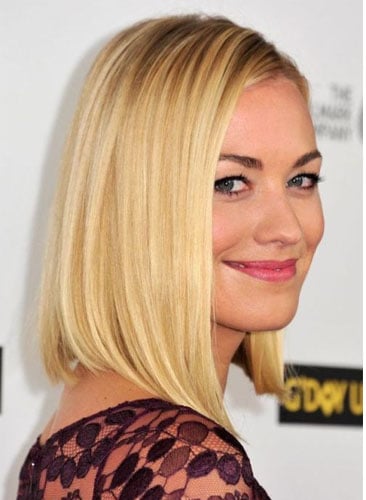 26. Voluminous Hair Let Loose
To hide your big forehead, it doesn't need to be a new haircut everytime. Just volumize your hair the right way and style it so it stays in place while it is let loose.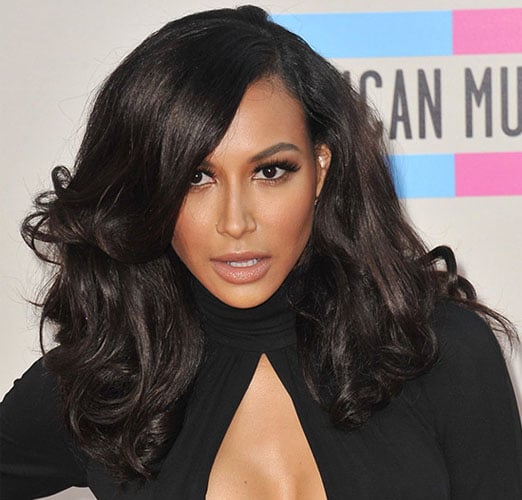 27. A Front Fishtail
Apart from hiding the forehead, you are guaranteed to look drop dead gorgeous. This fish tail which has been done with a twist with the front hair is all you need.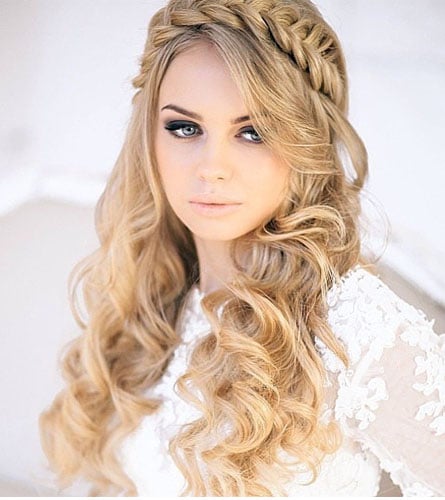 28. A Braid Halfway
Starting a braid from halfway lets the front hair be loose and take up the attention rather than the forehead.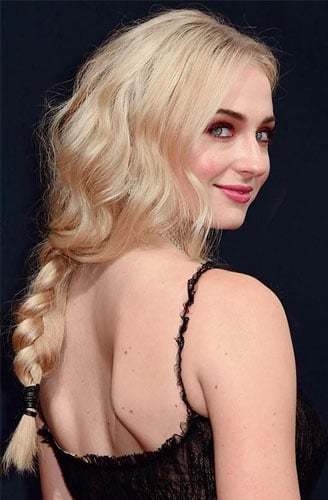 29. Messy Hair
This works best for people with curly hair as messy hair looks more natural without much efforts. Let the curly hair be messy, while it looks beautiful too.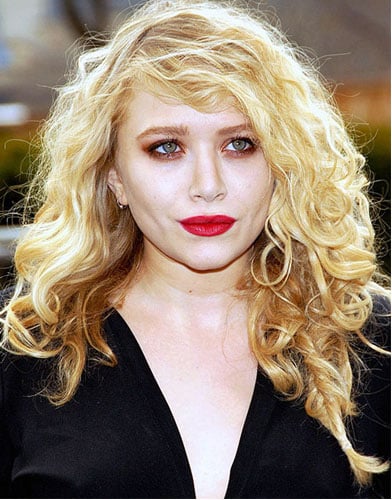 30. Side Bun & Thick Bangs
When you've got thick bangs to cover the forehead, make sure the bun is a side one too as it accentuates the face.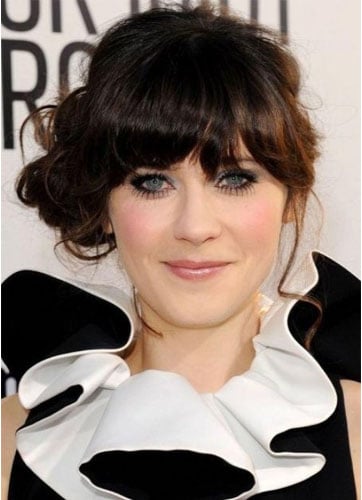 At FashionLady, we don't just leave you hanging in the middle when we dole out tips and advice. This is why we want to now share with your makeup and beauty tips that can help hide the large forehead.
Beauty Tips for big forehead
Did you know, using a tinted sunblock or moisturizer can cover your forehead and create an illusion of a small forehead with ease in less than five minutes? Remember, fake it until you make it should be the mantra here.
(1). Use blush
A bright colored blush can be used on the cheeks to draw and distract the attention from your forehead. Peachy tones and rosy tones would be best to use on the cheeks. Use it upwards towards the temple area which not only brings the lift but also works in creating a smaller forehead illusion too.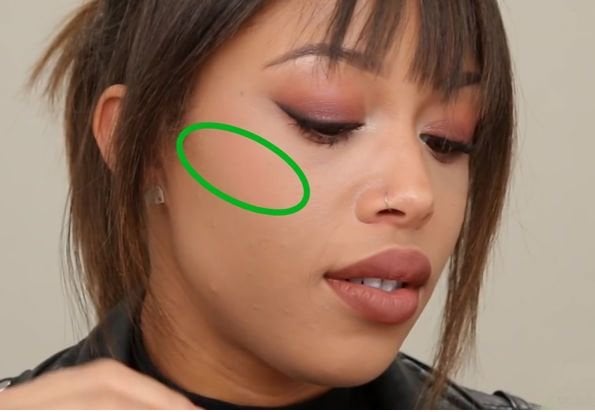 (2). Don't forget that bronzer
Just as we spoke about the blush, the same would be to use bronzer. With matte bronzers, which is three shades or more darker than your skin tone, you can use contouring techniques around the hairline towards the eyes to create an illusion of a small forehead. Shading should be done on the hairline and the temples. This is a trick most makeup artists won't share with you.
(3). Use a dark foundation
For the face, you would use tone on tone foundation, but to create the illusion of a smaller forehead, we would ask you to use two shades darker. This will help conceal the width space and also chisel the forehead for a fresh new look too. The focus should be placed on the temples and the hairline too.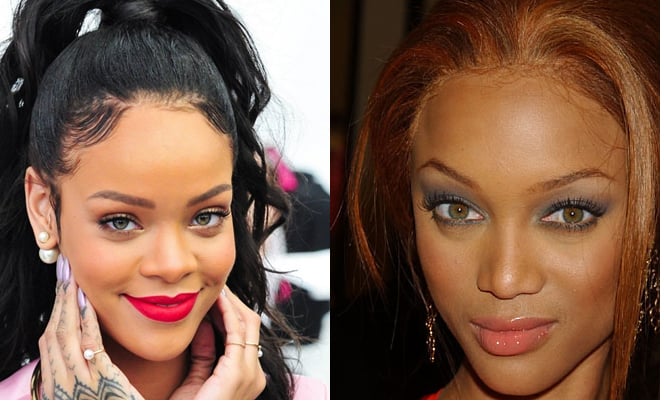 (4). Add drama to the eyes
To make sure you divert the attention from the width of your forehead, let's play with dramatic eye makeup. This will ensure that the facial shape is not noticed too much, and the eyes become the center of attention. Try dark smokey eyes with a hint of glitter for the evening and a matte dark shade for the day.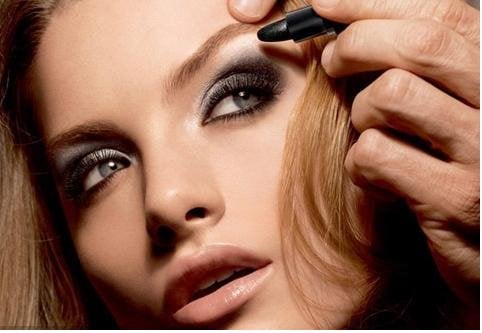 (5). Don't forget the highlighters
If you highlight the center of your forehead, there would be more light reflecting from that place. All attention would go to that area, which makes the onlooker feel you have a small forehead. The highlighter you choose to use should be a shimmery powder one; no creams, please. The Focus area should be the top of the nose and between the eyelids.
(6). Chisel the cheeks
If you contour the cheeks well, your cheeks would look thinner. When that happens, there is a distraction created from the forehead onto the face. A bronzer powder only should be used; a shimmery one if possible for the evenings and a matte one for the day. Use is diagonally from the cheeks center to the ears and blends upwards.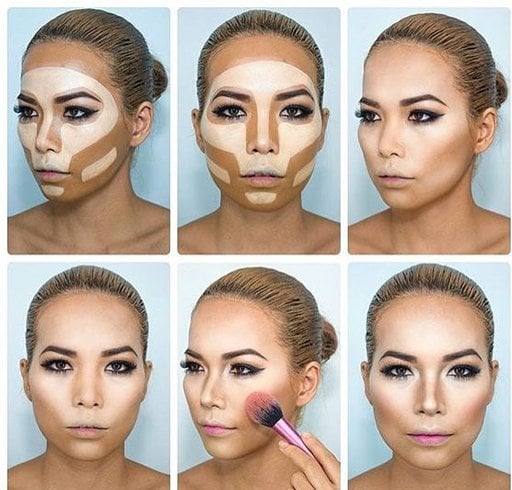 (7). Hot lips to the rescue
Bright reds and orange shades or corals too can help divert attention from the forehead to the face. Also dark berries, wines, and purples or plums too! The trick is to capture the attention of the onlooker to the lips and not the forehead, so let your lips doll up and do the talking. You can use glossy pinks too!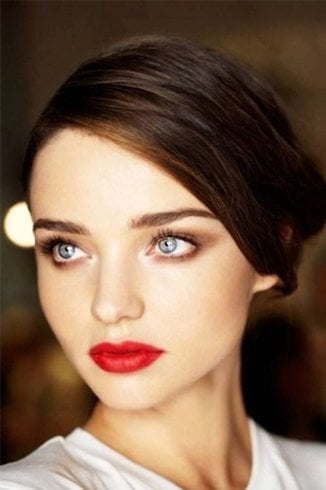 List of Famous Celebrities with Big Foreheads
Esha Deol
Sonakshi Sinha
Chitragandha Singh
Amy Jackson
Kalki Koechelin
Priyanka Chopra
Cameron Diaz
Rihanna
Oprah Winfrey
Ellen De Generes to name a few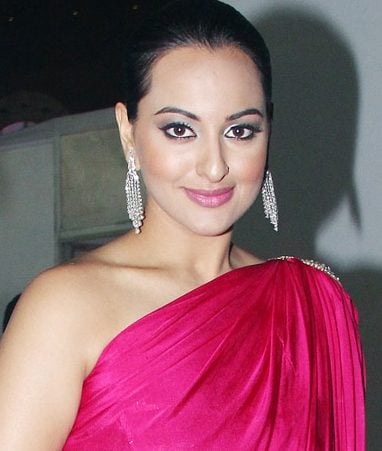 We do hope these tips and advice tactics on how to cover the large forehead you have comes in handy. If you have any doubts, check with a reputed makeup artist or a hairstylist or your parlor lady for one on one advice. Please don't feel ashamed or low because you have a large forehead. Stay beautiful always.
Images Source: Pinterest
Recommended Articles
Natural Hairstyles For Short, Medium And Long Hair
Easy And Fashionable Hairstyles For Sarees
Traditional Indian Bridal Hairstyles
Conclusion
In conclusion, we hope this guide has shed light on the wonderful ways in which you can embrace your beauty and feel confident with a big forehead. Remember, having a prominent forehead is not something to be ashamed of; it's a unique part of who you are, and there are numerous hairstyles that can enhance your natural features and make you feel fabulous.
The key is to find the haircut that complements your face shape and showcases your best features while minimizing the appearance of your forehead. Whether it's opting for side-swept bangs, layers, or voluminous styles, you can create a balanced and harmonious look that radiates confidence.
So, don't be afraid to experiment and try out different styles until you find the one that truly speaks to you. Remember, your beauty shines from within, and the right hairstyle for your big forehead can be a powerful tool to boost your self-esteem and show the world the beautiful, strong, and confident woman you are.