Have you put your tresses go through a LOT while trying to achieve that sleek, glossy, straight finish? Well then it's time to end this side of the story because we are going to introduce you the very best hair straightening creams. No matter how much ever you've overworked your hair, these formulas can transform your troubled tresses.
All the 10 products mentioned below contain a key ingredient like a keratin, that smoothes hair and cuts off heat styling hours. Few of these products also work as a heat protectant that leaves hair soft and shiny. So, stop allowing your hair to go through hell to achieve poker straight hair, just make it simpler by using any of these straightening cream products.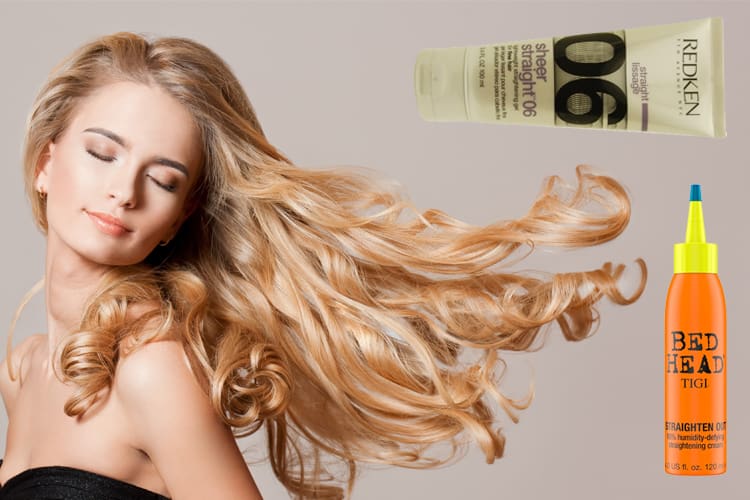 10 Straightening Creams for Sleek Hair:
Below, the 10 best:
1. L'Oreal Paris X-Tenso Straightener Cream:
Have naturally wavy tresses? This hair straightening cream by L'Oreal Paris is for you. All you have to follow is smooth it over towel-dried hair, blow dry (optional step), and keep for 30 minutes before rinsing off. The end result is pin-straight hair-think Ariana Grande.
2. Schwarzkopf Glatt Hair Straightening Cream for Curly or Frizzy Hair:
Wheat-based care complex is the MVP of this straightening cream. The innovative protein care formula seals the hair cuticles, smoothes hair, and nourishes it to give you the super smooth hair of your dreams.
3. Matrix Opti. Straight Straightening Cream:
If you always have problem dealing with unruly, rebellious, hair, this hair straightening cream by Matrix should be your go-to. Not only will it make your straight, but it'll be super soft and hydrated, you won't be able to resist touching it.
4. Streax Pro Hair Straightener Cream Intense:
You don't require shelling out a lot to get a hair straightening product that truly works. This cream by Streax only costs 290 INR and will 100% make your hair sleek straight, shiny, and smooth. The winning formula includes the organic silicone solvents which is water resistant and greatly strengthens hair follicles.
5. OxyGlow Professional Hair straightener and Neutralizer cream:
If you have dry, frizzy hair, then we suggest you to follow up with a good spa cream to bring your hair back to health. But, if you cannot wait to straighten your hair anyway, then grab this one by OxyGlow. It comes with a straightening cream and neutralizer that works wonderfully on wavy, thick hair.
6. Tigi Bed Head Super Fuel Straighten Out Straightening Cream:
If you don't want your strands to feel dried out-which we're guessing, you don't, you'll love to try this hair straightening cream. Impressive formula aside, it has nourishing glycerin and polymers to help keep your hair sleek straight for longer hours.
7. Keratin Complex Infusion Therapy Keratin Replenisher:
The at-home straightening therapy cream infused with keratin works similar to the ones done by professionals in salons. For use, smooth it over towel-dried hair, blow dry, and flat-iron as normal. The answer will be silky, soft, straight hair.
8. Redken Sheer Straight Lightweight Straightening Gel for Fine Hair:
While this lightweight straightening product will smoothen down your hair flat, but it won't leave a stiff result. It has a lightweight texture, infused with Vitamin E and silk protein to keep your strands highly moisturized and keep frizz in check.
9. Giovanni Straight Fast Hair Straightening Elixir:
Want your strands to look glossy and sleek? This straightening product with zero parabens can help. It is loaded with organic ingredients like nettle extract, rosemary leaf extract, rosa canina fruit extract, Eschscholtzia Californica leaf extract, and bergamot fruit extract that boosts shine and straighten hair.
10. Bumble and Bumble Straight Blow Dry Styling Balm:
If you wish to skip on heat-styling your long tresses because you don't have the patience to spend forever flat-ironing it, then try this styling balm. It will make your hair straightening process a lot easier. You just have to smooth it along the length of your hair and blow-dry. And that's about it. Now you can finally say straightening long strands is a breeze with this product by Bumble and Bumble.
Make your hair look and feel like a dream by trying any of these hair straightening creams. We also appreciate feedbacks from our loyal readers about their experiences with these products. So do send us your thoughts in the comment section below.