Finding the perfect face pack can do wonders for your skin, especially when you go the extra mile to select the product with natural ingredients. This is a good thing because the ingredient label decides what can irritate or flare up your skin. Aloe vera for instance can make for a good choice because it can calm, soothe, and nourish skin to the next level.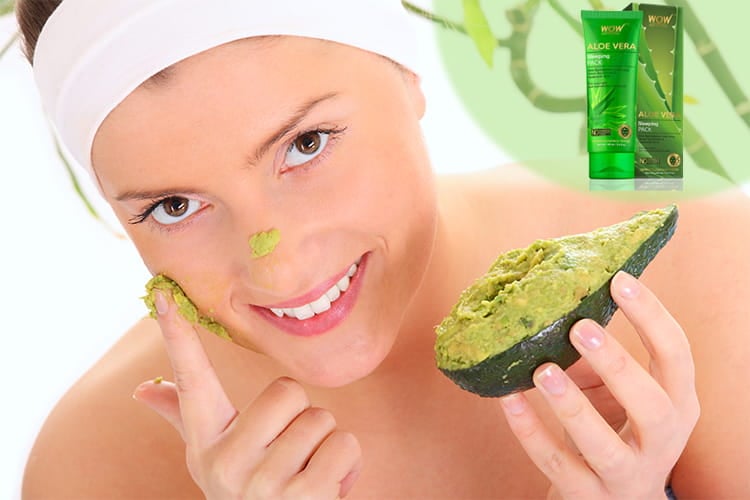 The next obvious step is studying up reviews and we know how often it gets overwhelming checking them out. So to help save your time we have rounded up our reviews on best aloe vera face pack.
10 of the Very Best Aloe Vera Face Packs:
Here's what we think about the face packs below:
1. WOW Skin Science Aloe Vera with Green Tea Extract and Hyaluronic Acid Sleeping Pack:
If your skin isn't behaving well, but is prone to monumental outburst of breakouts, flaky patches, and dryness, then it is worth giving this face pack a try. WOW Skin Science aloe vera pack is designed to calm and hydrate, while improving skin damage caused by environmental aggressors. The soothing rich formula is cooling on the skin, and is infused with aloe vera juice, green tea extract, Hyaluronic acid, and witch hazel extract. Winner!
2. Super Smelly Go Glow Natural Face Pack:
The pack works really well on congested areas of your face. It reduces the appearance of blackheads and unclogs pores. Overall skin looks clearer, brighter, and softer. This clarifying product uses aloe vera extract, activated charcoal, cocoa powder, coffee seeds, dead sea salt, argan oil, and olive oil to gently slough off dead skin cells for a radiant effect. It also has zero toxins, parabens, artificial colors, and fragrances.
3. Patanjali Aloevera Multani Mitti Face Pack:
A blend of aloe vera and multani mitti provides a deep cleansing effect for drawing out skin impurities from the pores whilst reducing the appearance of clogged pores, blackheads, and blemishes. Aloe vera smoothens and treats minor skin problems, multani mitti rejuvenates skin, and mineral clay tightens skin and boost blood circulation.
4. Khadi Shuddha Aloe Vera Face Pack:
Protective face mask that soothes and calms the irritated skin-the Khadi Shuddha in a nourishing aloe vera formula comforts the skin within application. It deeply nourishes skin revealing a radiant, supple, and soft skin.
5. Vaadi Herbals Anti Acne Aloe Vera Face Pack:
Now you can attain flawless, glowing skin within no time with the Vaadi Herbals aloe vera face pack. This product is perfect for all skin types. It draws out all the impurities from the pores, heals acne, and moisturizes, yes, really! This is one of the best natural formulas which don't leave the skin taut or dry. The product features ingredients like aloe vera extract, tomato, rosemary oil, and manjistha to keep your skin clearer and brighter.
6. Everyuth Naturals Rejuvenating Cucumber and Aloe Vera Face Pack:
Achieve flawless skin with the key ingredients like aloe vera and cucumber in Everyuth's rejuvenating face pack. Aloe vera balances while cucumber revitalizes. The intensive care formula means less recovery time whilst give your complexion an amazing boost.
7. Tjori Therapeutic Green Tea and Aloe Vera Face Pack:
Clarify, lighten, and stimulate skin with the rejuvenating mask by Tjori. This ultra-gentle pack detoxifies, soothe, and nourish the look of dry, blemished skin with botanical extracts of aloe vera and green tea. Green tea with its antioxidant properties fights against free radicals and delay ageing signs while aloe vera controls excessive oil.
8. Sumsiddha Aloe Vera Face Pack:
If you want a perfectly pure and clear skin, then opt for the aloe vera face pack by Sumsiddha. This pack uses natural ingredients like Vitamin E, Vitamin C, aloe vera extract, and glycerin, honey bees wax, wheat gram oil, and walnut scrub powder which helps calm, hydrate, and replenish the skin.
9. Khadi Aloe Vera Face Pack:
Instantly soothe and rejuvenate the skin with this wonderful therapy treatment. Its calming action is derived from the extracts of aloe vera that aims to energize skin cells, restore elasticity, and nourish skin to the deepest level.
10. Biobloom Skincare Face Pack:
A natural, effective face pack designed to suit all skin types, reducing appearance of pigmentation, and blemishes, and dramatically improving skin elasticity. A cocktail of apricot and aloe vera lift dead skin, improve skin texture, and add radiance, while firming the skin.
These aloe vera face packs glide on like a dream and deliver excellent results. So start shopping right now and get the best of deals.