You do know that using massage oil can help you achieve a new level of glow, isn't it? We mean, name a more luxurious beauty product than a massage oil. Whether it's amalgamated from essential oils or other varieties, these rich oils are suitable for all types of skin. And by adding them to your beauty routine, you are only doing a favor to your skin.
The versatility of massage oils is varied. There are several massage oils available in stores or online, each with specific needs. They are available in both scented and unscented versions. These massage oils are blended with special ingredients to relax sore muscles and treat other skin problems.
When you are selecting these products, go for one that is non-greasy and has a good fragrance. To make your search easier, we have rounded out the best massages oils available in India.
List of Top 10 Massage Oils Available In India for 2021
Check out our pick of the best 10 massages oils that are highly popular in India:
1. The Body Shop Spa of the World Polynesian Monoï Radiance Oil
Description:
Monoï Radiance Oil has a sacred mixture of fragrant Tiare flowers and coconut oil. Use this exotic oil as a ritual when you body needs deep conditioning.
Benefits:
Radiant skin
Conditions skin
Body and mind rejuvenation
How to use:
Massage onto body for smooth, glowing skin.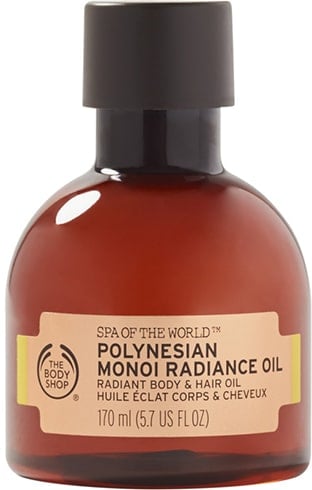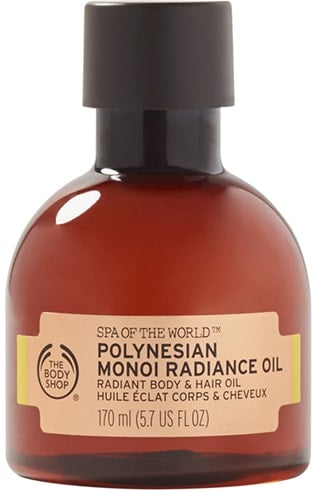 2. Biotique Bio Carrot Seed Anti-Aging After-Bath Body Oil
Description:
The luxurious bath body oil from Biotique is combined with pure carrot seed, groundnut oil, almond oil, Indian butter, and walnut. It leaves skin feeling soft while treating wrinkles and dry lines.
Benefits:
Keeps skin soft and supple
Treats dry lines and wrinkles
Suitable for all skin types
Organic and free from preservatives
Dermatologically tested
How to use:
Apply the oil all over the body after a shower. Massage into damp skin using circular motions. Continue until the oil is fully absorbed onto the skin.


3. Bio-Oil
Description:
Bio-oil is one of the leading products for scar and stretch marks. Its formulation is a blend of vitamins and plant extracts. The content of ingredients like PurCellin Oil keeps skin non-greasy and supple. The natural vitamins present in the skin are easily absorbable.
Benefits:
Uneven skin tone
Scars and stretch marks
Dehydrated skin
Bath oil
How to use:
Apply bio-oil twice daily for a time period of three months. The oil can be used twice daily during pregnancy or onset of the second trimester.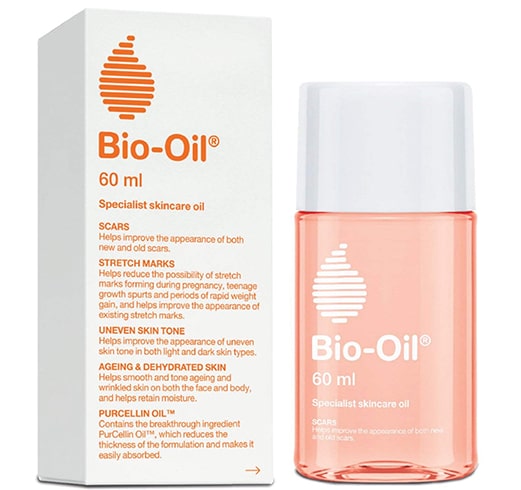 4. Blossom Kochhar Aroma Magic Almond Oil
Description:
The vegetable oil from Blossom Kochhar is a pure extract of almond seeds. When added with other essential oils, it works well for massaging.
The oil is great for sensitive and dry skin. The blend of linoleic fatty acids and oleic is a good treatment for ageing signs.
Benefits:
Moisturize skin
Remove dead skin cells
Treats ageing signs by invigorating skin
How to use:
Use the product as massage oil or add one tsp into bath water. Also add the oil with another desired choice for relaxing body massage.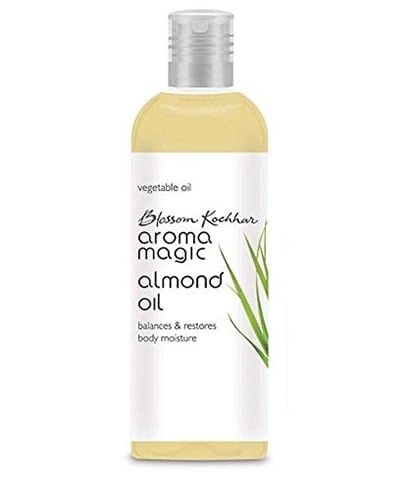 5. Palmer's Cocoa Butter Formula Skin Therapy Oil
Description:
The therapy oil from Palmer is a multi-purpose facial oil that treats ageing signs and wrinkles. It also moisturizes dry skin and lightens dark spots.
Benefits:
Dermatologically tested
Reduce stretch marks, dryness, and fine lines
Has natural ingredients like argan oil, natural oils, vitamin E, rosehip oil, and canola oil
How to use:
Massage daily for eight weeks to see visible results.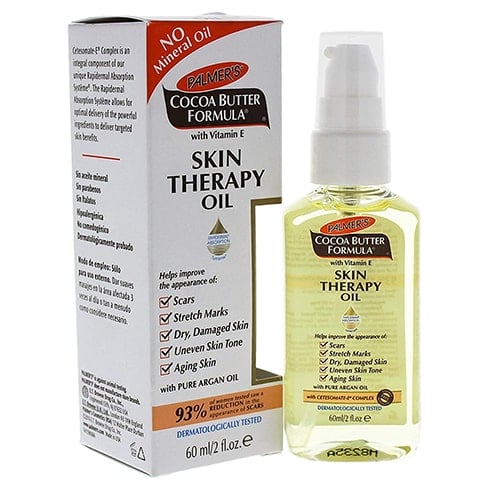 6. Khadi Natural Ayurvedic Olive Hair and Body Oil
Description:
The body oil from Khadi protects skin from harsh external factors. The blend of olive oil makes it a great non-sticky moisturizer for all types of skin. It also delays ageing signs and improves skin texture.
Benefits:
Acts as natural moisturizer
Suits all types of skin
Prevent ageing signs
How to use:
Use a good amount of the body oil onto the palm and massage gently over the body for conditioning effect.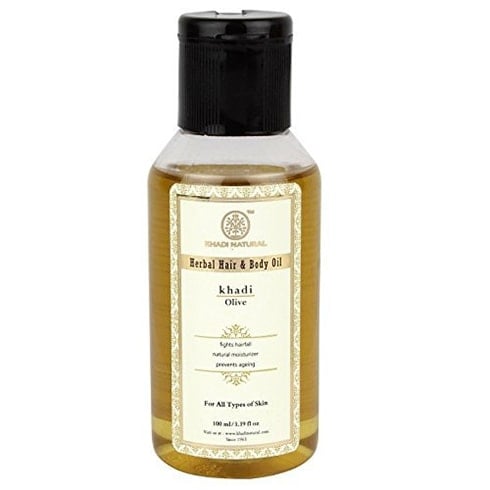 7. Forest Essentials Beauty Body Oil Soundarya
Description:
The body oil from Forest Essentials is great for bringing about shine and smoothness. The oil easily absorbs into skin without any greasy feeling.
Benefits:
Restores firmness
24 karat gold leaves skin radiant
Great solution to tone, soft, and supple skin
How to use:
Use the luxurious body oil on damp skin after a bath or shower to seal in moisture. The oil can leave a lustrous gold shimmer onto skin.
8. Kama Ayurveda Rose Jasmine Bath and Body Oil
Description:
The bath and body oil from the Kama is a blend of pure essential oils, organic almond oil, castor oil, and wheat germ. It is loaded with minerals, antioxidants, vitamins A, D, and E to restore the skin's natural glow.
Benefits:
Light and easily absorbs onto skin
Non-greasy
100% natural
How to use:
Gently massage the oil onto the skin for 10-15 minutes before bath or a shower. You can also use this oil as a bath oil to relax your sore muscles. Or, pour a good amount of the oil onto palms and massage all over body.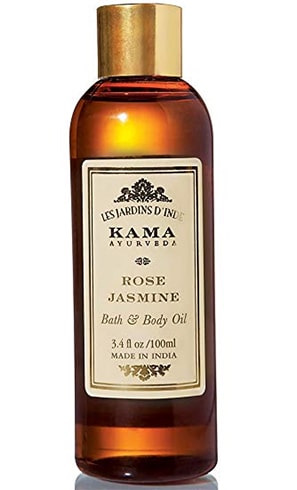 9. The Body Care Lavender Body Massage Oil
Description:
The lavender massage oil is an amalgamation of natural oils that balance skin ph levels. It is known for its soothing and balancing factors. The presence of essential fatty acids leaves skin nourished and hydrated.
Benefits:
Soothes and relax body
Improves skin's texture
How to use:
Cleanse skin well using a wet sponge to treat impurities. Take the oil onto the palm and massage it onto the body. Exfoliate well using gentle massages and wipe off the scrub particles.
10. Fabindia Jasmine Massage Oil
Description:
The Jasmine Massage oil from Fabindia is super nourishing. It is a combination of jasmine oil and nourishing oils which lights absorbs onto skin and invigorates your senses.
Benefits:
Relaxes tense muscles and awakens senses
Pleasant smell
Moisturizing
How to use:
Apply the oil onto the body. Massage in circular motions with gentle pressure.


These are our pick of best massage oils available in India. Have you used any one of these products before? If yes, then do share your experiences in the comment section below.