With the Ramadan month in the process, and as most of us take the oath of serving humanity and spreading peace across the world, let's also focus a little on fashion- EID is just about a stone's throw away, and one cannot afford to look shabby and dull on such a joyful festival. While shopping for Ramadan Dresses most girls would follow trends and styles, the humble Indian Anarkali suits when styled right could make you look like a diva. The many Salim's across the city would be left wooing and gasping with your chic touch and the perfect poise, but that's only possible when you know how to pick and wear the right haute couture.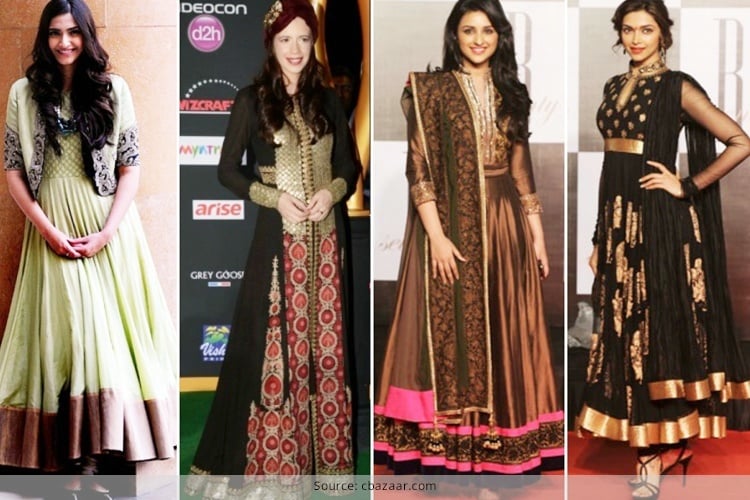 Here are a few super hot and very en-vogue Eid special Anarkali suits for you to choose from- check them out!
[Also Read: Celebrate EID with these Top 5 Trending Anarkalis]
For your first EID with in-laws:
Stun MIL and make her proud having chosen you as the right partner for her son. An elegant Anarkali suit in pale green with karigari work on the neck and the knees, and a touch of sea-blue for the dupatta adds the fun factor to the festivities.
Pretty dark pinks:
Quite a different pattern with sheer layers and in dark pink- quite a monotone-fashionista at the Eid gathering!
Anarkali gowns with a jacket:
For an elegant party at home, this EID you need to make a fashionable statement. Do that by wearing an anarkali gown, and hubby would be impressed!
For a glamorous evening EID party:
Straight pants with an anarkali in peach tones would help you make a fashionable entry to the party you host!
For a touch of Bollywood
Ombre isn't for the skin and hair alone. An anarkali in ombre colours as worn by Bollywood actress Shradha Kapoor, shows off the intricate floral designs and a splash of soft hues!
Multi-layered-anarkalis:
Should you be on the chubbier side with a body shape full of curves to flaunt, be proud, and wear and multi-layered-Anarkali suit!
A royal touch with drapes
An Anarkali with a dupatta draped around the dress and onto the shoulders for an elegant effect makes a stunning fashion statement for sure!
[Also Read: What to Wear to Iftar Parties 2015]
Vibrant yellows for EID:
Bring on a little more colour to the dull monsoon season around, and celebrate EID with a splash that too- yellow Anarkali with a mid-length gown in front to the knees, why not?
The sensual black lycra and net anarkali:
Stir up a little more sensuality than the usual at the EID festivities with girlie's around,lycra in black with net, your anarkali suit would be the talk of the evening!
A gorgeous tease:
In blue and touches of red, peeking behind the lace and sheer fabrics on the chest, and exquisite borders for the bottoms, this is one gorgeous many Iftar Party Dresses which you must buy for EID!
An awesome splash:
A trio of colors- magenta, pink and white, with a semi-stitched choli, hooked to the flowing long gown in pink- a very pretty Anarkali suit to grace the occasion of EID!
Rohit Bal's Anarkali suits for Eid:
Perfect for the cocktail events on EID, the Rohit Bal Anarkali suits in subtle shades of white and black, with embroidered motifs on the chest and hands, makes you look like a Bollywood star at the iftar!
Bling and shine at EID this time:
Pinks and rhinestones, sequins and touches of shimmer all over, be the night star that shines through the community celebrations at EID this time!
Resham, net and plenty of embroidery:
If you love your Ramadan Dresses with plenty of embellishments and embroidery on the ensemble, pick up something bright for the night party and make a mark amongst the bevy of beauties!
White and gold with a touch of grey:
An anarkali salwar kameez for Eid in shades white and gold, with a touch of grey on the bust line- so simple, minimal and pretty chic!
Long kurta and an embellished anarkali:
For a fabulous dinner party at your BFF's EID social do, be the diva that rocks the scene with utmost elegance and dignity. Wear a long kurta-anarkali dress for the evening, with plenty of embroidered embellishments on the ensemble!
Monotone mid-length anarkalis:
Parineeti Chopra showed us how to woo and swoon the world around at the premier of her movie, ShudhDesi Romance last year. Grab the look with one of these ramadan fashion dresses, you never know which prince charming at the EID party would want to take you out next time!
Golden bronze anarkalis:
A royal Anarkali suit in all its grandeur and grace, when worn by you would make the many eyeballs pop out with sheer happiness this Eid 2015!
A touch of the fashionable begum styles:
Pretty in pop vibrant and artsy orange shades, with plenty of embroidery and embellishments, an orange full-length flowy Anarkali dress is a must-have this EID
Timeless shades of grey:
With monotone hues being the in-thing this EID, timeless shades of grey with a touch of vibrant reds is a somber yet sensual way to dress for EID
Georgette faux anarkali suits:
Keep it short and with trendy statements and motifs to flaunt wearing a gorgeous Anarkali for Eid, a joyous festival to dress for!
Mughal styled Manish Malhotra anarkali suits:
Long and flowy, Katrina Kaif, Bollywood celeb at a recent social do, flaunted Manish Malhotra's pink and peace with crystal and rhinestone embellished anarkali with total grace and hotness!
Love them all? So do we- when picking up Ramadan fashion dresses, keep in mind the theme and event you have been called for, and dress accordingly. Have fun and a blessed Eid to you and your family!