Indian Women are workaholics and tend to work more than they should be. Here, we are not only talking about working women but also housewives who stand all day in the kitchen. Consequently, women end up hurting their feet which makes it more important to invest in comfortable orthopedic slippers designed especially for women. These slippers will not only make their feet relax but also help them absorb shock on walking on hard floors.
Well, by reading orthopedic, many of you might have imagined old-fashioned, clunky slippers and sandals. But the good news is that there are contemporary style yet comfortable slippers available in the market. So dig in to find out the stylish and effective orthopedic slippers and sandals for women.
10 Comfortable Orthopedic Slippers For Women
Feet are an important part of our body and they deserve extra care. So here are some of the elegant and comfortable orthopedic slippers.
1. Doctor Ortho Slippers
Doctor Ortho Slippers took comfort to a next level. Offering a padded and cushioned footbed, these slippers will make your feet relaxed all the time. Moreover, it comes with a good rubber grip which prevents you from falling even walking on wet floors. These slippers are super durable, lightweight, and doctor-recommended. Women suffering from diabetes, arthritis, plantar fasciitis, etc can take advantage of these ortho slippers and give their feet some relief.
Why Do We Like Doctor Ortho Slippers?
It is skin-friendly
Prevents you from blisters, scars, and sweating.
Looks pretty decent.
2. Pain Relief Orthotics Slipper
Pain relief Orthotics slipper is specially designed for women suffering from plantar fasciitis in the heel. This slipper gives instant relief from the pain and also reduces morning pain for the same. Moreover, it comes with full-length insole cushions that support the entire foot.
Why Do We Like Pain Relief Ortho Slippers?
Works great for plantar fasciitis patients
Build of premium quality
Has good customer reviews
3. Flip Flop and Slippers
This stylish flip-flop not only looks great in style but also serves as a comfortable slipper as well. It consists of pads and a cushion bed to increase comfort while walking. Moreover, it has been skillfully designed for women to get rid of ailing feet. These slippers are super light in weight and are ergonomically designed to soothe women's feet suffering from orthopedic problems.
Why Do We Like Dr. Ortho Flip Flops?
Highly recommended for women suffering from Diabetes, back pain, heel pain, arch pain plantar fasciitis.
Helps in regulating blood circulation and prevents blisters
Looks pretty and stylish
4. Orthopedic Sandal Slipper
This Orthopedic sandal slipper from health fit is one of the most comfortable and beneficial slippers you could ever ask for. Made from MCP/MCR material with bounce-back memory, it offers relief from painful foot conditions. Additionally, these slippers are designed to improve blood pressure which eventually helps in restoring the lost sensation of the feet.
Why Do We Like Health Fit's Orthopedic Sandal Slipper?
It easily reduces pressure from stress areas.
These slipper sandals are lightweight, extra soft, and comfortable.
Beneficial for women suffering from diabetes, ankle pain, lower back pain, spinal problems, bunions, cracks, heel pain, etc.
5. Orthocare Diabetic And Orthopedic Slippers
Orthopedic slippers from LivEasy are specially designed for diabetic people. These slippers are lightweight, comfortable, and give you a feeling of walking barefoot. Moreover, the slippers have multiple straps to avoid friction and help in improving blood pressure.
Why do we like LivEasy's Orthocare and Orthopedic Slippers?
These slippers are made from rich leather which makes them super comfortable
This orthopedic slipper for women has a rich memory foam insole that gives relief from sharp pain or cramps.
Also, helps restore the lost sensation of the feet.
6. Women Slipper
Women Slipper from KazarMax is a super light, comfortable, and durable orthopedic slipper. It has a rich footbed made of soft memory foam to make your feet cozy. Its strap material is made from soft fabric with no extra layers thus making it durable and comfortable at the same time. The outer sole of the slippers is made from rubberized EVA to enhance the grip while walking.
Why Do We Like KazarMax Women's Slippers?
It is ultra-soft, durable, and lightweight
These slippers help reduce plantar fasciitis pain and aching feet.
The design of the slipper isn't clumsy at all and is perfect for a casual outing.
7. Flip Flop Slippers
Flip Flop Slippers from Beonza are helpful for women suffering from diabetes, and orthopedic issues. It has a cushioned footbed that makes walking in these slippers super comfortable and effortless. Moreover, it has a rubber sole that ensures you don't slip over wet floors and have a great grip all the time. Additionally, it is skin-friendly and prevents your feet from blisters and scars.
Why Do We Like Beonza Flip Flop Slippers?
It looks extremely elegant and beautiful
These slippers are exceptionally lightweight to ensure women suffering from diabetes, arthritis, knee and back pain, ankle pain, etc are comfortable wearing these slippers.
It is sweat-absorbent, thus allowing women to wear it for a long time.
8. Soft Ortho Slippers
Soft Ortho Slippers from Ortho + Extra are comfy slippers designed especially for women. These slippers from Ortho-rest have an extra cushion to provide support to the feet and have been engineered meticulously by keeping in mind the requirements of paining heel and foot. It also has an anti-skid feature and prevents your feet from sweating as well. Moreover, it is beneficial for women suffering from the paining foot, plantar fasciitis, and other foot conditions. One can easily wear these slippers the whole day without feeling tired.
Why do we like Ortho Rest's Soft Ortho Slippers?
They are super comfortable
It has a contemporary design and looks modish
Prevents foot and heel pain
9. Flip Flops
Women's flip flop from Drunken is one of the super comfy and lightweight slippers you can ever use. It is composed of Eva material that makes these slippers water-resistant, sturdy, and durable. It has a good grip and instantly picks up your feet's shape for a comfortable experience. You can wear these slippers at home all the time without hurting your feet at all.
Why do we like Drunken Flip Flop?
These slippers help improve blood circulation
It decreases pressure from stress areas.
The slippers are ultra-soft and offer to relieve aching heels.
10. Sandal with concealed orthotic arch support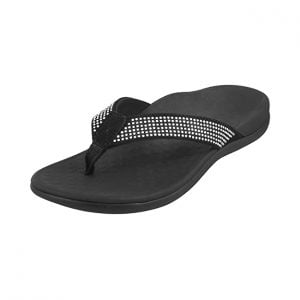 Orthopedic sandals from Vionic are one of the best sandals for women. The reason behind being one of the best is their premium quality. These slippers are biochemically engineered to offer comfort and support to the aching heels. Moreover, it is lightweight, durable, flexible, and reduces stress on the knee, ankle, and feet.
Why do we like Vionic's Sandal?
It absorbs shock and gives you a comfortable walking experience
Helps in healing plantar fasciitis pain
Offers great grip
Hence this was the list of the best orthopedic slippers and sandals designed especially for women. These slippers and sandals not only offer extra comfort to your aching feet but also come with stylish designs. So, gone are the days when orthopedic shoes were only supposed to look clumsy. However, with contemporary designs, you can wear these slippers all day long without hurting and tiring your feet.
Benefits Of Wearing Orthopedic Slippers And Sandals
Orthopedic slippers and sandals for women and men are beneficial and do not cause any harm to the feet. Moreover, many people suffer from back pain, diabetes, or other foot conditions. Hence, wearing orthopedic shoes will help them reduce their suffering and will provide other benefits as well listed below:
Improves blood flow: If you are diabetic and suffer from diabetic nerve pain, then wearing orthopedic slippers and sandals is beneficial for you as these shoes will allow enough room for the foot to function.
Helps reduce pain in feet: These shoes keep your feet more comfortable by offering enough room to your toes to prevent them from squeezing too tightly together.
You can wear them for a long time: Unlike heels, you can wear orthopedic sandals and shoes for a long time without feeling tired at all. Moreover, they offer such comfort that they make you feel like you are walking barefoot.
Promotes better mobility: People suffering from chronic foot conditions like plantar fasciitis and hammertoe slow down their mobility. But by wearing comfortable orthopedic shoes, their mobility improves drastically.
FAQs
Do orthopedic Slippers really work?
Yes. Orthopedic Slippers reduce the pressure on heels, improves grip and improves mobility.
Who can wear orthopedic slippers?
Anyone who is suffering from foot pain can wear orthopedic slippers.
When should you wear orthopedic shoes?
You can wear orthopedic shoes throughout your day.
Should you wear orthotics all the time?
Yes you can wear orthotics all the time. However, you can become addicted to them.