Summer season, the season of prints, comfy palazzos, shorts, and crop tops is back! All year, I literally wait for the summer to come so that I can finally wear my comfy shorts, and sleeveless tops to look chic and carefree. Hence, let's browse some cool summer hacks, trends, and outfits you should definitely follow this summer season.
Type Of Clothes To Have This Summer:
The summer season is all about being comfortable. Hence, pick clothes that you are most comfortable with and wear them with confidence. I am sure if you pair your outfit with your lovely smile and a pinch of confidence, you can uplift any outfit's final look. However, I have listed some styling tips, fashion hacks that can definitely help you to style your outfits.
Summer Day Dress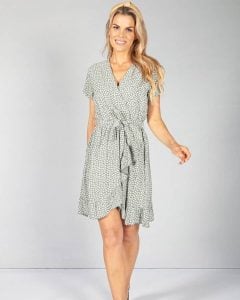 Instagram – pamelascott_fashion
Summer day dresses are the best! They are super comfy and stylish and you can wear them to get-togethers, brunch, or lunch dates. Summer dresses are easy to style, just pair them with your sandals and cute earrings if necessary, and you are done.
Summer Beach Dress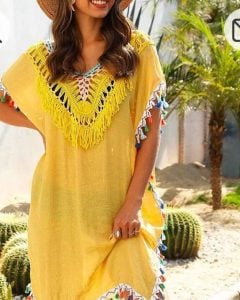 Beach dresses are way too fun to wear. They are bright in colors and can be accessorized with hats, nice sandals, and cool hand-rings that give out full beach vibes. Hence, if you are planning to visit the beach this summer, don't forget to wear a bold and bright beach dress for a fun day as shown in the picture.
Work-appropriate Dress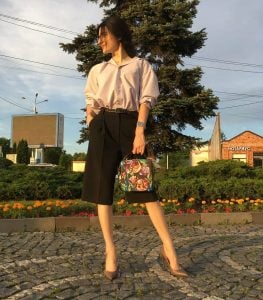 Not everyone is lucky to get a summer vacation. So, if you are working and are confused almost every day regarding your office outfit, here's a quick solution. Wear beige color shirts and pair them with loose trousers or skirts. And you are done. Also, complete the look by wearing a watch and heels only if you are comfortable.
An Evening Dress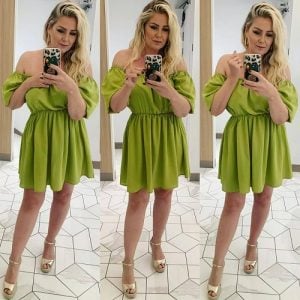 Instagram – makeup.mumblogger.donna
Summer evenings are bound to be vibrant and peppy. So, dress up with some cool dress with an eye-catchy color so that you stand out in a crowd. Also, pair it with short heels and wear hoops to complete the look.
Maxi Dress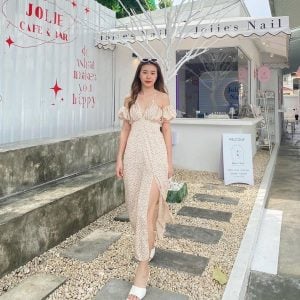 Instagram – blossom_chicc
I cannot stop gushing over this beautiful long maxi dress with a slit. Just look at this beauty filled with so many things to appreciate. For example, with the off-shoulder sleeves, slit, beige yet calming color, everything is beyond perfect. So, if you are into maxi dresses, I highly recommend going with something beige.
Athleisure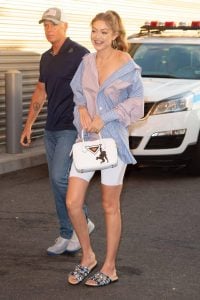 Instagram – majestyfitgear
Athleisure is never going out of style and hence it would be great if we style it up to turn them into casual wear for summers. You can layer your athleisure with a denim jacket or you can simply use shorts and pair it with an oversized shirt along with a pair of quirky sandals.
Muscle Tee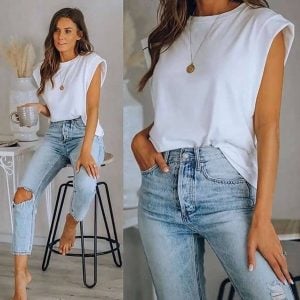 Muscle Tee is the trendy summer wear you should definitely inculcate in your wardrobe. It's simple, comfortable, and will give your underarms a breathing space to stay cool. Also, you can easily accessorize it with a golden link chain or simple golden chain to complete the look.
Romper
Instagram – lizcoutureboutique
Rompers are super cute summer outfits that you can opt for this season. They look chic and stylish and you can always accessorize them according to the occasion. Basically, you can pair them with shoes for a casual look or you can wear a necklace to elevate the look altogether.
Oversized Graphic Tee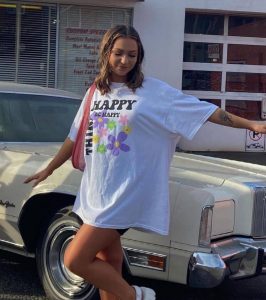 Instagram – pastropchic
The oversized graphic tee is a must when it comes to summer outfits. You can either style it elegantly as the image one or you can completely go casual as shown in the second image. The choice is all yours. The graphic tee is one versatile piece of clothing that you can mold the way you want. It's just that you need a stylist's eye to style it nicely. Accessorize it if you want to look like you have dressed up or just go effortless by pairing it with shorts and nice comfortable shoes.
Tropical Prints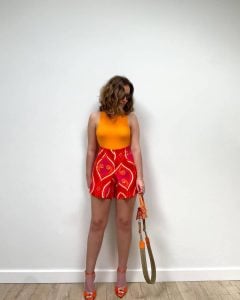 Instagram – styled.daisy
Tropical prints are still in trend and will remain trendy in the coming few years as well. They look chic and effortlessly flawless. You just need to pair tropical print trousers or shorts with a simple t-shirt and you are good to go.
9 Summer Fashion Hacks
Summer is a great season to go out on beaches, brunches, vacations but also difficult when it comes to managing sweat, oily skin, and dry hair. However, these problems should not stop you from being super chic and stylish this season.
Hence I have listed some super easy hacks to follow this season!
Wear loose comfortable clothes: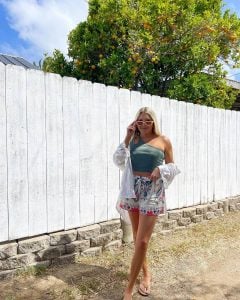 Instagram – mindovermolly
The looser the clothing, the more comfortable you'll be in scorching summer. Hence wear clothes that have light fabric and the one which touches your body less. In this image, the shorts are loose and less touchy. So opt for these kinds of shorts in summer to keep yourself cool and chic.
Avoid heavily embellished attires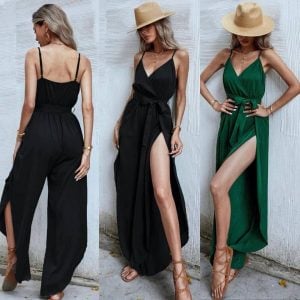 Instagram – fashionista_boutique_2015
A must remember hack is to avoid wearing heavy embellishments at all costs. Attires with beads and metal will weigh down your fabric and thus will also trap body heat. Hence if going to a party, wear long slit dresses and accessorize with necklaces which will altogether give a party look without wearing heavily embellished clothes.
Wide-brimmed hat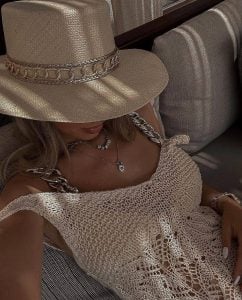 Instagram – hanniachar
Brimmed hats are one of the greatest accessories. They have the ability to elevate the look exponentially as shown in the picture. So get ready to play around with your hats to look effortlessly gorgeous.
Go For Loose Halter Tops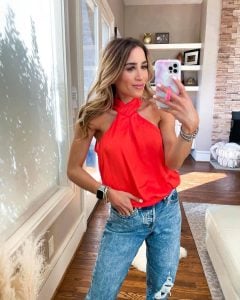 Instagram – alexis.belbel
Loose halter tops are way cool and comfortable. You can easily carry them in summer and look elegant at the same time. That's the reason why halter tops are preferred in summers.
Carry A Cross-body Or Handbag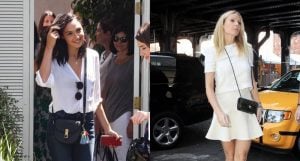 Source – getbaggizmo.com
Handbags are the perfect accessory to carry that can lift up your outfit's overall look. Also, carrying a backpack bag can make you sweat profusely.  Hence it is advisable to carry a cross-body handbag to make it easy for you to carry.
Use A Small Cotton Scarf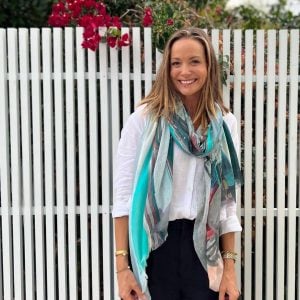 Instagram – urban_fable
A cotton scarf is a versatile piece that you can use in multiple ways. You can either tie it in your hair or your neck. Scarfs can also be used as sleeves as well if you feel like you need to protect your skin from sun rays. Hence don't forget to carry a scarf in summer when out.
Wear Long Sleeved Clothes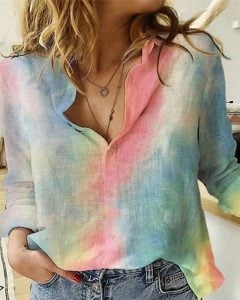 Source – brandblackjack.com
Direct sunlight can damage your skin easily in summer. Hence go for light tye-dye lose long sleeve shirts and look impeccably fashionable in summers while protecting your skin.
Wear Minimal Jewelry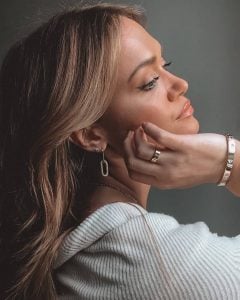 Instagram – minimally_her
Minimal jewelry is the key in summers. Just keep it minimal and look elegant. Also, heavy chokers or metallic necklaces can make you feel uncomfortable in summer. So, it's better to go minimal in jewelry.
Wear the right shorts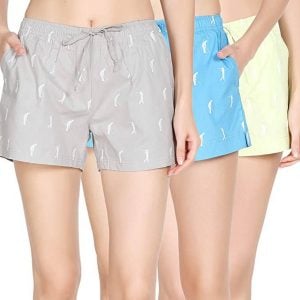 Source – Amazon
Wearing the right shorts in summer is essential. If you go for skin-tight shorts, you'll obviously regret wearing them. Hence, going for cotton shorts will make you feel cozy and will help you prevent sweating.
9 Best Summer Wardrobe essential
Soaring heat and temperature in summer are hard to handle. But what you can easily handle is your fashion game. Here is the list of summer wardrobe essential you need this season to keep up with the trends. So dig in find out.
Shirts and T-shirts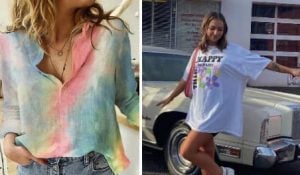 Loosely fitted shirts, t-shirts are essentials for summer. Tie-dye, graphic, and oversized t-shirts are some basics that you need to add to your wardrobe immediately. Also, always pick shirts and t-shirts that have light and soft fabric so that you can easily carry them in summer. While coming to colors, you can either go with full peppy colors or beige. The choice is all yours.
Trousers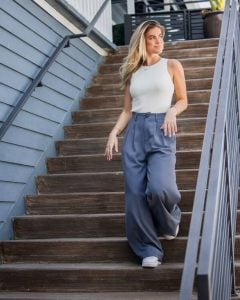 Instagram – coralsash
Trousers are super cozy and have enough ventilation. Hence you can easily ditch your skinny jeans. They come in a variety of colors that you can choose from. So if you are looking to make your outfit a peppy number, go with vibrant colors and a simple T-shirt so that they don't look over the top.
Sunglasses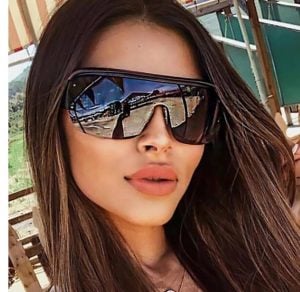 Image – Aliexpress.com
How can we even forget sunglasses, when it comes to summer. This summer season, the time to go retro has arrived and how.  Retro Cat sunglasses, shields, and oversize sunglasses are the ones in trend. So hop on the trend and look stylish as ever with your summer outfit.
Handbags and Tote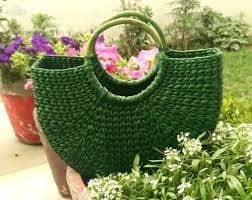 Image – utsavhandicrafts.com
We girls are all incomplete without our handbags and we need them more than anything else. Handcrafted handbags, twister mini cross bags, and mini flip bags with handles are some of the latest handbags and totes you should definitely invest in. These handbags will not only complement your look but also complete it.
Swimsuits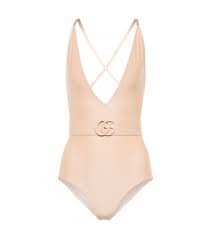 Image – Harperbazaar
Summer is all about beach visits. If you are the one who frequently visits beaches during summer vacations, you should definitely consider buying a One-Shoulder Crinkle Swimsuit, open back swimsuit, belted swimsuits, etc because they are the trending ones and will stay in trend for a long time.
Jackets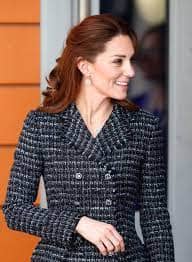 Image – whowhatwear
It is important to protect yourself from direct sunlight and that's when your jackets come in handy. Tweed jackets and summer kaftan jackets are the ones you can opt for this season. They are light in weight, comfortable, and soft to the skin.
Skirts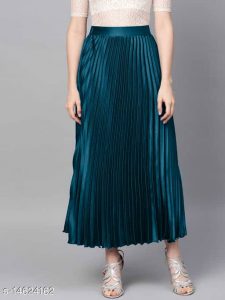 Image – meesho
Summers are a great season to pull off skirts. The ones that are in trend are pleated skirts, draped skirts, and midi skirts are the ones you should definitely consider including in your wardrobe. Skirts are comfortable, and easy to carry and they make you look elegant as well.
Sneakers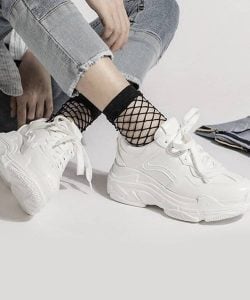 Image – streetstylestore
You cannot go wrong with sneakers ever. If you are bored of wearing high heels, sneakers must be your go-to pair of shoes. This summer season you can opt for pastel sneakers, bright color sneakers, and basic sneakers that come in basic color like white. Sneakers are the best when it comes to comfort and style. So, don't forget to include sneakers in your essentials.
Straw Hat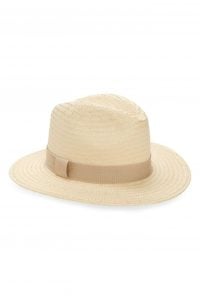 Image – Maireclaire.com
Straw hats come in handy in summer vacations especially when you are enjoying on the beach. So resort to beige-colored straw hats and complete your summer outfit with it to look fashionable. Hats are a great way to protect your head from direct sunlight, so keep your hats handy this summer and look trendy with straw hats.
Conclusion
So start shopping for your summer wardrobe and get ready to look stylish and elegant this summer season with the help of our trending summer outfit ideas, tips, essentials to follow.
Faqs
Why do we wear cotton clothes in summer?
We tend to sweat a lot in summer and cotton has the ability to absorb that water. Hence we prefer cotton clothes in summer. Also, they are soft to skin and hence keep us cool in high temperatures as well.
Why do we wear light coloured clothes in summer?
Light colors do not trap heat as dark colors do. Hence we should try to wear light colors in summer.
How can I look stylish in summer?
To dress stylish in summer, opt for summer dresses, trousers, t-shirts, shorts that make you feel most comfortable and accessorize with minimal jewelery.
How do I build a summer wardrobe?
Add summer essentials like t-shirts, skirts, trousers, shorts, swimsuits, dresses, etc to build a summer wardrobe.