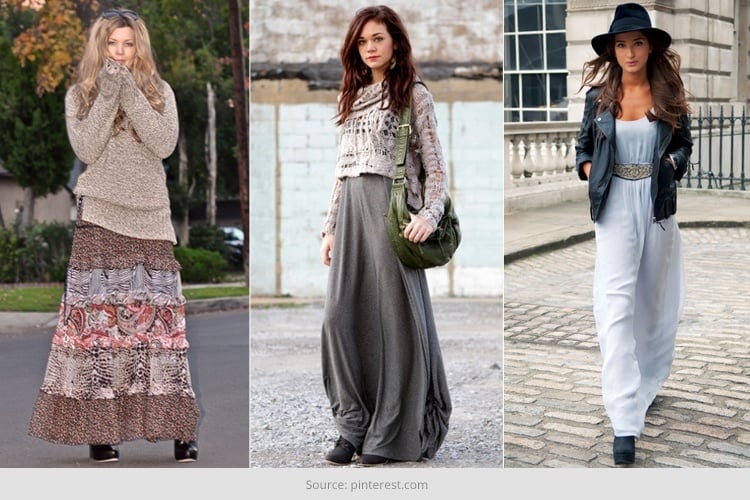 With the season of summer, arrives the trend of the maxi dresses. For the hot weather these light, airy and nifty overalls work brilliantly. What's more it is easy to add layers over or even under these maxi dresses; making them absolutely adaptable for the chillier days as well.
But how to style maxi dress for summer? We're here to give some great maxi dress styling tips. It can be worn through many seasons – spring, summer and autumn as well!
Ways to Style Maxi Dresses
Below are 12 different wats to style maxi dresses. However, you will have to keep in mind the maxi dress patterns for summer as well. Read on.
1. The Leather Jacket Ensemble
Just grab your leather jacket and pair it up with your maxi dress. It looks super stylish and gives a defining bold look. Add on a statement necklace to furnish the apparel. Throw on some shades along with a top hat.
2. The Blazer Ensemble
For the professional getup team up your maxi dress with a blazer. The blazer should be of a contrasting shade than of the maxi dress. Finish the ensemble with some aviators & an office bag, and you're good to go!
3. The Trench Coat Ensemble
For an attire for the chillier days, like in spring or autumn, enrobe your maxi dress with a trench coat. Choose a coat in a solid hue to mix and match it up with your colourful maxi dress. For the complete look put on a pair of block heels and obviously some dashing shades.
[Also Read: What To Wear With a Denim Dress]
4. The Denim Ensemble
Create a daytime garb by matching up your maxi dress with an overall in denim. You could either don a button-down denim shirt or put a denim jacket over your maxi dress. Put on some heels to brush up the attire. For a varied demeanor you could even tie up your shirt at the front.
5. The Pants Ensemble
Pair up your maxi dress with a pair pants of the similar shade. Put on some heels and minimal accessories (just a watch, maybe). It will give an utterly sophisticated appeal which is yet another foolproof vestment for business meetings.
[sc:mediad]
6. The Turtleneck Ensemble
For an attire that will coordinate for the colder days as well simply don your maxi dress on a turtleneck. Grab a bag and jump in to some black shoes. A funky yet perfectly blended look.
[Also Read: How to Wear Hijab with Maxi Dress]
7. The Cardigan Ensemble
Set new trends by wearing a light cardigan with your maxi dress. Tie the outfit up with a belt. Put on some sunglasses and accessorize accordingly. This is the perfect vestment for the spring and autumn seasons.
8. The Sweater Ensemble
Yet another attire for the typical autumn season. Simply adorn a warm comfy sweater along with your maxi dress. Correlate this outfit with a pair of boots.
[Also Read: Lace Maxi Summer Dresses]
9. The T-shirt Ensemble
Style your maxi dress with a T-shirt, and that too under the dress (not on top!). It looks like a trend borrowed from the 1990's and along with that keeps you warmer. Add on shades to furnish the apparel.
10. The Fur Vest Ensemble
Have a warm fur vest? Wear it with your maxi dress to make a splendid autumn attire. Match the look with a belt around the waist and a pair of boots.
[Also Read: Orange Is The New Black: Nail The Look With These Styling Tips]
11. The Off-Shoulder Overall Ensemble
Just wear your maxi dress with either an off shoulder top or sweater. Coordinate the colours and prints as you please. Slip into some heels or boot; whichever suits you! A statement necklace will work best.
12. The Button-down Shirt Ensemble
For a more laid back demeanor, select out crispy white button down shirt and wear it with your maxi dress. You could even tie your shirt up from the front for the ultimate boho vibes. See which looks better on you!
Now that you know how you can match up maxi dresses with assorted clothing items. But what about the maxi dress patterns for summer? We mean, how do you decide prints will stand out in the summer season and which patterns will go with what? Well, be careful to select out bright colours and flowery or funky printed maxi dresses if you're wearing them for a day out. A solid colour maxi dress is more suitable for a professional attire. If the blazer, cardigan or sweater you are designed and brightly colored, again opt for a block color maxi dress (and vice-versa).
[Also Read: Cold Shoulder Dress]
So you have an idea now of what to what to along with a maxi dress. Have fun mix and matching these outfits and attaining that perfect look!