There is so much to like and behold in coastal Kerala in Onam festival that even God would be happy to come down to visit 'God's own country'. There are exciting boat races, gorgeous looking flower decorations, huge and lavish feast called Onasadya and a virtual pomp, show and revelry that is truly colourful and breathtaking in Kerala every year on the harvest festival of Onam.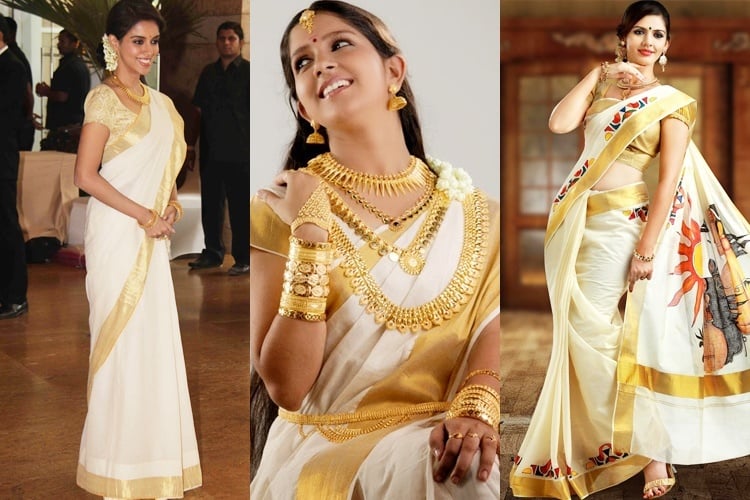 Onam is a festivity of food, colour and attire. Guess what makes Onam the popular regional festival of Kerala? It is the return of King Mahabali, the noble ruling demon King that is the prime reason of celebration. Onam is massively celebrated each year at the end of August in Kerala and the festivities last for about ten days. Here's how.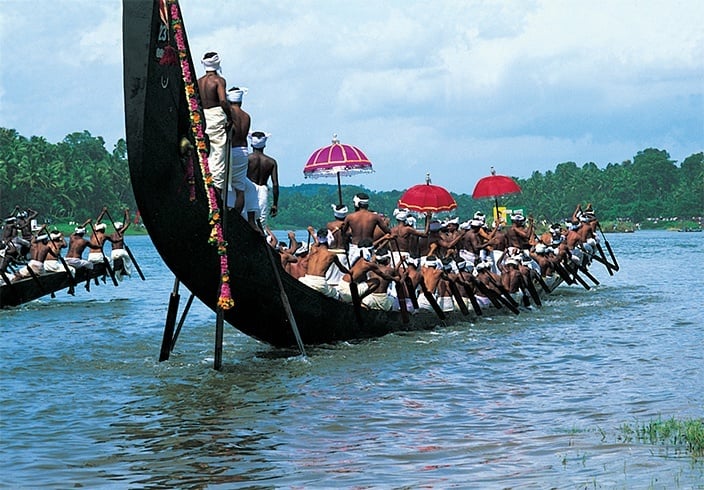 Onam Pookalam Designs – Flower Arrangement On the Floor:
The tradition of making Pookalam Designs on the floor is as integral to the Onam celebration as the enjoyment of the feast or wearing festive clothes and jewellery.
People of Kerala decorate their homes with fresh flower mats called 'Pookalam' in order to welcome the King Mahabali. In Pookalam, the word 'Poo' means flower and 'kalam' stands for colourful sketches drawn on the ground.
Three things – kilos and kilos of flowers, creativity and technique all out together play a major role in making onam pookalam images stand out. On each day of the Onam period, a different flower is used in flower-making. Thumba flower is a special one that is used while making pookalam since it is small in size and glows in the sun.
Young adolescent girls take equivalent pride in making elaborate onam pookalam photos on the ground to welcome their loved King Mahabali. And with women being the center of attention in onam harvest festival, giggling and sharing jokes and singing traditional songs further adds up to the festive joy.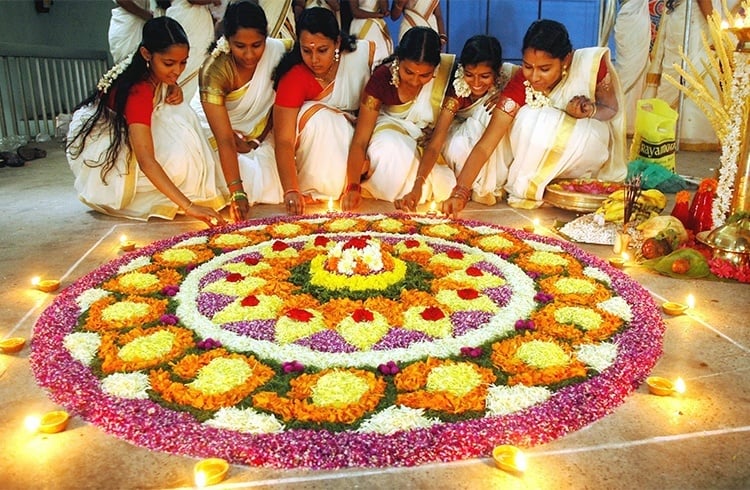 Traditional Kasavu – The Design And Pattern:
One of the customary delights during Onam celebrations in Kerala is Kasavu Saree, which is the auspicious attire worn by Kerala women during their New Year.
Also called Setu Sari, Kerala Kasavu and Mundum Neriyathum (Nereyathum), kasavu saree is a cultural handloom saree of Kerala made of pure cotton. It usually comes in 6 to 7 inches of pallu which is decorated with beautiful designs in the form of flowers, mangoes, peacock, Radha Krishna, coloured borders and fancier variations.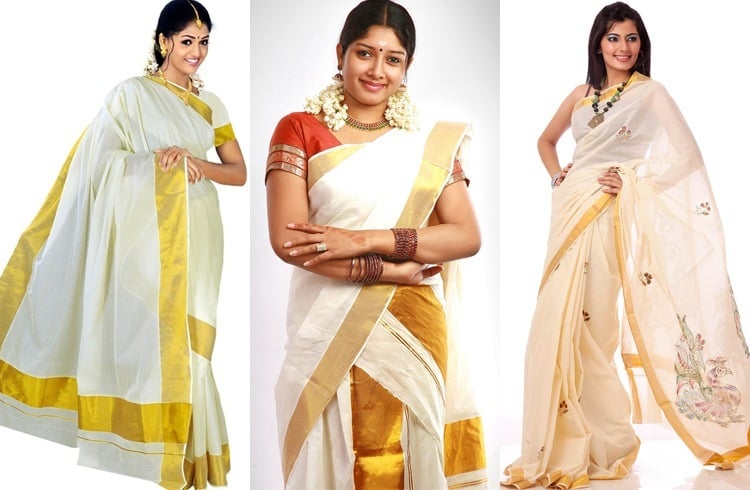 The colours of onam sarees are so distinctive that even a layman can make out the hallmark colours of creamy white or pure white all over and a golden border (which can be simple or detailed depending on your taste and occasion). Kasavu is equally stylish, simple and trendy enough when it comes to bringing out the fashionista in you.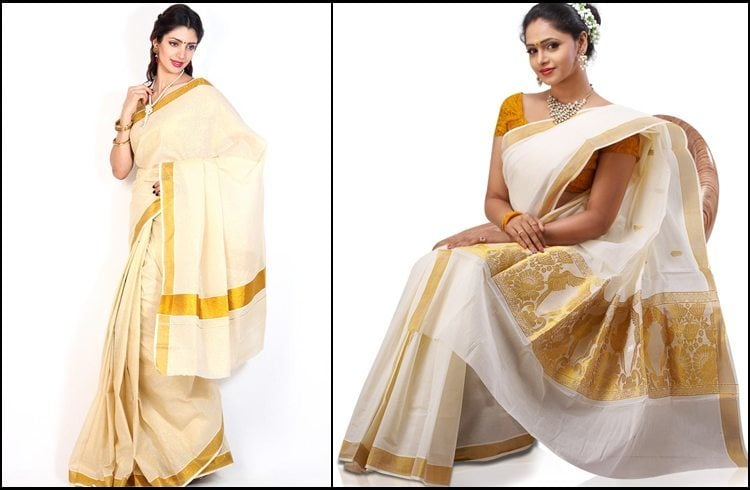 Kasavu Kerala Sarees are handwoven, not machine-made. So you can well imagine the purity of the cotton fabric of onam saree draping your figure in the auspicious occasion. Kasavu is worn by Hindu brides for religious ceremonies and wedding functions.
[Also Read: The Kerala Bride]
When worn the traditional way, onam sarees are simple and show off a rich gold coloured border on the thighs.
The set-sarees are equally popular when they are paired with different coloured blouses with gold lining that give you a new look each time in Onam.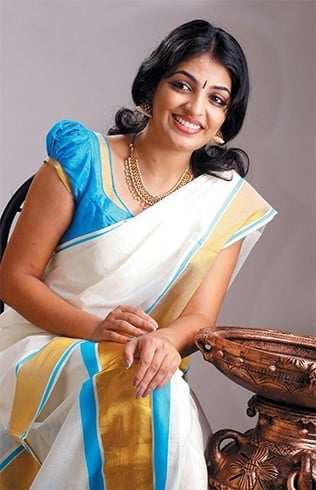 The traditional white sari looks elegant and priceless when paired with a contrasting blouse. Getting popular with the modern women of Kerala, this combination is a go-to when a traditional look needs to be incorporated with the trends.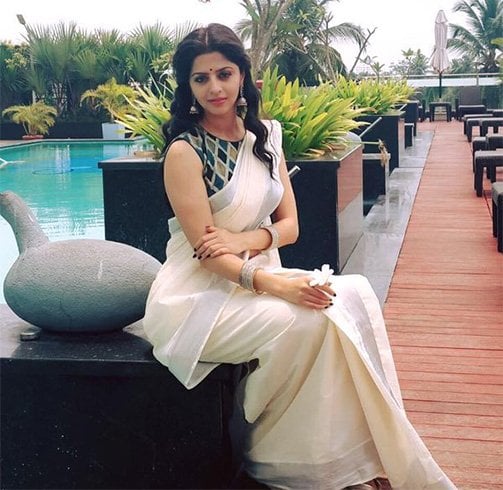 Kerala saris show that monochrome is always in style. With a white glazed sari and a golden piping, this combination looks simple yet gorgeous. The neck piece definitely is a catalyst for beauty.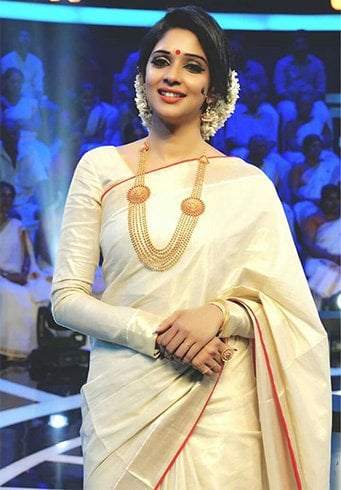 It's not often that we see designs imprinted on traditional Kerala saris, but when it does happen, it's always better and brighter. A peacock print never went wrong.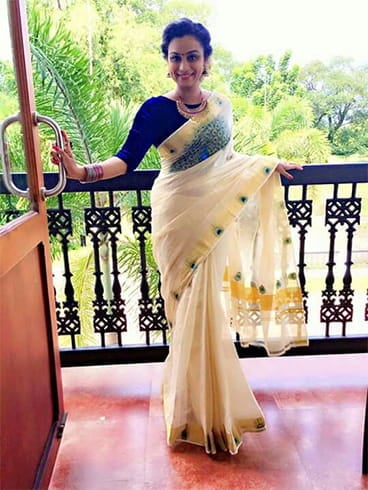 And you thought kasavu is only for the grown up ladies. This little girl tells you the significance of onam wear so beautifully.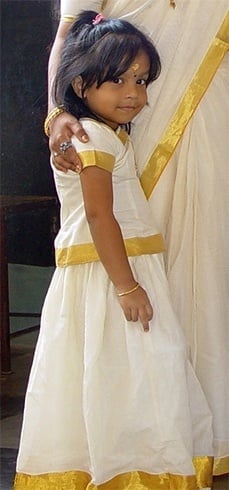 [sc:mediad]
Jewellery Pairing With Kasavu:
When you are flaunting a kasavu saree, then traditional gold jewellery is a festival must. Since gold is the choicest colour of Kerala sarees, you can wear gold jewellery in the form of heavy bangles or long fancy earrings.
Whichever jewellery designs you chose for yourself or for your family members, remember to team it up with chic heels in order to complete the festival look.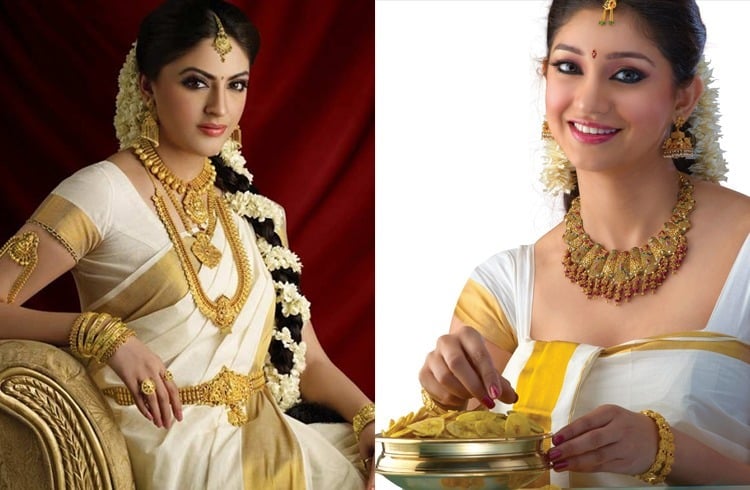 [Also Read: Must Visit Shopping Places in Kerala]
Hairstyles To Try With Kerala Saree:
South Indian hairstyles look great with onam sarees. The traditional neat bun, long plait or the half pony – onam hairstyles look great when adorned with flowers. If you are the innovative lot, then you can try side swept hair look.
A loose pony happens to be the quintessential Kerala hairstyle which can be further dressed up for Onam. First of all, pin up your hair in the form of a beehive. Then tie your hair in the middle using a rubber band. By doing this, your hair gets tied into a loose pony and looks truly ethnic with onam saree.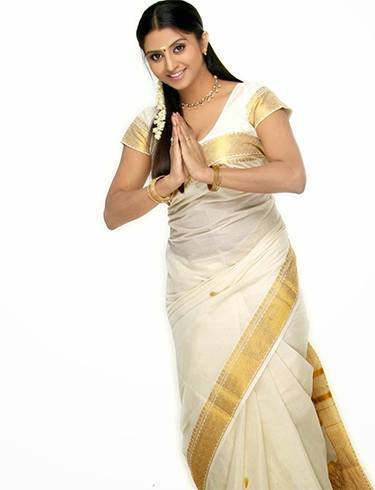 With such a wide variety of costumes, floral decor, jewellery and dressing for Onam, drop in a line to tell us what made this occasion stay fresh and memorable for you.
Here's wishing all the readers Happy Onam.
Conclusion
Onam sarees stand as a timeless embodiment of Kerala's rich cultural heritage and the spirit of its celebrated festival, Onam. These pieces of clothing not only showcase the skilled craftsmanship and artistry of the region but also symbolize the unity and diversity that define the festival's essence. 
The meticulous weaving, vibrant colors, and intricate designs of Onam sarees tell stories of Kerala's traditions and history. As they drape gracefully around women during the Onam celebrations, these sarees become a living testament to the customs that have been passed down through generations. 
Let these sarees be a reminder that fashion is not just about clothing; it's a canvas that reflects the heart and soul of a culture, and in the case of Onam sarees, a truly exquisite masterpiece.