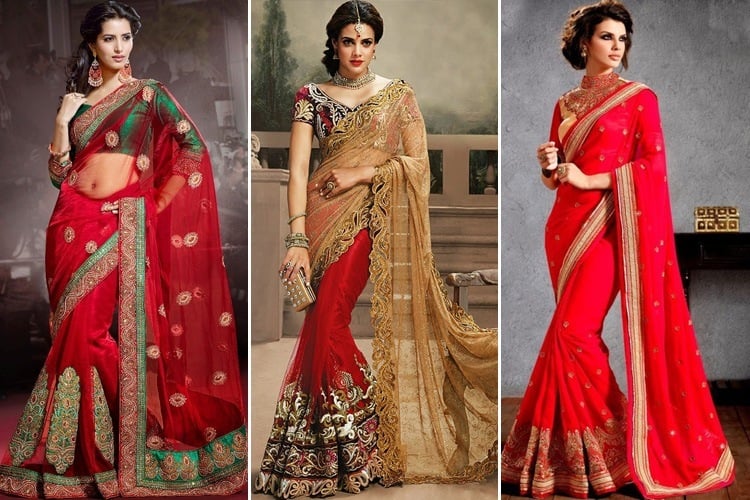 Colours, traditional zeal, love and enthusiasm – Kavwa Chauth is filled with all of this and much much more. It brings the married couples closer, and has both cultural and social significance.
[Also Read: Karva Chauth Mehndi Design]
Yes, it might be a little tough for the Hindu bride to keep fast from sunrise till the time the Moon shows up at night. But when there is karva chauth special saree with solah singar, the fasting on Karwa Chauth becomes all the more glam.
How did this festival of Karwa Chauth begin? It is believed that in the Mughal era when the soldiers used to go on their mission to fight invaders, it is their wives who kept this fast in order to pray for the safety of their husbands. Ever since then the tradition has followed, making it one of the most respected festivals in the Hindu calendar.
[Also Read: Colorful Saree Designs]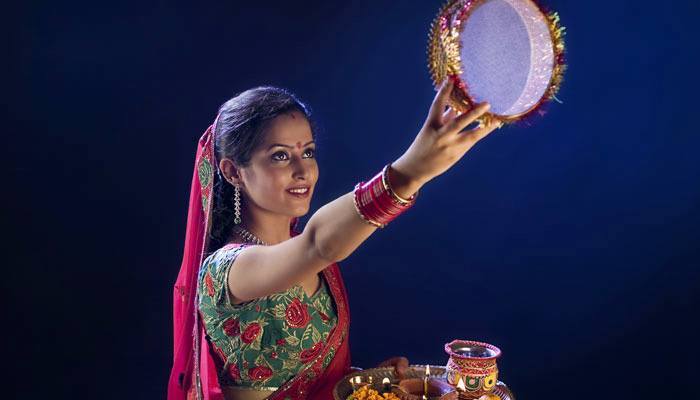 Designer Sarees For Karva Chauth
The one common piece of clothing every married woman wears on Karva Chauth is a chunni. But it is the designer sarees for karva chauth that steal the limelight.
[Also Read: Everything You Need To Know About Designer Sarees]
The karwa chauth special saree is often found in bright orange, pink and red colours. And the ornaments and costume accessories worn can be anything between bindi, tika, bangles, earrings, nose pin, nail paints, etc.
Red is the prime colour worn by married women on this day which signifies purity and chastity. But apart from karwa chauth special saree, the dressing can vary between Lehengas and Ghagras to Sarees and Half-Sarees to Anarkali Suits – just about anything that makes you look beautiful and stunning on this day.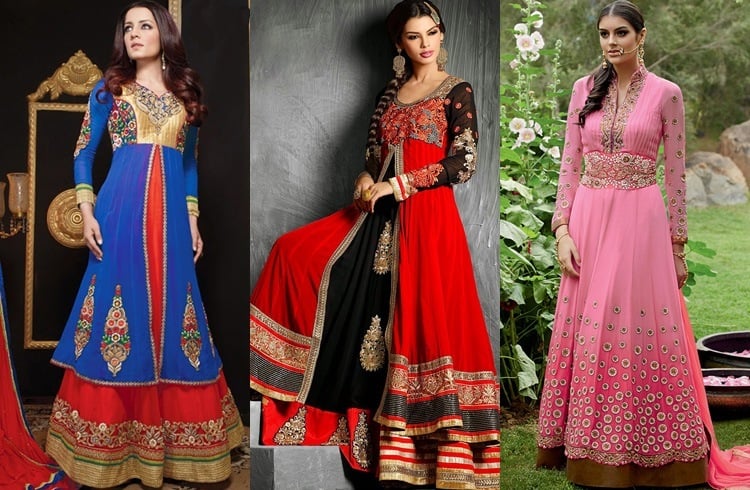 Karwa Chauth is not only about dressing up, it is about flaunting as well. Look around on this day and you will find married women in their best bridal finery.
From heavy embellishments to a riot of reds, orange and pink, you can see married women at their fashion best. Full make-up and hairstyling is a must on Kavwa Chauth day. Here is a look at the karwa chauth special saree that has the substance to make you look pretty and special on this day.
[Also Read: How To Design A Plain Saree At Home]
1. CHITRAKSHI Women's Designer Heavy Net Saree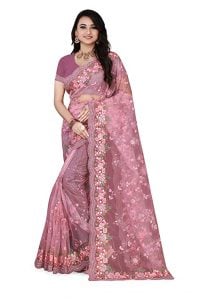 If you want to try something different this Karwa Chauth, make your traditional saree look a bit trendy. Don a pink mauve net saree embellished with stone, and flower embroidery work and pair it with a simple choker. This will give you an elegant and traditional look.
2. Calendar Women's Banarasi Jacquard Soft Saree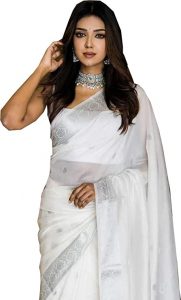 If you want to keep your look simple and try something out of the box then go for the Bollywood-style Banarasi white saree. Pair it with a beautiful Kundan choker and a designer full-sleeved blouse and let the world go ga-ga.
3. Yashika Women's Georgette Saree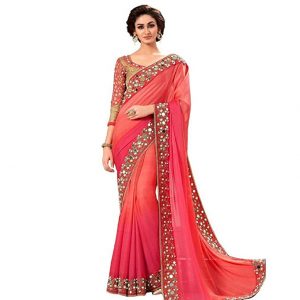 Donning a georgette saree and flaunting it like a Bollywood actress has been a dream for every woman at some point in time. Try styling a red or orange georgette saree with a simple mirror and pearl work border and a heavy designer blouse would be an elegant choice for the festive look.
4. Sarvadarshi Fashion Women's Barfi Silk Saree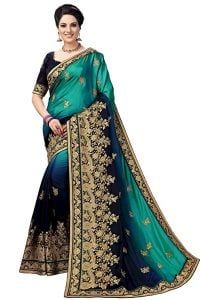 A heavy two-shaded embroidery stone work saree is a newly wedded bride's look. The color shades combined with blue-turquoise or red-orange will be a great option to try this Karwa Chauth.
5. Glory Sarees Women's Kanchipuram Art Silk Saree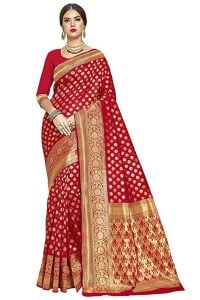 A red-colored Kanchipuram is an evergreen trend that gives you a classic bridal appearance and should be added to your wardrobe.
6. SOURBH Cotton Blend Printed Saree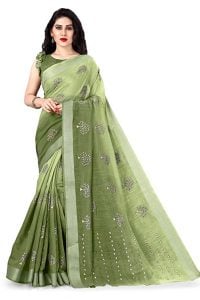 For a simple look, a simple dual-toned green cotton blend saree with golden Zari is a great option to try this Karwa Chauth. Try pairing it with a long neckpiece and a simple pair of earrings will complete your look.
7. ANNI DESIGNER Chiffon Embellished Saree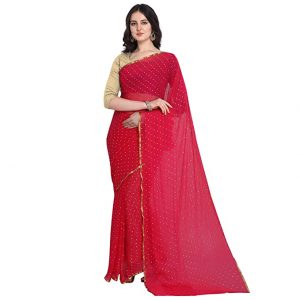 If you want to get a beautiful saree look but have no time to get ready, try a simple red chiffon saree with a golden designer blouse. Pairing it with a piece of simple jewelry will be great for any occasion.
8. BARKIYA CREATION Women's Net Saree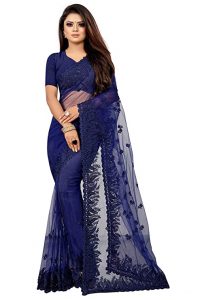 For a picture-perfect look, try donning a blue-colored heavy embroidery pearl and cut work border saree and pair it with a piece of simple jewelry. Applying mild makeup will give a perfect look for the festival.
Bollywood is the latest to capture the beauty of this Indian festival. Remember the bubbly and effervescent Kajol fasting for the dapper-looking Shah Rukh Khan in Kabhi Khushi Khabhi Gham or for that matter Aishwarya Rai Bachchan fasting for Ajay Devgan in Hum Dil De Chuke Sanam. Such cinematic shots further re-imposed the faith and trust in this Indian tradition of Karwa Chauth.