The quintessential drape has always come in multiple shapes and sizes. Be it a heavily embroidered saree or a plain one, every type has its own significance and a charm incomparable. The recent trend among our tinsel town divas is flaunting magnificent plain sarees with gorgeous blouses. While wearing a plain saree could get boring, our divas have given us some serious inspiration to go back to the basics with a twist. With the festival season nearing, we thought to give a makeover to plain sarees and make them look exclusive.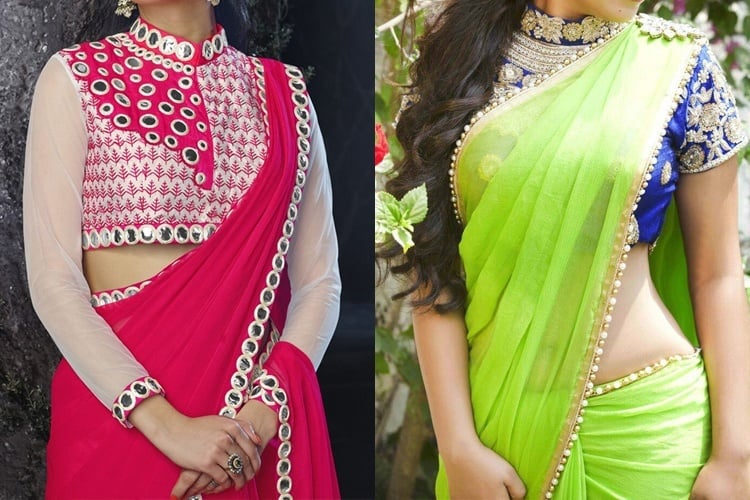 So get ready to check out these ideas on how to style these plain sarees in the most classiest way. Once you take inspiration from here, there's no thinking twice to whether you would buy a plain saree or not.
Here's How To Design A Plain Saree At Home:
1. The Drape Dyes:
Ombre is back in vogue again, and what better way to revamp your plain saree than to dye in an ombre shade of your choice. Just pick a color scheme you have in mind and head to the nearest market to dye your saree in the shade.
Arm yourself with the color scheme you wish to have on your plain saree. You are set to rock the world once your ombre dye is set.
2. The Tinsel Tie N Dye:
Here is another way on to how to design a plain saree at home. This age old technique is a good way to revamp your old plain saree piled in the closet. It makes you look classy and young at the same time. Our Bollywood bombshell Shilpa Shetty too seems to be fond of this trend. Take a leaf out of her book and tie and dye your old saree in vibrant colours. Team your saree with a silver blouse and we are sure you will turn heads wherever you go.
Tie and Dye in bright neon colors to give a new lease of life to your plain old sarees.
3. The Heavenly Heavy Border:
Add a definition to your plain saree by adding an embellished border to it. Add a vibrant silver or gold border to it and make it stand out without much effort. To give your plain saree an edgier look, match your saree border with the blouse.
Lift your by several notches by adding a border in velvet, silk , kundan or mirror work.
4. The Blouse Swap:
[Also Read: Chiffon Print Saree]
Somebody has rightfully said that a blouse can make or break a saree. A right blouse can alleviate your look whereas an ill fitted or a boring blouse can spell a disaster for your entire outfit. So, how to design a plain saree at home? Give a breath of fresh air to your plain saree by changing the blouse you normally wear with saree. Go for an embellished blouse or a blouse in materials like velvet or lace to give your plain saree a new look.
Play with bright neon hues or materials like Khadi to give a modern twist to your traditional six yards. Try a blouse in contrasting hue a la our Bollywood babes.
5. The Eye-catchy Embellishments:
A simple and easy breezy method to glam up your saree is to add embellishments to it. Brighten up your plain saree with some zardosi, mirror or kundan work to it. Look chic by adding patches to your saree. Just glue some sequins or mirror work on the pallu or along the border of your saree and see it transform. Adding these patchwork or embellishment is really easy and can be done at home too. These plain saree work designs are sure to move you up the fashion ladder without shelling too much.
[sc:mediad]
6. The Simple Sequin:
Give a designer twist to your plain and boring saree by adding sequins to your saree border. Match it with a sequins blouse and you sure to look like a star of any party you head to. You can take an inspiration from our Bollywood diva Kareena Kapoor who loves to don a sequins plain saree. You can also turn your plain saree easily into a designer plain saree by adding sequins to it.
Plain Saree Design Ideas:
Now that you learnt the DIY ideas of making your plain chiffon sari enticing, we wish to give you more ideas and design patterns that will make your look even more interesting and fashionable.
1. The Velvet Mix:
Take a sufficient length of velvet cloth that works as pallu and club it with your plain sari. This will blend the plain sari and velvet fashion in perfect balance. Go either with velvet blouse or a sequined blouse to charm your way away with this style.
2. The Fancy Floral Applique Hemline:
A patch work along the hemline or floral applique is one interesting option to pick for reforming the cinematic plain sari. Give the blouse a vintage cut to make the look royal and trendy.
3. The Haute Half Sari Style:
If you have more than 1 plain sari and wondering how best to reuse them, then stay with us for the perfect idea. Take two contrast colors and turn one into a lehenga and other into a pallu style. This makes one perfect south Indian half sari style.
4. The Charming Cocktail:
The lehenga style is trending undoubtedly and make the most of your plain sari by converting them into flowing lehengas. A heavily embellished blouse in contrast shade will spice up the style. This wedding season, put onto this sari turned lehenga and bag all the compliments.
5. The Switch It Swag:
One more interesting way of transforming your plain saris is to turn them into Kurtis with straight fit pants or palazzos. Depending on your taste, keep it either same shade all through or go with contrasting shade pants.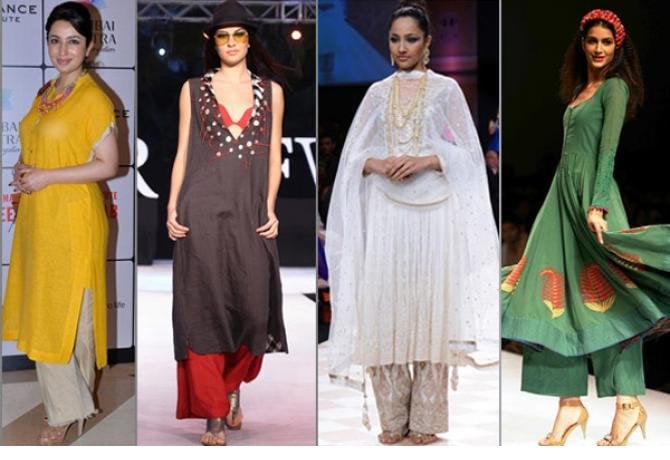 6. The Curtain Cross:
Bring color and beauty to your windows be it kitchen, study room or crafts room by hanging your plain sari as a curtain. This will give a nice sweet pop to your room.
7. The Sari Dress:
Revamp your plain sari into an exciting party dress and get noticed this season in bright shots of colors. Slip into contrast shoes and make the style click.
So here is how you can make that simple plain saree look extravagant. Take a cue from us and revamp your plain saree using these DIY saree techniques.

Recommended Articles:
How To Dress In Your 30s
Fashion For Women Over 50
Embroidery Stitches To Craft Wonders
Broad Shoulder Women
Dresses To Hide Tummy And Hips