"I love following your posts everyday. Your fashion updates save me from staying under the rocks and your fashion tips help me understand which style to adopt and what to avoid," was sent by one of our esteemed readers Sonia writes. She further adds, "Even though I keenly follow your trending items, I always feel disappointed when I realize that my body type doesn't complement the inspired outfit. Could you please come up with some useful fashion tips for broad shoulders?"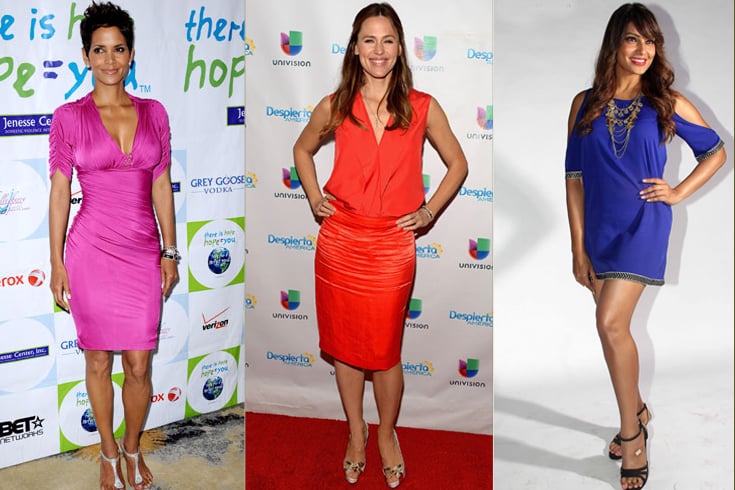 This is the reason I decided to come up with an elaborate content piece to help my darlings having broad shoulders. Do have a read!
Do you have broad shoulders?
Actually, in broad shoulders, women appear to have a classic body feature with an inverted triangle body shape. This doesn't mean women with other body shapes including apple, rectangle, hourglass, and pear-shaped are relieved from this feature.
I have seen how most of the women feel self-conscious about their wide shoulders, which creates a disproportionate to their hips.
The trick is to flatter and flaunt your best assets, which will automatically shift the attention from the flaw areas. For instance, if you've strong and tall legs then you can carry something that flaunts your beautiful limbs and if you have a slim waist then you can go for outfits that highlight your curves.
Dresses For Women With Broad Shoulders:
Keep It Short And Sweet:
This is the first on how to dress broad shoulders. If you have slim thighs and great legs then irrespective of your height, short dresses can look extremely cute and adorable on your body. While picking knee-length or sort dresses, focus on the cut that flaunts your curves making your waist look tiny and cute. The dress should have flares flowing downwards.
No matter whether it's regular or party wear, do not overlook the sleeve and neck design as the trick actually lies here. Do not go for boat neck designs, floret arm designs, and no shoulder pads, please. Instead, let the silhouette do the talking. You can also pick dresses with asymmetrical skirt.
Broad shoulder dress styles also include laser-cut dresses, floral mesh dresses, and dry lake dresses. These are some of the fabulous items from the short dress collection to go for. Try on and feel the difference!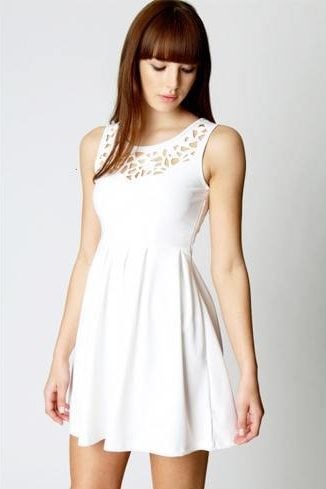 Wrap It Up:
The next on how to dress broad shoulders is by wrapping it. Wrap style outfits are an absolute God sent anchor for your wardrobe rescue. Whether it's a top or dress, the wrap style is an excellent concealer dress for broad shoulders. This style is versatile enough to complement any body shape. The best part is that it can slim down broad shoulders, whilst defining your waistline. The V-neck design is the smartest way of splitting the expanse of your shoulders, thereby making them look narrower.
Another great advantage of this outfit is that since this dress comes along with a tie around the waist, it will automatically drag down the attention at your tiny waist.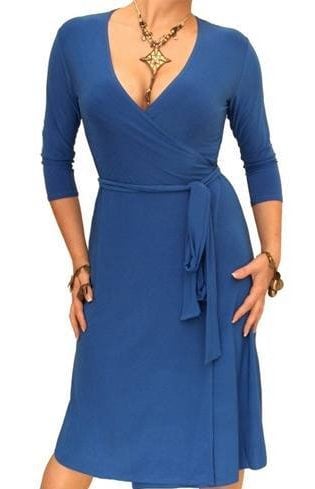 Peek-A-Boo:
If you have the great bust to flaunt then dresses and tops with plunging neckline can be your ideal options. It's not at all sin to have some peek-a-boo, as cleavage show can never go wrong especially when you want to shift the focus. This trick works well with women having not-so-great legs to flaunt for.
[Also Read: Peek-a-boo cut-out dresses]
The summer cool maxi dresses are best for this trick. Even wrap dresses and cocktail dresses are other smart options. These work perfectly well as dresses for broad shoulders.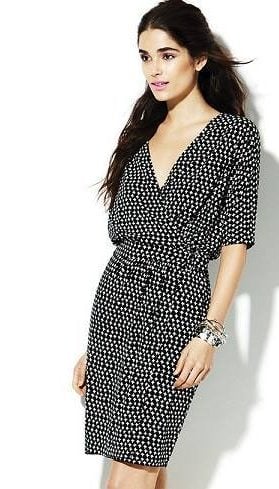 Score Upon Fit And Flares:
Since it isn't possible to get how to get rid of broad shoulders, we might as well dress them up so they look sexy, right?
Since we are trying to work on the 'broad shoulder' thing, we should always focus on defining the curves by highlighting the waist, slimming down hips, and cutting down neck designs that highlight the broadness.
If your shoulders are wider than your hips, you should try to maintain a balance between the two. in this case, the fit and flare will come to your rescue. Since it's winter, you can easily score upon camel coats paired with fit & flare dresses like one by Ted Baker.
Since such dresses have flares at the bottom, you can easily hide your big thighs. On the other hand, the flare will create an illusion of wider bottoms thereby maintaining perfect balance.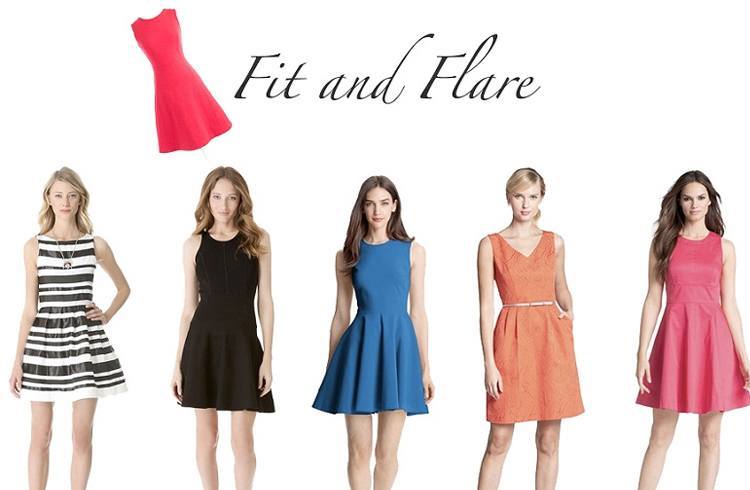 Go Backless:
Dresses, salwar kameez, and blouses with deep back designs and even backless are extremely feminine fashion attributes that can instantly add some glamor quotient to your personality. The sculpted back designs can vary depending upon the occasion and place. When you are opting for plunging back designs then avoid wearing short dresses instead go for knee-length or ever longer silhouettes to maintain the elegance.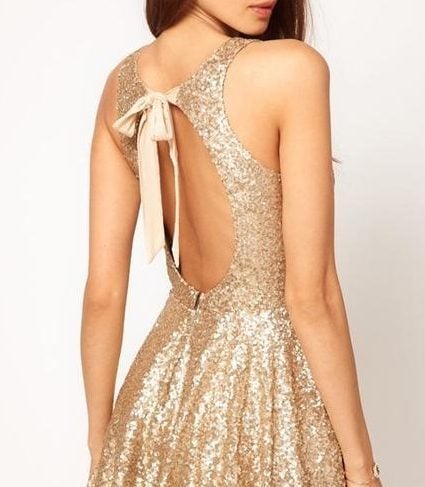 Flatter Your Lean Legs:
Here you can completely focus on the bottom half. In order to divert attention from broad shoulders, focus on trousers and shoes, which can highlight your toned legs. Go for trousers and skirts, which have draped fabric, pockets, ruffles, and embroidery around the hips and thighs. However, be warned and do not overdo the detailing.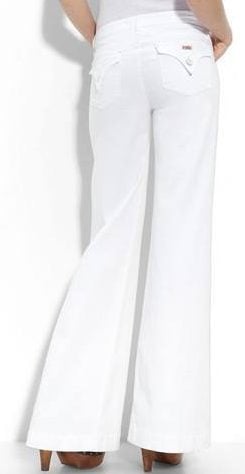 [sc:mediad]
Broad Straps Actually Work:
You may find these strange but wide straps actually work for broad shoulders. Rather than going for fine straps for your A-line dresses or fit & flare outfits, go for wide straps and see the difference yourself. Avoid going strapless as it will only enhance your shoulders, making your body look out of proportion.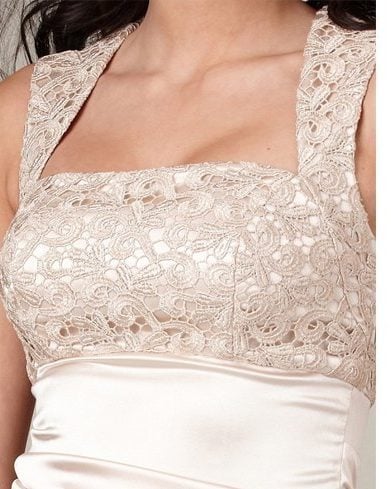 Here Are A Few Do's And Don't s For You:
Dos :
Go for V-neck and scoop-neck, which show some skin, splitting up the expanse of your shoulder area
Wear wide-leg pants, as they will balance your broadness at the top
Go for full skirts, which will give you the appearance of a proportioned look
Go for raglan sleeves, as they'll help soften any sharp edges in your silhouette
Do look for jackets and blazers that are a little longer and hit at the hip instead of the waist
Don'ts:
Don't wear shoulder pads
Don't go for fitted blazers and jackets as they will clearly define your shoulders
Don't button up the waist of your jackets as it will easily give you the inverted triangle shape which you're trying to avoid
Don't wear spaghetti straps, instead go for a tank top with wider straps
A strict 'No' To:
Strapless tops
Spaghetti straps
Halter necks
Shoulder pads
Off the shoulder
Square necklines
Horizontal lines
Sleeves
Skinny Jeans
Tight tops
Small waist
Bolero jackets
Hollywood Celebrities With Broad Shoulders:
The best way to deal with broad shoulders is to soften the shoulder line and bring a balance into the well-defined figure points.
It might be discouraging and might look like an absolute challenge to pull off broad shoulders, but here we have brought together a list of celebrities with broad shoulders who carried it off with absolute grace.
1. Halle Berry:
The well-toned lady skillfully carries herself despite the broad shoulders. Though she keeps her hair minimum bringing the shoulders to the limelight, she equally balances it with the picture-perfect curves.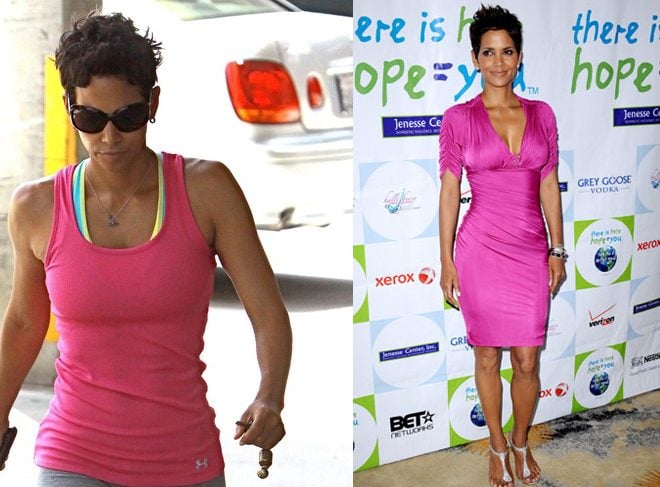 2. Julia Roberts:
It is comforting to know that the most beautiful lady of Hollywood struggled with broad shoulders too. Julia Roberts had a knack to carry any flaw as treasure easily and beautifully. She let her lovely curly hair to balance the broad shoulder equation.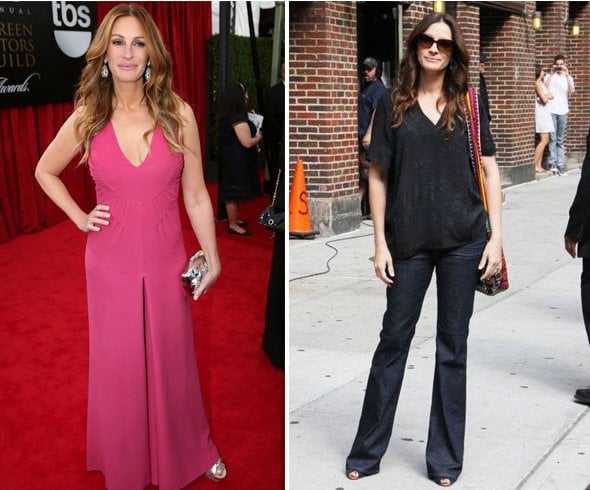 3. Renee Zellweger:
The firmer and broad upper frame usually gives a Tomboyish look and takes away the feminine feature of the woman. But Renee Zellweger was extremely good at carrying it as an asset and we totally admire it.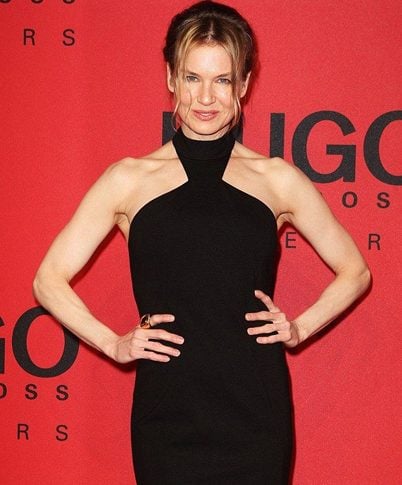 4. Kate Hudson:
Sharing our worries and nightmares of broad shoulders was one of the top Hollywood celebrity, Kate Hudson. She always ensures she dressed right to soften the shoulder lines.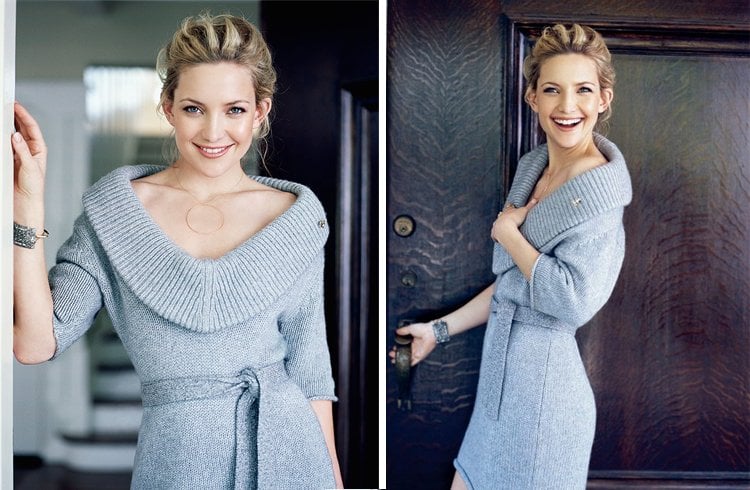 5. Jennifer Garner:
Flaunting an athlete and swimmer body was Jennifer Garner at every public appearance. The diva didn't shy away from the shutterbugs but opted for killer styles that balanced her figure perfectly.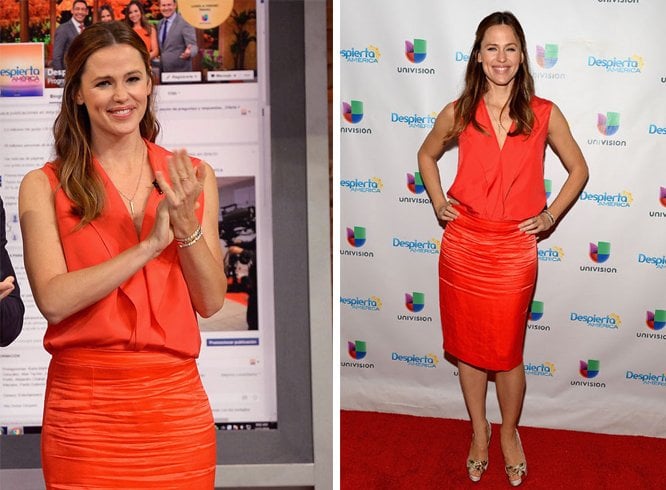 Jessica Biel, Angelina Jolie, Kim Catrall, etc., are few more celebs who fall right into the broad shoulder genre and inspire us to carry ourselves with panache.
Bollywood Celebrities with Broad Shoulders:
1. Aishwarya Rai:
Have you ever noticed that Aishwarya Rai has really broad shoulders? No! That's the art of clothes and styling the diva has opted for to divert the attention away from her chiseled shoulder line.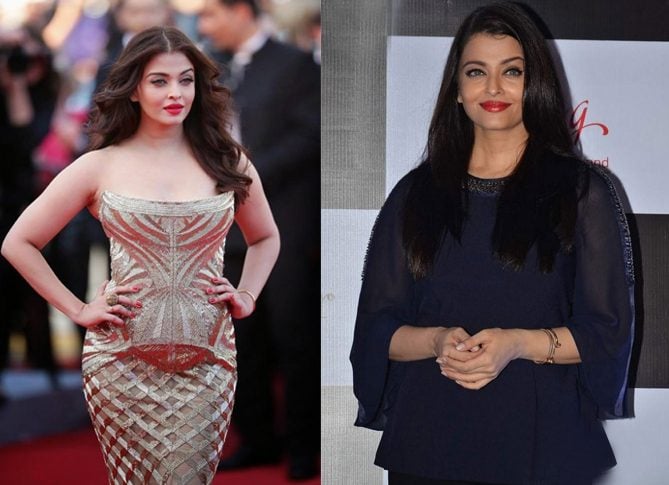 2. Bipasha Basu:
The fitness guru, Bipasha Basu never was hesitant in flaunting her well sculpted upper frame. The diva walked the ramps, made grand appearances and left us speechless with her attitude and style.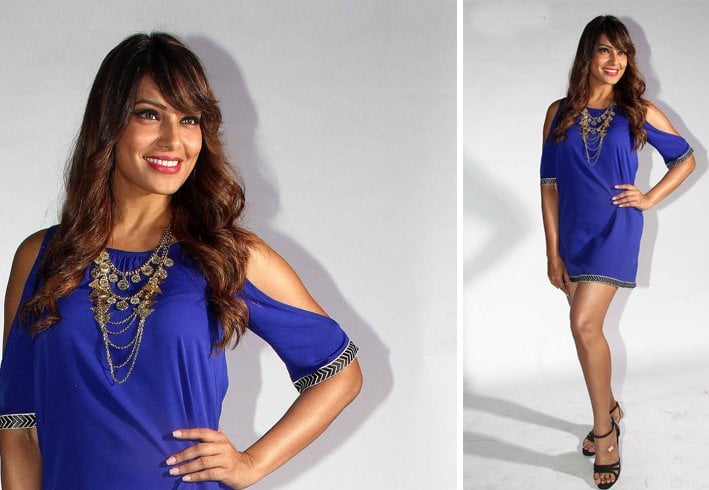 3. Sushmita Sen:
With amazing height came broad frame for the gorgeous lady, Sushmita Sen and yet she was Miss Universe 1994. Isn't that an inspiration already?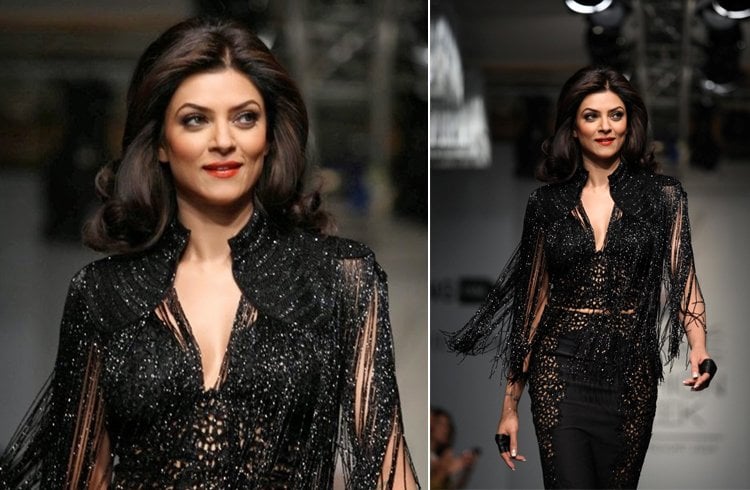 4. Neha Dhupia:
Neha Dhupia brought forth an amazing fashion trend to trick the broad shoulder. Any guesses? Yes, it is the anti-fit style. Letting the fabric fall loosely over the entire figure, she balanced her strong, broad mien with great ease.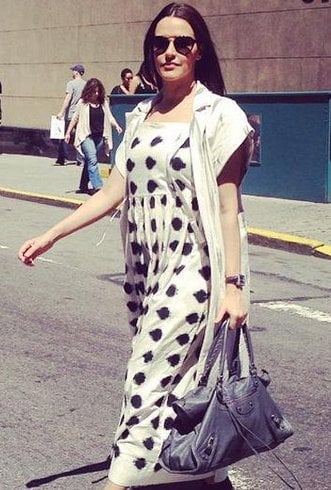 5. Sonam Kapoor:
The fashionista of Bollywood, Sonam Kapoor has an art of creating a spectacular image and disguising the flaws at all her public appearances. Here is how she deals with her broad frame.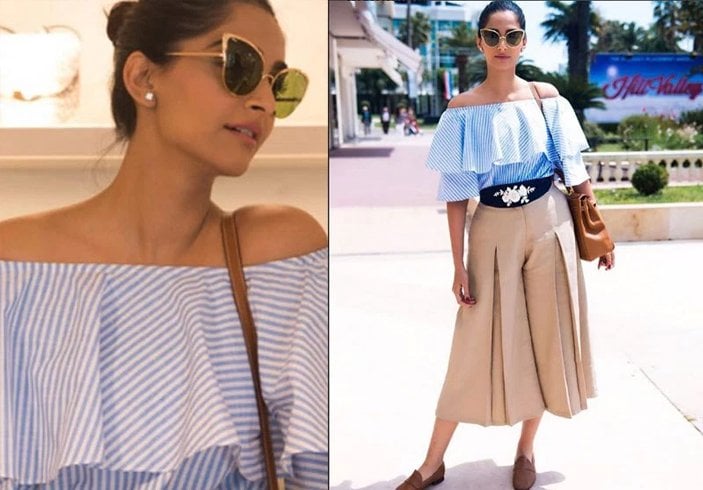 Hairstyles For Broad Shoulder Women:
Play smart with your hair to kill the broad shoulders. The trick of balancing the broad frame is to rule out straight hair dos that will grab too much attention near the shoulder line.
Here are a few hairstyle suggestions to even out the tomboyish look with a feminine touch
1. Natural Volumized Curls:
The curls can always confuse the onlookers and fill up the broad shoulder space easily. It would be the perfect choice for any party night to make you feel comfortable and chic.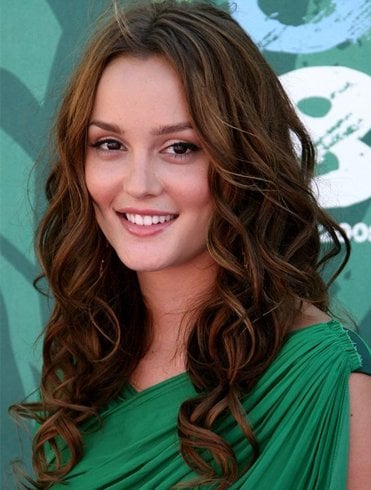 2. Layered Waves:
If you have shoulder-length hair, give the tresses a wavy look and add some volume to it. This will divert the attention to the hairstyle and face and make it easier on you to carry the chiseled shoulder line.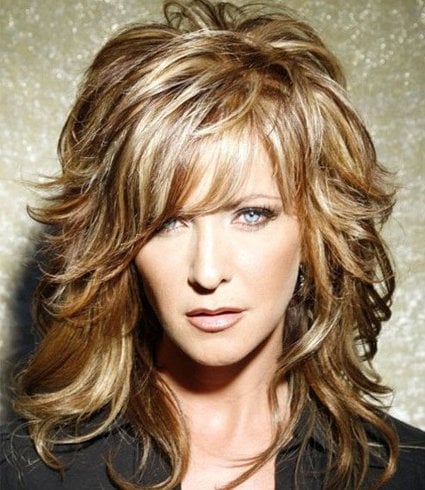 3. Curly Bobs:
The bob cut hairstyle can take a toll on the broad frames. Hence give them an outward swirl and flaunt those fancy shoulders with absolute attitude and grace.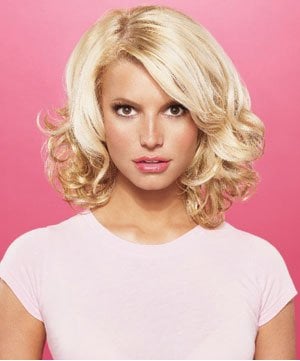 4. Messy Or Braided Buns:
One day or the other, you will need to tie up those tresses and it is good to prepare oneself to such scenarios. Opt for a braided bun or messy one to keep your look interesting and captivating.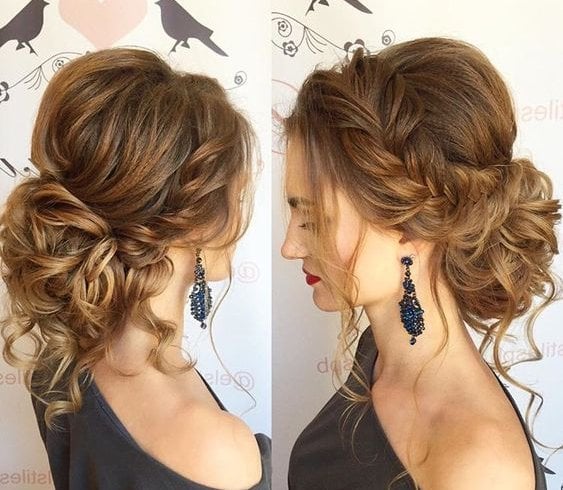 5. One Side Plait:
This hairstyle would go great with a one shouldered dress, don't you agree? Braid and plait the tresses loosely to one side and look at the way it converts your masculine look into a more gentle feminine style.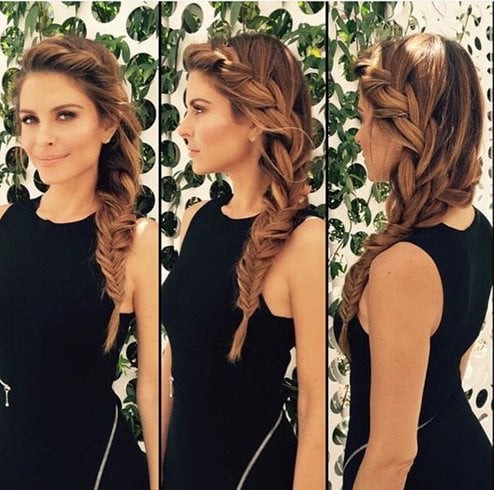 Hope this post gave you some useful tips to slim down your broad shoulders! Do share your views and suggestions if any!
Images Source: Pinterest and Official instagram profiles of the celebs/designers mentioned with in the article.
Recommended Articles:
How To Dress In Your 30s
Fashion For Women Over 50
Embroidery Stitches To Craft Wonders
How To Design A Plain Saree
Dresses To Hide Tummy And Hips