No woman is complete without makeup. And no dress or occasion can look the hottest (and hautest) without some foundation and lip gloss. Across the world, makeup is what drives the beauty industry.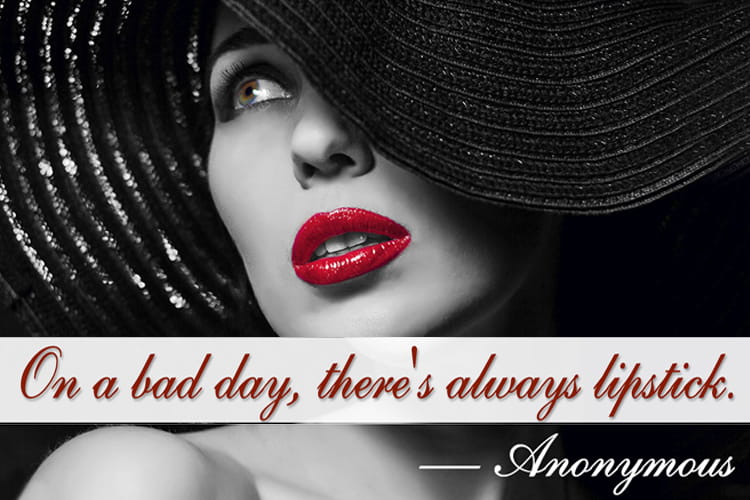 And when you go through our list of makeup quotes, you will certainly be happy about your love for makeup and cosmetics.
List of Top 24 Makeup Quotes All Girls Can Relate To:
Here is a short compilation of interesting quotes on makeup which will keep you hooked on to the last word. Don't believe us? Check out our list!
1. Pat McGrath:
This British make-up artist has been named as the most influential makeup artist in the world by Vogue magazine. Says Pat:
"Creativity is your best makeup skill, don't be afraid to experiment."
2. Bobbi Brown:
Fashion lovers across the world worship Bobbi Brown, an American professional makeup artist and the founder of Bobbi Brown Cosmetics. Bobbi feels:
"Makeup is a way for a woman to look and feel like herself, only prettier and more confident."
One more makeup related quote from Bobbi Brown which is apt:
"Personalized beauty is about each woman being able to create her own makeup routine that complements her coloring and style."
3. Carine Roitfeld:
Former editor-in-chief of Vogue Paris, a post she held for a good 10 years, and now the founder and editor-in-chief of CR Fashion Book has this to say:
"Makeup can help you capture a moment."
4. Tyra Banks:
This American TV personality, actress, businesswoman, and a former model has been Victoria's Secret angel too. More importantly, she is the creative mastermind behind America's Next Top Model, the long-running reality television series.
"I love the confidence that makeup gives me."
I guess, this is what every lady, no matter the age, feels. Ask your lady boss (but cautiously).
5. Drew Barrymore:
The ever pretty American actress Drew Barrymore became a model for CoverGirl, an American cosmetics brand in the year 2007. What's her call on makeup?
"I swear to God, happiness is the best makeup."
Well-said!
6. Emma Stone:
The highest paid actress in the world, Emma Stone has appeared in the Forbes Celebrity 100 in the year 2013 and in the Time 100 in 2017. One of the most talented actresses today
Emma's quote about makeup goes like this:
"I do put on a little makeup every day because it helps me feel put together. Mascara is essential."
7. Yves Saint Laurent:
This French luxe fashion house needs no introduction. The makeup related quotes from YSL are also ooh-la-la!
"The most beautiful makeup of a woman is passion. But cosmetics are easier to buy."
8. Marilyn Monroe:
One of the world's biggest and most enduring sex symbols, the American actress, and model Marilyn Monroe had a difficult childhood. What was beneath her makeup?
"Beneath the makeup and behind the smile, I am just a girl who wishes for the world."
9. Roberta Gately:
Hats off to this nurse, social activist, and writer who has served in war zones around the world. Let's see what Roberta Gately says about makeup:
"Lipstick is really magical. It holds more than a waxy bit of color- it holds the promise of a brilliant smile, a brilliant day, both literally and figuratively."
10. Laura Mercier:
Laura is a well-known makeup genius and the creator of Laura Mercier Cosmetics. Apart from that, she has also launched her own skincare, body and bath, and fragrance range. Her Tinted Moisturizer has bagged InStyle's Best Beauty Buys awards time and again. So what is this French makeup artist's quotes about makeup all about? Here is one of them:
"Your eye makeup says so much about you and your style."
11. Kenneth Williams:
What will the English actor who is known best for his comic roles say about makeup?
"We know grooming is important for people. To get their hair done, to get makeup and things like that – that makes a person feel better."
Nothing comic about it, but well –said.
12. Audrey Hepburn:
Hepburn's iconic performance in the classic film Breakfast at Tiffany's sealed her sophisticated and elegant image. Her quotes about makeup are indeed candid.
"Makeup can only make you look pretty on the outside but it doesn't help if you're ugly on the inside. Unless you eat the makeup."
13. Calvin Klein:
The premium beauty brand states, "The best thing is to look natural, but it takes makeup to look natural."
[ Also Read: Beauty Quotes ]
Yes, it's possible if you have a global lifestyle brand Calvin Klein dressing you up.
14. Marc Jacobs:
Bookmark Marc Jacobs because he has spent over 30 years in the American fashion industry. His label has a youthful appeal season after season.
"To me, beauty and makeup and color is like the finishing touch on everything."
15. Lady Gaga:
Not one to shy away from sharing her glam secrets, the pop star says, "I don't think I could live without hair, makeup, and styling, let alone be the performer I am. I am a glamour girl through and through. I believe in the glamorous life and I Iive one."
Well, each word or quote about makeup coming from Lady Gaga is as bold as it could get.
16. Giuliana Rancic:
The Italian-American television personality says,"To me, natural, healthy looking skin is really beautiful. With a little concealer, eyeshadow, liner, gloss, and bronzer, I love my lighter makeup look. I've saved so much money on facials."
Just goes to prove that makeup is indispensable for this glam diva.
17. Francois Nars:
The makeup maverick and creator of NARS Cosmetics, Francois Nars has accomplished many firsts in the beauty world. So you can very well estimate his love for makeup.
"Makeup is very important for a show. It's really an accessory on the runway. You have to be sure that it fits the clothes."
18. Michelle Phan:
American-Vietnamese make-up artist, Michelle Phan boasts of a YouTube channel that has over 8.9 million subscribers, 1.1 billion lifetime views, and 385 uploaded videos. So her makeup related quotes will be equally impactful.
"Makeup is not a mask that covers up your beauty; it's a weapon that helps you express who you are from the inside."
[sc:mediad]
19. Beyonce:
Beyoncé Giselle Knowles-Carter and Jay-Z celebrated their 10th marriage anniversary on April 4th. Yeah, it's hard to believe that the popularity of this American singer, songwriter, actress beats the galaxy. She likes her makeup to be as versatile as herself. Don't believe us? Check out her quote on makeup.
"That's one of the things I love about makeup. You can change your whole attitude by just doing your eyeliner or lipstick differently."
20. Rihanna:
Nicknamed RiRi, the Barbadian singer, songwriter Rihanna named Madonna as her idol and biggest influence. That's so nice of her! What does she think about makeup?
"To me, makeup is a major accessory. It can change an outfit, it can make the outfit, it can be the outfit, and that's why I like to play with it."
21. Charlotte Tilbury:
Think of makeup related quotes and you can't forget Charlotte Tilbury. She is a British make-up artist, founder and creative director of her beauty and skincare brand, Charlotte Tilbury Beauty Ltd.
"Beauty is power, and makeup is something that really enhances that; it's a woman's secret."
22. Josie Maran:
This American model, entrepreneur, and actress launched her natural cosmetics product line, named Josie Maran Cosmetics in June 2007. Given the profession, she is in, what are her views on makeup?
"My fingertips are my favorite makeup brush! I especially like to apply my eyeshadow with them, get it nice and smudgy. All my favorite makeup artists used their fingers to apply and their hand as a palette."
23. Anne Lamott:
An American novelist and non-fiction writer, Anne Lamott puts forward her views on makeup in a light-hearted way.
"Joy is the best makeup. But a little lipstick is a close runner-up."
24. Marina And The Diamonds:
Professionally known as Marina and the Diamonds, Marina Lambrini Diamandis is a Welsh singer and songwriter. Her makeup related quotes are very interesting here's one of them:
"I love natural beauty, and I think it's your best look, but I think makeup as an artist is so transformative."
That wraps up our list of fun and popular makeup quotes. Tell us which one of them you liked the most in the comments box below. We would love to hear from you!