From shimmering lips to glitter bomb lids, there have been many ways to add holiday cheer to your visage. And with Christmas around the corner, it is sure to add a smile to your face. A spring in your step and a twinkle not only in your eyes but in your eyebrows too! It looks like that dear Santa is hungry for some innovation – not in the wardrobe but the makeup department.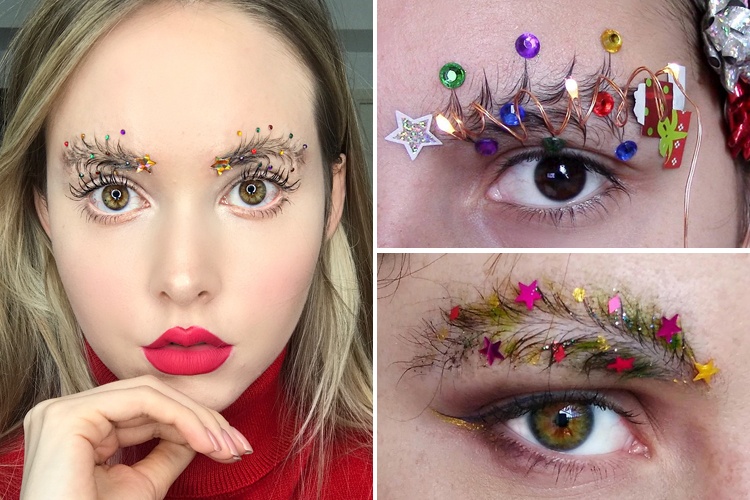 Here is a cue –
"Oh Christmas brow, oh Christmas brow, how lovely are your arches…"
Got it?? Think hard.
This is not just a Christmas carol, my dear. It is the latest "brow" trend to reach Earth. This is the newest craze to raise your eyebrows. Yeah, eyebrows get to be super-fabulous this year. After all, the lifestyle vlogger who is the brains behind this super cool trend has put a lot of innovation and creativity into it.
Christmas Tree Brows!
Heard of them or hearing them for the first time?
Well, thankfully, we have caught them just in time for the holiday season so that you know how to turn those boring tufts of hair above your eyes (eyebrows in short) into a joy-bringing and sparkling centerpiece.
The Christmas tree eyebrows are an extension of the Santa hat brows, bauble brows, feather brows.
Who Started This Trend?
The credit of it goes to Canadian makeup artist-cum-beauty guru Taylor R. In short, 'taytay_xx'.
She is a YouTube lifestyle vlogger who started this festive brow trend called Christmas tree brows!
A couple of days ago this month, taytay_xx posted a video on Instagram. The caption she gave was "Christmas Tree Eyebrows are here. Why stop at your sweater? Spread Christmas joy via your face."
That's cool thinking!!
[Also Read: Top 20 Christmas Party Makeup Ideas]
Now how did 'taytay_xx' do it?
She parted her eyebrows down the center. After which, she shaped little brow-hair branches on each side, added tree baubles and a little star on top.
Taylor R told Business Insider that it took a few hours to figure out the technique, along with some trial and error. "Now I could probably do it in 10 minutes because I figured out what products and techniques work best," she explained.
"Everyone is making it their own with their colors and decorations, and that makes me so happy!" added Taylor.
The inside scoop on this sensational makeup fad is that Christmas tree eyebrows are a modified version of the 'feather brow' look (which also was a trend earlier this year). The only thing is extra baubles (rhinestones), and glitter have been added as festive toppings.
Yes, the making of Christmas brows involves tweaking your brows into a tree-shape and then adding "ornaments" (either glitter or jewels or, in some cases, a green tint).
All this has taken the world of social media by storm. It seems like Instagrammers and Twitterati are head over heels in love with it. I am wondering which celebs have fallen for it and have taken to this hottie brow job.
[sc:mediad]
But all said and done, this eyebrow trend (rarest to rarest, dunno) is most bizarre and intriguing and a quirky concept which is catching on fast amongst the online beauty community.
Guess what?
Taylor R recently shared a video tutorial on her channel detailing how to get the look. The video and associated social media posts have reached over 127,000 views and thousands of likes. This is the hottest makeup trend for this Holiday season, and we can bet!
P.S: The Canadian makeup artist Taylor R is such a trendsetter is no joke. Other beauty bloggers tried to outdo her design. And so, the Christmas tree eyebrow wars started. This led to the ladies adding little pieces of golden wire or extra fur to add some fluff to their branches. Well, there's no stopping anyone's wild imagination!
Things You Need To Make Christmas Tree Brows:
What do you need to make X-mas brows?
Vaseline or a hair wax
Some gems
Or metallic stars.
Application of Vaseline will give the brows a Fir tree shape.
Then decorate the tips of the tree by using gems and metallic stars (wow, excellent).
And don't forget to add the star on top of the tree. Get some more adventure in your brows by adding Christmas presents cut out from a paper at the end to make your eyebrows look more dramatic.
How To Make Christmas Tree Brows?
First thing is you have to let your creativity run wild. That will help you make the brow designs perfect to the hilt.
Now follow this step-by-step guide, and you are good to go!
Take a green mascara.
Paint your brows green.
You can also use clear mascara as glue with green eyeshadow.
While the mascara is wet, separate your eyebrows down the middle and pull out little tufts to appear like branches of your Christmas tree brows.
Let the mascara fully set for about 3 minutes.
Attach small gems with eyelash glue to the ends of the branches.
Add glitter (depending on your preference).
Top it up with a "star" sticker.
Your Christmas tree brows are ready to kill!
Following on from "brow crowns," "squiggle brows," and "braided brows," Christmas tree brows are the latest 'unorthodox' eyebrow trends to have rocked this year. When you watch a few tutorials, you will find they are super easy to achieve too! Watch and give this one a shot!
How did you find this yule-tide trend of transforming eyebrows into Christmas tree brows? I will say it is time to deck your brows before you say, "Merry Christmas." The newly discovered (and followed) Christmas tree brows will add that element of zing to your boring office party.
Do write in your comments and tell us about your take on this new eyebrow makeup trend. Also, share this blog with your friends before you hit the party circuit this Holiday Season.