If you are looking for a makeup guide for Navratri and don't read this-did you miss out on a lot? Whether you like something girly or bold or spicy, we have shared a variety of looks that we appreciate. These festive looks will take your makeup game to the next level and are suited for all complexions. Read on.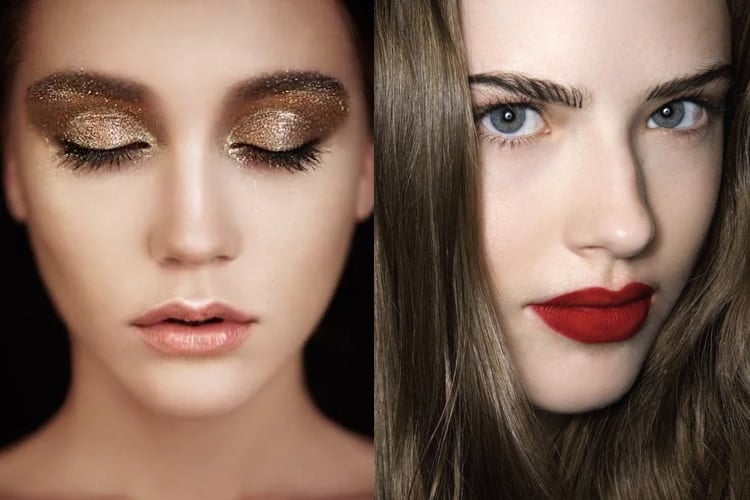 Nine Beauty Looks To Help you Prep for Navratri
Here are the best answers for Navratri makeup looks :
Day 1: Fresh-Faced Glow
Prep up for Navratri with the season's biggest makeup trends of super-glossy skin. Here is how you can embrace the natural glow:
Start by using a primer like Maybelline New York Gigi Hadi Tinted Primer in Medium Deep followed by a vitamin-enriched face base by Bobby Brown. Cover visible flaws using MyGlamm Tinted Perfection Base Primer & Pore Minimiser.
Do not use full-coverage foundations but rather for sheer coverage for a fresher look. To keep your skin glowing, we recommend investing in Lotus Makeup Nutraglow Daily Tinted Moisturizer SPF 25 that doubles as ultimate skincare. Follow up with Glamglow Glowstarter Mega Illuminating Moisturizer to provide coverage and protect the skin.
For the lips, try M.A.C Lip Conditioner Hydratant to add a soft shine.
Day 2: Monochromatic Makeup
The technique involves using minimal shades in different ways. It is about using similar shades on your eyes, lips, and cheeks. They all can transcend in a beautiful way for that special occasion.
For trying this fresh look, it is essential to start with a clean base. The L'Oreal Paris HydraFresh Anti-Ox Grape Seed Hydrating SPA Water is a great way to refresh the skin.
Focus on choosing a cool tone for the rest of the face including eyes, cheeks, and lips. They all should mimic each other well. If you are going for a pink-y shade then stick with a similar shade throughout using our recommended products like Lakme 9 to 5 Pure Rouge Blusher-Pretty Pink, Huda Beauty Matte & Metal Melted Shadows – Bubble Bath & Pink Champagne, and Miss Claire Single Eyeshadow – 0141, and Maybelline New York Super Stay Matte Ink Liquid Lipstick – 30 Romantic.
If you want a warm brown look go for the same shade for the cheeks and go for a fairer shade for the eyes. We recommend M.A.C Eye Shadow X 9.
For the last bit, polish your nails with Kiko Milano Smart Nail Lacquer – 22 Pearly Comfy Rose or Colorbar Nail Lacquer – Special Art effects.
DAY 3: Pink Eyes and Red Lips
Don't wait for Valentine's Day. Instead reserve the dewy pink eyes for Navratri as this is the perfect season to try the romantic look.
Go for pink eyeshadow that are softer in tone. You can try a highly saturated pigment palette like Nicka K Perfect Twenty Three Matte Colors Palette – AP035 which also features a blush palette too.
For creating red lips, try NYX Professional Makeup Slim Lip Pencil-Plum. Begin by accentuating your lip line. Fill your lips with the deeply pigmented Lakme Enrich Lip Crayon-Berry Red.
We also love the idea of creating super fine pink glittery eyes on the inner corner or center of the lids for added-dimension.
 Finally set your makeup using the Colorbar Stay the Day Finishing Mist to seal in your look.
Day 4: Holographic Effect
We are predicting the holographic 80s look to be big this festive season. The glitter trend is kind of messy but cool. We love it very much and wish you to take notes to create the same for the festival.
The key to creating this look is to use glitter in a clean and effortless way for adding a little shine. Start with a clean skin.
Dab glitter on the center of the lids. Then create a holographic winged liner using the Sephora Collection Long-Lasting 12 HR Wear Eye Liner. This can create a beautiful glittery gradient. Match it with a stunning lipstick that delivers intense color payoff.
For maintaining the glowy effect throughout the day, try the highlighter stick by Milk. And for added drama we also recommend Give Me Some Glitter Hair and Body Glitter Set from Sephora. This set was made for the festive season. It features everything glitter including the adhesive.
Day 5: Sweet Pastels
If you like a more subtle hint of color, try pastel tones in barely-there pink, mint green, and baby blue. We recommend using these hues with statement eye liner to amp the look up.
The first step is to prep your skin to ensure a flawless finish. Maybelline New York Fit Me Matte + Poreless Foundation and L.A Girl Pro Conceal HD is the quickest way to help you get there.
Next follow a basic rule of pastel blush application. Anything in pink or red hues are perfect for the apple of the cheek. We recommend peach or orange tints for the high cheekbone areas, pastel yellow for the highest area of the cheekbone or other area of the face wish you wish to lightly emphasize.
The look of lips is personal. Newbie ladies can go for forgiving lip stains while the rest of you can go for the full-on-look. Dab a little foundation on the lips. This is a great trick to pop the full color. One of our favorite shades is Maybelline Lipstick in Powder Pink.
Lastly, wake your skin up with illuminators and highlighters.
Day 6: Neon Eyes
Embrace this vibrant hue with open arms this Navratri. If you are still testing the waters, then start with a bold line or colorful mascara (hint: pink lashes are big this season).
Don't be shy to step out in unknown territory with a pop of neon like vermilion or tangerine. Amp the color up and stick to a fun new color.
The neon eye shadow serves as a base where you wish to place your bright neon liquid liner. Make sure to go for a lighter shade to emanate a colorful effect.
The products we recommend are L.A. Girl Shockwave Neon Eyeliner and L.A Girl Beauty Brick Eyeshadow-Neons to embrace the good vibes.
Day 7: Elongated Black Eyes
This festival will bring dramatic eye shadows back in to the forefront. So if you are ready to take on the sultry beauty look, we recommend these:
Start your base by applying the L.A Girl PRO Prep HD Face Primer-Clear followed by NYX Professional Makeup HD Photogenic Concealer Wand. Finish off by using the L.A Girl Pro Coverage Illuminating Liquid Foundation.
Draw out a neat winged liner using Maybelline New York Lasting Drama Gel Eyeliner in Black. Next try the M.A.C Matte Eye Shadow-Carbon for added effect.
Finish with a rosy tint on your lips or go nude.
Day 8: Shimmery Gold
We are all in for sultry, gold lids for Navratri 2019. Use a light glide of gold for added shimmer, followed by a hint of blue shadow for drama's sake.
Here is how you can try the look:
Prep your lids with an eye primer.
 Apply a metallic eye shadow all over eyelids. Dab a layer of Vaseline over the eye shadow for a smooth finish. To finish, curl lashes and swipe on mascara. Bobbi Brown Shimmer Eye Shadow-Champagne and M.A.C Dazzelshadow Liquid-Flash and Dash are good choices.
Pair this look with a matte nude lip color.
Day 9: Matte Red Lips
A bright red lips will make you look put-together instantly. You can still look stunning even with the rest of the face totally bare.
You can make a choice between lip stain, lipsticks, and lip gloss or lip pencil. Some of the best matte red colors you can try are NARS Velvet Matte Lip Pencil in Cruella, Revlon Color Burst Balm in Striking, and MAC Lipstick in Russian Red.
Prep lips by exfoliating the surface. Matte lip colors do not work on dry, flaky lips.
Start by applying from top lids, to center, and to the side one at a time. Then apply the lip color to the bottom lip to the inner mouth corners. Restart back from the top lid and reapply to the bottom.
There is no need to blot lips on a tissue as matte color does not transfer off. Instead blot with some translucent powder to seal up moisture.
We hope you love our edition on latest navratri makeup looks for the season. And do share your feedback in the comment section below.