New Year's Eve brings in a lot of excitement and anticipation. And quite undeniably, we are majorly concerned about what to wear for the special night. After settling for the perfect dress, we naturally want our makeup to be in order. So how do you make sure your beauty look for New Year's is at the top game? For this reason, we are there to help you find the right makeup looks that are not only easy to replicate but is ready to take on 2020.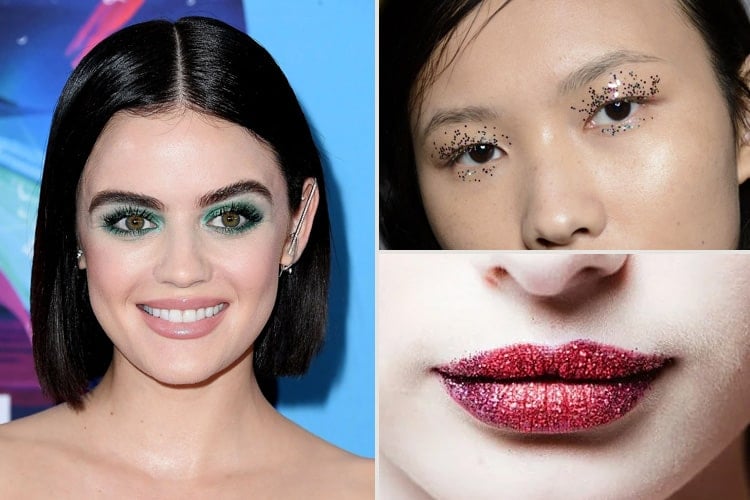 List of New year Makeup Looks That You Can Copy ASAP in 2021
We've rounded up our best ten choices of New Year makeup looks that are easy to pull off.
1. Glitter Eye Makeup
We like to believe it's apt to wear glitter eye makeup any day, but NYE gives us the perfect excuse to apply as much glitter. Wearing sparkly eyes mixed with a bold lip choice takes minimal time. Apply glitter on the eye lids using an eye shadow brush and finish off with a dramatic lip color.
2. Abstract Eye Detail
The ring of 2020 New Year's will allow you to give your winged liner look a rest. An abstract eye detail instead will make a better choice. For recreating the same, apply a liquid liner across the lash line, then make a line extension from the inner corner of the eyes and above crease line. You may also finish off with a soft touch of highlighter in the inner eye corner for the ultimate sparkle.
3. Neon Eyeliner
Bold eyeliner will instantly make a statement on your eyes. Colors like lime green and electric blue are good choices for playing up with neon shades. If you wish to create a thicker line, then fill the liner until you get your desired look. Finish the look with coats of mascara.
4. Jewel tone Eyes
Prefer a jewel-hued eye makeup look? Then recreate your own look by applying multiple layers followed by double the blending. You may try using a few shades of green eye-shadow across your lips, and blend it around your eyes for the ultimate smoked-teal finish.
5. Glitter Lipstick
If you're not into the whole eyeshadow business, try to keep the focus on your lips. Layer on three different red shades; start with a matte finish lipstick as a base, then apply a lip color coated in glitter for the ultimate shiny lips.
6. Ombre Lip Stain
An ombre lip stain is a fab way to welcome the NYE. The perfect way to get the look is to select a bold lip color and apply it over the lip center. Once you've finished applying, use a brush for blending in the lipstick outwards to create an ombre effect. Keep the rest of the makeup dewy to warmly accompany the look.
7. Jet-black Smokey Eyes
Nothing beats untainted smoky eyes and its' achievable too. To recreate the same, apply layers and layers of eye-shadow and blend it out gently to give an illusion of black eyes.
8. Shimmery Inner Eyes
2019's trend was all about shimmery inner-corner eye shadow look. So follow the two-toned makeup look by applying over a solid layer of holographic eye shadow above the inner corner of the eyelids. Keep the rest of your eye makeup minimal.
9. Rosy Flush
Using similar tones on eyes, lips, and cheeks is a perfect method to uplift your New Year makeup game without using different products altogether. Incorporating a monochromatic makeup look will be a better idea, like a pink shade for instance. To recreate this makeup look, you need to mix lip color, eye shadow, and blush in a similar hue. If you wish to bring about contrast, then you may apply a varying shade in your eye corners for the ultimate twist.
10. Red Lips
The simple method to lift your look in a second is to wear a bright, red lip. Keep the rest of your makeup natural as you don't want the attention away from your lips. The classic lip look is classy and great for New Year's Eve. Select a red lip color that you feel great, and line your lips using a matching lip liner to make sure your color stays in place. Va-va-voom!
So, all set for the new year?? Well now that you have the top makeup ideas, be all ready to look drop dead gorgeous! Get ready and get set go for the New Year.