Onam, one of Kerala's major festivals has taken off our calendar and its' time to prep the traditional wear to put your best foot forward. In a country that prides itself of myriad ensembles with bold colors and patterns, Kerala's traditional outfit stands out for its understated, restraint elegance. They have a unique aesthetic when it comes to woven ethnic crafts. The Kerala traditional outfits are minimalistic with a single border design in gold. Recently artisans have started weaving contemporary motifs with jacquards.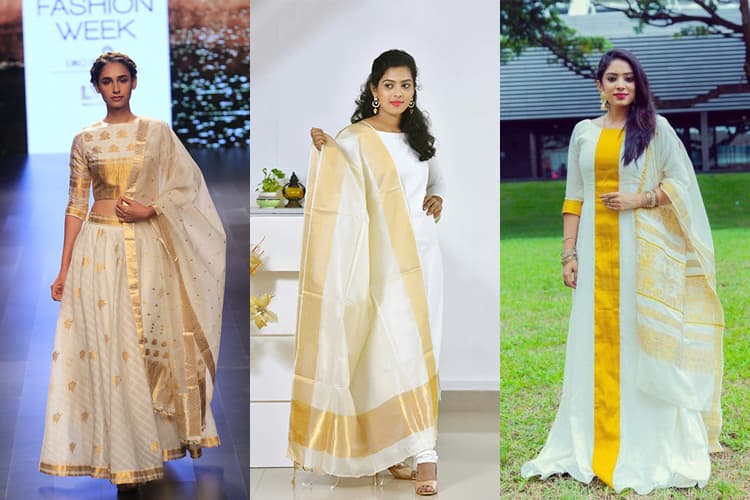 When it comes for dressing for the festival, the popular choices are Kasavu materials and Dawani ensembles. You can pick these light silk materials for a relaxed look throughout the week long days of dressing up.
Keep scrolling ahead to check out our edit of the best standout Kerala traditional outfit ideas for Onam that you can bank on.
12 Different and Stylish Ensembles For Onam:
Go ahead to get inspired with these fresh ways of styling ensembles this Onam:
1. White Kasavu Gown:
All-white-everything Kasavu gown is always a good idea-especially if that pure white is rendered in luxe gold border form. Add more touch of femininity in the form of gold accessories to give your look an entirety.
2. Kasavu Cotton Handloom Maxi Skirt:
A cotton handloom skirt already sounds comfy-especially when paired with a matching blouse or kurta and light accessories. Since the material is subdued enough, throw over a vibrant shoe choice, and you might just blend in with the festivities.
3. Kasavu Silk Blouse and Matching Skirt:
When your blouse and skirt is this color popping, you can pair it with just anything and be the center of attention. With this you don't have to skimp on jewelries just to make your ensemble piece the focal point. It can do justice on its own.
4. Kasavu Anarkali with Zari Border:
Onam is here, take full advantage with kasavu anarkali. They are a classic match for this special occasion. You can turn heads wherever you go with a piece like this.
5. Off-white and Gold Colored Kasavu Kurta:
White and gold are mutually exclusive. And a kasavu kurta in the same tone is always a good idea. They are begging to be matched with some serious traditional accessories.
6. Gold and White Silk Lehenga:
It is hardly a challenge to style white and gold lehenga. And pairing them with a silk blouse makes it near-impossible to blunder up. Also a subtle piece like this is just an excuse to hit back with accessories.
7. Onam Inspired Midi Dress:
Kasavu inspired ensembles are popular for the Onam festival. And a midi dress in similar prints makes for a great match for the occasion. Overall this traditional look is something you can be proud of.
8. Kasavu Inspired Peplum Blouse:
No Onam traditional wear is complete without at least one of touch of kasavu in contemporary designs. This is a beautiful dedication to the occasion as it pays full homage.
9. Kasavu Salwar Suit:
Kasavu salwar suit with zari border are the most demure of the traditional wears'. And let's be honest, they are equal parts chic and comfy. It's just what you are looking for, right? Thank us later.
10. Kasavu Dress:
Switch it up often by swapping your sarees for a kasavu dress. This is a fuss-free look for anyone hoping to look stylish while staying comfortable. Add matching jewellery and you're good to go.
11. Indo-fusion Onam Inspired Kurta:
The traditional kurta piece with the contemporary gold polka dotted designs makes for a brilliant combination for Onam. Wear this beautiful and unique embroidered piece to make a show-stealing entrance.
12. Kasavu A-Line Kurta with Cold Shoulders:
This stunning A-line Kurta will make you look classy throughout the festivities. This piece is a stylish choice to wear for a family function. Pair it with a pair of ethnic bottoms and footwear.
Now that we have covered you on the best of Kerala traditional outfit ideas for Onam, it's now your turn to pick the very best.
Frequently Asked Questions
 1. What type of activities happen during Onam? 
 During Onam, people in Kerala celebrate the homecoming of their King Mahabali with festivities including traditional music and dance performances, boat races, flower decorations, grand feasts and more. It is a ten day long celebration that marks the beginning of harvest season in India. 
 2. What kind of accessories should I wear with my Onam outfit? 
 When choosing accessories to go with your Onam outfit, consider going for items that will enhance the look of your ensemble. Opt for statement pieces such as colorful necklaces and earrings, chunky bangles or kadas, delicate anklets, traditional headbands, simple scarves or shawls. Don't forget a stylish clutch bag to complete your overall look! 
3. What is the significance of Onam? 
 Onam is a traditional Hindu festival celebrated in the state of Kerala, India. It marks the homecoming of King Mahabali who was sent to present-day netherworld by Lord Vishnu and celebrates his return each year. Onam celebrations involve wearing new clothes, decorating homes with flower arrangements known as 'pookalam', playing sports like snake boat races, eating delicious food and much more. 
Conclusion
Are you looking for the perfect Onam outfit ideas? Look no further! We've done all the hard work and put together awesome, trendy looks that will make you stand out on this special occasion. 
From traditional ethnic outfits to modern western styles, we have something to suit every taste. 
So go ahead and try one of our stylish Onam Outfit Ideas today – it's sure to be a hit with everyone! 
Let's make this Onam even more memorable by wearing amazing clothes that celebrate our culture and heritage. 
With these 12 great options, you can show off your sense of style as well as your appreciation for the festival. 
So don't wait any longer – choose an Onam Outfit Idea now and get ready to look fabulous!