Every woman dreams of owning the most popular handbag brands, but only the rich and lucky few are fortunate enough.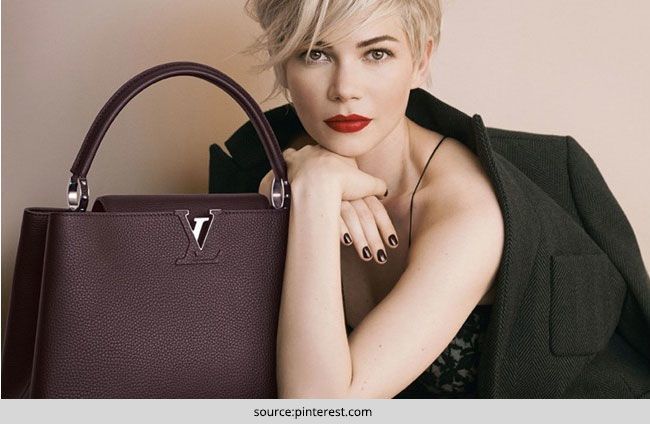 "I have enough bags, I do not need any more", said no woman ever. Women can never have enough handbags. Creating an absolute stir and rage in the fashion scenario, handbags have emerged victorious in their styles. Fashion handbags are available in a wide spectrum of colors, designs, and brands. The most expensive purses and branded bags are the highlights of every occasion and event. Today, there are too many women handbag brands to choose from, that it gets tough to pick a favorite.
Minaudiere's are another luxury handbags that are getting extremely popular with celebrities and stars around the world. Many luxury handbag brands make exquisite pieces of these bags, on request or for the red carpet events.
All Bollywood celebrities have been seen carrying expensive handbags to events, award functions, movie premiers, and promotions. Recently at a Calender launch, Jacqueline Fernandez was spotted carrying a Louis Vuitton metallic box clutch, which belongs to some of the most expensive handbags and brands in the world.
List of 12 Most Expensive Handbags and Purses In The World For 2021


Below, we surveyed 12 most desirable and timeless, multitasking purses and handbags women can rely on through workdays and beyond.
1. Chanel
Chanel definitely cannot skip this list of the most expensive and best designer handbags! This brand has always accompanied celebs to The Oscars, movie premiers, and all significant events where fashion can be boasted off. Their luxury handbag boasts fans including celebs like Rita Ora, Alexa Chung, Kareena Kapoor, and Alia Bhatt. And let's be honest-The classic flap design is one of their no1 selling since the last decade. Coco Chanel launched her brand in 1909 and continues to be counted among the top 10 luxury brands in the world.
Do you know?
The Chanel Flap Bag regularly resells far more than its retail value and will never go out of style.
2. Fendi
If one has to talk about Italian Luxury Fashion Handbags, then Fendi has to be on the list. This luxury Italian fashion house was established in 1925 and is best known for its "baguette" or B handbags. These stylish handbags are available in white lambskin, black crocodile and a variety of other designs, costing around $28,000 each. Versatile, elegant, and perfect for day to night, the Fendi handbags remains a power accessory among the fashion lot.
3. Hermes
The Matte Crocodile Biking Bag named after actor-singer, Jane Birkin is the most expensive handbag from this brand, costing $120,000.
This iconic bag has become a symbol of wealth and status, as its price is set in a five-figure range. Apart from being crafted from crocodile leather, the bag is adorned with a diamond-studded clasp – 10 carats of diamonds are set on a bed made of white gold.
Did You Know?
Recently, around 16000 fake Hermes handbags were seized from a Riverside warehouse in Canada and were destroyed by the officials? The penalty for dealing with counterfeit handbags claiming them to be real is about $210 million!
[Also Read: Most Expensive Watches]
4. Hilde Palladino
This Gadino Bag made from white crocodile skin has 39 diamonds very strategically placed on the clasps purely made from white gold! Hilde Palladino, a Norwegian Designer, created this beautiful design. The designer who debuted in 2001, has already made her mark among the top few luxury brands for bags. Her bags are now regularly listed among the most expensive bags in the world and are available in all high-end stores like Bergdorf Goodman and Harvey Nichols. Available in an array of sizes and colors, the iconic bag has rapidly become a must-have on the fashion circuit.
An Interesting Fact: Palladino has taken a stand against the corruption of cheap labor in some developing countries. Hence her designs are usually conceived in Italy.
5. Lana Marks
Alligator, Crocodile, Ostrich, and Lizard are the skins that Lana. J Marks, the CEO of Lana Marks, designs her handbags. About 150 styles in 100 colour variants are available for most celebrities who love donning their looks with stylish bags of this brand.
Celebrities like Angelina Jolie, Jennifer Anniston, Paris Hilton, Drew Barrymore, Kate Winslet, Charlize Theron, Helen Miren, and Elizabeth Taylor have been loyal customers to Lana Marks carrying some of the most expensive handbags of this brand.
Celebrities like Angelina Jolie, Jennifer Anniston, Paris Hilton, Drew Barrymore, Kate Winslet, Charlize Theron, Helen Miren, and Elizabeth Taylor have been loyal customers to Lana Marks carrying some of the most expensive handbags of this brand.
Did you know?
Charlize Theron had the honor to walk the red carpet with a $100,000 timeless Lana Marks Cleopatra clutch which was embellished with 1500 fully faceted and cut black and white diamonds set in 18-carat white gold. A group of 5 European artisans was utilized to complete this marvellous piece of art.
6. Louis Vuitton
It's obvious to see this brand on the top. This French house of fashion has been the symbol of class and elegance for over two centuries. The brand value of one of the most expensive Louis Vuitton handbag, India, and global is close to $25.9 billion.
This high-end handbag brand is always seen among A-listers. From its Raindrop Besace, a waterproof bag that costs almost $2,000 to New Age Traveler, a backpack with lots of phone cables costing $26,000, this brand has been able to satisfy the taste of every individual. This brand is undoubtedly one of the most expensive handbags in the world.
Their most expensive handbag – New Age Traveler.
If you cannot afford this expensive bag, then you could try to get your hands on the leather travel wallet by Louis Vuitton.
Handbags make a style statement, don't they? So, why wait for sales and festivals. Get great deals and make your purchase without thinking much.
7. Marc Jacobs
This brand was made famous by its exclusive creation – Carolyn Crocodile handbag, costing $50,000. This hefty price has never swayed the customers from nabbing this exquisite bag. Made with purple crocodile skin, this quilted Carolyn bag is one of his most popular accessories launched so far.
After successfully serving Louis Vuitton, Marc Jacobs started his line of fashion accessories and ranked among the topmost fashion designers in the world. His business expenses over 200 retail stores in 80 countries across the globe.
The Delray, an impressive pink leather bag with gold hardware costing $2,000 is another favorite creation from the same label.
[Also Read: Most Expensive Shoes]
8. Mouawad
The Mouawad 1001 Nights Diamond Purse, which is made up of 18 karat gold and encrusted with more than 4,500 diamonds ranks second in our edition. This bejeweled purse, which is just one of the most expensive and best designer handbags that the brand makes, costs $3.8 million, thereby earning a place in Guinness World Records in 2010 for being the most expensive handbag in the world. Loved for its' suitable-for-party design and sparkly exterior, it has become a true classic representation for the brand. Plus, have you seen the brilliant Christina Aguilera without her trusty Mouawad bag on camera? Never!
9. Prada
Prada is not a new name when we talk about expensive and luxury brand labels. This Italian fashion house was established in 1913. While handbags of this brand are considered to be the most elite fashion accessory, it has also been producing a wide range of products including clothing, jewelries, perfumes, footwear and watches.
Prada designs get better with each passing year. At Milan Fashion Week, early this year, Prada exhibited its Spring/Summer collection that was mostly about crystals of different shapes and sizes.
[Also Read: Most Expensive Earrings]
10. Judith Leiber
This is another expensive brand in the world of handbags. The designer hails from Hungary and she started her company in 1963. Soon it became renowned in Europe and gradually all over the world. The First Ladies of different countries are among her elite clients. This brand is famous in creating bejeweled bags adorned with crystals and gems.
The Precious Rose bag is one of its most luxury creations so far, made with 42 carats of a combination of jewels including diamonds, tourmaline, and sapphires. This piece of luxury costs more than a whopping price of $90,000!
Most of these handbags online in Australia, the USA, Dubai, Europe, are available for purchase. But as we mentioned earlier, buy only from legitimate and trustworthy sites.
Did you know:
The most expensive handbag, or the most expensive purse, as many people call it, was sold for $300,168. This most costly bag is made of white matte Himalayan crocodile leather, with hardware made using 18K white gold and diamonds. This Hermes signature Birkin bag is the most expensive handbag ever sold.
11. Yves Saint Laurent
One of the most heard about brands known for their timeless products that spell luxury like no other. The signature style is 'elite and fashionable handbags. Founded in Paris in 1961, this brand has etched a place for itself in many hearts.
Don't underestimate the power of Yves Sanit Laurent 'Muse Bag' is their most expensive handbag and is available in 2 sizes. An all-day and night long muse. It is one of their most successful handbags coming in endless texture possibilities, limited editions, and special celeb collaborations.
12. Valentino
A popular name in the clothing industry, Valentino has made a mark in the women's handbag industry too. The mere presence of the brand tag itself has everyone flocking to get their hands on it at the earliest.
Their bags come in neutral as well as neon colours, to cater to the likes of everyone. The Valentino 'My Rockstud Tote' bag made out of crocodile skin rises the prices of the bags like never before.
Made with different textile and leather pieces, along with the addition of unique cloth, zips, and metal wares, Valentino's handbags is a genuine piece of art and a trendy staple for all.
Which of these most expensive handbags are you drooling over today?