With the start of the New Year, we all make resolutions to start afresh. We keep switching between trying out new things and repeating the old. The same can be said about our beauty maintenance. We experiment with new beauty trends but spoil our skin with unhealthy habits. For instance, using mascara after disposal period. It's important that you start off the year on the right foot whilst following the trends this year. This way, you will be ahead of the New Year beauty checklist.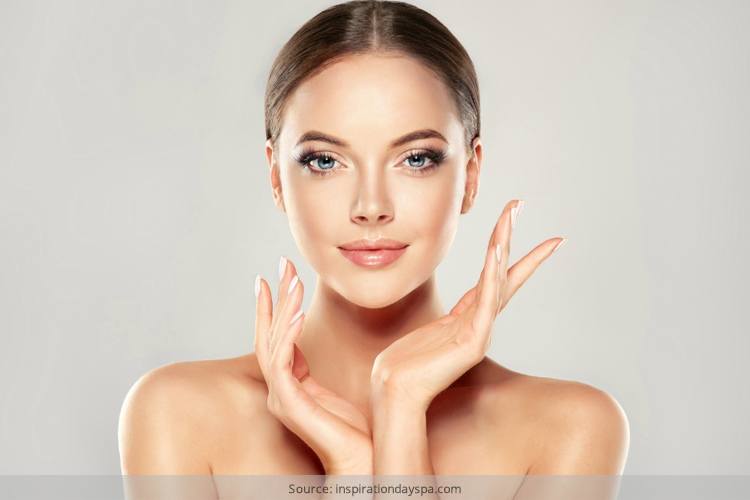 So make 2022 as your year for achieving amazing skin, and here is a beauty routine checklist to get your year glowing.
25 New Year Beauty Checklist Items for Radiant 2022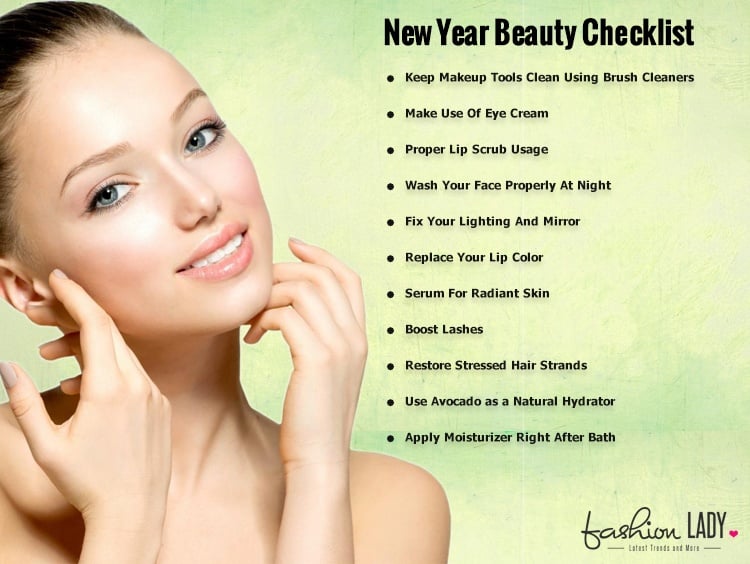 1. Keep Makeup Tools Clean Using Brush Cleaners
One step we often neglect and should not is leaving our makeup tools dirty. Overtime, the makeup products are filled with bacteria growth. To prevent such issues, invest in a great quality brush cleaner. As cleaning all your brushes after a rapid use would get difficult, you can make use of a skin loving brush cleaner with antibacterial properties. These brush cleaners can be spritzed on makeup brushes and wiped off using a paper towel. Look out for brush cleansers that can dry out the brushes instantly. That way you need not lay out the brushes to dry overnight. This is a perfect routine to kick off your New Year.
2. Make Use Of Eye Cream
You should get into the habit of applying an eye cream twice a day. This is a must-do skin care routine that you should not forget to add. As a reminder, you can place your eye cream next to your nightstand for applying at nighttime. You can also put it back into the fridge to deal with eye puffiness in the morning. If you develop a ritual to apply an eye cream daily, you will notice the difference. You can try eye treatment products or eye repair serums suitable for using under an eye cream. Use an all-miracle serum which treats dark circles, puffiness, and anti-ageing properties to plump up and treat fine lines.
3. Proper Lip Scrub Usage
Dry, flaky, chapped lips are a common problem. The drugstore balm may be of little help for you. In such cases, your lips may be better treated using a hydrating lip polish or scrub. This can help to remove dry, dead skin cells from the lip surface. Use this once or twice a week with a proper lip scrub. Follow up using hydrating balm or lip treatment. You can try out Victoria's Secret Flavored Lip Scrub Strawberry for achieving kissable lips.
4. Wash Your Face Properly At Night
Your busy schedule should not be an excuse of not cleansing your face at night. In fact, there are facial wipes available even if you are traveling for emergency, camping out, and other unforeseeable situation. You should wash your face thoroughly at night. This will make a world of difference when you select a suitable cleanser for your skin types. This means you need to choose a creamier solution for drier skin and oil-free gel for oilier skin. Washing your face at night is even more essential for people who wear makeup. In the course of time, neglecting your face and not removing makeup at night can lead to dull, ageing skin with layers of dead skin cells. Therefore, you should take a few minutes at night to pamper skin and thoroughly cleanse it. This is a beauty regimen checklist your skin deserves totally.
5. Fix Your Lighting And Mirror
Getting ready daily in a space that does not reflect good light or a mirror can be tricky. Putting makeup in the dark may result in improper blending, eye smudging, and may also lead to not wearing enough lipstick or blush. It may happen that you step out of the house satisfied with your look only to realize the flaws in the rear-view mirror of your car. To avoid these issues, fix up a proper lighting and good mirror at home. This can allow you to fix yourself perfectly.
6. Keep Your Facial Hair Growth Under Control
Waxing, threading, bleaching, and plucking for hair growth are something we never have gotten away with our whole life. But have you found a solution for that chin hair or fuzz that is lining your jawline? Some women may choose to live which is totally empowering while others may choose to remove it. If you want to have your facial hair removed, remember that it can get time consuming. But if you do want it removed, it will be all worth at the end. You can try facial cream to keep your hair growth under control. One good product is Nair face cream apart from other good options, so select one that's best for you.
7. Replace Your Lip Color
Everyone has their own signature lip color. This New year's, you can swipe your lip color to something different or closely similar to what you have been wearing so far. For instance, a forever favorite red lip color will wake your face in an instant. Our pick is: L'Oreal Paris Color Riche Matte Addiction Lipstick- Scarlet Silhoue. This poppy shade will be flattering on most skin tones and it will leave behind a rich impact that keeps lips soft all day long.
8. Serum For Radiant Skin
The long winter months can make our skin go dry and dull. This is the time of the year, your skin possibly darken because of the harsh UV rays. For this reason, you need to invest in a good sunscreen with SPF and a luminosity-enhancing serum. You can try one which has antioxidants like Vitamin C to bring your tired, dull skin tone to life, and is also gentle enough for sensitive skin. Our pick is The Face Shop, The Therapy First Serum.
9. Boost Lashes
For instant sparkle on your eyes, reach out for good quality mascara that will curl lashes with every swipe. Our favorites are Maybelline New York, The Falsies Push up Angel Mascara. This mascara has long lasting powder. Its brush is like a fan-shaped with short bristles. Or, The Body Shop, Big & Curvy Waterproof Mascara. Its advanced brush is designed to sculpt lashes and coat lashes from root to tip.
10. Accelerate Teeth Whitening Effect
Beautiful set of pearly white teeth are an added attraction and are essential for anyone. To achieve teeth whitening effect, you can try the newest version of Crest White Strips with Light. It comes with a blue light technology. And it works with the strips and accelerates the whitening effect. Inspired much?
11. Restore Stressed Hair Strands
You can restore dry strands and deep condition them with a nourishing shampoo and conditioner. You can try hair products that combine deep hydration with rejuvenating qualities, leaving hair strong and soft. Our pick for hair products are: Wella Professionals ENRICH Shampoo & Masque for Dry and Damaged hair and Organix Moroccan Argan Oil Shampoo.
12. Self-Tanner For Skin
Want to develop a natural glow without staining your clothes or sheets? Then add few drops of a good at-home tanning potion to your moisturizer or body lotion of choice. Apply evenly onto your skin. If you desire a deeper color, then you add extra few drops to your daily moisturizer or body lotion. For best effect you can use the self tanner from Tan Luxe, Vichy Idéal Soleil Moisturizing Self-Tanning Milk Face & Body, and St. Tropez Self Tan Luxe Dry Oil.
13. Pamper Yourself
Simple things like a pedicure, manicure, facial massage can change your mood and skin, too. You should make it a habit to give yourself a facial massage as a weekly beauty routine. Massaging the skin can help in loosening muscles and increase the blow flow. This can diminish fine lines and leave you with beautiful skin.
14. Use eye drops for irritated skin
A severe skin reaction can majorly leave you with red irritated skin. Though there are in-store medicinal options, you can try out this totally simple solution. All you need is eye drops. Put few drops on clean fingers. Pat fingers onto red spots. You can instantly see the inflammation disappear. This solution can also be used for treating acne. If you see a new acne forming, apply the eye drops to heal the unwanted bump faster.
[sc:mediad]
15. Use Avocado as a Natural Hydrator
Avocados as we all know are a delicious treat. Apart from that, it can serve as an amazing skin hydrator. You can peel an avocado, remove its pit, and mash it. Rub the paste in your hands and apply to your body after getting out of the shower. This will leave you with super smooth and glowing skin.
16. Keep Showers Short
You should keep your shower and bath time short. Make sure not to make it too hot. Allowing your skin to be exposed to water for longer period may strip skin's natural moisture and dry it out.
17. Apply Moisturizer Right After Bath
Applying moisturizer within three minutes prior to taking a shower or bath can hydrate your skin better. The moisturizer will absorb into the skin better. Over time, you will achieve a healthy skin. We recommend daily moisturizer like Biotique Bio Morning Nectar Flawless Skin Lotion, Innisfree Green Tea Moisture Skin, Lacto Calamine, The Body Shop Cocoa Butter Hand and Body Lotion, Lush Moisturizing Body Lotion, Nivea Whitening Cell Repair & UV Protect Body Lotion.
18. Set a Fixed Sleep Timetable
Select a fixed timetable for going to sleep every night and stick with it. If you find yourself sleeping in erratic hours, this can adversely affect your health and ultimately your skin, too. Staying up late at night may also lead to weight gain. To help you sleep better, switch off your electronic one to two hours before sleep. Relaxing your thoughts will allow you to improve the quality of sleep.
19. Exfoliate Skin
For maintaining a long lasting makeup effect, you should give it a clean base. And for that, you should exfoliate your face to remove any dead skin cells or excess oil and grime. You should never skip this exfoliating step as it will ruin your makeup look otherwise.
20. Use Hair Texturizing Spray or Volume Powder
Most hair products can provide you with instant results allowing your hair to feel bouncy. But in the next few hours, the hair feels totally flat and lifeless. To prevent all sorts of flat hair problems, make use of texturizing spray or volume powder before you head out. These products can soak up sweat on your hair strands and give your hair that healthy bounce. Try Garnier Fructis Style Volumizing Anti-Humidity Spray and WELLA Professionals EIMI Sugar Spray for Voluminous Texture.
21. Use Eye Primer
Most times, we ignore the area around our eyes, which is not a wise thing to do. In fact, dullness around the eye area is most noticeable. For that reason, you should make use of fresh eye makeup to cover up your flaws. There are several eye primers which may crease your mouth lines whilst putting on foundation and preventing your lipstick or lip liner from bleeding. You may try out products like ELF Mineral Eye Shadow Primer, Revlon Photo Ready Eye Primer+ Brightener, MAC Prep and Prime Vibrancy Eye Primer, and others.
22. Switch to Powdery Highlighter
We mostly opt for a liquid or a cream based makeup highlighter that leaves our skin with a natural sheen. But as the hours go by, our face gets slicked with sweat and leaves behind an unpleasant shine. So in order to prevent this problem, you should opt for a powder highlighter which provides you the glow minus the sheen on your face. You can try out L'oreal Paris True Match Lumi Golden Dore Powder Glow Illuminator or Bobbi Brown Highlighter Powder for maximum coverage.
23. Do Not Make Use Of Moisturizer And Foundation With Spf
You may or may not have noticed this but using products like moisturizer and foundation which contain SPF will make your face look super white in photos. So whenever you are heading out for a photo-filled night, make sure you carry one product that is picture primed. You may not want to ignore this tip if you are high on taking snap shots wherever you go.
24. Makeup Setting Spray
You will need the makeup spray any time when you are out. Whether it's rushing out for a late party, hitting the dance floor, and a hot date, you need to have the setting spray ready. For the best bet, go for a product that does what it indicates on the bottle. This means you have to select one that sets your makeup and stays on for longer hours. You can try MAC Fix Plus Spray which helps in setting makeup and gives a fresh look to your face. Or, Skin Stay Mist by Colorbar is also a finishing mist that provides you with smooth, dewy skin.
25. Visit a Dermatologist
When you are facing an acute skin problem that persists, do not put off your dermatologist appointment for long. Instead, make an appointment today. If you are suffering from a skin condition like rosacea, acne, eczema, weird moles, and others that are not going away for weeks together, then seek medical attention as soon as possible. Most often, these skin issues can be treated easily through a proper diagnosis and over-the-counter solutions. So do not put off your dermatologist appointment this New Year and call today.
These are few but the very best of New Year beauty checklist. Make sure you follow these beauty tips on a timely basis. Your skin will never stop thanking you!