Onam, the festival of harvest, brings with it truck loads of good cheer and prosperity. Besides being the biggest shopping season in Kerala, bonding with family and friends, trying out various delicious traditional recipes, dolling up in the ever classic white and gold fashion, and of course, spreading loads and loads of happiness, smiles and love, is what makes this festival all the more special.
This day brings out the best in every Malayalee woman. Not only is she dressed in the traditional kasavu saree, looking all gorgeous and lady-like, but also shows off her creative skills in the form of Onam pookalam designs (flower rangolis). She gathers all the auntyjis, mummyjis and cousins, and they sit to sort flowers and lay out beautiful pookalam designs and patterns, over some hot, juicy gossip, having some good ol' girlie fun.
Latest Onam Pookalam Designs
Meanwhile let's look at some really special and latest onam pookalam photos for Onam harvest festival 2021.
1. Did you know, the most prominent event and notable ritual of Onam is the making of the pookalam designs.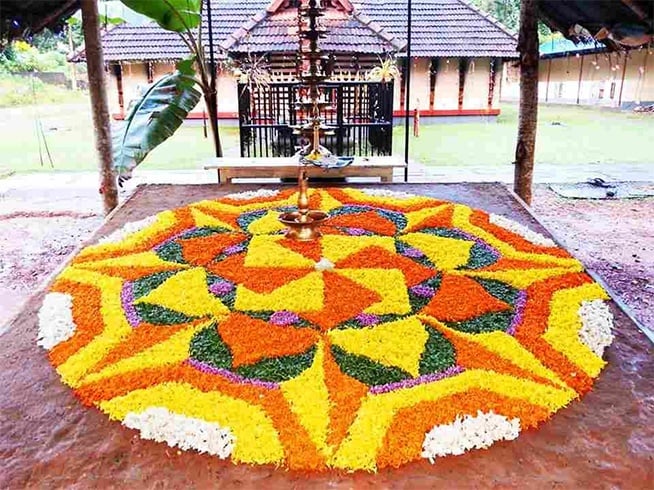 2. Pookalams are laid out at the doorstep as a sign of welcome to King Mahabali.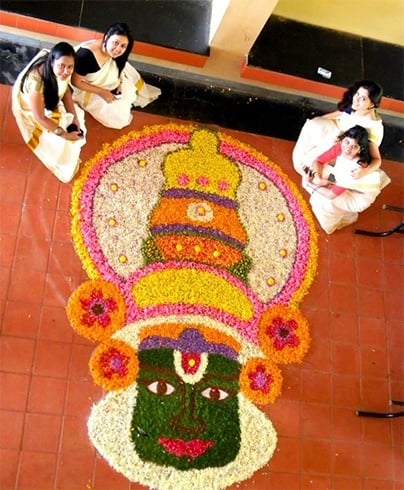 3. The Pookalam designs are one of the major attractions in onam harvest festival, which requires kilos of flowers.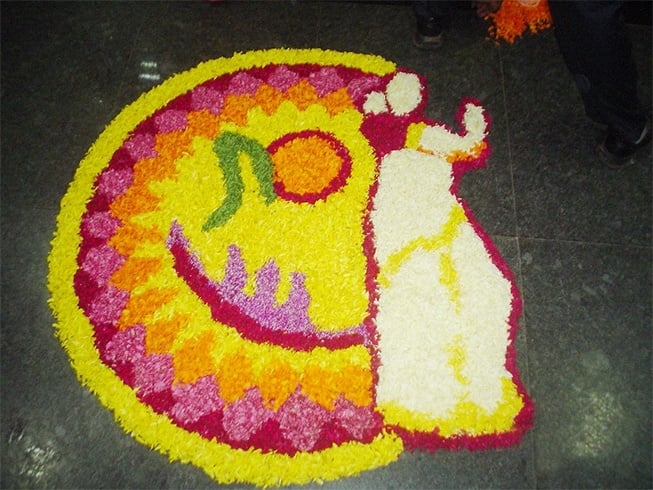 4. The most commonly used flowers are Mukkutti, Kakka Poovu, Mukkutti, Aripoo, Thumba, Thechipoovu, Hanuman Kireedom, and Chethi.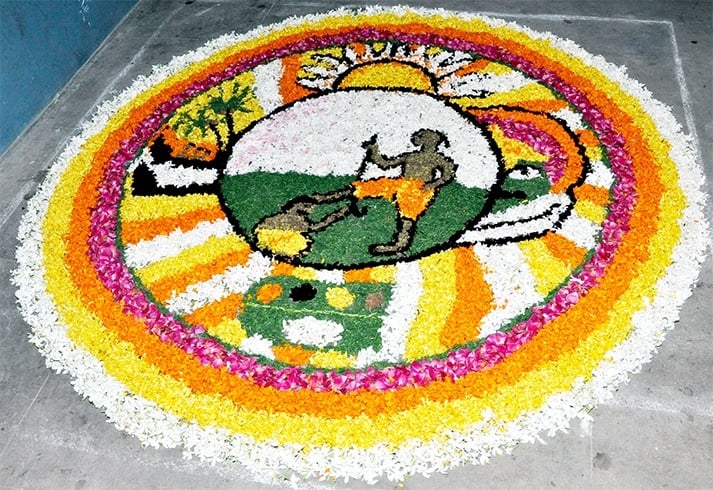 5. However, the most important of all flowers is Thumba, reason being their small size and their glittery nature in the sun.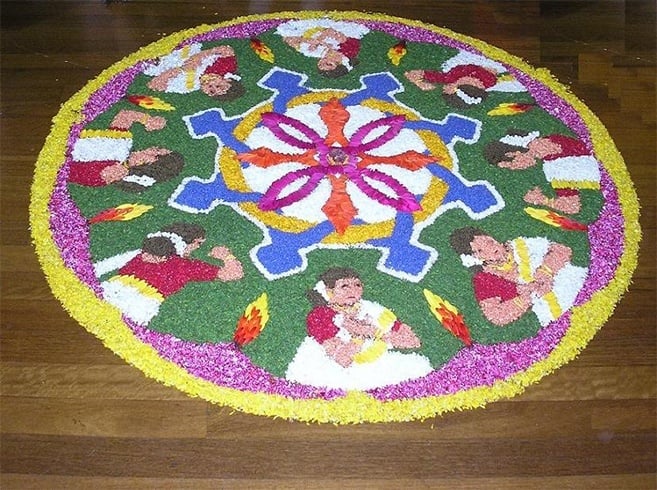 6. It is believed that the 'Thumba Poo' is Lord Shiva's favorite flower and King Mahabali was a big worshipper of Lord Shiva.
7. Idols of Vishnu and Mahabali are placed in the centre of the floral rangoli aka pookalam, and worshiped.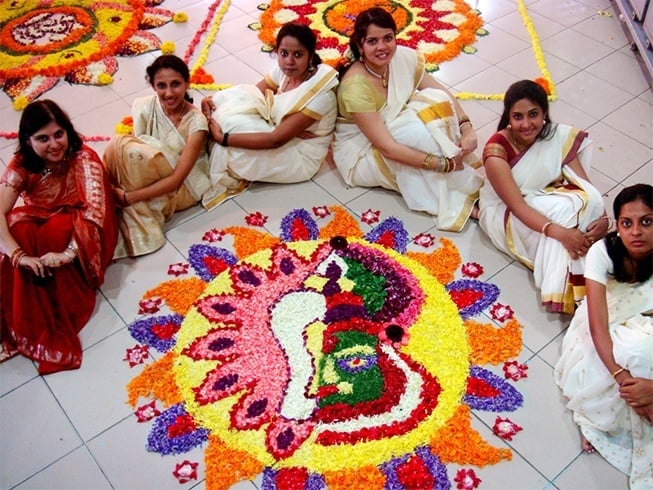 8. The harvest festival is celebrated with great fanfare in Malayali homes. And pookalam preserves the traditional values of Kerala.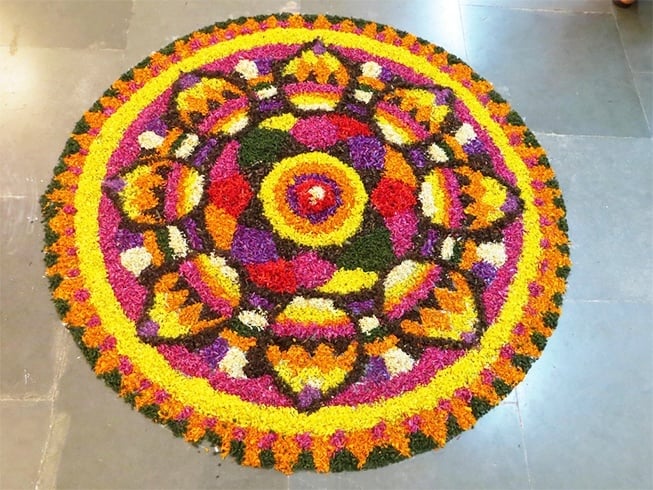 [sc:mediad]
9. Malayalis believe that King Mahabali's soul visits every home in the state during these ten days of Onam, and on seeing beautiful pookolams greet him, he ensures that prosperity and happiness fill the people in that home.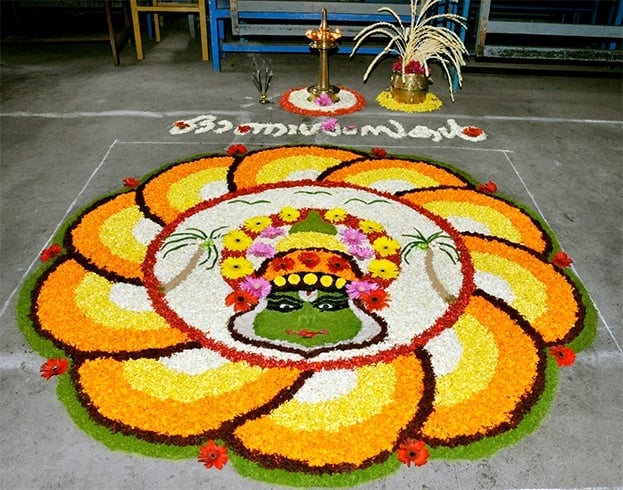 10. 'Pookolam' is broken down into two words; 'poov' which means flower and 'kalam' meaning colour designs on the floor.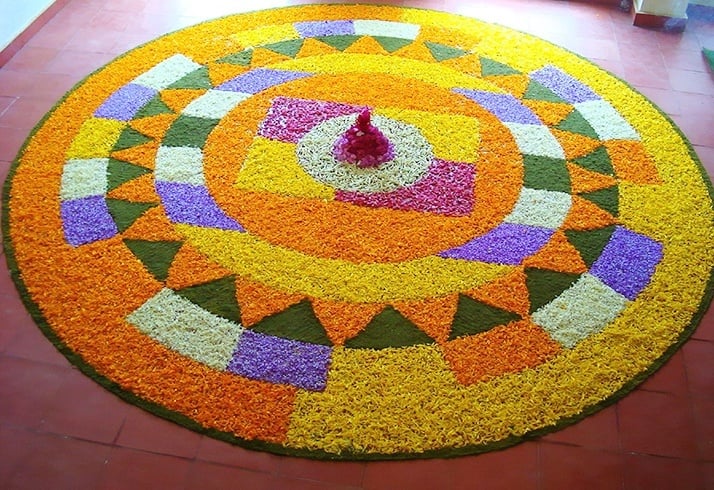 11. Decorating ones home with onam pookalam designs is considered auspicious.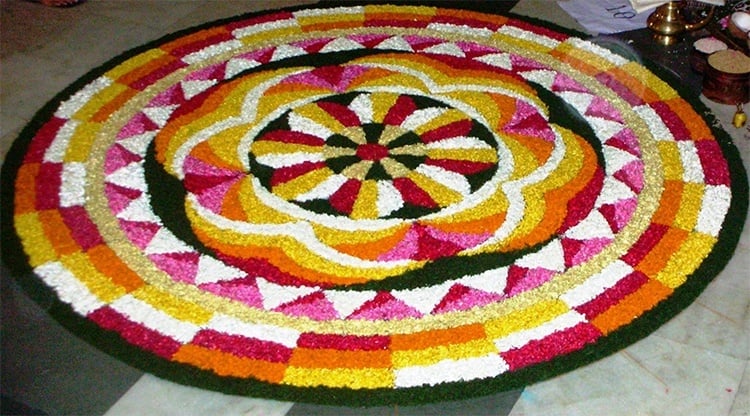 12. Flower rangoli designs or pookolam totally depends on the team's creative ability based on which it can be simple or intricate.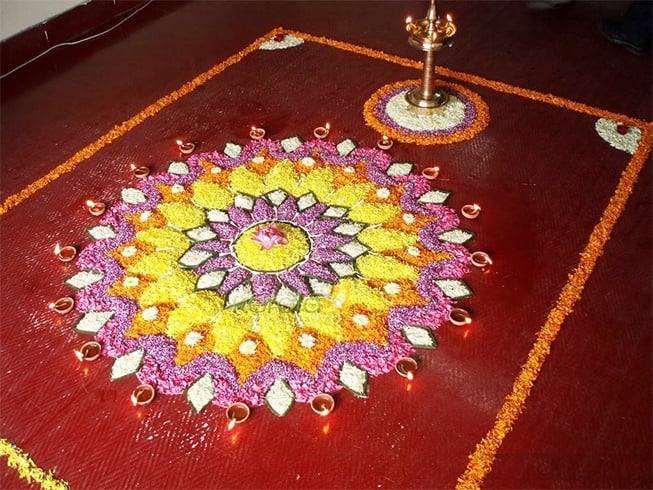 13. How to make pookolam designs? First the floor is nicely cleaned, followed by spreading cow dung over the washed area where the floral design is to be spread.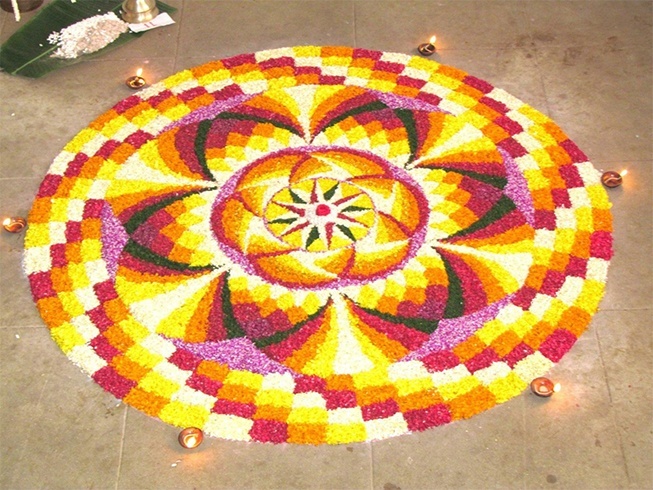 14. To make Pookolam, first a circular shaped design is created, and then filled with multi-tiered colourful flowers, petals and leaves arrangement.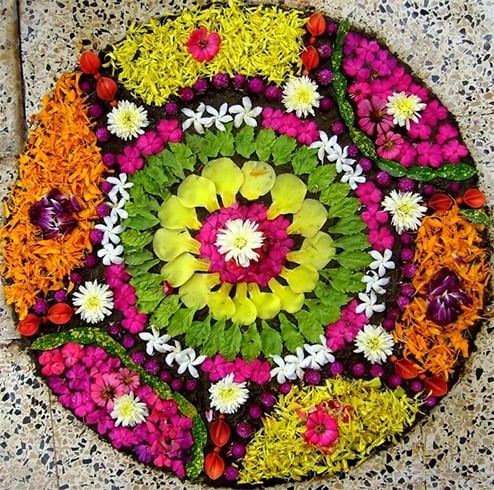 15. Pookolam rangoli designs are usually created in ten rings, each ring representing deities in the Hindu pantheon.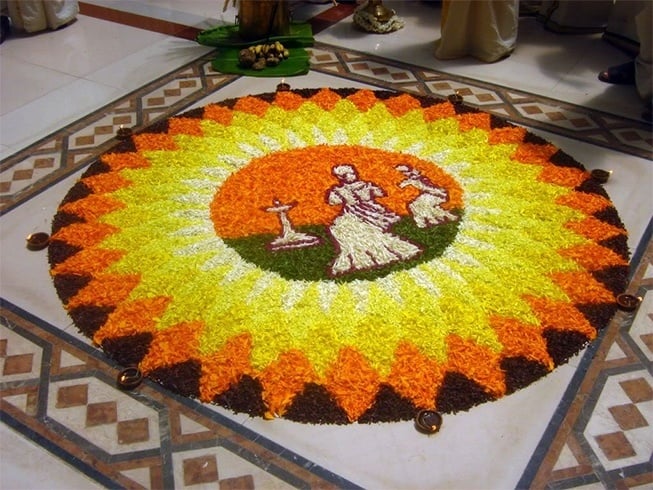 [Also Read: Top 10 Boutiques in Kerala]
16. First rings describes Lord Ganesha, second ring defines Shiva and Shakti, third-Lord Shiva, fourth-Lord Brahma, fifth dedicated to Pancha Boothangal, sixth-Shanmughan, seventh describes Guru, eighth – ashta digpalakar, ninth defines describes Indra and tenth defines Lord Vishnu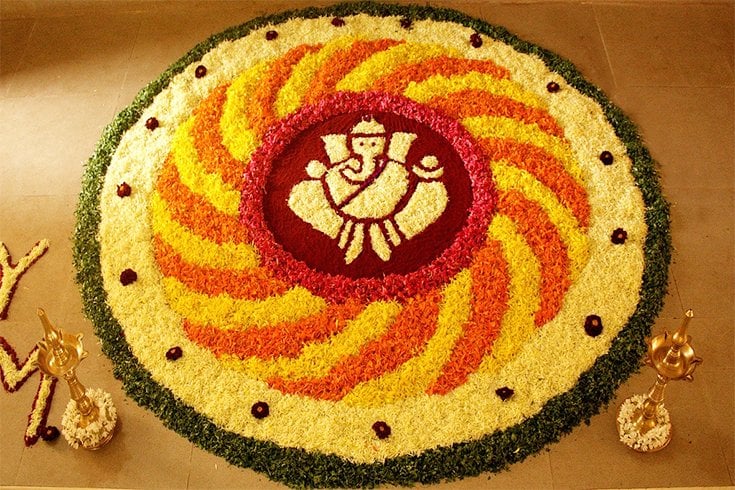 17. The size of a pookalam is increased daily for ten days, by adding a ring or a step on the outside to the initial pookalam design. On the main day of Onam, a really large pookolam gets ready.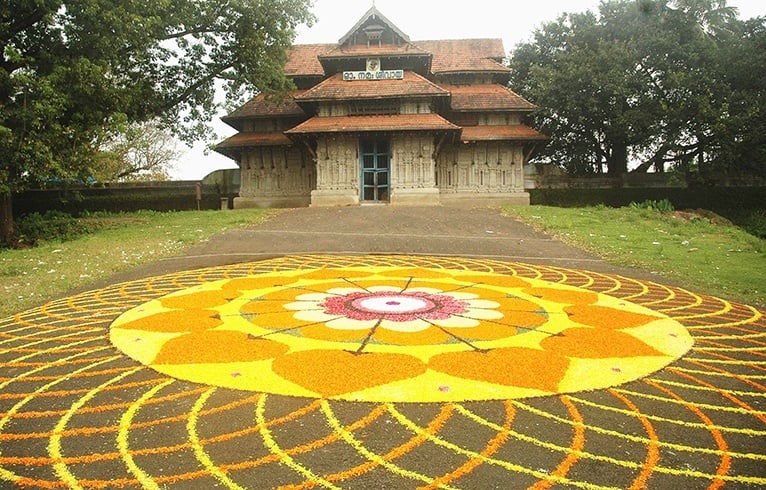 18. The making of a Pookolam is an events in itself, and is an extremely colourful and joyous one.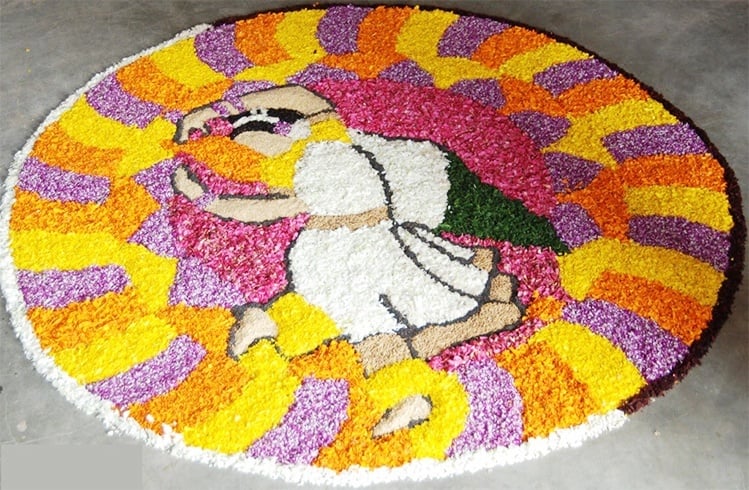 19. The event generates a feeling of togetherness and goodwill amongst the people.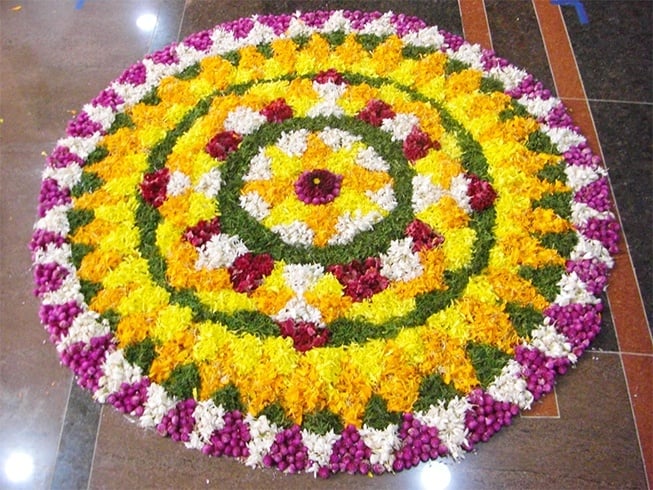 20. An onam pookalam made of different colored flowers looks quite appealing to the eyes.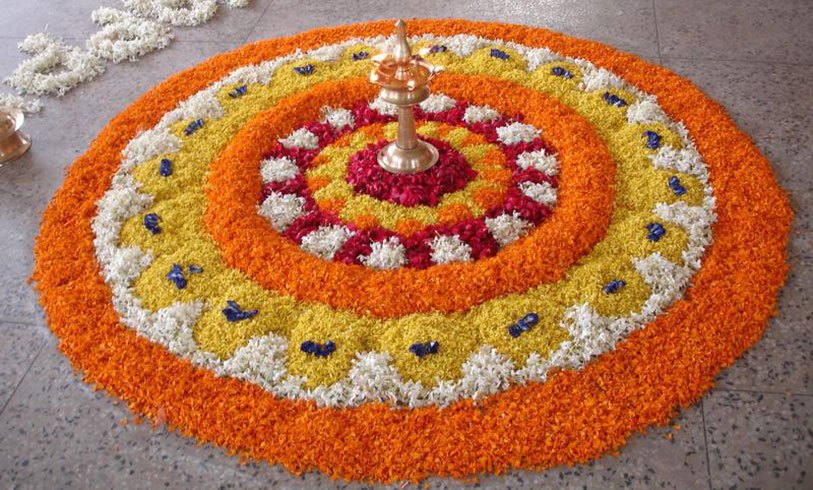 21. Onam is the right time for you to show off your creative side by making elaborate onam flower designs.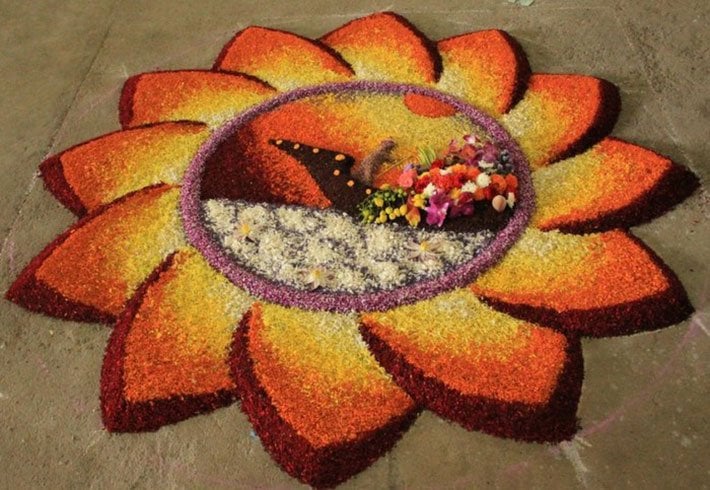 22. Onam athapookalam is a fun activity where all the members of the family gather and spend time together.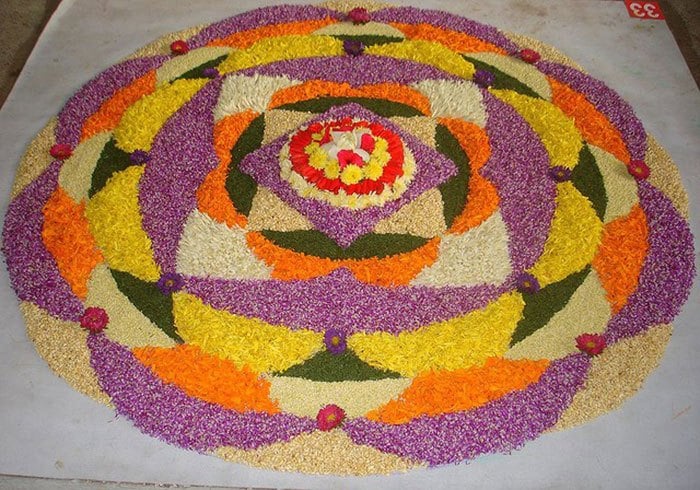 23. Onam rangoli designs can be further enhanced by adding diyas and lamps.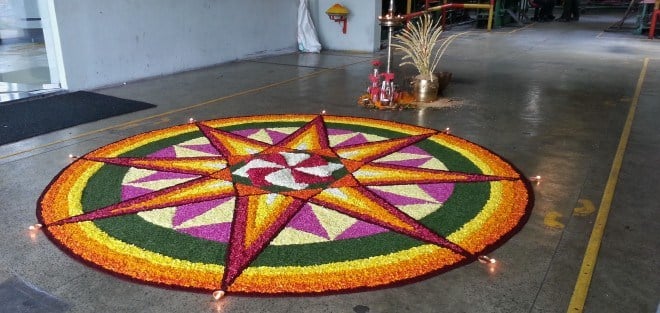 24. Onam rangoli is an important part of this harvest festival celebration and no Onam can be completed without a rangoli adorning the house.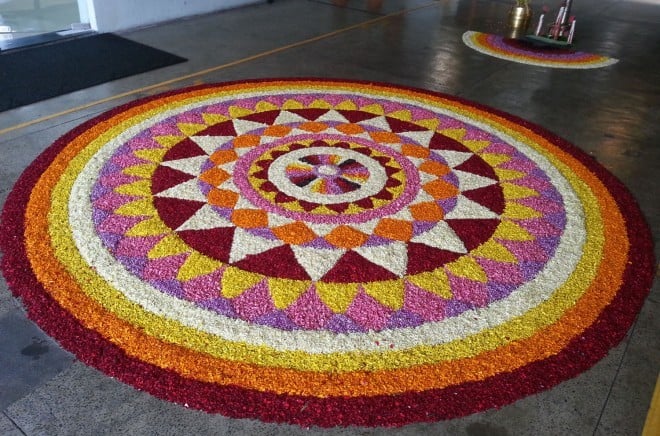 25. You can make an Onam flower rangoli with either 2-3 different flowers or as many as different flowers as you wish. It all depends upon your creative vision.
[Also Read: Flower Rangoli Designs]
26. This harvest festival which is spread over 10 days, will have different Onam kolams for each day.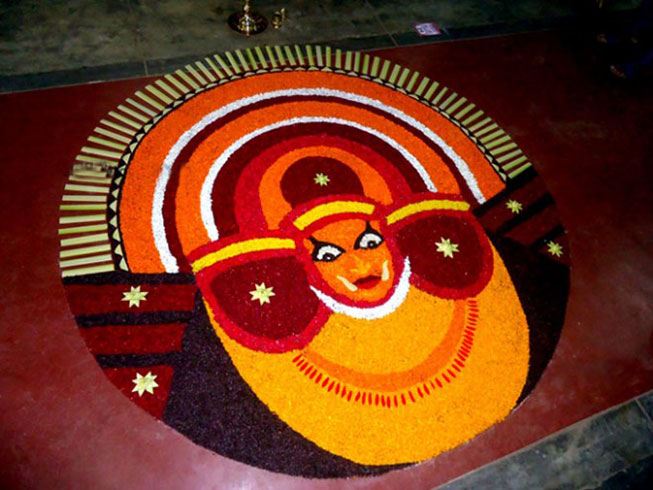 27. If you do not have time to make elaborate kolams you can try this simple Onam design.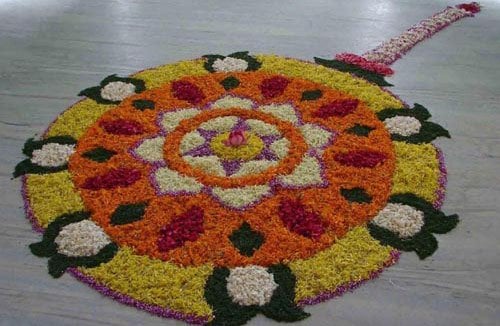 28. Onam pookalam designs for competitions usually have the images of kathakali, mahabali or any other traditional Kerala inspired design.
29. This multi-colored Onam pookalam with lighted diyas looks very pretty and beautiful.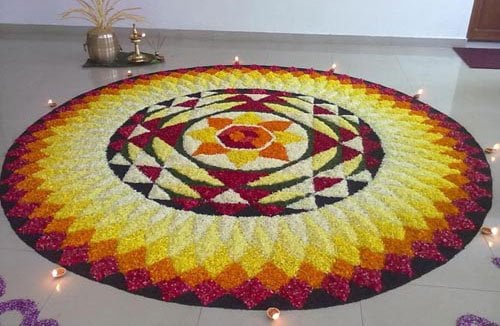 30. This is one of the best Onam pookalam images that you will ever see!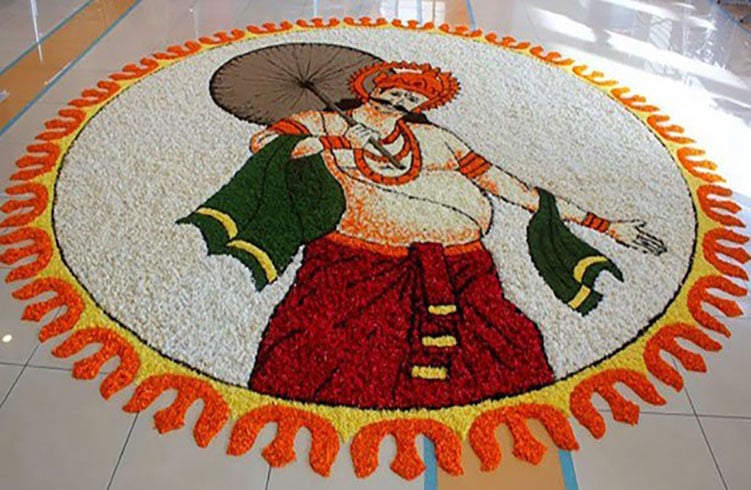 31. For those of you who are looking for some simple Onam pookalam photos; you can definitely try this out.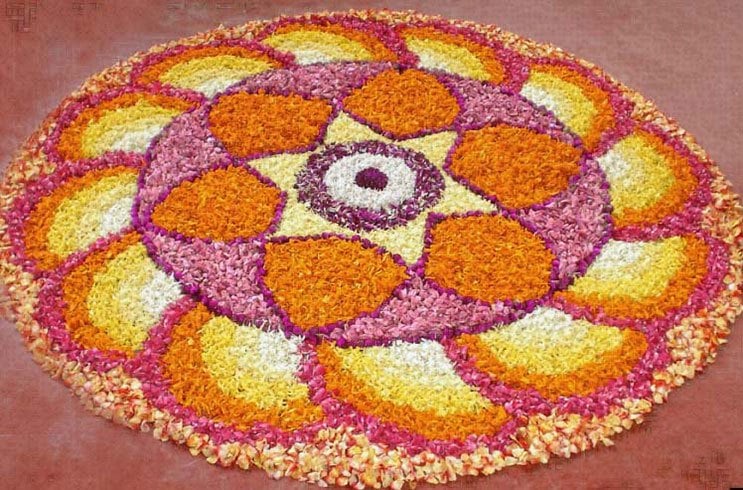 32. This Onam pookalam design is very intricate and unique as it is a perfect reflection of Kerala.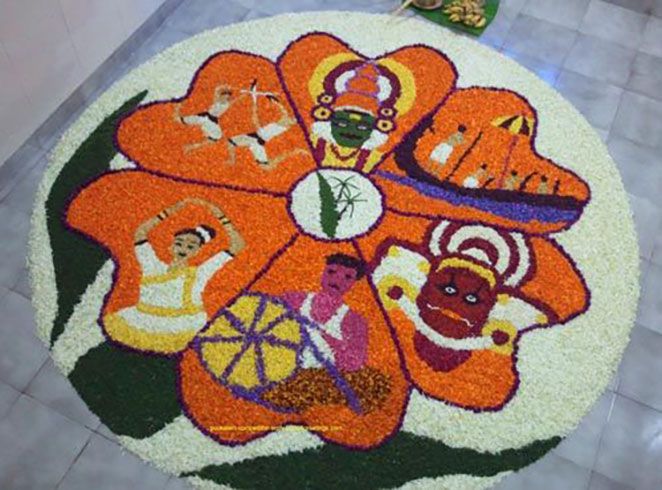 33. Get inspired from this Onam pookalam design and try to make a similar one during your Onam celebrations.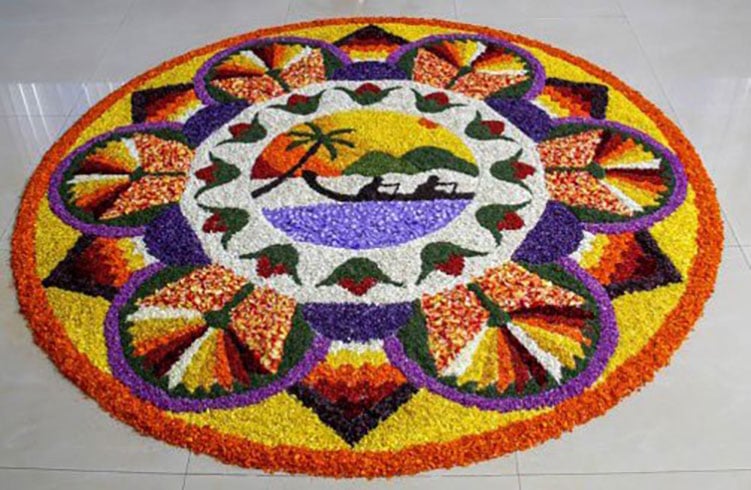 34. Women taking part in an Onam pookalam competition.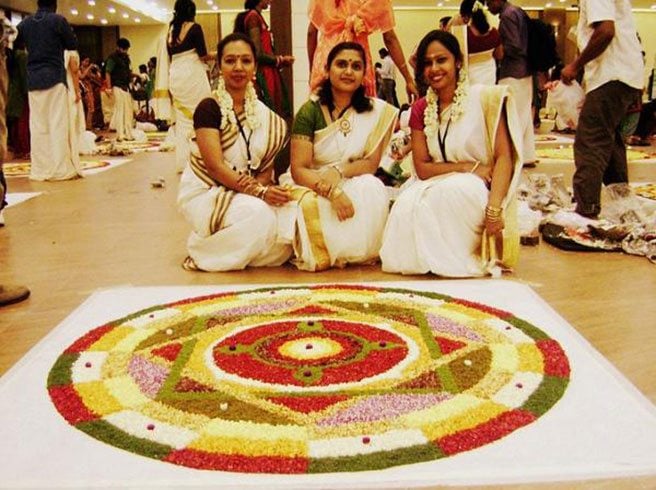 [Also Read: New Year Rangoli Designs]
35. Woman dressed in their traditional attire strike a pose with a pookolam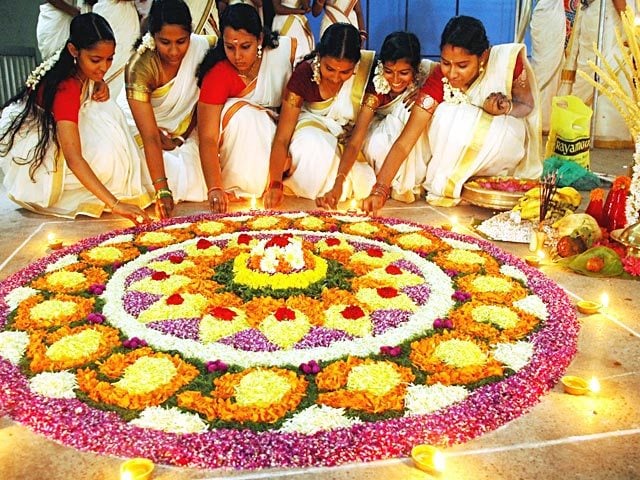 36. This pookalam is made with fresh and natural flowers that enhance the beauty of it.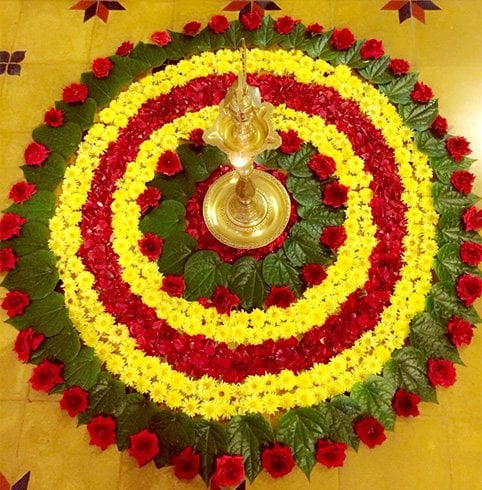 37. Bringing out the tradition of Kerala in its most beautiful classical dance form, Kathakali.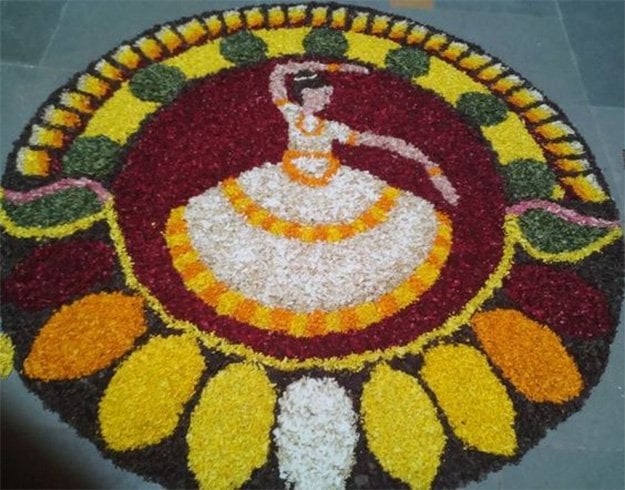 38. A pookalam signifying peace and the effort and accuracy that goes behind this design is huge.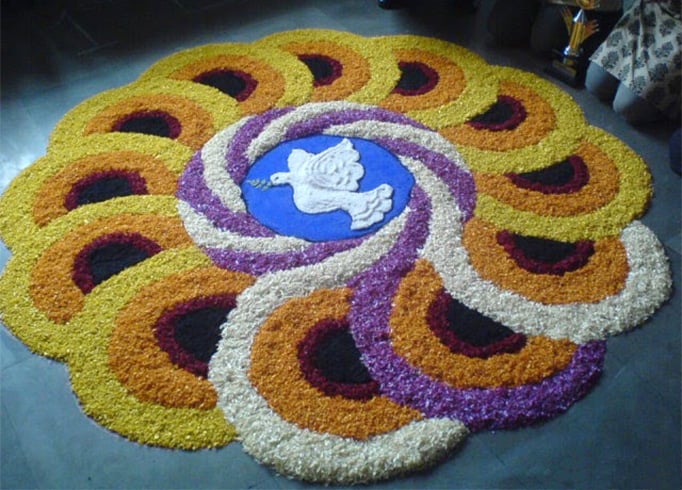 So, go ahead. Wish you a Happy Onam 2021. Have a blast this year!
Images Source: pinterest