Our favorite God comes knocking on our doors like knock knock and we couldn't be happier to welcome him home. To help you jazz up the entrance as you prepare to host the Elephant God, we scouted out some super cool Ganesh rangoli designs that will surely set your Ganpati celebrations apart!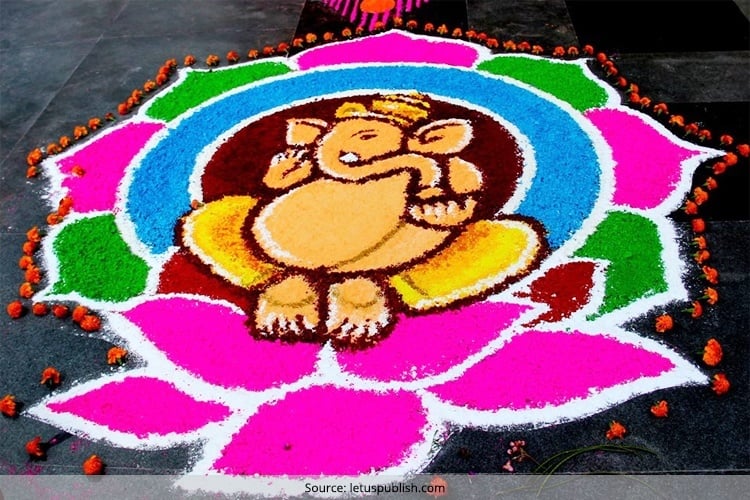 [Also Read: New Year Rangoli Designs]
These Ganesh rangoli patterns will not only add that personal touch to your festivities but will also bring out the flavour of the season to its full potential.
Take a Look At  Designs of Ganesh Rangoli
The pattern feature the head of the elephant sitting on his human body, with a rounded belly and large trunk. The designs however differ in various styles and poses.
1. This is our Ganesha's favorite pose, where in one hand he is seen sending out his blessings and the other he holds modak, his favorite sweet.
2. Simple and elegant in design, the outline of the Elephant God's face is the main focus in this rangoli kolams. The diyas surrounding the rangoli add to the overall effect.
[Also Read: Ganpati Mehndi Designs]
3. This beautiful kundan rangoli kolams design is quite different from others as it makes use of a variety of decorative items, and can be used both indoor and outdoor.
4. This unique design does not include the complete figure of Lord Ganesh unlike regular colourful kolams patterns .
[Also Read: Flower Rangoli Designs]
5. This design pattern makes use of different decorative items including colored powder, flower petals, paan leaves, kundan stickers, and diyas. However, the Ganesha design remains the center of attraction.
6. This vibrant ranjoli kolams design is easy to make and never fails to grab eye balls because of the charming colours used.
[Also Read: Sankranthi Rangoli Designs]
7. Convert the floor of your living room to a more vibrant and striking one this Ganesh Chaturti 2022 with this beautiful Ganesh rangoli design. The colourful design is sure to change the atmosphere instantly.
8. Floral Ganesh pattern is gaining popularity by the day and is perfect for any occasion. However, one must be excellent in drawing to come up with such magnificent art.
[sc:mediad]
9. This Ganesh rangoli design is a perfect piece of art, with Lord Ganesh having a very sculpted look. If you are unaware, this piece of art can also be used as Ganesh designs for rangoli 2022.
10. The outlined image of Ganpati with his rounded figure is a beauty if not a masterpiece. Simple yet creative in design, this Ganesh design manages to capture the essence of a traditional kolams.
We'll leave you with some more designs to take inspiration from.
[Also Read: Rangoli Designs For Diwali]
11. This one will take a lot of time and also a clean hand, but the end result will be spectacular.
12. If you an expert and want to try something different, then this one will definitely catch some eyeballs. Continue reading for more New Year rangoli designs.
13. This is a simple yet sweet design using powder colors.
14. This one is particularly our favourite. Diyas, fresh flowers, kolams powder and an artistic mind is what makes this one a masterpiece.
15. A combination of 'om' and Ganesh design is perfect for New Year rangoli 2022.
16. This is a free hand patterns that is simple yet very elegant. Indoor designs like these are beautiful and your hard-work in getting the exact design, will result in plenty compliments.
17. If you are an artist then this one wouldn't seem that difficult. Just get all your rangoli colors ready and get started.
18. Black, white, blue and pink make this one a very easy rangoli design for beginners.
19. This Ganesh rangoli design will surely impress you with its unique design and use of fresh flowers.
20. This multi-colored Ganpati rangoli design will make your home look even more vibrant and beautiful.
21. This intricate Ganesh rangoli design which is an amalgamation of Ganesha, the symbol Om and a shivling, will definitely bring all the good luck to you and your family.
22. Create a kolam with colored powders and start your new year with this colorful Ganpathy rangoli design
23. This classic combination of a diya and our favorite Ganesha is sure to get you all the compliments from your family and friends.
24. Adorn your entrance with this Ganesh rangoli design on a beetle leaf with diyas and fresh flowers.
25. Doesn't this exquisite Ganpati rangoli design look absolutely breathtaking? You would definitely need a lot of patience to pull this off.
26. Try this Ganesh rangoli design with dots and circles     and lines and bring in the new year with a festive look.
27. Bring out the artist in you and decorate your floor with this beautiful Ganesh rangoli design.
28. You would need a steady hand to make this floral pattern based design with Ganesha in between.
29. Only way to describe this design would be 'simplicity at its best'. This simple rangoli design with colored powder looks absolutely beautiful and easy to create.
30. This color combined rangoli of Ganesha is sure to add the right hues to colour to every space.
31. An ideal design for the festivals to come. With diyas lit, and Ganesha in the middle, the light to your home is already on its way.
32. A pretty design, that is a tad bit hard to try unless you are ready to put in hours of concentration.
33. Bringing in sunshine even on the darkest of nights, is what this design does.
34. An eye for detail and accuracy is what you need to successfully pull off this design to perfection.
35. A new color that has never been seen of Lord Ganesha, and it looks all the more religious and divine.
36. A simple yet charming design that portrays god in all its colour. A warm and welcoming design.
37. The specialty of this design lies in its creativity. The center eye looking at you, at any direction that you look at it from.
38. How lovely is this design! Huge, colorful, enchanting and sending in nothing else but good vibes.
39. This Ganesha made out of petals is a beauty which has to definitely grace your house. The hard work is all worth it after seeing the design.
Here are few more Ganesh rangoli designs:
So, which of the above New Year rangoli designs are you going to try? Have any more Ganpati designs that you would love to use share with us? Let us know! Hope these have left you drooling and encouraged to try them yourself.
Images Source: pinterest