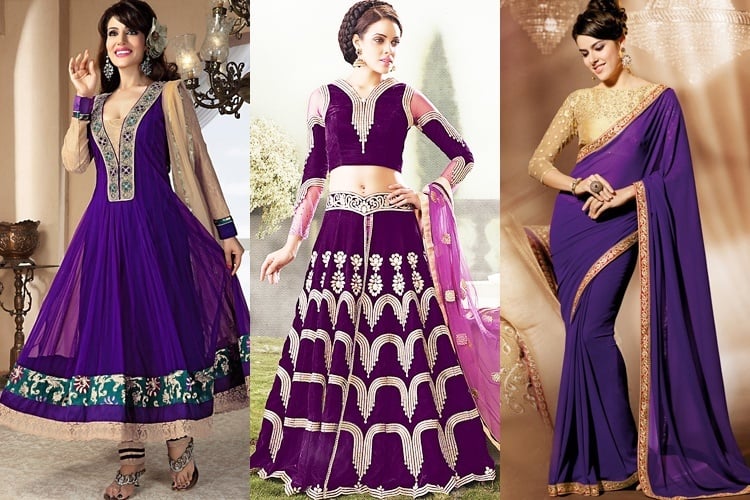 Celebrate the last day of Navratri with the official color of 2021 declared by Pantone i.e. radiant orchid or purple. As it has become the official color, so you can easily find varied designs in this color for both western as well as traditional outfits. We offer you some beautiful creations in purple to mark the 9th day of Durga Puja.
[Also Read: Paithani Saree]
The last day of Navratri – Navami, is dedicated to the Goddess Siddhidatri. Being the last day of Navratri, people celebrate it with a grand celebration and prepare to bid farewell to the Mata on the last day i.e. on Dusshera. As the name suggests, Siddhidatri = Siddhi (Perfection) + Datri (Giver), the Goddess grants achievements and perfection to all her devotees. The color, purple is dedicated to this day.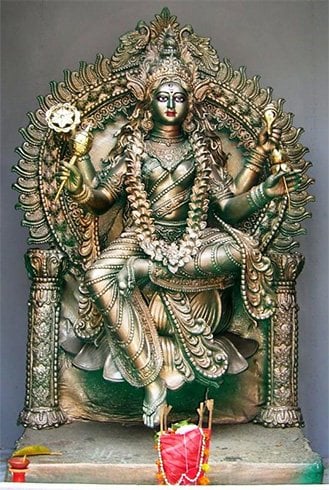 The purple color has always been the shade that signifies luxury, passion and royalty. This color just reminds us of princely robes, dazzling gems, papal vestments and florid prose. If we debunk its history, we would realize how this color was only confined to the elite few and was marked as a symbol of aristocracy.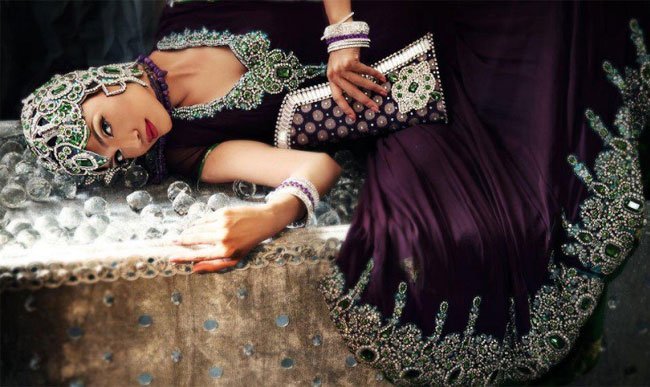 But now this color has become commonplace and a significant shade in the fashion domain. The best thing about this color is that it looks great on every skin tone and personality.
Commemorating the final day of Navratri and 9th day of Durga Puja, we offer you an array of traditional ensembles in purple shade.Have a look!
This is a beautiful floor-length Anarkali suit available with flares and elaborated with zari work on the bodice and sleeves. The purple of this shade beautifully blends with golden zari work on the neck, border and sleeves. The rich embellished patchwork retains the ethnicity of this suit, thereby minimizing accessories for the neck and hands.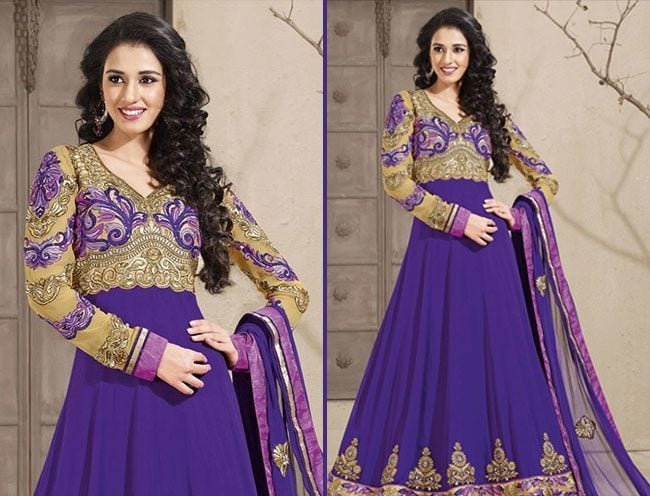 This is another beautiful Anarkali from the same catalogue. The rich embellished design just makes this dress look royal and luxe. The chest is heavily decorated with embroidery work in silver and gold floral motifs on purple velvet. The rest of the dress has a floral print that gives a perfect balance to the overall dress. Wear a pair of pretty stone earrings to complete the look.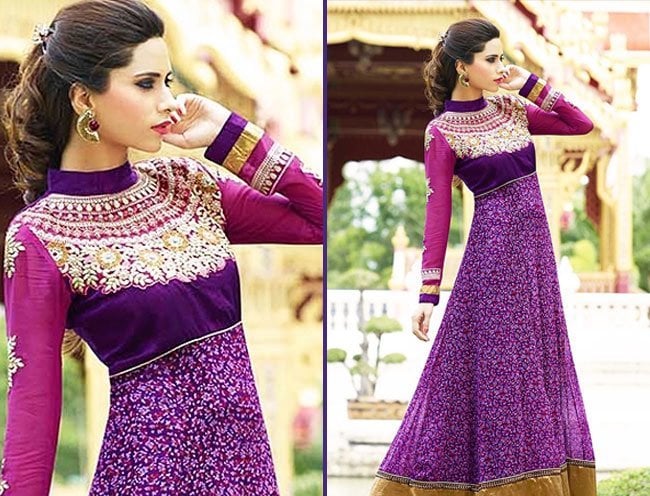 How about this beautiful sea green and purple Anarkali with ornate designs? This is one of my personal favourites from our collection. The embellished ornate work on the V-Neckline makes this suitable for women who are short and heavy from the chest.
The border in sea green floral design is a patchwork with lace elements added to the dress. The net sleeves and dupatta in beige speak of modern elements, whilst maintaining the ethnicity of this suit piece.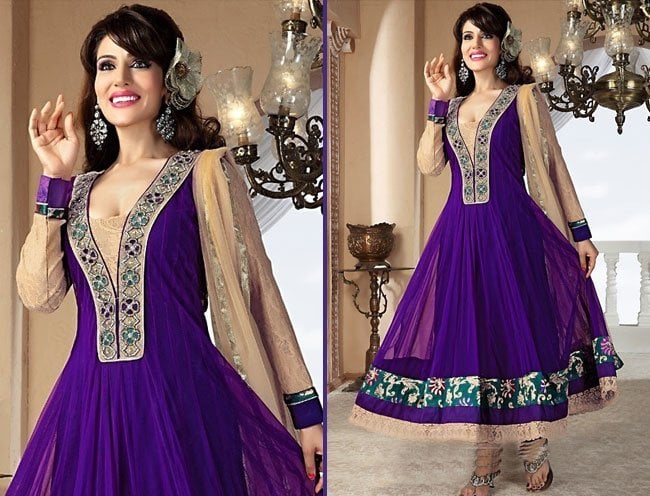 I now offer you a beautiful purple floor length anarkali suit of similar.This is a beautiful number with intricate motifs on the chest and even the border. Heavy embroidered lower lining with contrast hemline accentuates the overall look of the ensemble.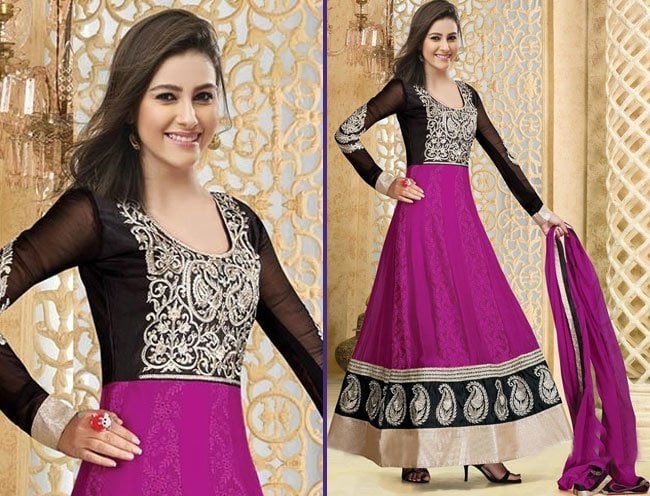 Now let's look at some beautiful purple saree designs that you can wear this Navratri 2021, apart from the other bandhani sarees available in the stores and online.
This is a viscose half and half net saree in cream and purple combination with jacquard pattern work, embroidered patch work borders and applique work. The three – quarter sleeve embroidered blouse makes this saree wearable to a Diwali function too.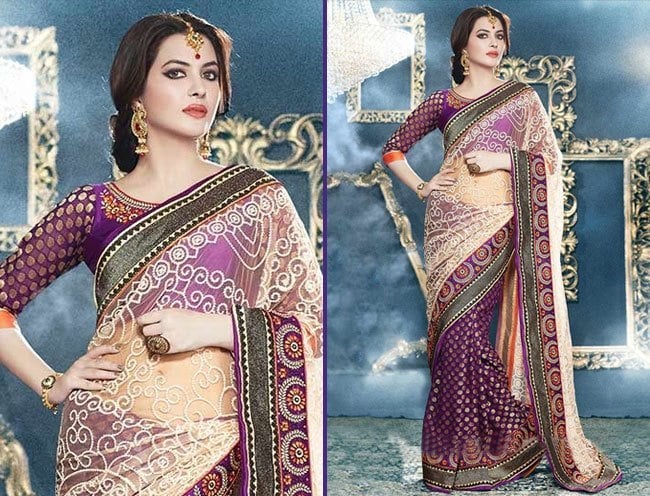 Compared to the previous saree, this one is much simpler. In georgette material that has only a small border running all over it. But, the highlight of the saree is the heavily intricated blouse in gold. This combination can also be worn to wedding receptions. Avoid necklaces and bangles, and only choose heavy earrings in purple to compliment the ensemble.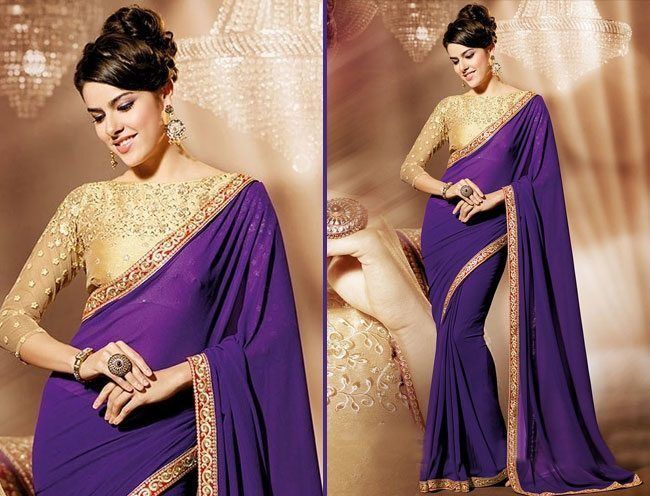 This is another elaborate saree and if you are a newly-wed, then this one is just for you. This designer saree with patch work border has a similar embroidery done on the blouse that adds value to the look.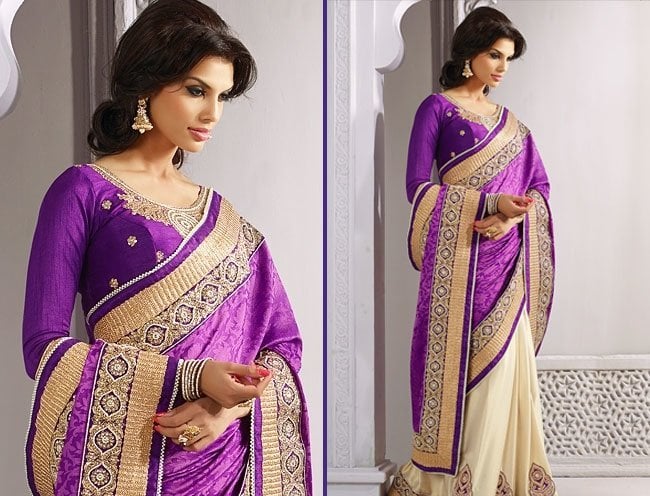 Another simple saree with an elaborate embroidered blouse makes this saree wearable to this Navrarti 2021 too. You can also substitute this saree with a purple bandhani saree for Navratri get togethers.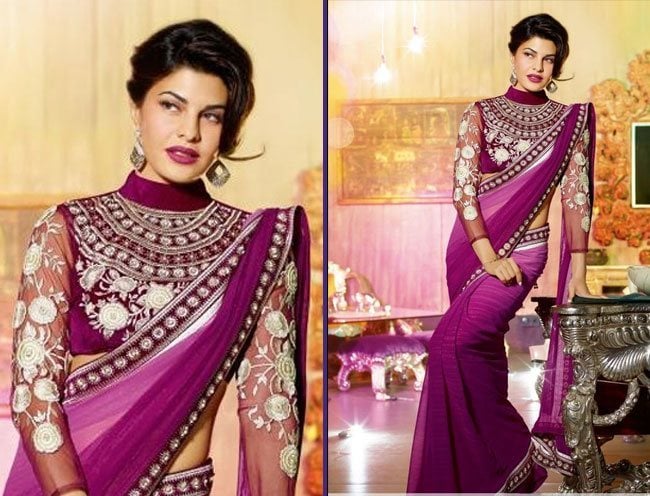 How could I just conclude our session without lehenga, when it's especially dedicated to Indian festive seasons – Navratri and Diwali?
I offer you some of the best peaks from our purple lehenga collection. Enjoy scrolling!
A net lehenga choli with applique work like this shon below is surely a head – turner. Embroidered patterns, crystal embellishments, boader patwork designs – what more can you ask for?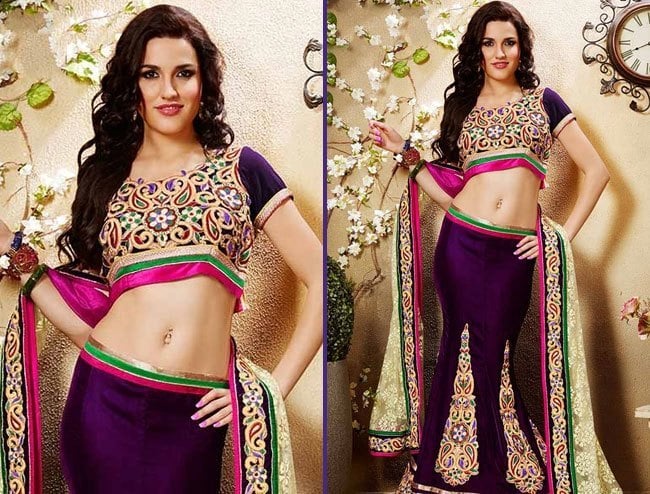 A net lehenga saree is for the one who struggles to maintain a saree but loves to flaunt one. Such half-saris are easy to manage and make you look tall too. Wear with designer gold and stone jewellery to steal the show.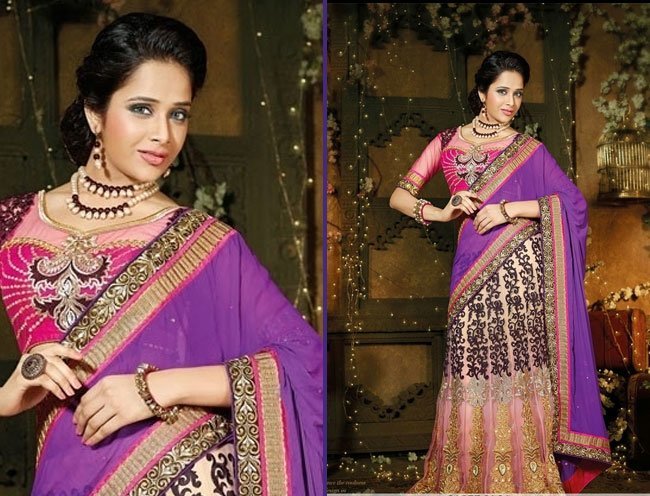 Here is another fabulous Bollywood-inspired saree in purple shade to grace the occasion. Just as yellow goes with pink, here purple is paired with white which makes the outfit brighter and attractive.
This beautiful saree is flanked by white embroidered motifs that are spread across the bodice. The border of the saree is decorated with floral patterns and a  golden border. The light-weight net fabric of this saree is paired with a shimmering petticoat that gives an edge to the outfit.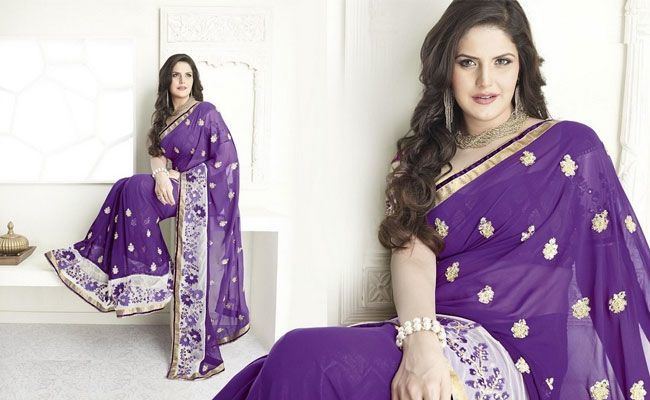 If you love to mix and match contrasting colors then this saree will instantly drag your attention not for its print but also for its beautiful blouse design in contrasting black.
The saree comes in dual shades of purple and white. While the pallu is plain with random sprinkles of crystals, the bodice is flanked by grape-like prints against white backdrop. And not to mention the brocade is adorned with zari work.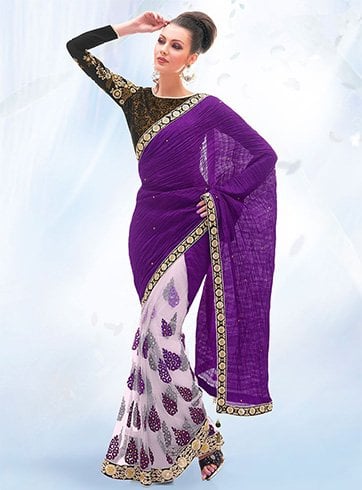 Well with this 9th edition on Navratri, I bid farewell to Mata Durga praying for the well-being of all my esteemed readers. I hope you enjoyed all of our special issues, displaying 9 colors of Navratri.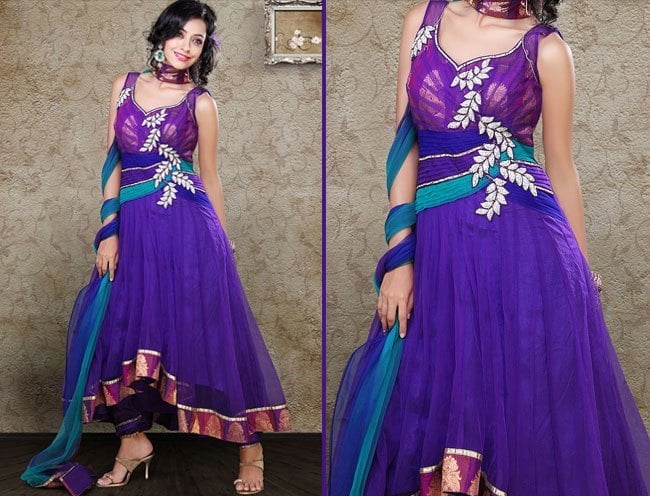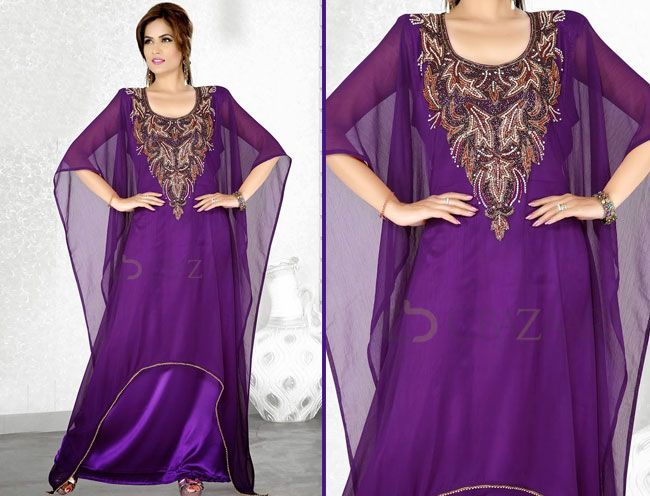 Check out Navratri Day 1 colour. Hope this article was helpful to you all.
Images Source: pinterest