The line-of events somehow mean getting in and out from one ethnic look to the other. As Dussehra comes closer, it's important that you have your OOTD finalized. Depending on your day, select a dress that is not only stunning but also go easy throughout the day as you engaged with loved ones. If you are already feeling weary after the back-to-back days of dressing up, select a light kurta set with delicate embroidery for an elaborate yet hassle-free look. If you're still in the mood to go dressy, then pick up a striking Anarkali that pulls all the stops. For a more relaxed evening look, step out in a stylish saree for an ultra-feminine finish.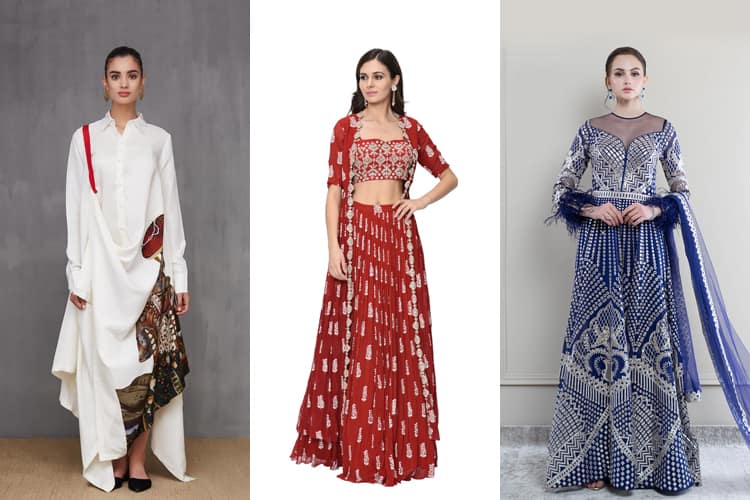 Best Ethnic Wear Ideas To Choose From
Scroll through our pick of 12 of the best ethnic ensemble ideas you can rely on Dussehra this year.
1. Royal Blue Chrome Applique Anarkali With Dupatta:
The question: What's the one way to impress, and make sure all eyes are on you during the festival? The solution has revealed itself through this. Wear something dramatic.
2. Power Blue Top and Palazzo Set:
Truth be told, we're game for a two-piece set-especially when it comes in powder blue. Match yours with light jewellery for a relaxed look, or you can even don the pieces separately.
3. One-Shoulder Asymmetric Embroidered Top And Neon Lehenga:
Sometimes when it comes to trying out ethnic pieces in neon, you've just got to go for the kill. Try a brightly-hued lehenga with a matching top set in a reflective color. In a neon-infused world, its best you also throw in some shade. No kidding!
4. Leheriya Print Hand Micropleated Kurta With Slip:
A beautiful printed kurta with slip doesn't always have to be tricky. By matching it with a pair of brightly-hued bottoms, you can add color to your Navratri occasion and take it to greater heights.
5. Red Floral Embroidered Blouse and Lehenga:
Another simple way to wear a lehenga set with blouse in a beautiful floral embroidery piece! Pair it with heeled sandals and you're good to go.
6. Emerald Embroidered Choli with Floral Printed Saree:
If you're going by the selection maxim that you shouldn't purchase anything unless you can wear it in three different ways, this floral printed saree is a huge nod to checkout without batting an eyelid.
7. Green Sequined Kurta with Skirt and Net Dupatta:
Depicted: you with your friends, congregating in the midst of the festive galore in sequined kurta with skirt.
8. Red Printed Embroidered Cape with Bustier and Skirt:
May we suggest adding an embroidered cape with a bustier and skirt set for an, "I am all-in for the festive effect?"
9. Embroidered Lehenga Suit:
This embroidered lehenga suit does the festive-ready-mood work for you. This can totally smooth through parties, pujas, and full-on dancing. Those matching floral dupattas though BTW, whew!
10. White Printed Drape Tunic Dress:
An inescapable sea of tunic dresses is coming this season which makes it a perfect choice for Dussehra. We love the idea of wearing one and experimenting with different prints. But if one-tone isn't for you, try swapping it with pops of gorgeous shades.
11. Hand-Block Saree with Unique Patterns:
We look forward to seeing soft, feminine sarees especially during the Navratri season. Look out for a standout piece as this one for your next family puja.
12. Taupe Sequined Lehenga Set:
Dussehra is an easy choice to take sartorial risks. Skip your usual choices and instead opt for a sequined lehenga set in ten shades. It'll ease you into the glam dressing. With a taupe hue like that-you won't go wrong.
We hope you love our pick of the most versatile ethnic wear for Dussehra. Trust us- these are the kind of outfits that you can safely give your heart to.