Lehenga cholis are practically the manna for almost every Indian wedding and Indian bride. Without the lehenga, probably the best part of the bride's look would run amiss. 2021 sees newer styles, which are more focussed on fabrics and the patterns. Last year it was all about the embroidery and the embellishment, but this year it is a different ball game altogether.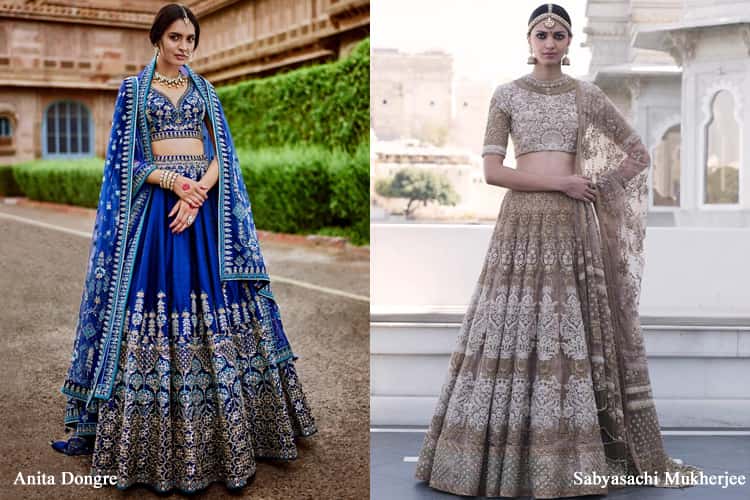 The embellished lehenga cholis come in designer wear concepts mostly, and the placement of the designs matter the most. 2021 sees a lot of trending styles with pleats and silk fabrics, with regard to types of lehenga cholis for this year. Without much ado, whether you are a bride to be, a bridesmaid or someone attending a wedding and would want a lehenga choli, here are six types of lehengas that will rock 2021.
Lehenga cholis with embellishments and designs
A very minimalistic approach to the making of a lehenga choli. What we see are styles that are eclatic and gorgeous to the eyes, and very sparky. What is highly trending in fashion here is the gold embossments and metallic tones in figure motifs. They sure do make a statement since they are eye catchy and one of a kind. These lehengas have no-frill drama added, which makes then unique and must have for the weddings in 2021. gold on dark backgrounds or gold on neutral toned fabrics, quite an innovative concept of minimalism and elegance we say.
The Crop Top Lehengas
Crop tops with lehengas are never going to fade out anytime soon. These are in styles and trendy ones that can be worn for all wedding rituals- pre and post. Silk brocade rules the roost here, whole plain crop tops and plain silk crop tops with embroidery on some of them are trending for the 2021 wedding sagas. Fabrics such as net, velvet, brocade, and silk in crop top lehengas would be most desired and wanted for 2021 weddings. They are worth a try and can always be mixed and matched with various lehenga skirts or bottoms to get a brand new look each time.
The Indo Fusion Designs
From peplum tops to loose fitted crop tops to midriff-baring zigzag cholis and more to pair up with lehengas, you will see a wide range of the Indo fusion designs being worn by pretty damsels across the weddings in the nation all through 2021. Keep a watch on cholis that are wrap around, and the long sleeves one as well, and some of them that have dupattas to pair up with for a new look while the weddings are on. Fabrics that would be noticed the most here are nets and sequins, jamawar and banarasi, plain silk lehengas too, which would have moderate to good amounts of gold art and craft work on them. This is one of the most modern ways to display Indian haute couture and wedding fashion. These modern lehenga choli styles and designs are what we love to the max.
The Three-Piece Lehenga Choli
While we did speak about the new look and the indo western styles, it would be nice to let you know that the three-piece lehenga choli design is one of the newest trends for 2021 as well. The lehenga pattern once again is minimal and simple, but it has a bustier top attached and a long tunic top styled, and in some cases instead of the long tunic top, it would be a jacket styled on top of the short choli or the lehenga skirt. Fabrics trending for this look are silks and cotton mostly, and this is a style meant for women who do not want to show too much skin but yet want to look majestical and wonderful, like a princess. While the lehenga skirt is minimally decorated, what catches the eyes are the layers of the tunic length and the cropped tops, which are embellished with embroidery.
[sc:mediad]
The solid colored embroidered design
Sabyasachi lehengas always set a trend for us, and this time we see a lot of intricate embroideries on fabrics of the same color, which gives a very elegant and a prime look to the wearer. Tone on tone it seems is the name of the fashion game here, with black thread embroidery on black net lehenga and dupatta for example. There is even a red on red, where a red thread embroidery has been done on a red net lehenga, and a red dupatta. You have to take a look at the other solid colored lehengas in the row created- white, blacks, reds are just a few of them.
The Silk lehenga choli designs
Silk has plenty of styles and options in lehenga cholis for you to choose from. Some of them are in plain silks, while others are in brocade silks in box pleats to choose from. There are even layered silk lehengas in net tulle which sit pretty under asymmetric silk hemlines and styles too. And you also have simple and minimal A-line silk lehengas that are good as choices to wear for weddings, reception parties and more. Purely desi and very eye and fashion catchy are these styles, and we cannot wait to watch how the pretty damsels will style them up in 2021.
So here were six very impressive style statements with lehenga cholis for 2021. We now would like to know, which of them would be your choice to wear at weddings? Do write in and let us know!