During Makar Sankranti/ Pongal, many states in India celebrate to announce the harvest season by making Rangoli outside their houses in new designs. The first harvest done on this day is used to feed the family members and neighbors. It is on this day that the season of Spring begins. Rangoli designs can be made in various shapes using many bright color powders.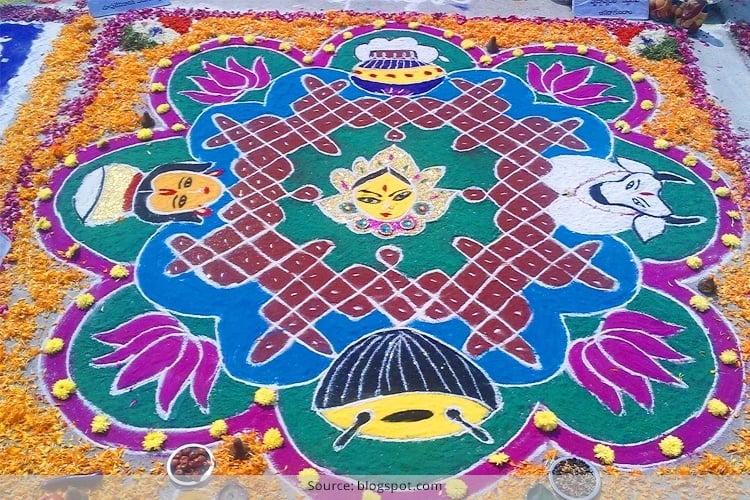 [Also Read: Creative Rangoli Designs]
The Makar Shankranti will be celebrated on 15th January, 2022. This day will see many houses decorated with flowers and rangoli designs at the doorstep. Also known as 'muggu' by the locals in South India, have elaborately designed rangoli's outside their houses, and sometimes inside the house too.
These rangoli's scream celebration and they are colorful and often decorated with flowers, diya's and props such as sugarcane's, bowl of pulses, rice and so on that are harvested for the season.
Muggu's or rangoli's are generally made by designing over a series of dots in patterns to make elaborate and creative designs. Simple rangoli designs with dots are the most commonly practiced muggu's by girls.
[Also Read: Rangoli Designs]
Sankranthi Rangoli Designs For 2022
Every year, many Rangoli competitions of various types of designs, are held to find the most creative sankranthi rangoli designs. Certain states in South India also have these competitions done for a month where women and young girls make a new design every day.
To welcome the harvest season, women and young girls create colorful rangoli designs that depict harvesting with dot rangoli designs within the color and flower rangoli designs. Below is one such image.
Another product that is harvested during this festival is sugarcane. Most rangoli designs for this festival in Andhra Pradesh will have sugarcane on their designs as the decorative element.
[Also Read: Nail Art Designs]
With all the prayers made to various Gods to ensure that the harvest goes smooth, people also draw figures of Gods and Goddesses in the hope to get showered with their best blessings.
When a group of women who are talented and love their culture and festival get together, this is what the end rangoli design would look like. Who says that too many cooks spoil the broth?
[Also Read: Flower Rangoli Designs]
Like we just mentioned earlier, sugar canes are a vital produce this festival season.
This design speaks for itself. We wouldn't want to use words to spoil the finesse.
Could we say that the colorful vibes have helped to produce the best quality with this rangoli design for sankranti.
A typical rangoli design for Sankranti in Andhra would look something like this one.
When we spoke about dot rangoli design, you all might not have understood it then. But this is a typical dot rangoli design.
[sc:mediad]
This muggulu design seems difficult, of course. One might have trouble deciding where to start, but once you know the knack, it can get easy.
There is something about this one that get's your attention. Reminds us more of a mehendi design. Do you think so too?
[Also Read: New Year Rangoli Designs]
Kites, pleasant weather, sugar canes, harvest – what a perfect deception of the festival.
The holy cow is prayed to and fed the initial harvests. That's exactly what this rangoli depicts. Lovely, isn't it?
Wow! This one will require a very very fine hand.
This is another design for rangoli that screams Sankranti festival.
Like we said, it's a women oriented festival and hence women faces in the rangoli designs are a common sight.
A fine hand? Then, sankranthi muggulu will seem extremely easy and quick to make.
This is one of our favourite. See how the whole sankranti is depicted in the form of a rangoli. True indoor sankranti rangoli design. Trying this anyone?
A simple yet trippy rangoli design, right?
Let's talk more on professional rangoli designs and this one would win hands down.
Stare at this for a while and your eyes will keep tricking you.
We'll now leave you with more rangoli designs for you to inspire from.
Sankranthi muggulu in sacred colors, what more can one ask for?
Another details muggu designs with just two colors – white and red. Classy, right?
A chariot made with the Sankranthi muggulu dots does say that the house believes in the festival whole-heartedly.
Another chariot design for sankranthi.
Get inspired this year by sweet and easy rangoli designs for Sankranthi! Have fun with colours and kites. Also, don't forget to mention below which design worked out well when you tried it!