If you thought the white color is only reserved for serious occasions then you better have a look at this post, where we offer you some fabulous ethnic wears in white to mark the third day of Durga Puja.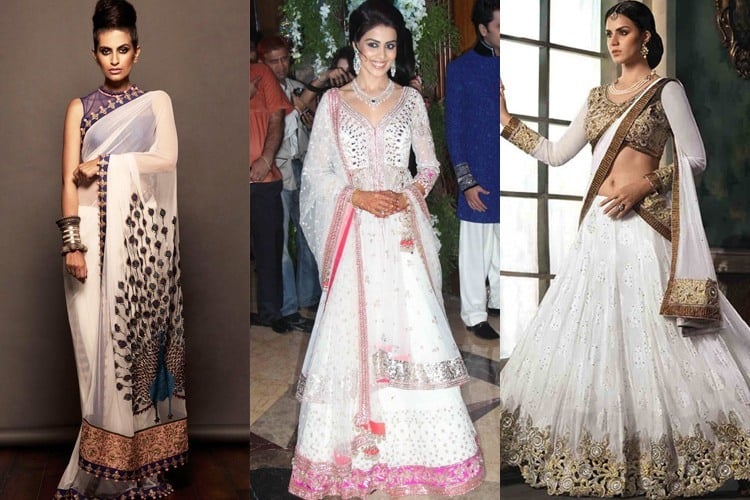 As we have been celebrating the colors of Navratri, after day 2, we bring you the third day of Navratri 2021 – Sindoor Tritiya Navratri. The third day is celebrated as Maha Tritiya Navratri Durga Puja or Sindhur Tritiya or Sowbhagya Teej or Gauri Teej.
The color of this day is white, which stands for Chinnamasta Dashamahavidya Goddess. The Chandraghanta Puja is performed today and it is celebrated with lots of gusto in different states across India, especially in West Bengal, Odisha, Maharashtra, and Gujarat.
The color white stands for austerity and harmony. It is the sum of all other shades in the spectrum, which reflects light. Even though it is considered a summer color, it holds huge importance in Indian festivities.
If we go down towards South India, especially Kerela, the white color is their traditional color. Starting from classic dance such as Mohini Attam to traditional attire, they prefer everything in white.
And when it comes to fashion, it has its own value in the fashion domain. If you do a survey, you'll find out most of the red carpet dresses are in white to date. Even though this color demands huge attention and care, you can put in a little effort to maintain the hauteur and exquisiteness of your fashion quotient. Nothing to beat the glow an all-white outfit imparts, agree?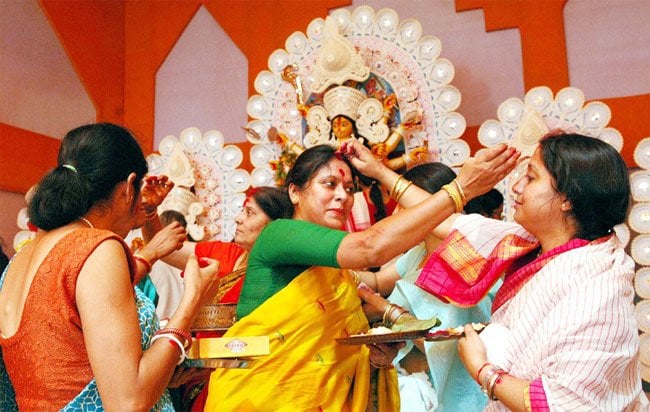 Now coming back to Navaratri fashion, the 9 days stands for different colors, signifying 9 avatars of Goddess Durga. As the name suggests. The third day is associated with Sindoor – the red powder or Vermilion. Bengali women celebrate this day by putting sindoor on each other's forehead. They show up in white sarees with red borders for the puja.
The liberty that white color gives you cannot be given by any other color. This color allows to go for a mix and match with any color and the combination would just look great.
Fashionlady offers you an array of options in white color. Even though the third day of Durga Puja 2021 signifies white color, it does not necessarily mean you show up in complete white. You can still blend some bold colors such as red, purple or some lighter shades such as golden and pink to enjoy the festive mood. Have a look!
Grab everyone's attention with this beautiful white anarkali dress with embroidered floral butta work in lace and resham. Blends with every occasion. Wear with red high heels and dangling earrings. Dress like the passage is a runway every day.
This is one of the best picks for the festive season. The perfect combination of cream and gold, makes this floor length anarkali dress immaculate for festive season.
This white and pink anarkali dress looks sophisticated with full sleeves and its elaborate designs on neck and panel enhance its beauty. The simple matching churni with pink border it a perfect set for any occasion.
[sc:mediad]
Here is another great design for Dusshera. This white floor-length Anarkali will suit women from all walks of life. For those, this is the first Navratri after marriage; this dress aptly suits the occasion, flaunting their 'newlywed' factor.
The heavy embroidery and high neck design make it a perfect ensemble for festive season. You can even wear this gorgeous anarkali for wedding receptions and parties. The dress also allows you to go for minimal jewellery because of its intricate designs.
Now let's look at a few sarees that you could wear or gift to someone this Navratri Season 2021.
How about a chiffon saree that will flatter all your curves perfectly and make you look like a princess? Look at this jacquard saree with purple border with zari and resham work. Wear contrasting purple stone jewellery with a big chunk of matching banglas.
Or give the traditional saree some rest and try the latest style lehenga saree for a change? The festival colours in this lehenga saree makes it suitable to be worn at Diwali too. The embroidery is so delicately done with rigid quality and attractiveness.
Apart from anarkali suits and sarees, I bring to you some fabulous chaniya choli lehenga to grace the third day of Navratri.
If budget is not your restraint then this pink and white faux georgette chaniya choli can be a great addition to your wardrobe. I just love the simplicity of this outfit that screams elegance and nothing else, which makes it a perfect choice for this auspicious occasion.
The chakri motifs on choli are flanked by matching designs on the skirt in vertical short patterns, which is accentuated with a broad pink waist band. This band enables you to flatter your slender waist; while pink dupatta embellished with stones offers decent coverage to the overall outfit.
Here is another sophisticated version of chaniya choli in off white. The silver resham fabric of this net lehenga offers luxury feel to your look. The embroidered motifs on the sheer fabric are flanked by elaborate embroidery work on the hem in pink shade. The choli is heavily laden with the embroidery work that you'll also find on the waist and dupatta. This is a beautiful number to mark the Sindoor Tritiya Navratri.
Jennifer Winget aka Kumud became a fashion icon because of her fabulous lehenga choli and saree with exquisite blouse designs. She dons this gorgeous pink and white lehenga, whose major highlight is the blouse with golden latkans all over. The lehenga comes with matching dupatta with zari brocade. Even the chaniya is made of resham fabric that add shine to the outfit.
Stay tuned to check out fourth day of Navratri!