It's not a birthday or an anniversary. Not a silver jubilee or a golden jubilee. Yet why is it the most awaited month and day in the whole year?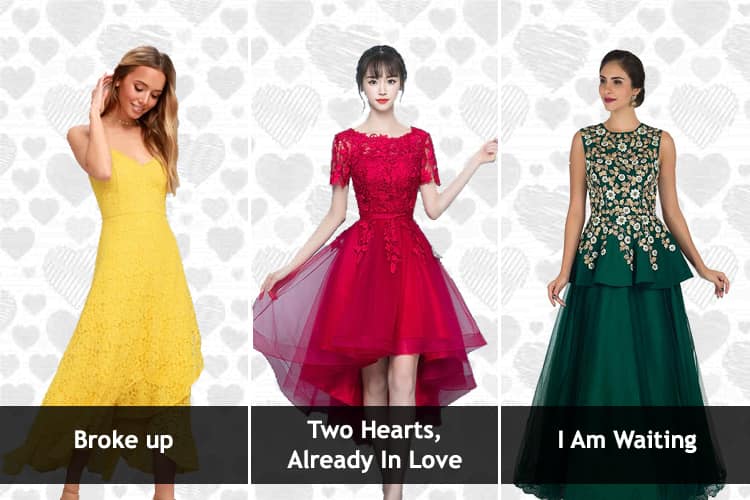 It is a matter of the HEART!
It is Valentine's Day.
Valentine's Day is a memorable day for lovers. With passing years, it is a day that celebrates the love that you share with your better half, buddies, parents, pets, and more. Love is a universal affair; valentine's day is just the most happening occasion to express it.
Which brings me to the most important topic – any clue what you are going to wear on this day, the 14th of February?
No, am not asking you to break the bank or your wallet. You just have to be extra choosy about the colors and the dress code you will wear for the V-day. So that your other half is able to figure out the message you want to get across through Valentine's day color code.
To cut the long story short – here is Valentine's day dress code 2022 for you. It means lovers day dress code or Valentine's day dress color code. The idea is to get the message across to your loved ones through the color of dress one wears on this day about their mood swings and lifestyles, your in-depth feeling toward that 'special someone', and what your mind wants to convey through the colors you wear this day.
P.S: The Valentine's day dress also helps you say whether you are available or already booked! Ha ha…
Basically, Valentine's day dress code indicates the status or mood of the individual and also the couple. So it is high time you make a note of Valentine's day dress color code. It will clear the air and flying emotions around.
Valentine's Day Dress Color And Meaning:
Each and every color you wear on Valentine's day indicates something – love, approval, rejection, status pending, etc. It is hilarious and takes you back to the mushy romance some of us had when we were in college. Let's find out what it is.
| Dress Color | The Meaning |
| --- | --- |
| Blue | Love Applicants Invited |
| Green | I am waiting |
| Red | Two hearts, already in love |
| Black | Rejected proposal |
| White | Sorry dear, I am already booked |
| Orange | Going to propose |
| Pink | Proposal accepted |
| Grey/Purple | Not interested, better luck next time |
| Yellow | Broke up |
| Brown | Broken hearts |
Significance Of Valentine's Day Dress Code 2022:
Relationship status….
This is what Valentine's day dress code 2022 tells you in the best possible way.
Need an example?
Ok, suppose you are already married or engaged…meaning hooked and booked. Then do not wear the blue color – because blue indicated above means you are totally free and can accept any Valentine's day proposals.
Hope you got the point that Valentine's day color code is a very crucial subject. The lena-dena is of the hearts, no money here. Since colors are so very important this day and speak louder than words, make sure you choose your outfit correctly and do not give out wrong signals. There should be no mistake and misunderstanding of 'Broken hearts' (brown color) with 'Love Applicants Invited' (blue color). Or else, it can turn mayhem. Love can be so serious (and humorous), never knew.
Decoding Color Codes Of Valentine's Day Dress Code 2022:
Let's have a detailed discussion regarding each lovers day dress code listed above. What means what?
Blue Color – Love Applicants Invited:
No job application this is, silly.
Are you tired of being single on this journey called life? Looking around for love or soul mate with whom you could spend the rest of your life happily making beautiful memories? Then choose BLUE, which means you are on the lookout for your "happily ever after partner". Wearing a blue dress this day is an indication point that you are single and ready to mingle. Wearing blue will drop the clue that you are free to accept the proposal.
Green Color – I Am Waiting:
'Waiting' is the most interesting and romantic thing that can ever happen to anyone in matters of the heart (not business). Imagine carrying the feeling that one fine day he/she will accept your proposal. It will make your days more memorable with the thought of romantic happenings flooding your mind. Wear GREEN on Valentine's Day to let your loved one know you are eagerly waiting for his/her reply.
Red Color – Two Hearts, United In Love:
Is love red in color? or Red the color of Love?
Anything related to love (in the form of gifts, pictures or anything) will majorly be in RED color. That's because Red is a symbol of Romance. And so wearing red means you are already in love with someone.
Black Color – Rejected Proposal:
Ouch! This Valentine's day dress color code really hurts. BLACK means your proposal has been rejected. Hence, choose black on this day to tell people (not the partner who rejected you) that your proposal got rejected. But hello, letting others know about your love status will not only get you sympathy, it can be a way of telling that you are single and ready to mingle.
White Color – Sorry Dear, I Am Already Booked:
Wearing WHITE as lovers day dress code conveys that you are already reserved and that no hot hunk or sexy lass should reach out to you for love.
Orange Color – Going To Propose:
Sounds like a major mission to victory. When you wear ORANGE as Valentine's day dress code, you are conveying that you are going to propose your girl/guy on Valentine's day.
Pink Color – Proposal Accepted:
PINK is cute. It's got to be because it cutely expresses the fact that you accepted the proposal without any 'terms and conditions'. In fact, this color might be the 'most wanted' color to see and spot on Valentine's day, don't you think?
Grey/Purple Color – Not Interested, Better Luck Next Time:
Both PURPLE or GREY as Valentine's day dress mean you are not interested to accept the proposal. They also mean that the lover can still try his luck the next time (who knows it might work then).
Yellow Color – Broke Up:
Did I hear the sound of glass shattering on either side?
Choose yellow, if you have broken up with your last love interest. Don't lose heart (since you have a broken one). There might be someone waiting for you.
There is light at the end of the tunnel. Heard of it?
Brown Color – Broken Hearts:
Did I hear the sound of glass shattering on both the sides, not one?
Brown is taken to be the saddest of colors as per Valentine's day color code, don it only if you carry a broken heart. Move on, maybe the future holds better prospects for you both.
So, boys and girls, lovers and ex-lovers, and die-hard romantics waiting to find their 'special someone', here is hoping you are clear about Valentine's day dress code 2022. Be sure in knowing your love feelings (interested or not interested status) and you will be happy. Celebrate LOVE but let not your outfit color create any confusion! Hope you enjoyed reading this post as much as I loved writing it. Like it, comment and share! Happy Valentine's Day 2022. May you be in love always!