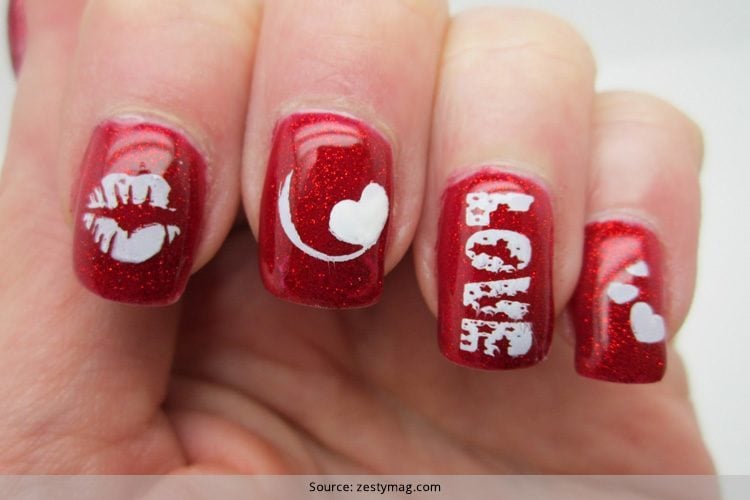 Valentine's Day includes a lot of hearts, kisses, roses, gifts, chocolates, hugs and more. Ideally, it's all about love! Taking this one step ahead, is introducing the Valentine's Day Nail Art. These can include a bunch of XOXO's, hearts, lips, reds, and so on.
Latest Valentine's Day Nail Art Designs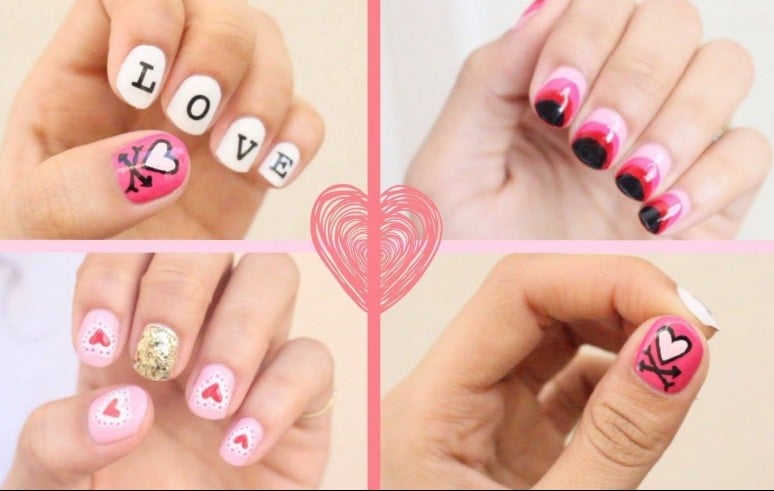 White Nail Art
Heart plants vs Blue and white hearts. – Which would you prefer?
[Also Read: Kiss Nail Art]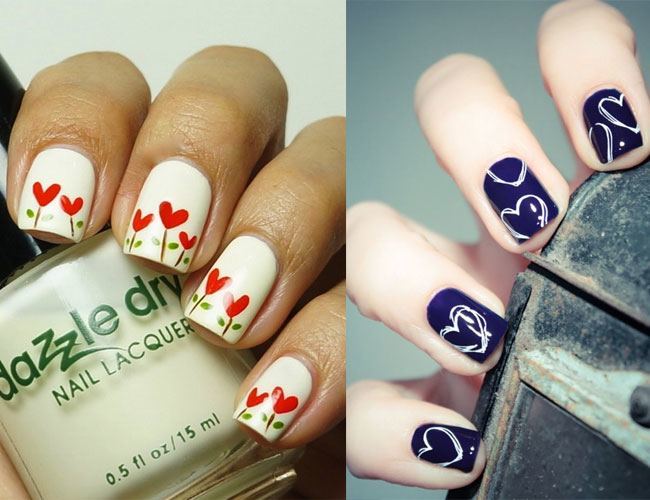 Hearts and Bows Nail Art
Try Valentines Day french manicure designs with bows or Zebra prints with a little heart nail art design.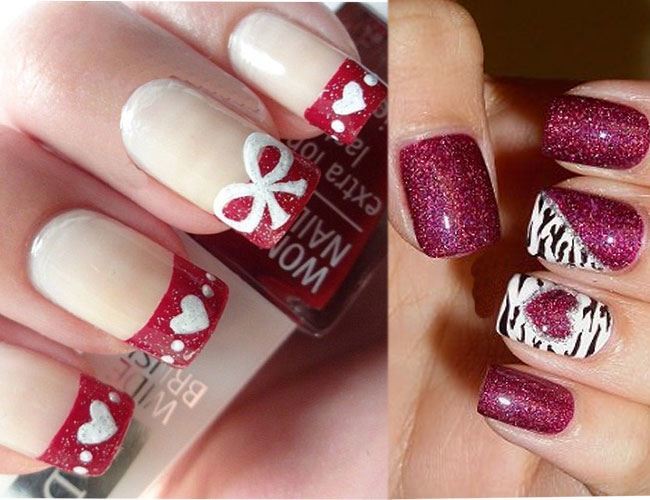 Cute Hearts on V'Day
These teenage nail art designs are for those college girls who have just had their first crush or are going on a first date.
Candy Color Valentine's Day Nail Art
This colorful nail art design with minute text will be difficult to paint, but if you get a hand of such nail art stickers, don't shy away.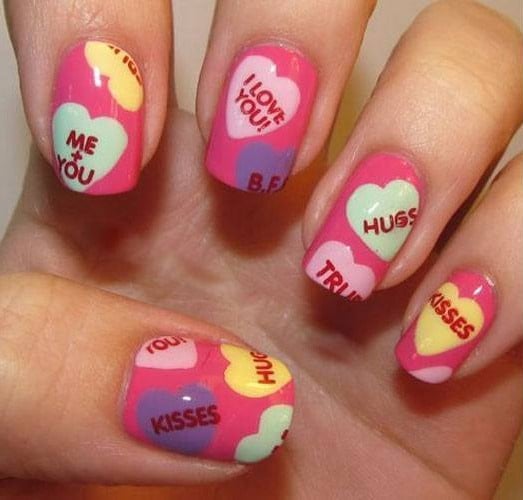 Valentine's Day Love Nail Design
Pink, glitter and the words that say 'love'. Now which girl would want to ignore this nail art design for Valentines Day 2015?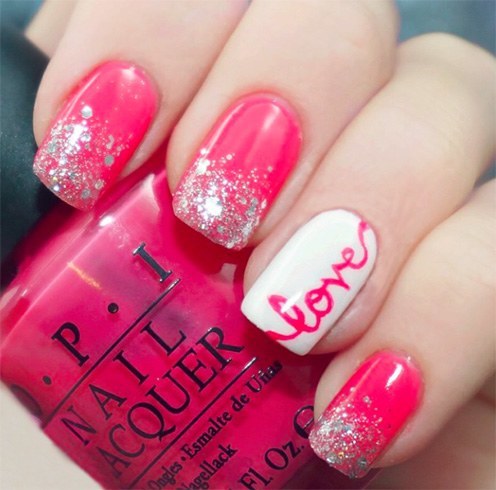 Ombre Hearts & Love Birds
DIY Nail art designs for V-Day. Less expensive, less complicated but love-ly for sure.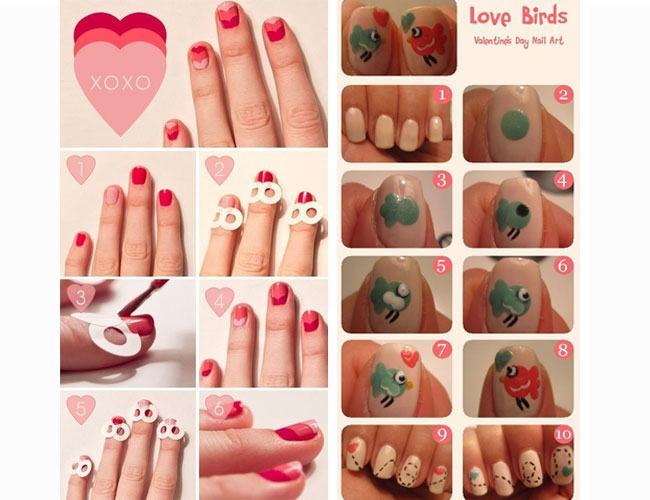 Dunk In Love
If you are wearing a white dress this Valentines Day, then these hearts nail art designs are sure gonna pep up you mood.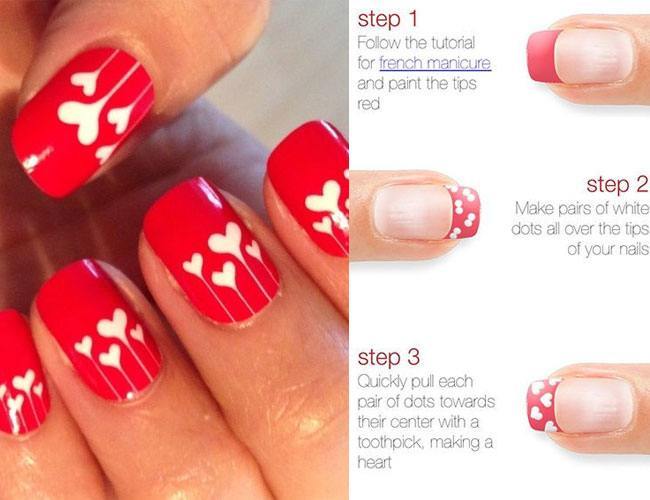 Black and Pink Hearts
Why not try new Valentines Day Nail art designs? For those who like the non-traditional colours, this is for you!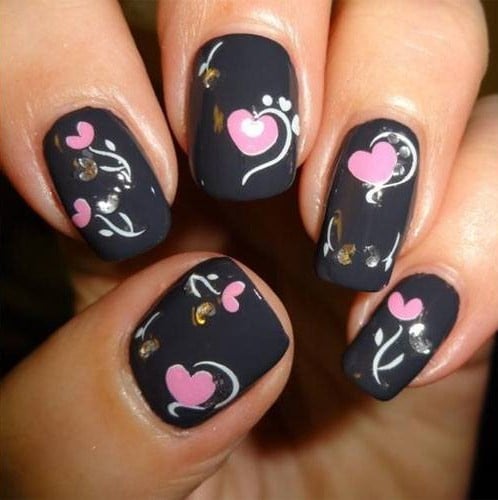 Pinky Hearts and Minion Love
If Minions are your love or that of your boyfriends, have them painted on your nails. Who said, it's all just about reds and hearts? And those who think less-is-more, check out the pink and black nail art design.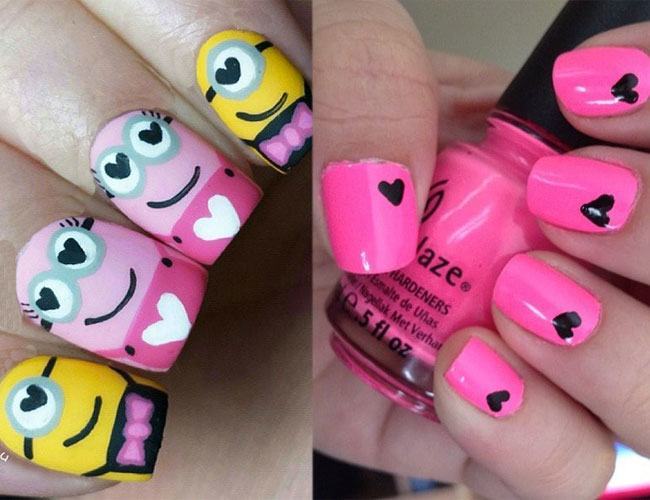 Balloons and Swirls
Love Balloons? Draw them out on your nails and paint them in your favorite colors!
Swirls can also be a great try to make it a not-so-obvious Valentines Day Nail Art Design.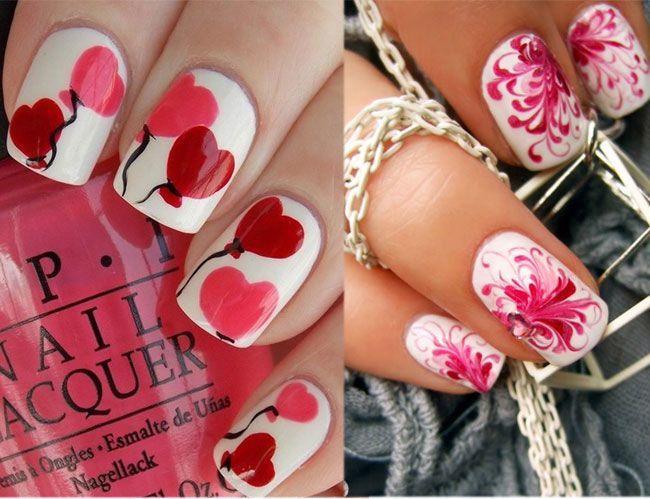 Lip Prints
Those who have smaller nails, can either try using nail art stickers to match the Valentines Day theme or use false nails on Valentines Day.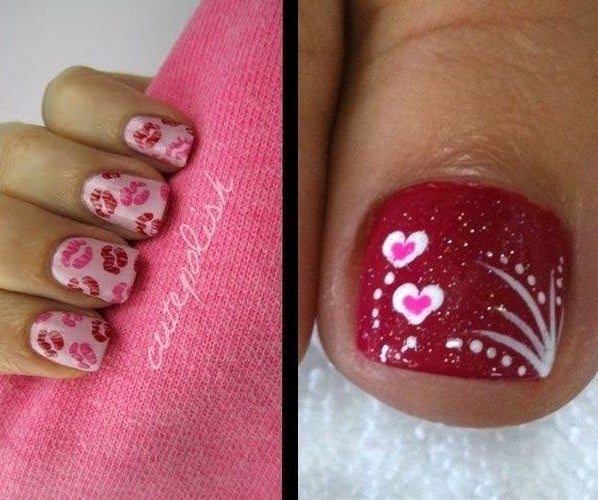 Polka Dots and Hearts
White and black polka dots design is also something even a nail art beginner could try. try making a small heart over that or just use heart shaped tiny stickers instead.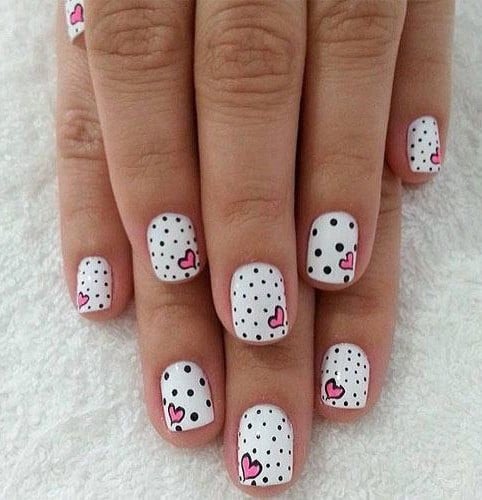 Decals and Acrylic Nails
Acrylic Nail Art designs for Valentines day are also a good option. But for this you might have to need a professional help to have it just-right!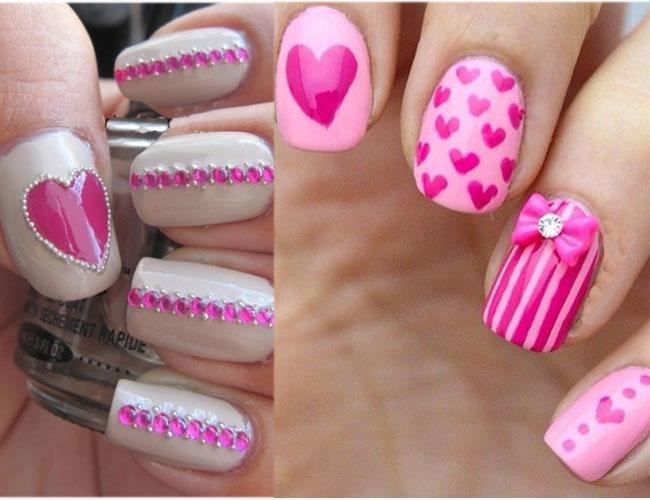 A Heart That Hold Many Hearts
It's all about Love! But make sure you don't go over-board and making it an obvious statement. Keep it simple and sophisticated always.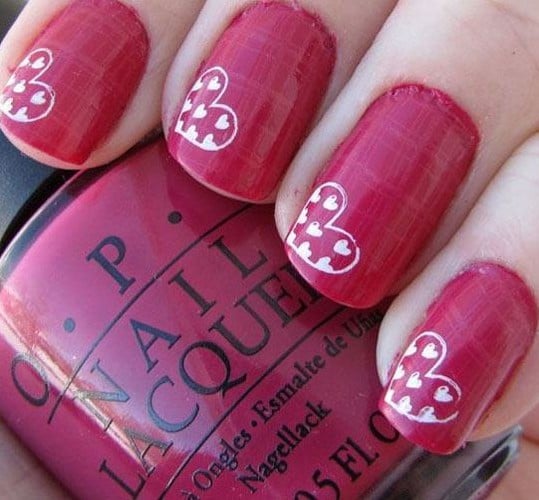 DIY Nail Art
If you are proposing to your partner this Valentines Day, then take efforts to make every moment of your's scream 'I Love You'.
Let's look at more new designs.
Go lip crazy with lip prints in red over a white base coat.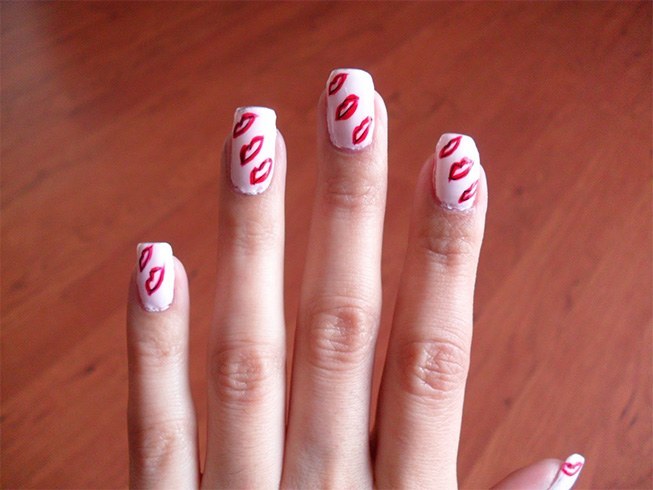 How can one leave behind the chirpy love birds?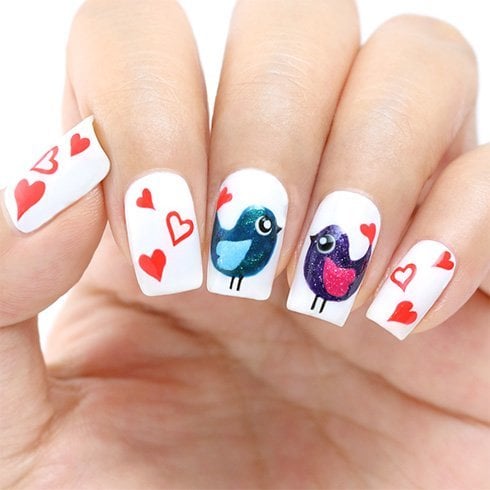 At any given time, a black and red combination can win hands-down.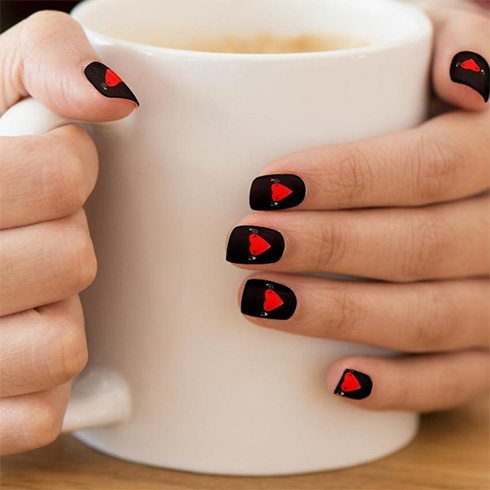 Stiletto lovers anyone?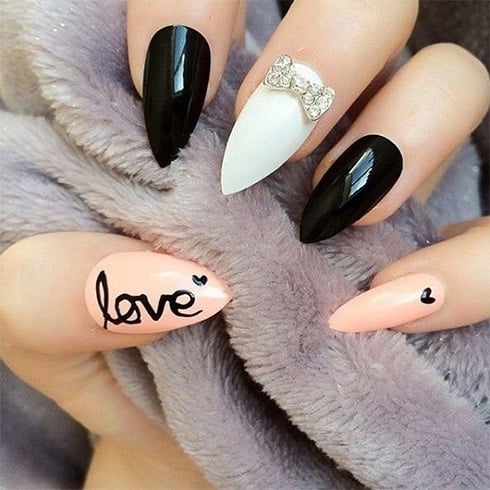 Tiny little hearts on pink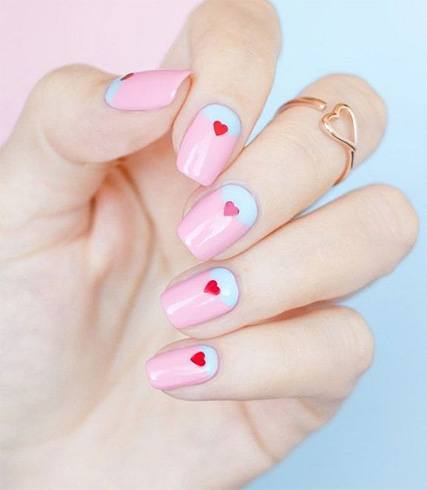 This will be a time – consuming one, but will be worth it. Try different color combinations too.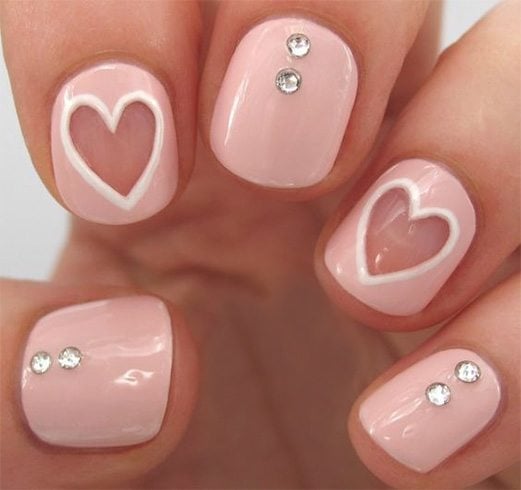 For the girlies out there.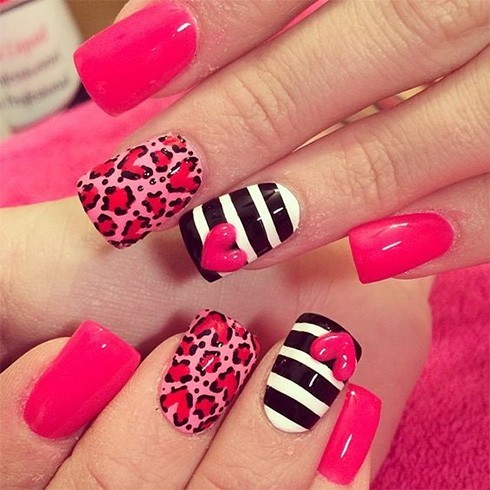 Cute, isn't it?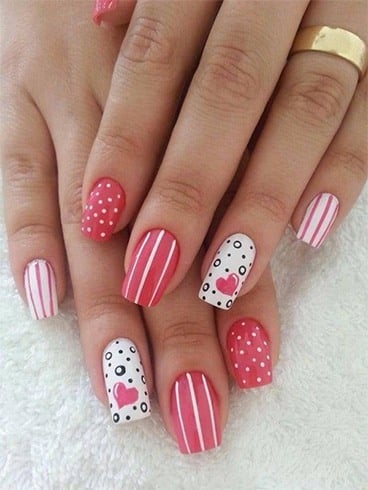 A beginner may try their hands at this designs this V'Day.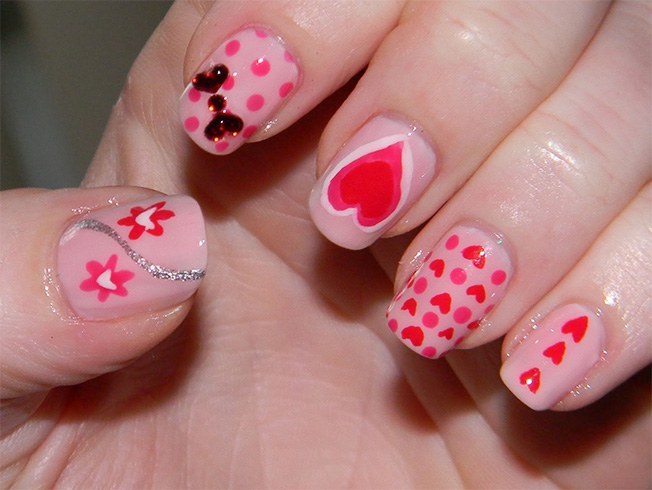 here's what happens when matte, glitter and shine get together.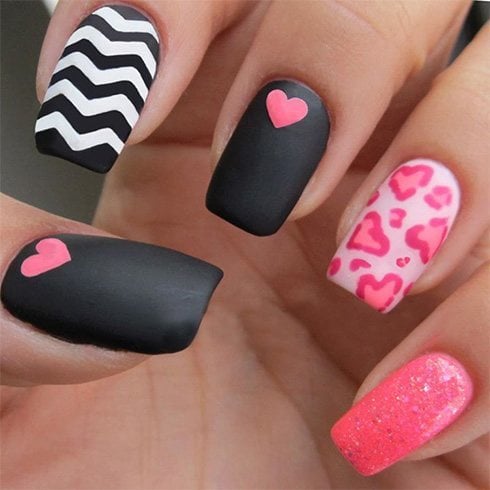 Add a hint of gold. You deserve it.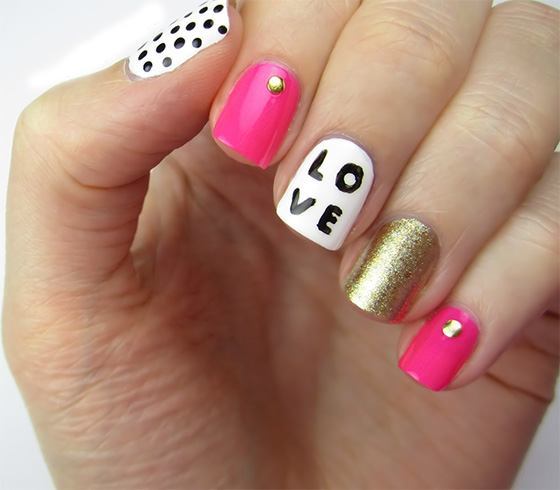 Are you someone's heart beat?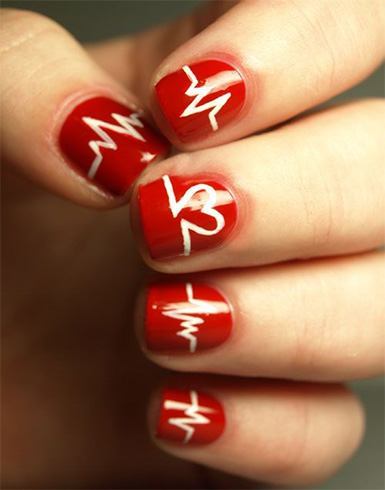 French manicure with hearts. This is really pretty.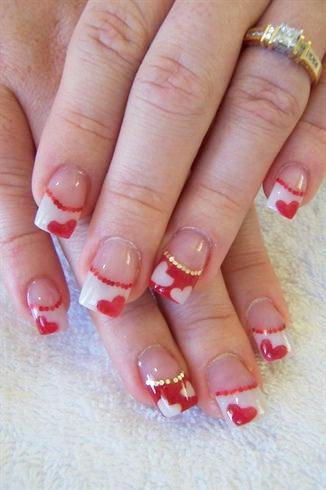 Cute one indeed!
Images Source: pinterest.com